Whether you've outgrown your home or it's always been a bit cramped, you may be considering a home addition to provide some much-needed space. And depending on what type of remodeling project or addition you decide to take on, that new space can serve various purposes — from ensuring safety or privacy, to creating more efficient open space for your family to gather and enjoy one another's company.
If you've decided it's worth it to put an addition on your home, your next decision is figuring exactly how much space you'll need, and what you'll use it for. Need some ideas to get started? We've got you covered. Let's take a look at five great home addition ideas that are sure to open up your space and elevate your design.

5 Great Home Addition Ideas to add function and Elevate Design
There are hundreds of great home addition ideas. The one that will work best for you is the one that fits your short- and long-term goals for your home. Here's an overview of some of the most popular home additions we've worked on to help give you inspiration for your addition project planning:
1. Screened-In Porch or Sunroom Addition
Outdoor living spaces are becoming more and more popular — and for good reason. There's truly no better way to start or end your day than soaking in some warm sun or observing the beauty of your natural surroundings. A screened-in porch or sunroom is a great way to do both in the most comfortable way possible. And in designing in the midst of a pandemic, we are finding that outdoor living spaces that include a screened porch are the perfect place to safely meet with friends and extended family members.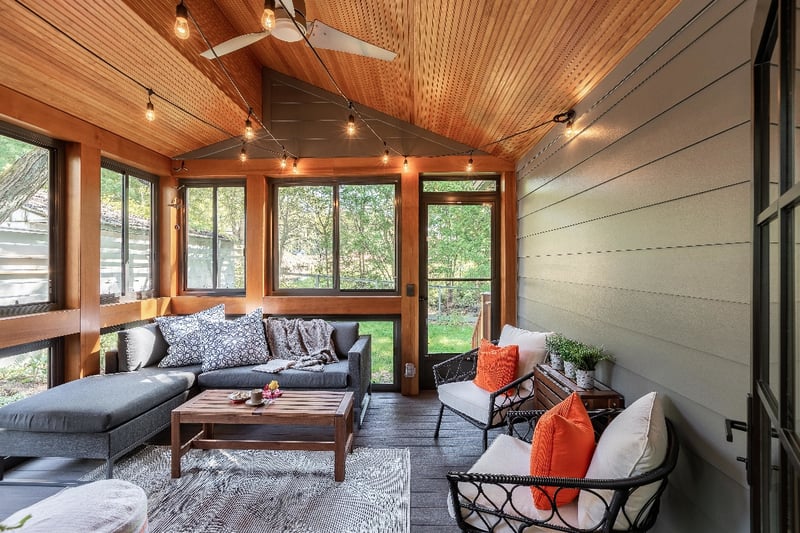 A screened-in porch or sunroom addition can be accomplished in one of two ways: by adding framed screens or windows to an existing porch, or by building a completely new one from scratch. Either way, you'll be able to enjoy the endless benefits it brings, including:
Interested in viewing some screened-in porch and sunroom additions we've done at Meadowlark? Check out these client stories:
2. Extra Bedroom or Primary Suite Addition
Whether you're planning to expand your family or want a primary bedroom on the main floor or you're just tired of making guests sleep on the couch, an extra bedroom is always a practical home addition idea. This kind of addition project provides you greater opportunities for comfortable living, entertaining, and planning for the future.
An extra bedroom can also easily double as a great work-from-home office — a recently popularized living space that, for many homeowners, looks like it'll be staying for a while. Or, if you're planning on living in your home for many years to come, an extra bedroom on the main floor could function as your new primary suite — an aging-in-place addition that increases the safety and comfort of your home as you grow older.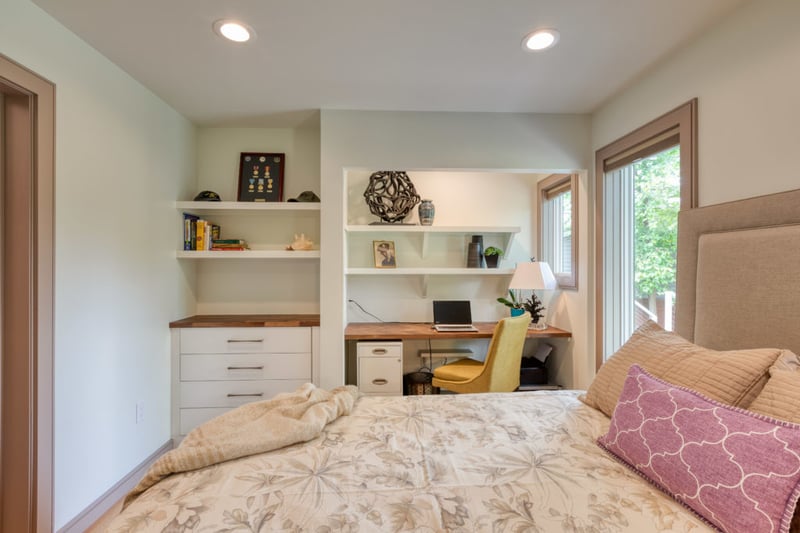 Interested in viewing some extra bedroom or primary suite additions we've done at Meadowlark? Check out these client stories:
3. Adding Space and Architectural Interest
Many clients love their homes and their location, but have been there for a long time and are looking to update both the interior and exterior of their home to accommodate a change in their lifestyle. Often times they are looking to retire and spend more time at home and want to just have some more "breathing room" to enjoy their beloved home for the next phase of their life. Others are just tired of how the home looks on the exterior or they want a better connection to the surrounding lot. We have found that even the smallest of additions can make a huge impact on how a home looks, feels and lives for our clients.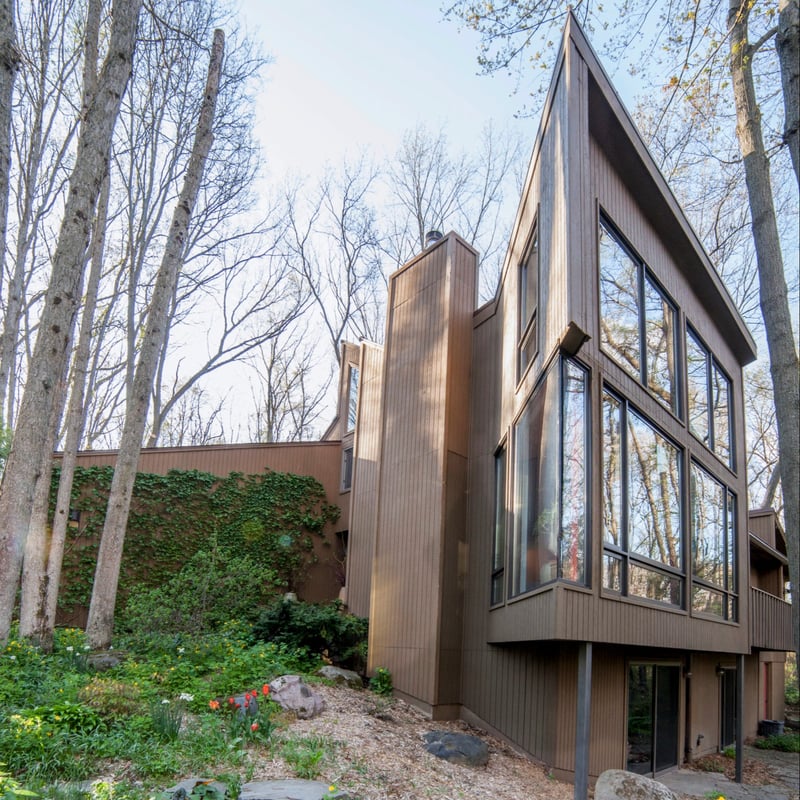 The perfect example of this is an award winning remodel and addition we did for a couple a few years ago:
4. Kitchen Addition
A beautiful kitchen is top-of-mind for many homeowners, but sometimes a cramped floor plan just doesn't allow you to make all your "dream-kitchen" visions come true. You may need to tackle a kitchen addition project to increase storage space or living/working space in order to bring your perfect kitchen to life.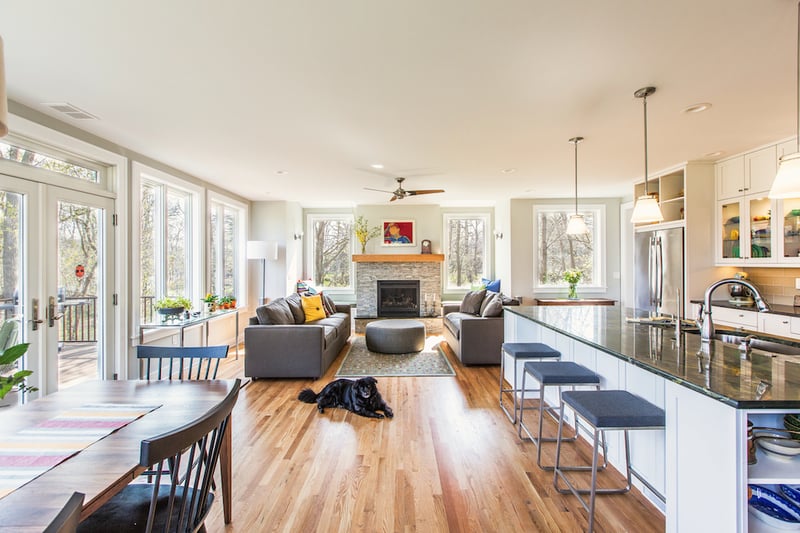 Some popular kitchen addition ideas that help accomplish this are walk-in pantries, breakfast nooks, or bump-outs to accommodate large islands (or multiple islands!) or appliances.
Interested in viewing some kitchen additions we've done at Meadowlark? Check out these client stories:
5. Finished Basement
Say goodbye to your unfinished and creepy Michigan basement, and say hello to a gorgeous new living space! While finishing or remodeling your basement isn't technically adding more space to your home, it is creating an additional functional space. And it's additional space you can use that you already own!
Better yet, an unfinished basement is a blank canvas that you can transform into whatever kind of space you'd like it to be. Whether you want to create a movie area, bar area, or game space that's great for entertaining, or you'd like to repurpose it for another bedroom, bathroom or quiet office space — the options are endless and the space is already there for the taking.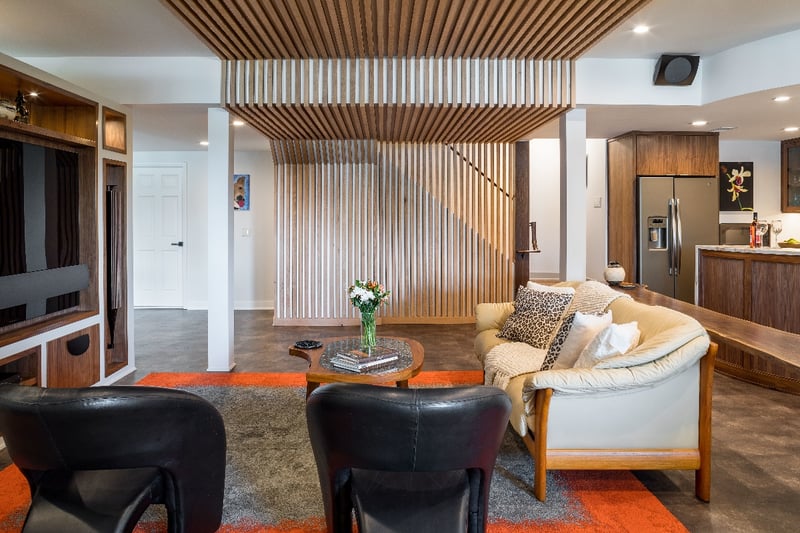 Interested in viewing some basement finishing projects we've done at Meadowlark? Check out these client stories:
Once you've decided what your new home addition will be for — be it a kitchen, main-floor primary suite, screened-in porch, or something totally custom — it's time to get the building process started. Check out our blog on 5 Steps to Building a Home Addition to learn about that next step.

And, if you're ready to start your next home addition project, talk with the team at Meadowlark Design+Build. You can trust our talented architects and designers to help configure the best solution and investment for your home. Give us a call or contact us online for more information.