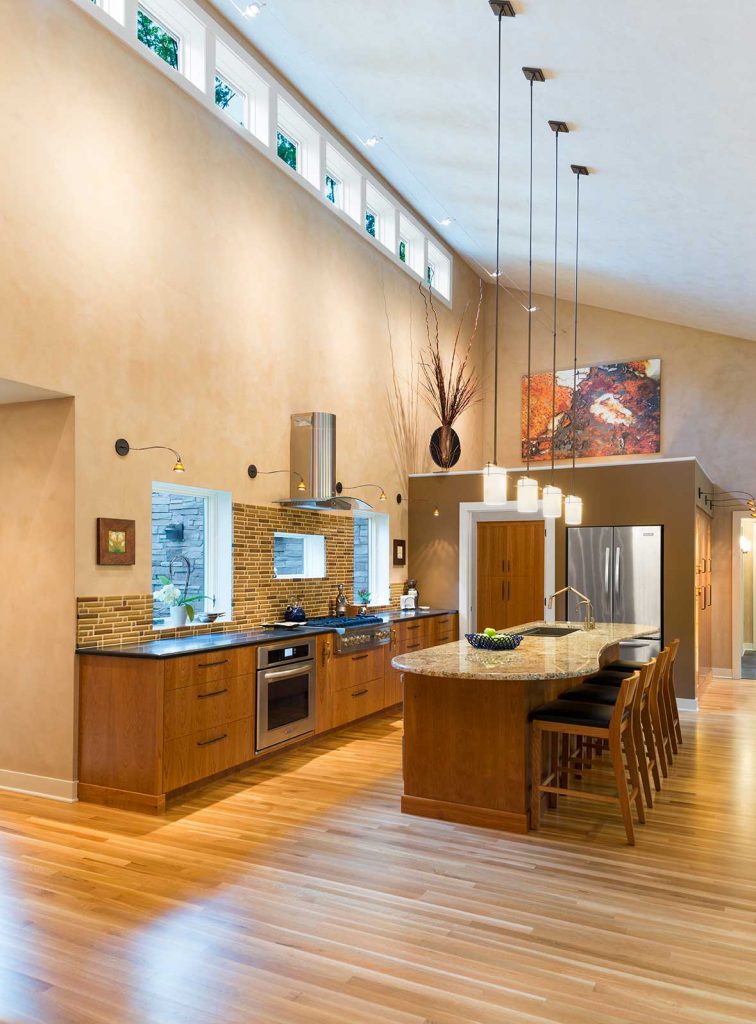 Aging-in-place is a hot topic these days. Whether you're looking for your forever home, or you're planning one last big renovation to make sure your existing home becomes your forever home, aging-in-place is a popular solution to many remodeling projects.
At its most basic, renovating for aging-in-place is about accessible design. How can you remodel your home in a way that looks beautiful, but that is also accessible, supporting your lifelong independence? While there are a multitude of options to tackle accessible design, here are 5 of the top aging-in-place modifications you can make to ensure your home is ready to grow with you.
1. Remodel for a No-Step Floorplan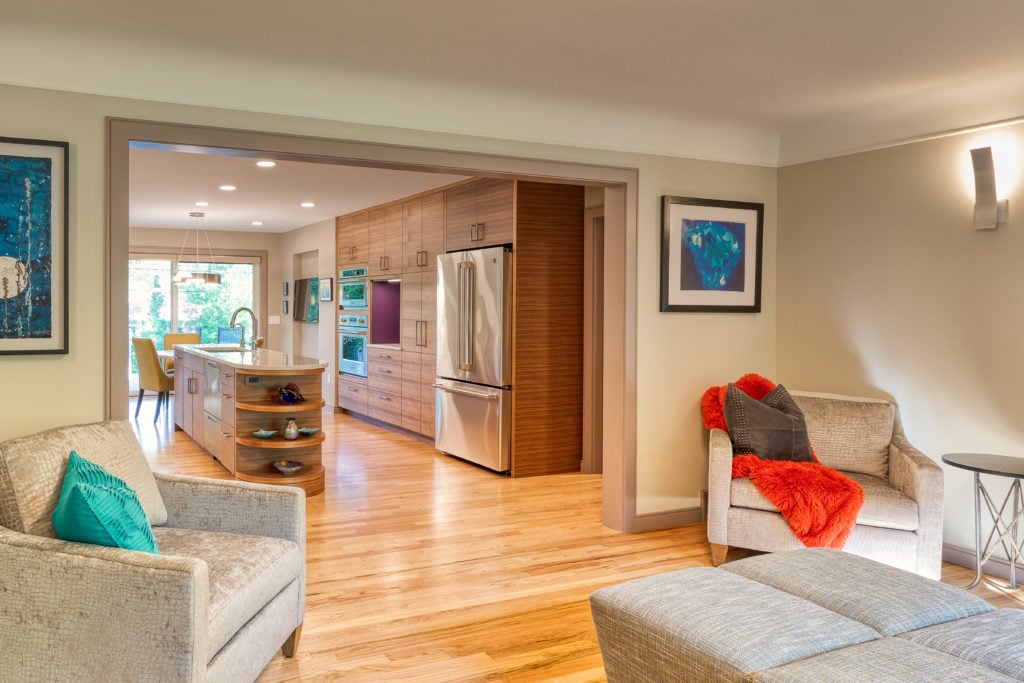 When you think about remodeling for aging in place, renovating the first floor is a top priority. While you may not be in a place where you want to live entirely on the first floor now, it's essential for a home that fully supports your ability to age in place.
Installing a bedroom and a full bathroom on the first floor and remodeling for a no-step floorplan are aging-in-place modifications that make your home accessible to someone with limited mobility. Another aspect of a no-step floorplan you might not have considered is the flooring itself. Carpet, and even flooring transitions from carpet to hardwood, are difficult to navigate and can present tripping hazards. A great way to avoid these concerns is to select a beautiful hard flooring throughout the first floor. Hardwood, engineered wood, and many tile options are all beautiful design choices that work to eliminate those trip hazards.
2. Rethink Your Kitchen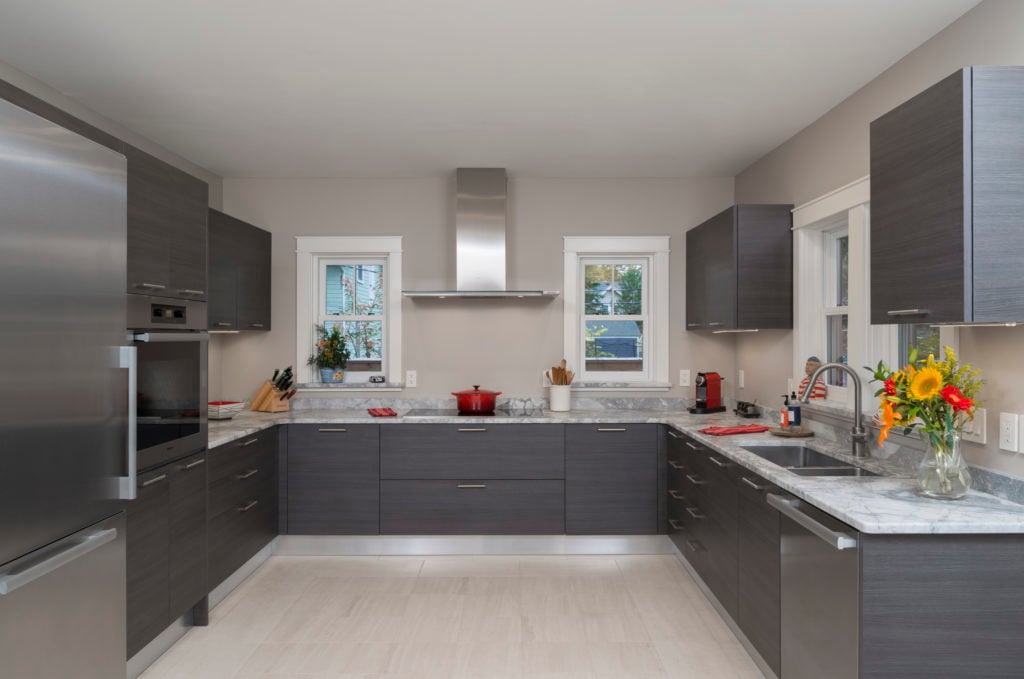 The goal behind aging-in-place modifications is to create a home that looks and functions beautifully now, and easily transitions with you as you age. Your kitchen, one of the most used rooms of your home, is one of the places where aging-in-place modifications should absolutely be top-of-mind. Some of the features you don't even consider now could become barriers to mobility as you age. Here are a few things to consider:
Do you have enough room to maneuver around the kitchen? What if you or your loved one was using a wheelchair or walker?

Are cabinets easy to open and easy to reach? Opting for lower cabinets only can open up your kitchen's look and feel while ensuring all of your storage is reachable.

Do you really need an island? Choosing a kitchen design that doesn't include an island helps free up lots of room for mobility while supporting a beautiful, open design.
We could go on forever about kitchen design, so if you're looking for additional aging-in-place modifications that are specifically for the kitchen, we recommend you check out our blog: Kitchen Remodeling You Can Love "Forever."
3. Reconfigure Doors & Doorways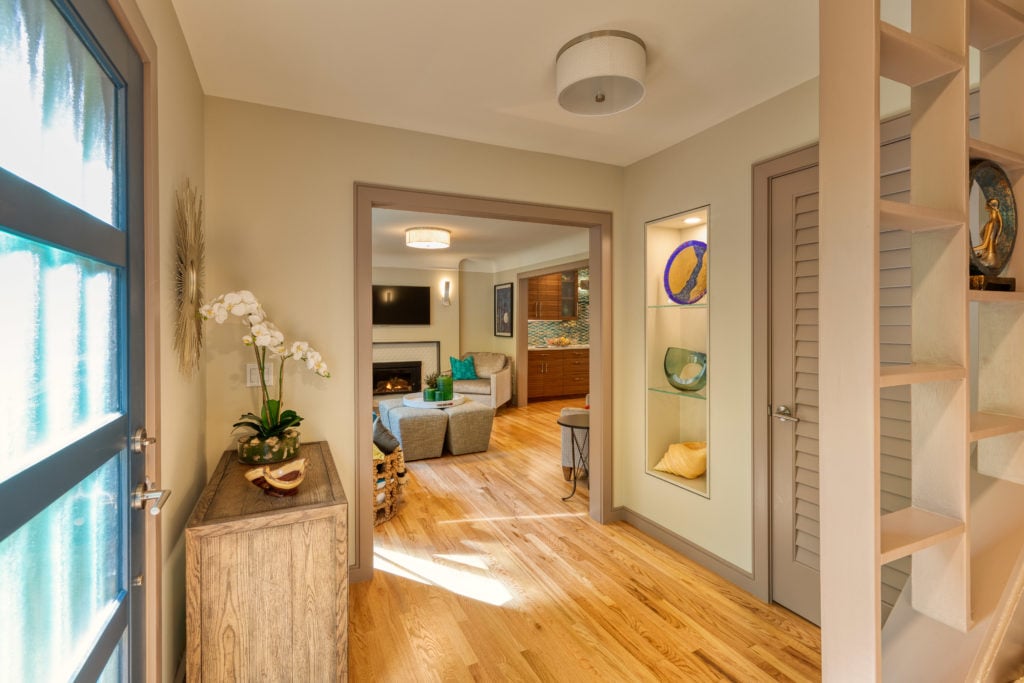 Interior doors are a small component of your home, but they can make a big impact on how you move through it. If your home is full of narrow interior doorways, it's a good idea to consider widening some of them. For reference, the Americans With Disabilities Act requires a minimum of 32-inch clearance for doorways. Anything narrower could be difficult to navigate should you or a loved one use a walker or wheelchair.
Another consideration to make is your interior door handles. Door knobs can be difficult to grab and turn for people with arthritis. Swapping door knobs out for more accessible door handles ensures anyone can easily open and shut interior doors throughout your home.
4. Renovate Exterior Entryways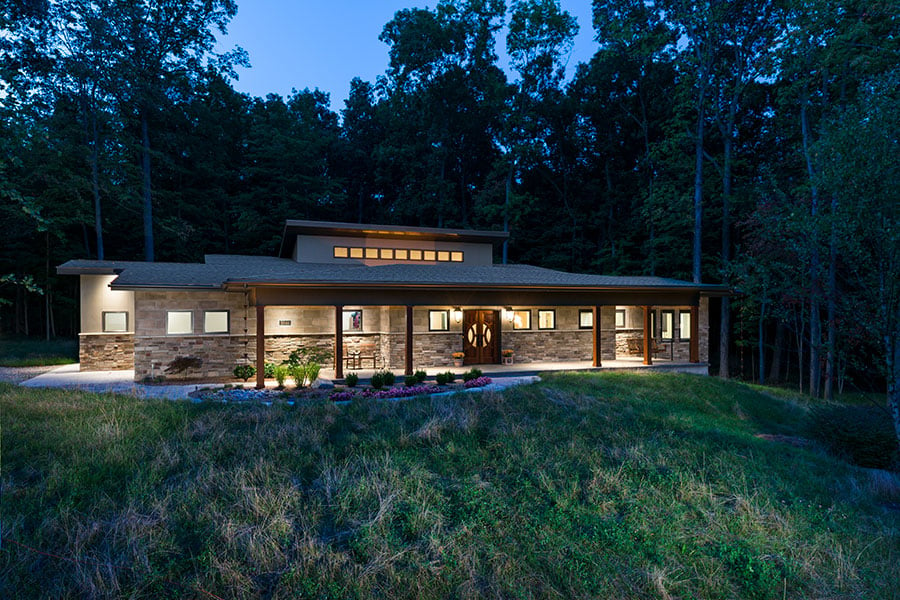 How do you enter your home? One big step up from the garage into the house? A set of stairs up to the porch or deck?
Getting into and out of your home shouldn't be a struggle. If you're remodeling your home now, it's worth it to consider making aging-in-place modifications that make walking into your home easy. Installing a ramp, or leveling your walkway for a no-step entry will help ensure you can continue living in your home independently for as long as you'd like.
5. Refresh the Bathroom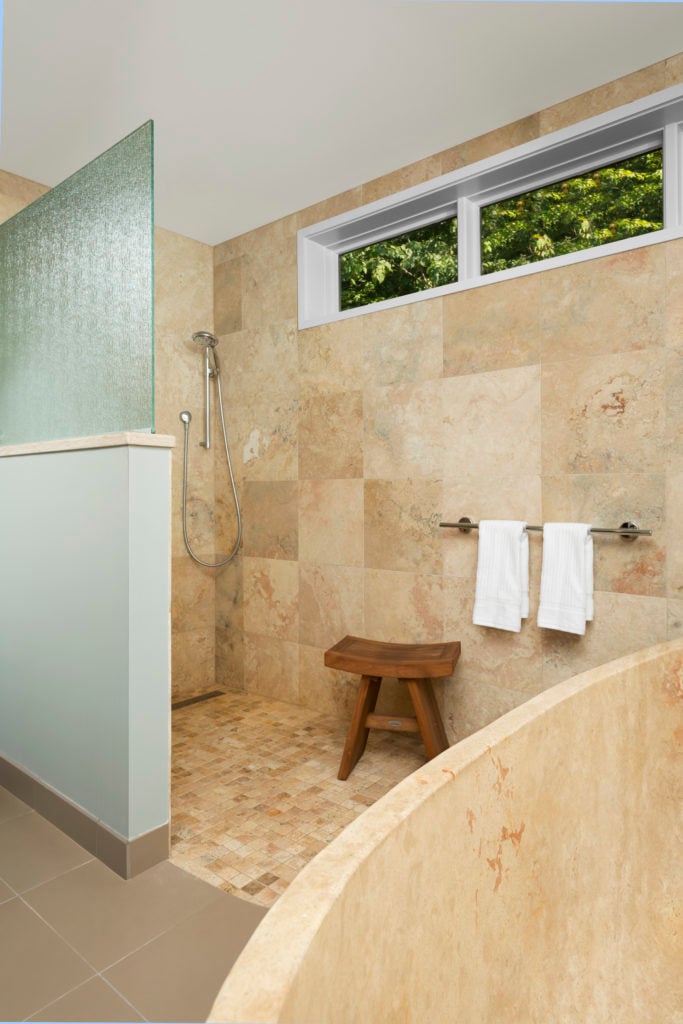 Finally, one of the biggest concerns when it comes to aging in place is the bathroom. How can you refresh or remodel your bathroom in a way that looks great, but continues to remain accessible to you even as you age? A few common aging in place modifications for the bathroom include:
Installing a zero-threshold shower

Installing grab-bars that can double as towel racks

Choosing cabinets and vanities that can accommodate someone in a wheelchair and can ensure storage is always easy to reach

Opting for faucets and shower hardware that is easy to turn on and off. Here again, lever-style hardware is much easier to use. There are many faucets with "touch-free" features that are perfect for aging in place.
Renovating your home is an exciting project. If you're planning to stay in your home for years to come, it's worthwhile to consider these top aging-in-place modifications to ensure your independence even as you age. If you're considering renovating your home, be sure to check out these three client stories — all beautiful renovations that put a priority on aging-in-place modifications:
And if you're getting ready to start your own home renovation, the Meadowlark team is here to walk you through every step of the process. Our CAPS (Certified Aging in Place Specialist) designers will work with you to develop a remodeling plan that pairs your goals for aging-in-place with your unique design style. Get in touch with our team online or give us a call at 734-332-1500.