A Bathroom Built for Today
These homeowners wanted a master bathroom that was more functional and comfortable for two people to use with a classic and timeless feel. Heavy black tile details dominated the existing bathroom. This was great in the '90s and early 2000s, but now this space was calling for a refresh.
The homeowners were tired of the limited storage in the double vanity and wished for a linen cabinet inside the primary bathroom. It's no doubt a convenient feature — it's so nice to grab a fresh, fluffy towel without having to leave the room.
Wanting a fresh style and airy layout, soft and warm tones were key to creating a soothing atmosphere. Using warm, matte, gold-toned fixtures and hardware offered a classic look for this bathroom remodel.
Seeking an at-home spa experience, these Ann Arbor homeowners sought out Meadowlark Design+Build to transform their bathroom. They had previously worked with Meadowlark on a screened porch project and knew we were the team to use again for their bathroom remodel.
The primary bathroom was dated and tired-looking, with glass blocks around the shower and dark tiles. Additional storage was needed but there wasn't a place for it with the current layout.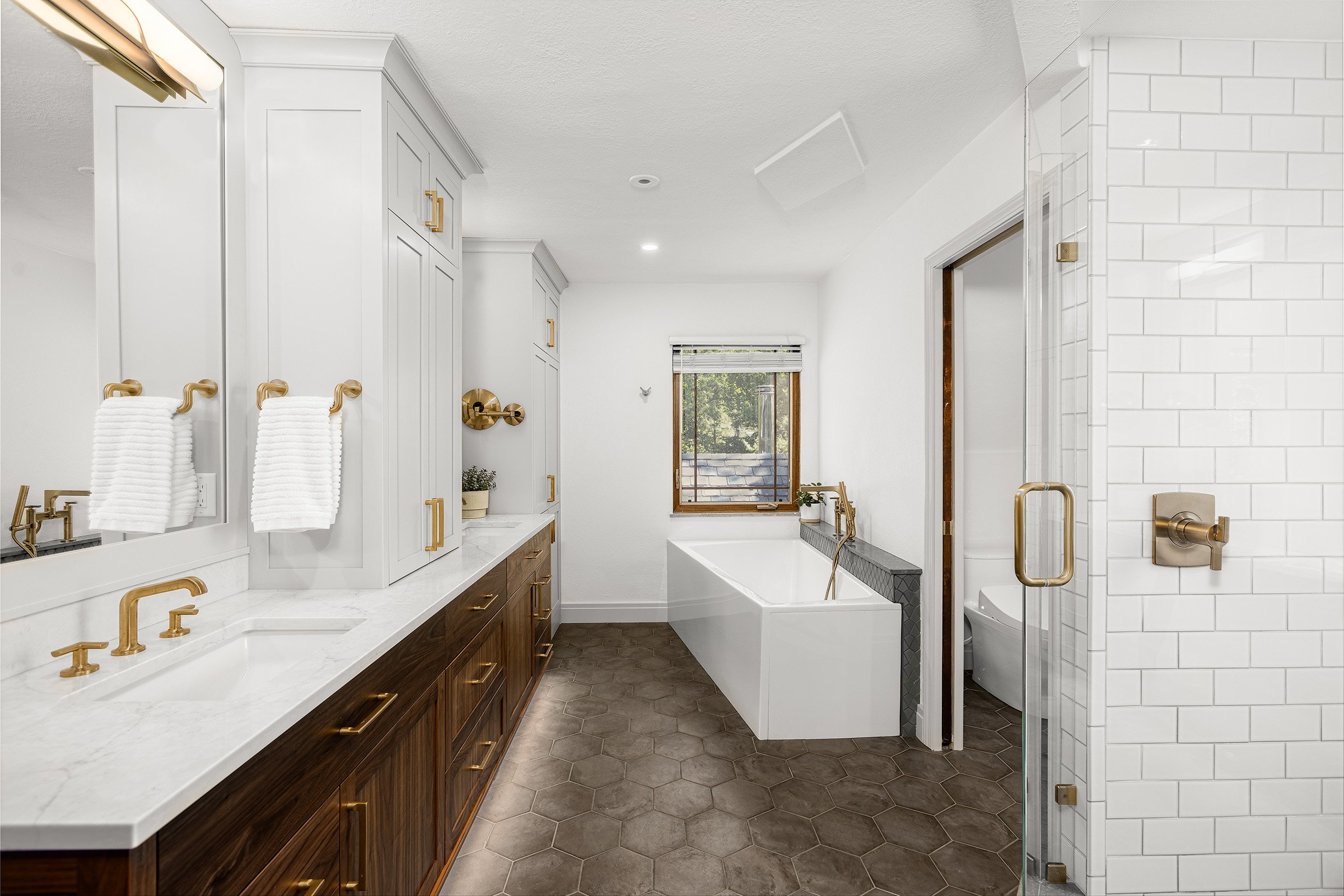 Design Selections
Timeless Features From Trusted Manufacturers
An Amazing Bathroom Remodel with Plenty to Love
The primary bathroom has been remodeled in this beautiful Tudor-style Ann Arbor home. The new and gorgeous Duravit soaking tub provides a relaxing experience. With the bathtub relocated perpendicular to the prior placement, much-needed additional storage was created. The existing bathtub window remained and a new composite window in the shower, frosted for privacy, was added.
Although trends fade in and out, a few things always seem to be in fashion when it comes to bathroom design. A classic subway tile, staggered rectangle-shaped tiles provide the simplest repeating pattern you can imagine providing the perfect addition to shower walls. With the removal of the glass block wall in the shower, and white subway tile with Ann Sacks Arrowhead tile added for a feature on one wall, the glass-enclosed shower is truly transformed.
New Kohler sinks, Brizo faucets, a Duravit tub and filler, and quartz countertops were added along with new vanity sconces and framed mirrors. Ventilation fans at both the shower and the toilet room were added.
The door to the bathroom was changed to have a reverse swing providing more space within the bathroom.
While adding functional light in a bathroom is essential, if you want your bathroom to go beyond merely functional, adding dramatic lighting is key. Meadowlark incorporated lighting under the vanity unit providing a wow factor.
The slightly changed floor plan, accompanied by bright white tile in the shower, frameless wood cabinets, and beautiful large hexagon tile floors create an elegant master bathroom that met every desire of the client and left them marveling at how much more spacious it feels!
Dreaming about a gorgeous bathroom remodel or another remodeling project for your home? Not sure where to start? Contact Meadowlark and let us guide you on your remodeling journey.