When you're planning to build a house or embark on a significant remodel, finding the right team to handle your project is your biggest concern. Design-build firms are increasingly popular options for homeowners who value creative, innovative design, and who are looking for a building process that is as streamlined and hassle-free as possible. If you're new to the idea of the design-build process, let's take a look at what a design-build firm is, and how they're different from a traditional home building or renovation contractor.
What is a Design-Build Firm?
In simple terms, a design-build firm is a company that offers both home design and construction services under one roof. For homeowners building a new home or remodeling an existing property, design-build firms offer a team of experts — designers, project managers, field crews, and vetted trade partners all rolled into one seamless process that is focused on you.
Quality design-build firms are known for delivering collaborative, creative custom homes and renovations that stick to a schedule and take much of the stress of the building process off of the homeowner's shoulders.
How is the Design-Build Process Different From Traditional Construction?
The design-build process is much different than the traditional construction process, in that it minimizes the homeowner's responsibility to coordinate the project, and places it squarely back on the design-build team — without losing the homeowner's vision for the project. Here are just a few ways that design-build firms operate differently from traditional residential contractors.
WHAT ARE THE BENEFITS OF A DESIGN-BUILD FIRM?
Consistent, Collaborative Communication Throughout the Design-Build Project
Perhaps the greatest benefit of a design-build firm is that you are connecting with just one team throughout your entire custom home build or home remodeling project.
The traditional construction process typically requires that you (the homeowner) develop your own design, or work with an architect to develop a design. Once you have that design in hand, you have to find a contractor who will commit to doing the work, and you're in charge of facilitating any communication between those two parties.
A design-build firm removes all of that back and forth, and brings design and construction under one roof.
When you work with a design-build firm, you're talking to a designer and project manager who work together on a daily basis, and who have a solid understanding of not just your project, but also of each other. With a design-build firm, communication is consistent across both the design and build processes.
Design-Build Firms Deliver a Streamlined Project Timeline

Every residential construction project is different — there are often hiccups in the building process and schedule. While no construction professional can control every aspect of a new home build or custom remodel, quality design-build teams have a broader range of resources and are better equipped to work as a team to come up with quick resolutions to keep the job on track and on budget.
Design-Build Firms Have a Tried-and-Tested Process
Most design-build firms have been in business for years. They have a proven process in place that takes every project smoothly from conception to design to build and beyond. With years of experience bringing residential home builds to life, they know exactly how long they expect your project to take, and they have the experience to keep it on track.
Design-Build Firms Have an Internal Feedback Loop
Unlike traditional contractors, who might take a design from an architect and just run with it, design-build firms have an internal feedback loop, where designers can talk directly to contractors and production crews to ensure that the design you've decided on is executed exactly to your specifications.
Design-Build Firms Have Access to Vetted Labor Crews & Subcontractors
One of the greatest threats to any home building or renovation project is the United States' current labor shortage. Many building crews, specialized subcontractors, and trade experts like plumbers and electricians are extremely busy and difficult to schedule. A traditional construction project is easily held up by one ill-timed storm or a missed appointment that could throw off the entire production schedule.
Design-build firms, on the other hand, often employ their own field crews, which helps them stick to the timelines they've originally outlined for you. They also have close relationships with vetted subcontractors and trades who they know do great work, and who they can trust to meet their production schedules.
A Design-Build Project is a Value-Added Building Method
Compared to traditional construction, design-build firms offer value-added services that deliver you a higher quality end product that is expertly designed and protected by warranties that guarantee the workmanship.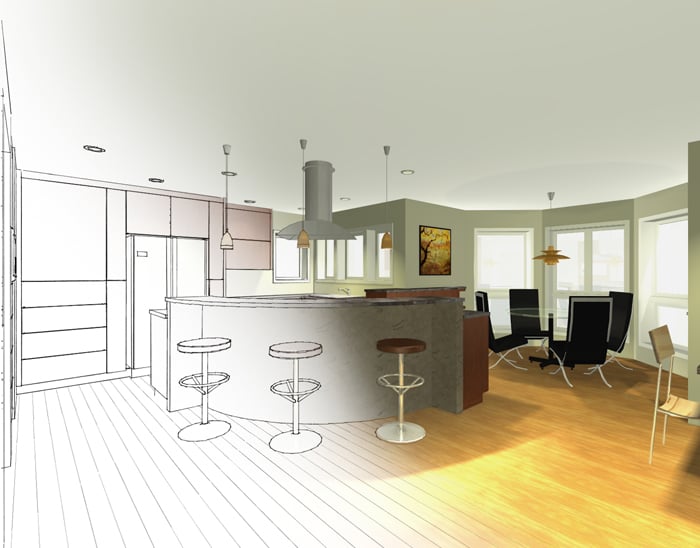 What you get from a design-build firm that you don't with a traditional contractor
Expert design. From designing the floor plan to choosing finishes and selections, a design-build firm offers design support from experts throughout your entire build process.

Your project, value-engineered from the start. Because designers and project managers work together from the start, they're able to value-engineer every part of your home build or renovation, quickly resolving unexpected issues that may arise during construction.

Investment protection. You're spending a lot on a custom home or custom renovation. A design-build firm protects your investment with a proven process and by using experienced designers, project managers, in-house field crews, and thoroughly vetted subcontractors and trade partners. You can trust these people to complete your build beautifully to your satisfaction

Quality workmanship, guaranteed. Most quality design-build firms stand by their work with warranties, ensuring that your new home or renovation is protected for years to come.

A partner in the design-build process
The true benefit of working with a design-build firm over a traditional contractor is having a partner to walk beside you through the entire process and beyond. Home builds and renovations are stressful, no matter how prepared you are. Having a dedicated, experienced partner to work with through the entire process helps remove as much of that stress as possible.
Is a Design-Build Firm Right For Me?
A design-build firm is a great option for the homeowner who values thoughtful, creative design, and is looking for an experienced team they can trust to handle the entire design and build process.
As a design-build firm ourselves, the Meadowlark team often works with homeowners who are busy professionals. Maybe you're traveling, maybe you work in a demanding position that requires a great deal of your time, or maybe you're trying to build a new home while also managing you and your kids' busy schedule. Whatever the reason, you want a home that works better for you, without the management. You need someone you can trust to handle the project from start to finish, without creating more problems than they solve. For homeowners like you, a design-build firm is a perfect option.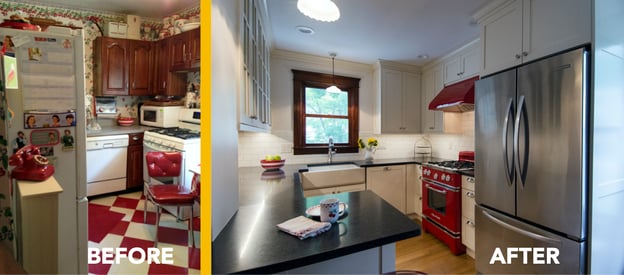 To get a better idea of what the design-build process looks like and who it's right for, we'd encourage you to check out some of our most recent Client Stories. Complete with before and after pictures, these stories show where our clients started, what they wanted, and how their projects turned out after partnering with Meadowlark.
And if you're interested in starting a project with a design-build firm, the Meadowlark team is here to help. Give us a call at 734-332-1500 or contact us online today. We'd love to hear more about your project!