There's a lot of information out there about building a new home or a custom home. From choosing the size and style of your new home to settling on a budget, there are plenty of tips and tricks to help you along the design build process. But one part of new home construction that can be tricky to find help on is making selections.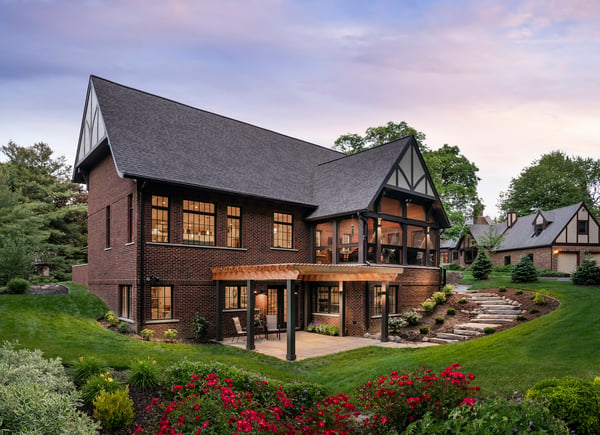 The Meadowlark team works with homeowners and families every day to build custom homes and complete custom renovations. The selection process is a huge part of everything we do. Here are a few tips from our team to help you get a better feel for when you should make new home selections, how to make those big decisions, and what you can do to make the process as seamless as possible.
When Should You Make Selections for Your New Home Build?
When to make selections is the million-dollar question. You'd think that because the selections you're making — the tile for the bathroom, the fireplace insert you'd like, and even your living room couch — don't go in until the end of your build, they'd be decisions you wouldn't have to make until later.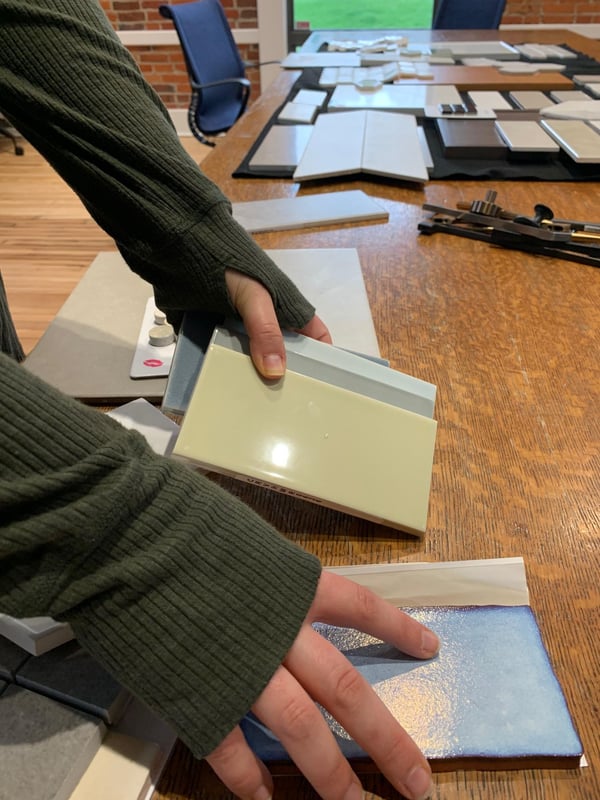 Actually, selections are some of the first big decisions to make. Here at Meadowlark, we encourage clients to make selection decisions for their new home as soon as possible, and usually before their home build even begins. Why?
Your selections inform the design of your home
Choosing a soaking tub or an oversized, decorative range hood are selections that inform how your home is designed. The sooner you're able to make selections, the more cohesive the final design of your home will be, especially when you work with a design-build firm. At a design-build firm, designers and construction professionals work together through the entire process of your new home build to pair construction with your personal aesthetic.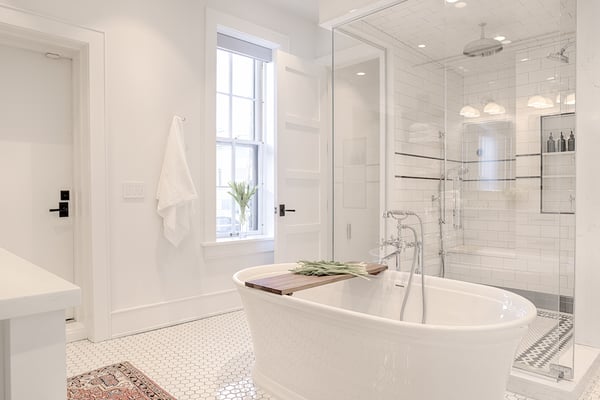 Many selections have very long lead times
Especially in today's current climate, selections like cabinets, countertops, appliances, and even bathroom fixtures and hardware are on months-long lead times. If you're looking for custom craftsmanship, you'll have to wait even longer for the finished product to arrive at your new home. The sooner you make decisions on your new home selections, the more likely those important finishes are to arrive on time, rather than hold up your new home build.
How Do You Choose New Home Selections?
So, you have to make your new home selections as soon as possible. But how can you make a decision on items like cabinets and appliances if you don't even know what your home will look like yet?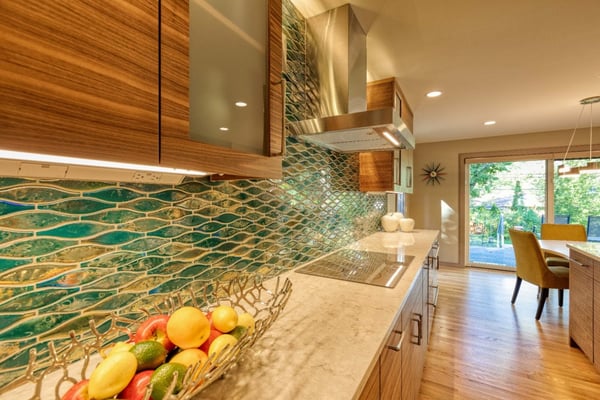 The selection process is an overwhelming one. No matter how you slice it, you have hundreds of decisions to make, and you don't have a ton of time to make them. Here are two tips to make choosing new home selections as stress-free as possible.
Work With a Designer
Most homeowners only build a home once or twice in their lifetime. Chances are, you're new to this process. It's always a good idea to work with a professional, especially if you're not quite sure what you want.
This is just another great reason to work with a design-build firm. These construction professionals have interior designers on staff whose job is to help walk you through this selection process — and it's something they do on a daily basis. These designers have the experience and the knowledge to help you choose selections that will fit both your new home and your personal aesthetic. They are also heavily involved in the construction phase of the project and get continual feedback from the construction project managers on what works and what doesn't when making selections. It's unique on-the-job training that many designers don't get to experience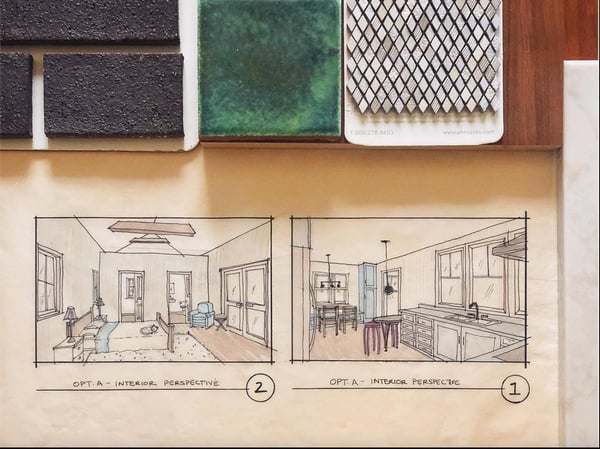 Not sure you know what we mean? Check out this client story: In Keeping With Tradition. For this project, Meadowlark's designers worked closely with our client to bring traditional architecture together with modern finishes to create a stunning new custom home.
Focus on One Room at a Time
Making selections for an entire home is overwhelming. Breaking the process down room-by-room is a great way to take some of the pressure off. Instead of telling yourself that you need to choose every selection for your entire home all at once, break it up. Consider how you are going to live in the room and then your designer can help you determine what type of furniture, lighting and technology infrastructure you need to accomplish that goal.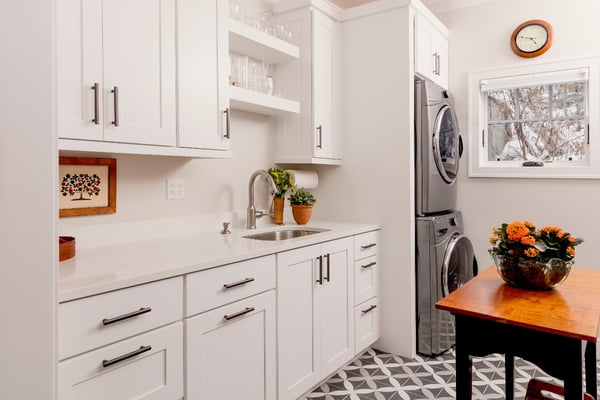 Start with something you're really excited about, like the kitchen or bathroom. Once you've made your selections there, you can move on to the living room, bedrooms, guest bath, and more, step by step. As you go, you'll become more comfortable making those decisions, and you'll work through every room of your new home faster than you think!
Should I Consider Furniture When I'm Making New Home Selections?
It's never too soon to think about furniture! It can feel overwhelming to think about all of these finishes and selections before your house is even built, but the more effort and thought you put into your new home design now, the easier it will be to bring everything together, and the more satisfied you'll be with the end product.
While it might feel a little early to be thinking about furniture and where it's going to be placed - we can assure you it's not. Right now for most furniture companies - lead times on custom furniture is a minimum of 6 - 8 months. But, even more importantly, thinking about how you are going to use the space and how the furniture meets those needs is key to good design. Electrical needs like wall sconce and outlet placements all need to be figured out early in the process and usually your furniture configuration will determine these needs. What about artwork or specialty furniture pieces? Is additional lighting needed for them? How are they going to be best showcased in the space? Are there limitations on where they should be placed? What about sound issues?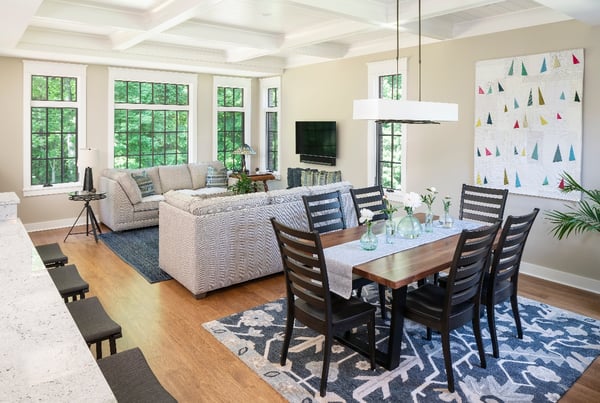 Building a custom home gives you the chance to truly celebrate these beautiful focal points of any room, whether it's an heirloom table or a custom upholstered sectional. In the case of an oversized piece like a baby grand piano or a hand-crafted bed frame, your designer and builder may need to make some adjustments to the layout of your home — something that's easy to do before building has started and really difficult to do later.
While it might feel a little too soon to start thinking about furniture, if you have thoughts and opinions about big and important pieces, it's best to make those decisions now. That way, you can build and finish your home in the way that best compliments the furniture and finishes that mean the most to you.
Making Selections When Building A Home: Sooner is Always Better
Choosing the finishing touches for your home is overwhelming. As custom home building experts, we know that it's one of the toughest parts of building for most homeowners. To make the process as easy as possible, do your best to make your selections early. Even though it might feel difficult, committing to those final touches now will make the rest of your home build process so much easier.
Building a new home is a big project. As a design-build firm, the Meadowlark team is here to help you through every step of your new home build. That includes walking you through making selections and choosing finishing touches. Talk to our team for more information about how a Meadowlark home is built to suit you, from the foundation to the finishes.