So you're ready to tackle a remodel. Whether you're planning to spruce up a bathroom or reconfigure your entire first floor or add on, it's exciting when you finally decide now is the time to make that change! But how do you pay for it, and when?
How to finance a remodel is one of the questions the Meadowlark team hears on a regular basis, so we're happy to say we have answers. Let's take a look at 6 commonly used methods for financing a home remodel. And, once you have a better idea of the financing methods available to you, we'll also help you determine what you need to have to approach your lender for securing a remodeling loan.
How to Finance a Home Remodel:
6 Commonly Used Methods
There are myriad of ways to finance a home remodel. In the end, the best method is going to be the one that best fits your budget and your priorities for both your home and your finances. When you're looking at all the options, it can be a bit overwhelming to understand what's what. Let's take a closer look at 6 of the most common methods for financing a home remodel:
01. Cash
Cash is hands down the easiest way to finance your home remodel. When you pay with cash, all you have to worry about is making your payments to your contractor or design-build firm on time. There's not much paperwork, no interest, and no late fees — just a contracted cost and a payment schedule.

In a perfect world, we would always have the money we need on hand. Unfortunately, paying for a home remodel in cash just isn't a viable option for most. While it's a great option for smaller projects, it's just not feasible for most large-scale home remodel projects.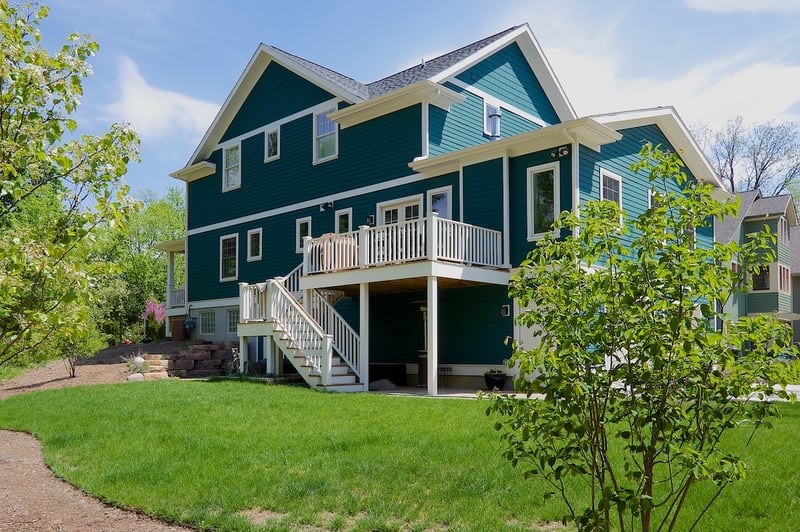 Exterior Before Addition
02. Family Loan
Another potentially simple way to finance a home remodel is through a family loan. If you have a family member who can loan you the money you need for this home remodel, you'll likely get more favorable terms than any bank could offer.
A word of caution: If you're concerned that lending money within the family could cause drama, it's best to simply move on to a more traditional financing option. Even if your family is more than happy to help, it's a good idea to get the loan and repayment plan on paper, so everyone knows exactly what's expected.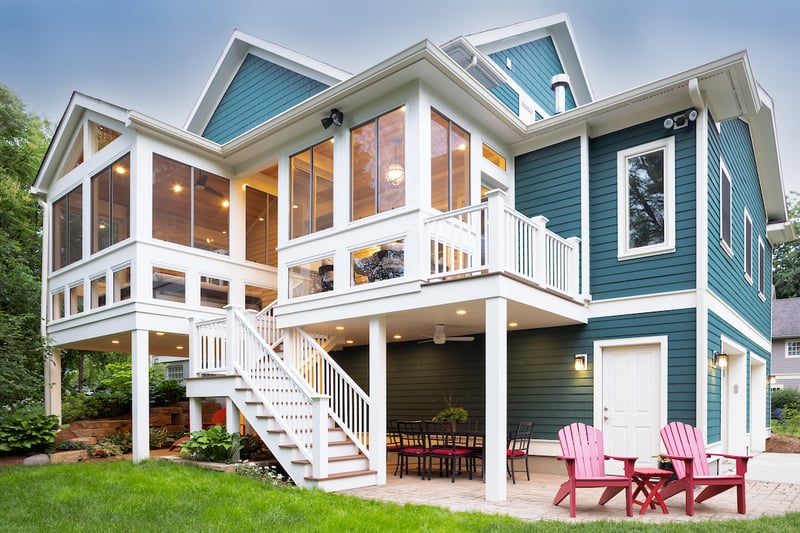 Exterior After Addition
03. Home Equity Line of Credit (HELOC)
A home equity line of credit (HELOC) is another way to finance a home remodel. A HELOC is particularly useful for larger projects because it works much in the same way as a credit card. Based on how much equity you have on your home, your bank will extend you a line of credit. You make monthly payments just as you would on a credit card, with each payment working to pay down your principal balance.
A key benefit of a HELOC is that you can take out money when you need it, and it transfers quickly. For home remodeling projects, which are often paid in installments rather than in lump sums, this is ideal. You get the money you need for each installment and then you pay that off with your monthly payments.
In addition to offering relatively low rates, HELOCs typically don't have to be paid in full for 8-10 years, with some banks offering up to 12-15 years. Make sure you talk to your bank or credit union if you're considering this method of financing your home remodel, as they'll be able to walk you through all the specifics of what your rates will be, and your repayment terms.
04. Home Equity Loan
A home equity loan is another common method of financing a home remodel. Similar to a HELOC, your bank gives you a loan based on the amount of equity you have in your home. This means your home is the collateral for this loan.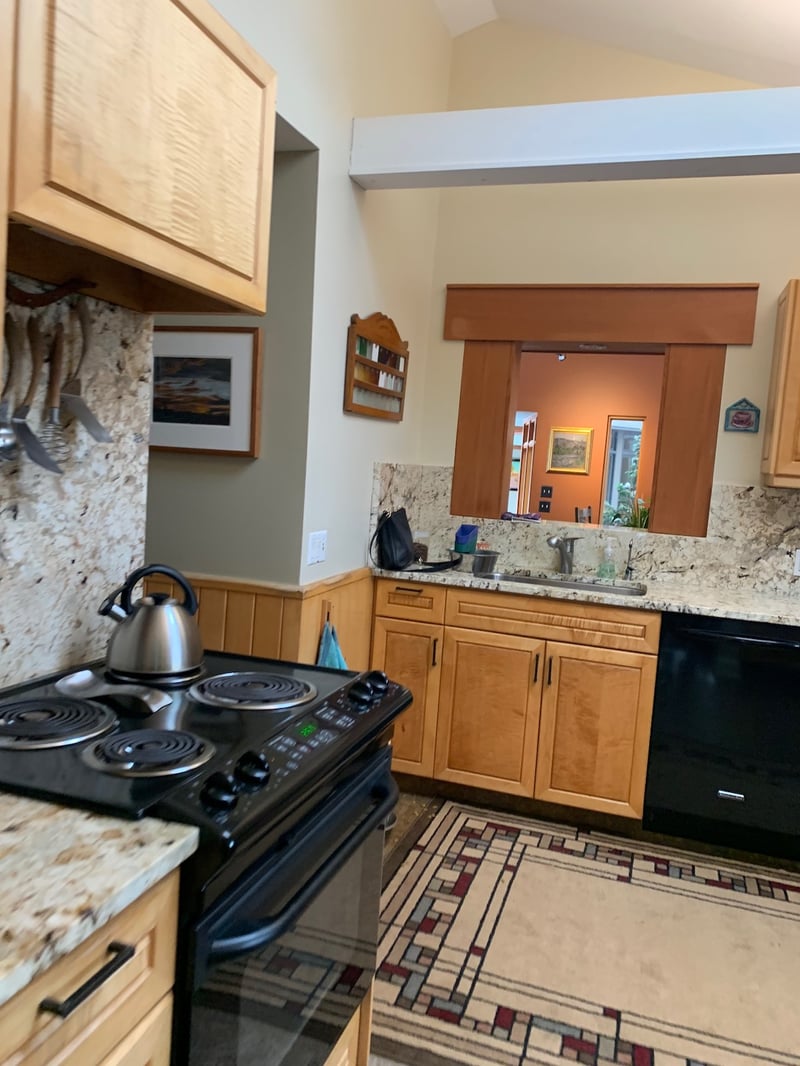 Kitchen Before Remodel
Most banks require a certain minimum credit score to get a home equity loan with favorable terms, and you'll need to have a decent amount of equity into your home as well. So as long as you qualify — a home equity loan is another financing method that offers relatively stable payment terms and lower interest rates.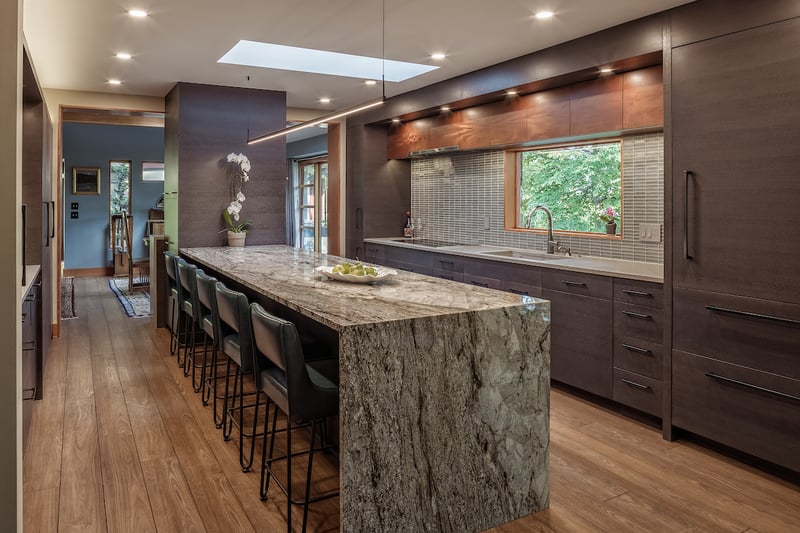 Kitchen After Remodel
05. Construction Loan
Construction loans were created specifically for the purpose of funding home remodels or home building projects. These loans are available from a number of third-party lenders. Compared to other home remodel financing methods, construction loans are structured on a fast repayment plan — usually in a year or two. Your rates will also depend largely on your credit.
Most construction loans function on the 20/80 method, where you put down 20% of the loan, and pay the remaining 80% back over the term of the loan. Because these loans are on such short timelines, you don't have to worry too much about your rate changing, but that also means they're not the best option for larger-scale home remodel projects that carry a higher price tag.
06. Personal Loans
If you have recently purchased your home, or if your credit isn't the best, you might not be able to get approval for some of the other financing methods. In that case, a personal loan might be a good option for you. Personal loans are available through nearly any lender, but it's important to really dig into the payment plans and rates associated with each lender you consider.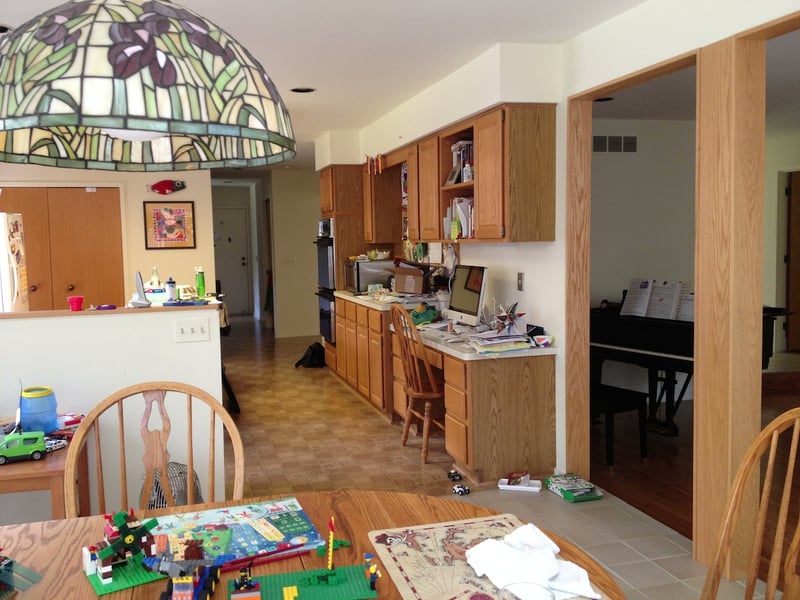 Kitchen Before Remodel
A personal loan is an unsecured loan that you pay back according to the lender's rates and payment terms. Because it's unsecured — which means there is no collateral, like a house or other property, tied to the loan — personal loans often carry higher interest rates.
It's also important to make sure you're looking closely at the terms attached to the personal loans you're looking into. Personal loans are often sold and transferred to different lenders, which means your rates can fluctuate. While reputable lenders often attach caps and rate increase maximums to personal loan terms, your rates can increase at each six-month increment, which can mean you end up paying a great deal more than you borrowed by the time your loan is paid off.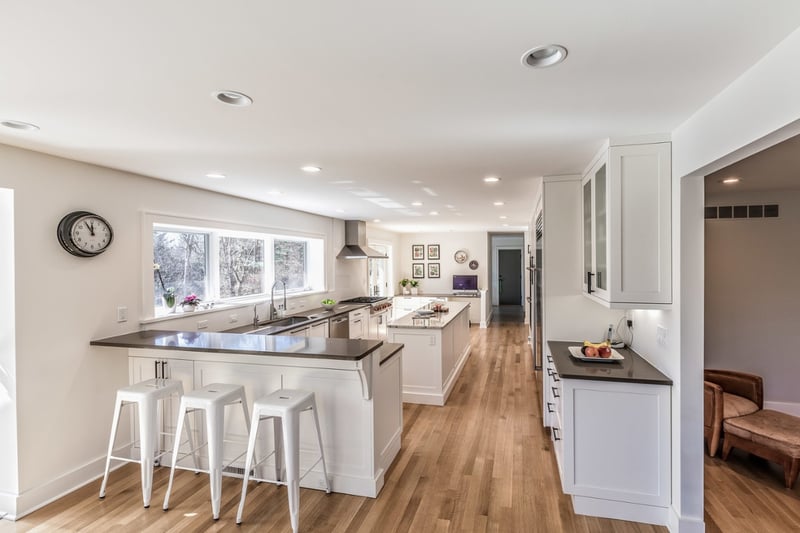 Kitchen After Remodel
What to Know Before You Approach Your Lender to Finance Your Home Remodel
Now that you have a clear idea of the remodel financing methods available to you, it's time to make a decision. If you're not planning to pay in cash or get a loan from a family member, you'll need to approach a lender to secure that financing. But before you do, you need to do some "homework." Here are 4 things to have considered and have in hand before talking with a lender:
1. Have A General Idea of Your Project & Budget
Before you even consider speaking with a lender, it's important to have a general sense of what you want to do, and how much you'll need to do it. Your lender may want to know what kind of home remodel you're planning for and it's important that you have a ballpark number of the cost to do the project. This is a good time to consult the remodel estimate you may have collected from your contractor.
Borrowing too much is risky, because you'll have to pay interest on the money you take out.
Borrowing too little could mean you come up short when your home remodel project gets underway.
So, start with a general idea of your project and your budget. Once you talk to a lender, you'll have a better picture of how much they'll let you borrow.
2. Know How Much Equity You Have in Your Home
One of the most common ways to finance a home remodel is to borrow against the equity you have in your home. You earn equity as you pay back your mortgage. In each of those monthly payments, the percentage you pay towards your loan's principal is how much equity you earn.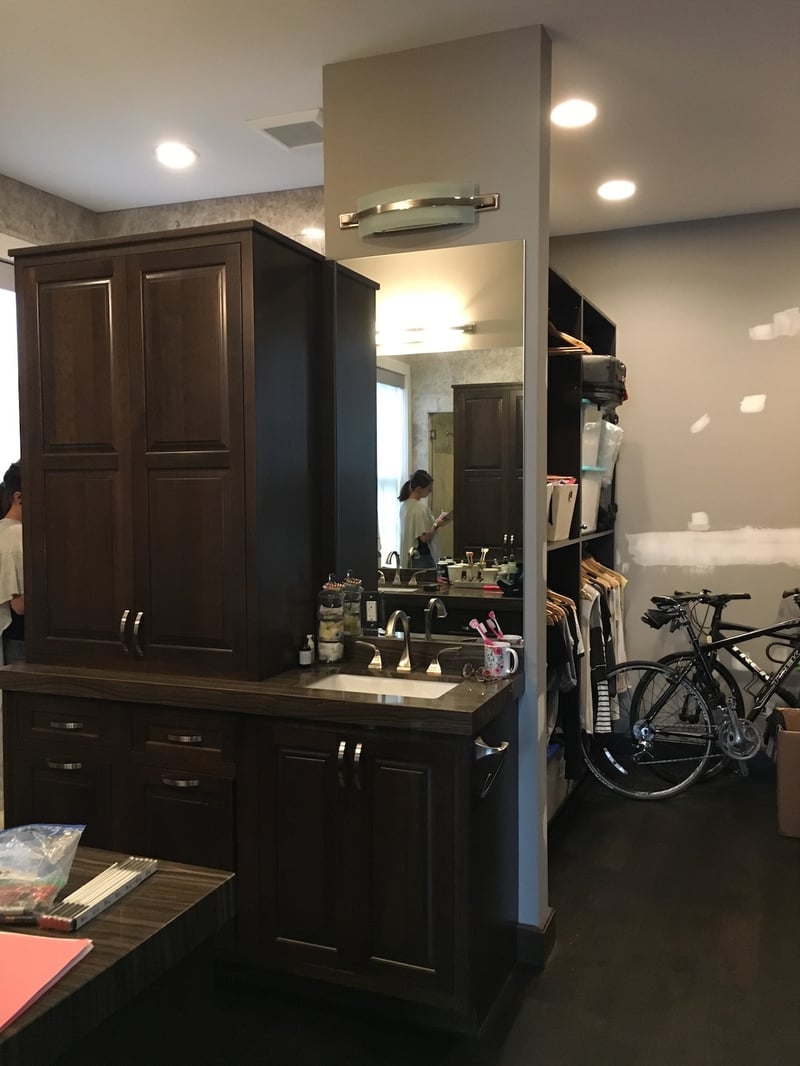 Primary Bath Before Remodel
If you've owned your home for a long time, or have paid back a significant portion of your mortgage, you'll have more equity to borrow against than a homeowner who has just purchased their home with a typical mortgage and a low down payment. The lender will need to have proof of your equity position and will factor that into the equation for the amount of loan they will offer.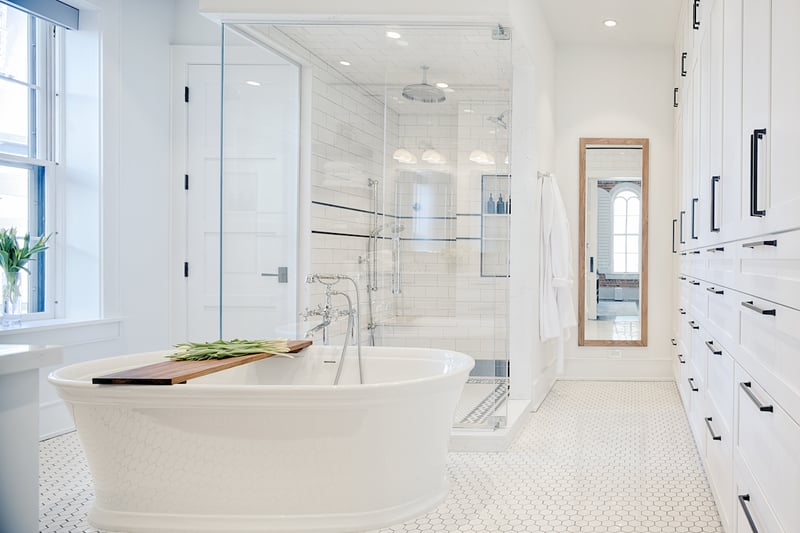 Primary Bath After Remodel
3. Understand Your Credit Score
Your credit score is the other important number to know before you decide on a method of financing your home remodel. The better your credit score, the more favorable terms you'll get on a loan. If your credit score isn't the best, that doesn't mean you won't be able to get financing, you may just have to compare a few options to find a financing method that's best for you.
4. Have An Idea Of The Payment Plan for Your Remodel
While every contractor is different, for most home remodel projects, you will pay for the work in installments. Many homeowners think they need to come up with one large sum to pay for the whole project. In actuality, most projects are broken out into at least two or three installments, so you pay for a portion of the project at each major step of the remodeling process.
With all of that key information in hand, you can confidently approach your lender to request the financing you need for your home remodel.
Don't Get Overwhelmed
Financing a home remodel can feel overwhelming, but by taking a close look at your options, doing your homework and speaking to your lender about the terms available to you, you'll be able to find a financing method that fits your budget and your project goals.
Ready to start a home remodel project? The Meadowlark team can help!