After a long, snowy winter and rainy spring, there's always a new level of excitement for summer. This time of year, Ann Arbor celebrates with festivities like Top of the Park and low-key drinks at Bill's Beer Garden. It's also the time of year when homeowners start thinking more about exterior home renovations, most notably a well-designed front porch.
So let's talk about the good ol' front porch — including how a front porch remodel can revitalize your home's exterior and what all goes into that process.
The History of the Front Porch
The history of the front porch is interesting, and almost wholly American. If you'd like to dive deeply into it, check out this article from MLive: The History of the Uniquely American Front Porch.
The short rundown is that the front porch is an archetype in classic American home design, most prominently featured in homes of the 1900s. For example, many of the historic Sears Home Kits included front porches in their floor plans (check out the price of those kits, just for kicks!).
Architecturally speaking, the front porch was the first step in the progression of homes that welcomed a visitor from the exterior into the interior — from public to private space. The covered extension of their living space connected the homeowner to their neighborhood.
The front porch fell out of trend in the mid-1900s when the desire for decks and more privacy became the norm. But as in fashion, ideas are always being recycled, and we're currently experiencing a renaissance of the front porch.
5 Benefits a Front Porch Remodel Can Bring to Your Home
There are multiple reasons why so many homeowners are starting to invest in front porch remodels and additions again. If you're considering investing in one as well, one of those reasons is probably what sparked your interest.
Boosted Curb Appeal — Whether you want to stand out in your neighborhood or create a more welcoming entrance for guests, a front porch can do wonders for your home's curb appeal — especially if you have a flat-front house!

Additional Living & Entertaining Space — Front porches offer covered spaces that can function like additional living and entertaining spaces. Use it to enjoy your morning coffee, get some fresh air while you're working from home, or host your friends on Friday nights.

Stronger Community Connection — When you sit outside and enjoy your front porch, you're able to interact more with your neighbors and passersby. It can instill a larger sense of community, bridging a gap between your private and public space.

Improved Energy Efficiency — A well-designed, covered front porch can offer an additional layer of protection from outdoor elements. This can help keep your home more comfortable without using more energy.

Higher ROI – For all the reasons listed above, a new front porch can boost your home's value tremendously. If you're looking to resell in the future, it can make a great investment.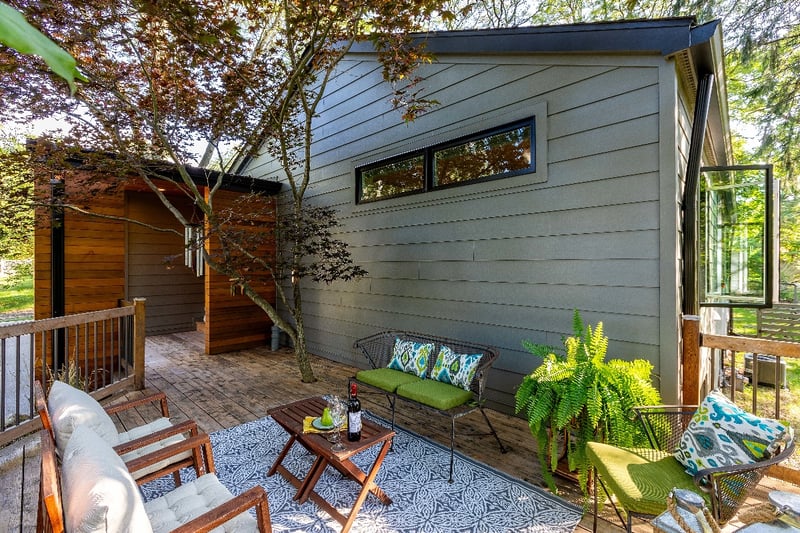 Front Porch Remodel FAQs
Now for the actual project details. If you have questions before diving into a front porch remodel, we're here to answer them and help you plan for a successful project. Check out the front porch FAQs listed below, and feel free to reach out to us if you have a question that's not addressed here.
What's Involved in a Front Porch Remodel?
It depends. Every front porch remodel is different and should be in order to reflect the unique design preferences each homeowner has. But if we're speaking broadly, front porch remodels generally include some of the following:
How Long Does a Front Porch Remodel Take?
Traditional front porch remodels can take anywhere from a few weeks to a few months. This timeline varies based on things like project size, project scope, and availability of material and labor resources.
At Meadowlark, we take extra time to carefully consider the design process we value so much. When we spend a little more time on design, we end up with better results — and that's what we want for all of our clients.
How Much Does a Front Porch Remodel Cost?
Again, it depends. A small, DIY front porch remodel can cost as little as $5,000 to $10,000. A custom remodel or addition is bound to be priced much higher.
Our recommendation? Compile a list of needs and wants for your front porch remodel, then talk to a contractor or design-build team like us to get a more accurate estimate or quote. Talking to a professional or two in the industry can help immensely when you're trying to nail down a budget.
At Meadowlark, we take budgets seriously. We build time for our clients to budget in every project we work on, and we're always clear about what is and what isn't included in our remodels. We want you to be satisfied with your project, and we know the financial side is a huge aspect of that.
Do I Need a Permit for a Front Porch Remodel?
Usually. Most local authorities require you to obtain a permit before starting any substantial modifications to your porch. These could be building permits, electrical permits, historical home renovation permits, HOA permits, and so on. The best way to find out which permits you will and won't need is to talk to your trusted contractor or design-build firm.
What Are Some Fun Ways to Add Character to My Front Porch?
Every front porch is different. If you're looking for some ways to integrate your unique personality into your new outdoor space, here are a few ideas. Keep in mind that some of these items aren't typically included in the remodeling estimate you receive, so you'll have to set aside extra room in the budget for them.
Bright paint colors on doors, railings, furniture, or decorations

Unique lighting fixtures like lamps, lanterns, sconces, or even chandeliers

Fun furniture like couches, swings, or benches

Plants and landscaping like flowers, trees, cacti, and more
Still not sure what design styles you'd like for your front porch? We've got some project examples below.
Front Porch Remodel Ideas & Inspiration
Check out some of these photos of front porch remodels we've completed at Meadowlark. All of these clients had differing homes and design preferences, and we were excited to help them make their front porch dreams a reality!
New "Old" House
This Meadowlark custom home was designed to fit seamlessly into one of Ann Arbor's oldest neighborhoods and has the US Green Building Council's (USGBC) LEED Platinum certification. Its front porch is contained inside the footprint of the home. In other words, it doesn't wrap around the house.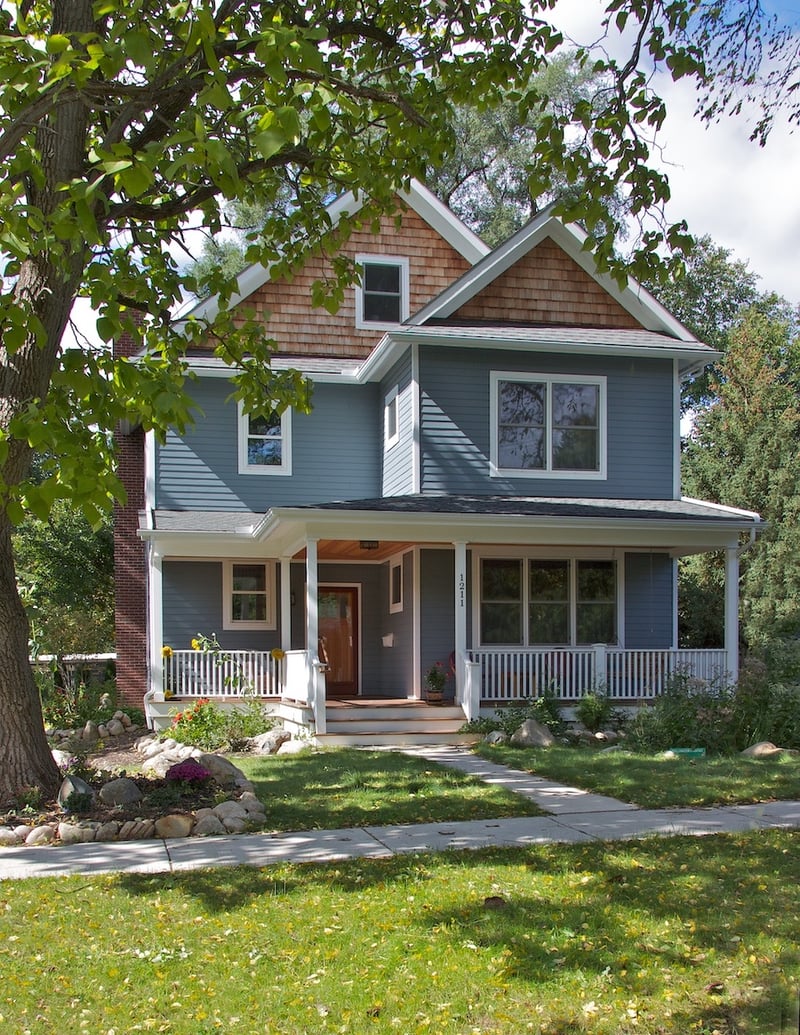 Color-Pop Exterior Remodel
This remodeled home also has the USGBC's LEED Platinum certification. Its front porch begins to wrap slightly around the home and take its own form, adding living space to the exterior. We also love the eye-catching front door color our clients selected!
Check out the before and after photos: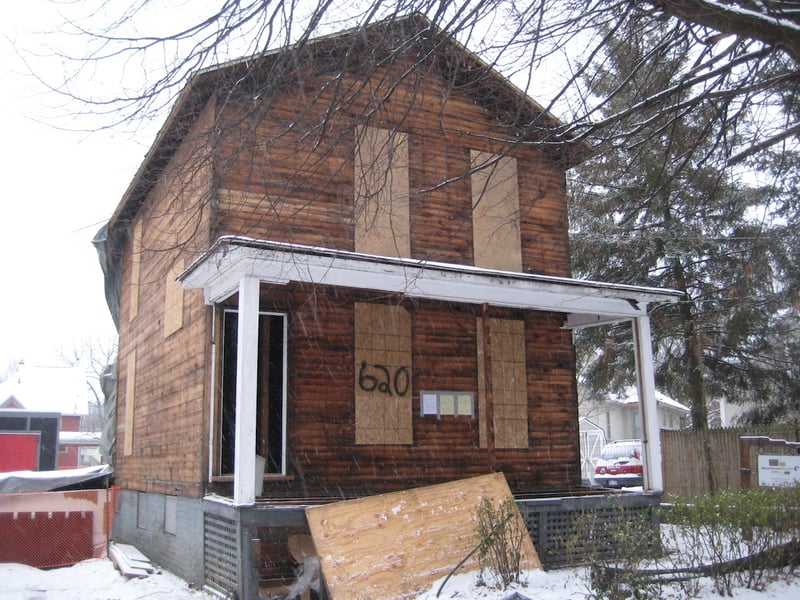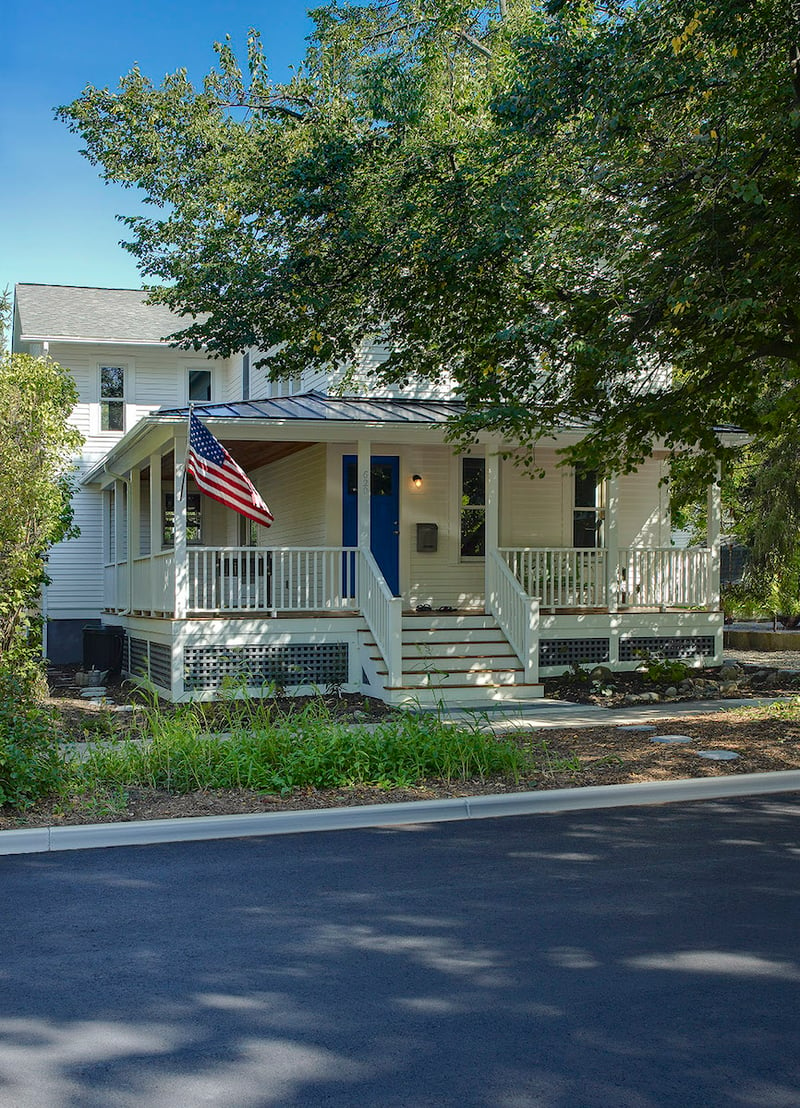 Modern Custom Home
This Meadowlark custom home was designed to look modern, but blend beautifully with the natural elements surrounding it. The front porch here runs along the linear facade of the one-story home. Instead of wood, it features exposed aggregate concrete flooring, and it also includes a porch swing.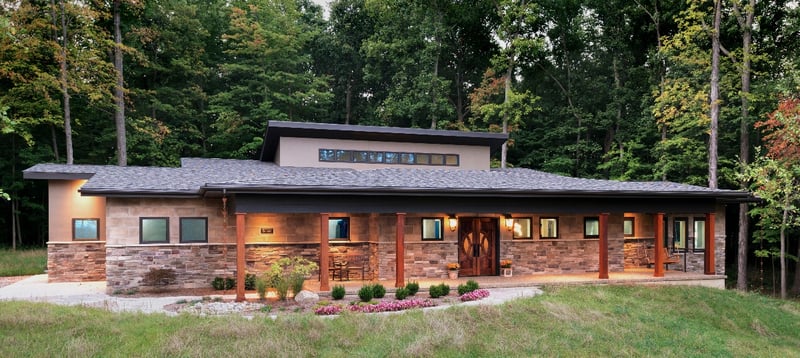 A Captivating Cape Cod
This very modest-sized home in Ann Arbor was in need of some major exterior love. Our clients longed for a front porch where they could relax and enjoy the view of the park directly across the street. A two-phased remodel plus addition transformed home both inside and out and gave them the front porch and the curb appeal they were dreaming of.
Check out these before and afters: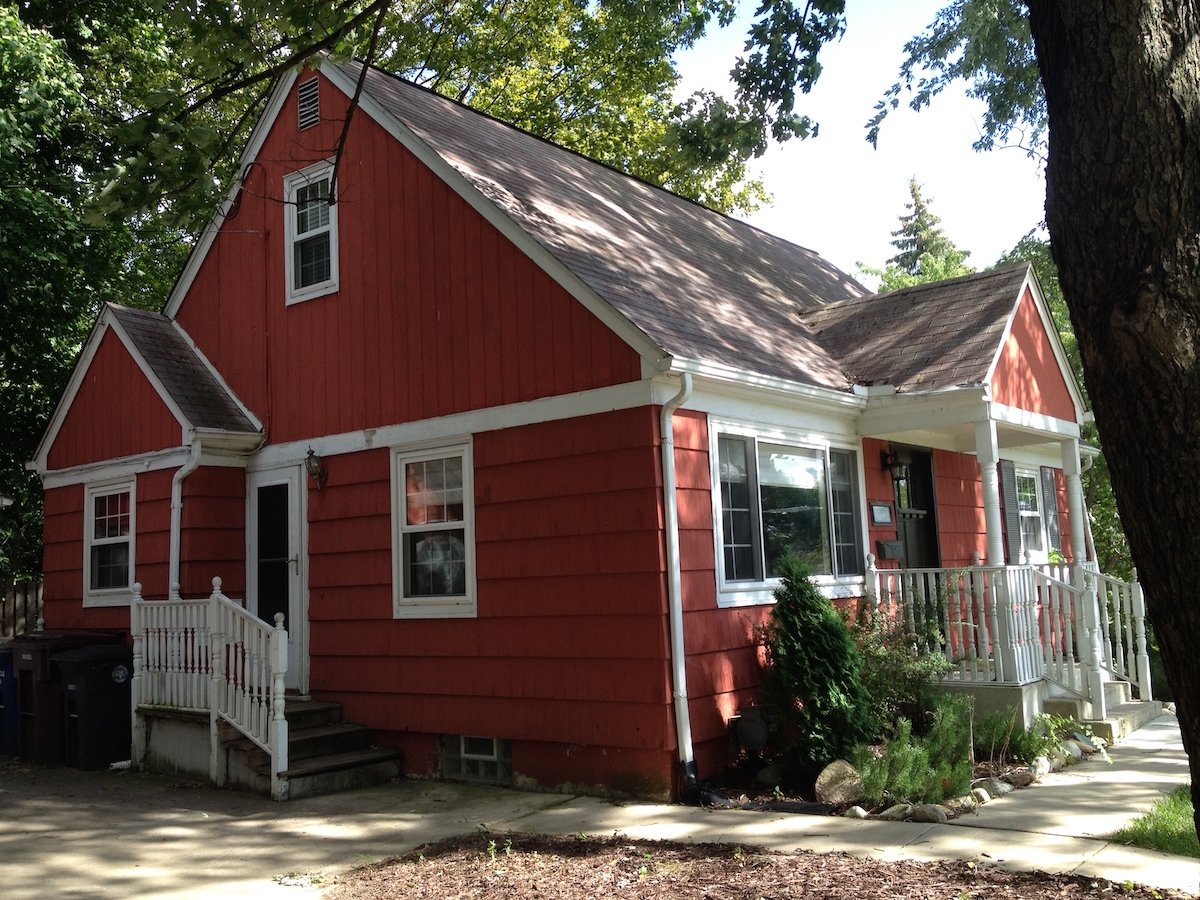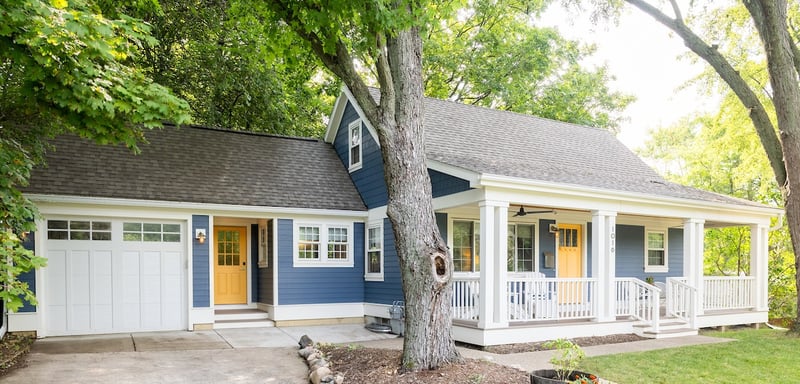 Start Your Front Porch Remodeling Project with Meadowlark
Ready to start your front porch remodeling project? Choose Meadowlark Design+Build. We're an award-winning and nationally recognized home builder with a passion for transforming outdated spaces into forever homes. Get the conversation started by calling us at (734) 332-1500 or contacting us online.