From Passive House, to Net Zero, to Energy Star, and more, there are many green building standards and certifications available for homeowners. But when there are so many out there, it can be tough to determine what's what — and, not to mention, what's best for your home.
In this article, we're talking LEED certifications. We'll dive into what LEED certification really means, as well as why you may want your new custom home or renovation to have one.
What Is a LEED-Certified Home?
LEED (Leadership in Energy and Environmental Design) is a green building certification developed by the U.S. Green Building Council. It's the most widely used green building rating system in the world. There are different LEED certification programs developed for residential homes and commercial buildings.
A LEED-certified home is one that is designed and constructed in accordance with the guidelines established by the LEED for Homes green building certification program. The LEED for Homes certification program requires thorough third-party verification that your home was built or remodeled using best sustainability practices — improving things like energy efficiency, water efficiency, and indoor air quality, and reducing things like carbon dioxide emissions, wasted natural resources, and long-term environmental impacts.
What Are the Qualifications for a LEED-Certified Home?
To obtain a LEED certification for your home, you must meet certain design and construction requirements. LEED uses different rating systems for various types of projects, so those requirements can vary from build to build. However, they all revolve around these seven major components, which can score you a range of LEED "points":
Sustainable site (up to 26 points)

Water efficiency (up to 10 points)

Energy and atmosphere (up to 35 points)

Materials and resources (up to 14 points)

Indoor environmental quality (up to 15 points)

Innovation in design (up to 6 points)

Regional priority (up to 4 points)
What are the Levels of LEED Certification?
Based upon the seven components listed above — the more points your home scores, the better. These points are then totaled up to place your home into one of the four levels of LEED-certification, which are:
Green (40-49 points)

Silver (50-59 points)

Gold (60-79 points)

Platinum (80-110 points)
Do I Need to Build New to Achieve LEED Certification?
No. We have completed several whole-home renovations that are LEED Platinum certified. Depending upon the location, condition of your home and also the type of renovation you are interested in doing, you can make even the most un-efficient home LEED certified. Case in point is this LEED Platinum whole-home renovation and addition of a circa 1910 Victorian home in Ann Arbor that most builders would have just torn down and started from scratch.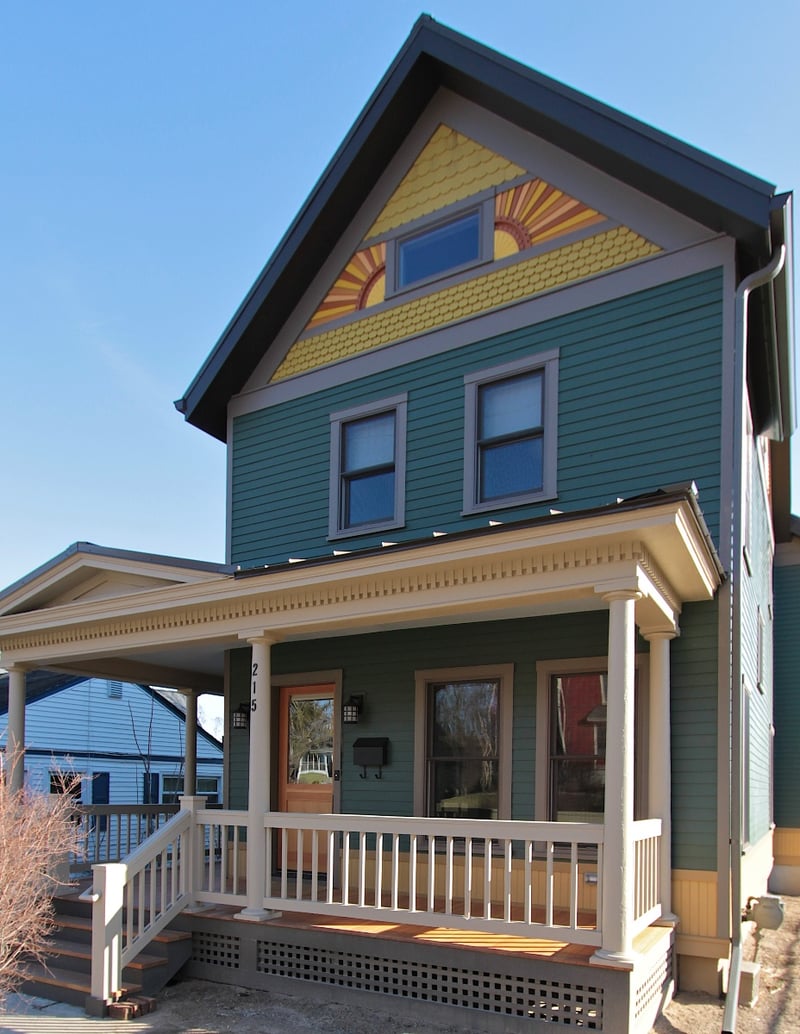 How Does Your Home Become LEED-Certified?
There are four main steps to obtaining a LEED certification for your home, all of which involve a different amount of time and effort. The four steps are:
Register - Register your LEED project online, providing basic project information and submitting your payment.

Verify - Participate in on-site verifications with your LEED Green Rater and Energy Rater throughout the design and construction process. This usually involves 3-4 separate site visits in which you'll need to provide necessary information, calculations, and documentation.

Review - Once the project is complete, your LEED Green Rater will submit your entire application for a final review to Green Business Certification Inc. (GBCI).

Certify - Your project team will be awarded your LEED certification results via an email from GBCI!
How Much Does a LEED-Certified Home Cost?
Every project is different so it't tough to put an exact price tag on the cost differential between a standard code-built home vs a LEED Certified Home. In general, a LEED-certified home is a bit more expensive to design and build. In addition, the LEED certification process itself comes at an additional cost. However, the lower energy costs, ease of maintenance and the improved comfort and health of your home offer LEED-certified homeowners a great lifetime value and a compelling return on the upfront investment.
Why Should You Build a LEED-Certified Home?
There are many benefits a LEED-certified home can provide, for your health, your environment, and your bank account. Let's take a closer look at a few of them.
Healthier Home for Healthier Living
LEED-certified homes are designed for clean indoor air and ample natural light, and they're constructed with safe, toxin-free building materials. Everything about a LEED-certified home ensures more comfort and health than a traditional home could provide.
Energy Savings = Cost Savings
On average, LEED-certified homes use 20-30% less energy than non-certified homes. Some homes can save even upwards of 60%! And when you use significantly less energy and water, you can enjoy much lower utility bill payments, month after month.
Environmental Stewardship
One of the biggest benefits of LEED-certified homes is their low environmental impact. So if you're dedicated to leaving a smaller footprint, a LEED-certified home is a great place to start.
A large portion of the LEED mantra is minimizing the waste stream. For example, if you were to complete a LEED-certified whole-home renovation, a major aspect of it would be reusing and repurposing existing materials to prevent them from ending up in landfills. We have used repurposed materials for everything from stair treads to flooring to fireplaces and even furniture!
Return on Investment of a LEED-Certified Home
As mentioned previously, a LEED-certified home will probably come at a higher upfront cost, but there's no doubt you'll make up the difference in energy savings over time. With proper planning, a LEED-certified home can be built for the same (if not better) lifetime value as a traditional one.
LEED-certified homes can also qualify for additional savings, depending on where you live. Things like tax breaks and discounted insurance can really pay off in the long run. And, if you should ever decide to move, LEED-certified homes are also known to deliver a higher resale price.
Build Your LEED-Certified Home with Meadowlark's Green Building Experts
At Meadowlark Design+Build, planning is the name of our game. We're committed to building for the future, which is why our experienced team can help you build a LEED-certified, Zero Energy Ready, Passive or even Living Build Challenge home.
If you're interested in implementing green building techniques and technologies in your new or existing home, we'd love to help. Give us a call or contact us online to get started.