Regardless of the style of your home, if the front facade of your home is flat and lifeless — an exterior remodel can do wonders for adding curb appeal. Luckily, there are plenty of design techniques available to help transform those exteriors into something more dimensional and inviting. If you have a flat-front house, like a colonial or a ranch, we're here to help you add some more curb appeal to it.
For example, everyone loves a classic colonial, but there's something about many of them that can look a bit, well, flat. Case in point: here is the before photo of a traditional colonial before Meadowlark's exterior renovation.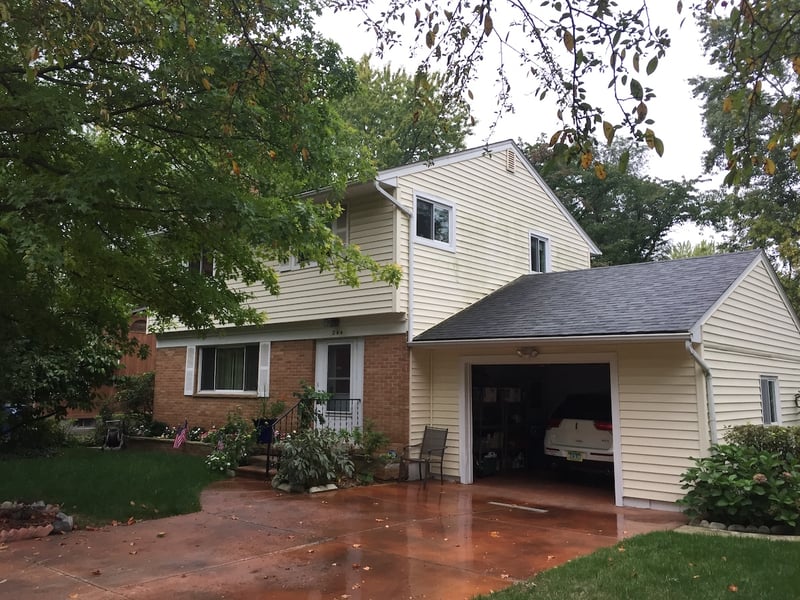 5 Ways to Add Curb Appeal to a Flat-Front House
Exterior renovations can be a process, but even the smallest ones can make the world of a difference when it comes to flat-front homes — making them well worth your time and money. Here are five fool-proof ideas you can use to boost your flat-front house's curb appeal:
1. Embrace Contrast
You can turn any dull home exterior into an eye-catching one, simply by adding a few contrasting elements. There are plenty of unique methods of doing this, from installing a brightly colored front door to choosing differing shutter and trim colors. Even though these don't change the flat landscape of your home, they do add focal points for multiple points of interest.
Here is the after photo of the same home we showed above. In this case a front porch overhang gives the front facade depth and provides protection from the elements. Cement fiber siding replaces the tired vinyl and and brick, and an interesting mix of contrasting colors complement the slate-gray main color.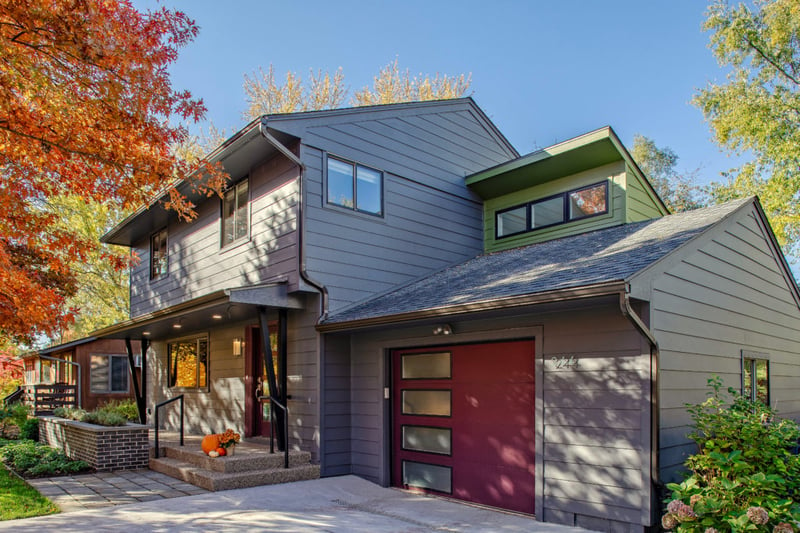 2. Bring In Movement with Landscaping
Love landscaping? Us too! We find it to be one of the most beautiful (and effective!) ways to make your home's exterior pop. Line your front walkway with flowers and plants — or, if you prefer a more traditional style, install window boxes.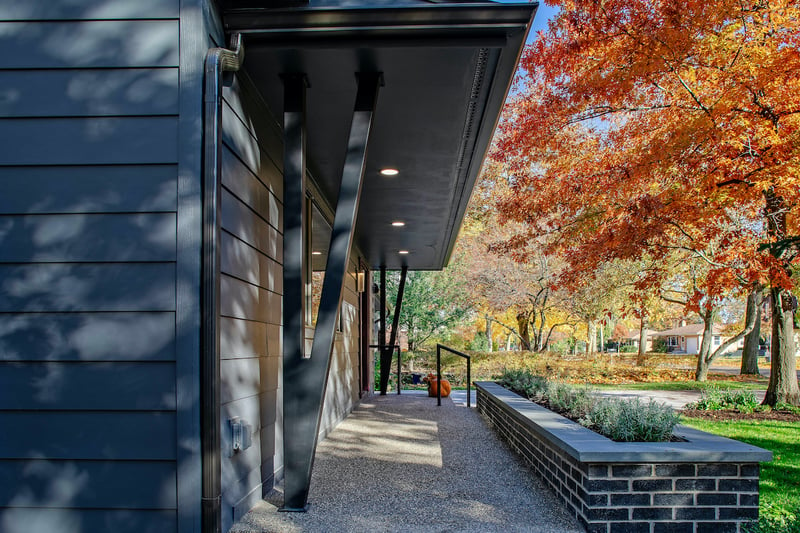 No matter which forms of landscaping you choose for your yard, try to make it evoke some movement. When you've built multiple layers into the front yard's landscaping and it seems to "flow" along the front of your home, you've hit the dimensional sweet spot. Your flat-front home won't look so flat anymore, sometimes without even having to touch the house itself.
3. Work Miracles with Dimension Lighting
You'd be amazed at what a little lighting can do! From adding lanterns on either side of your door to investing in dimensional lighting that add shape to the front of your home, lights can create visual effects that work wonders — seamlessly adding curb appeal to your flat-front house.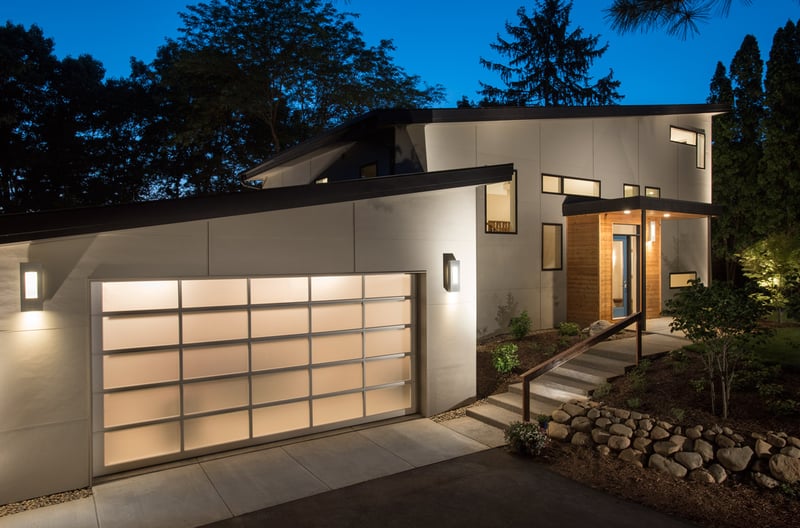 4. Add Texture with Different Types of Siding
Siding isn't the most fun element to shop for or install, but it can make an undeniable difference in your flat-front house's curb appeal. We often recommend varying your siding options for flat-front homes because they create more texture and visual interest.
Narrow siding not your thing? No worries! Many homeowners opt to install contrasting siding choices along the front of their homes. For example, if you were to install wood plank siding on the front entryway and pair it with another style of wood siding or a different type of siding on the rest of your home, you'd end up drawing a lot of visual interest to your entry door — creating dimension and taking the attention away from the flat parts of your home.
This '70s contemporary was dark, brown and less than inviting. In addition, overgrown landscaping had taken over the lot making the home almost unapproachable.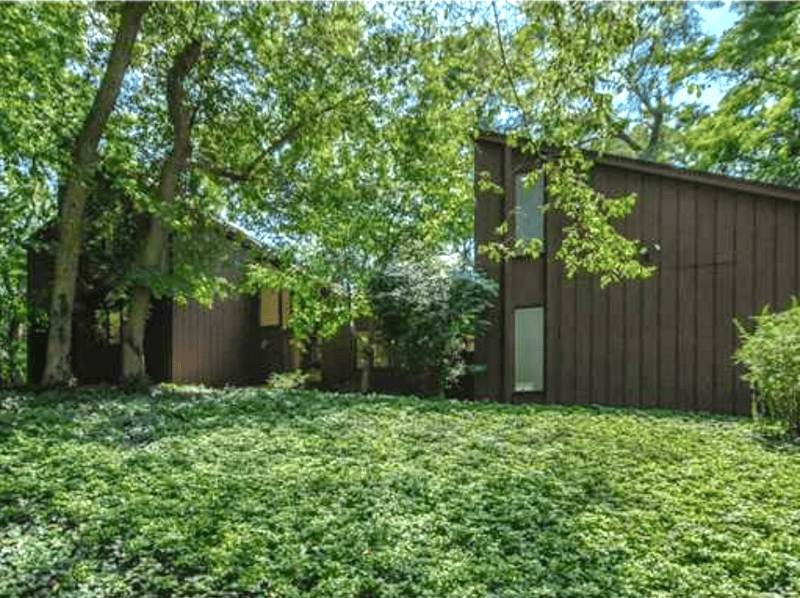 For this exterior remodel — a siding change, along with a major landscaping overhaul completely transforms this home. Natural cedar siding mixed with off-white stucco panels takes advantage of the architectural features of this home previously lost in the dark, monotone siding.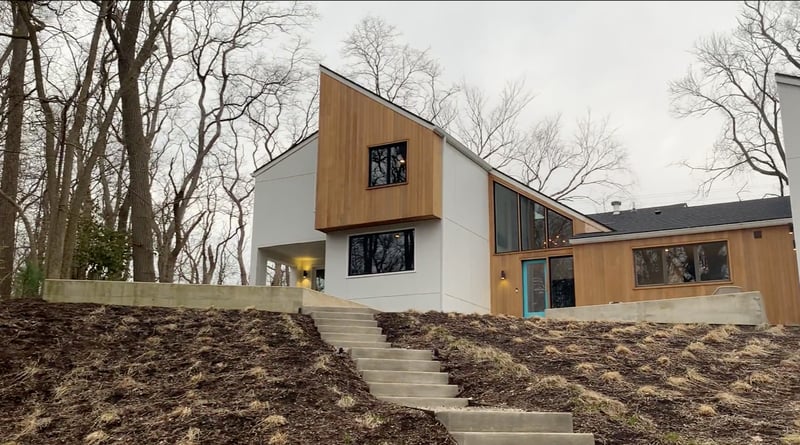 5. Build Dimension with a Porch or Pergola
There's more to porches and pergolas than additional outdoor seating and entertainment (although, we're pretty big fans of those things too!). The bottom line is, when these additions are built onto the front of your home, they inherently add dimension and bring it out. They're also one of the best things you can do to boost your home's resale value if you're planning to sell.
For this exterior renovation, we changed out the vinyl siding with cement fiber lap siding and added a cedar pergola to add both interest and protection to the front of the home.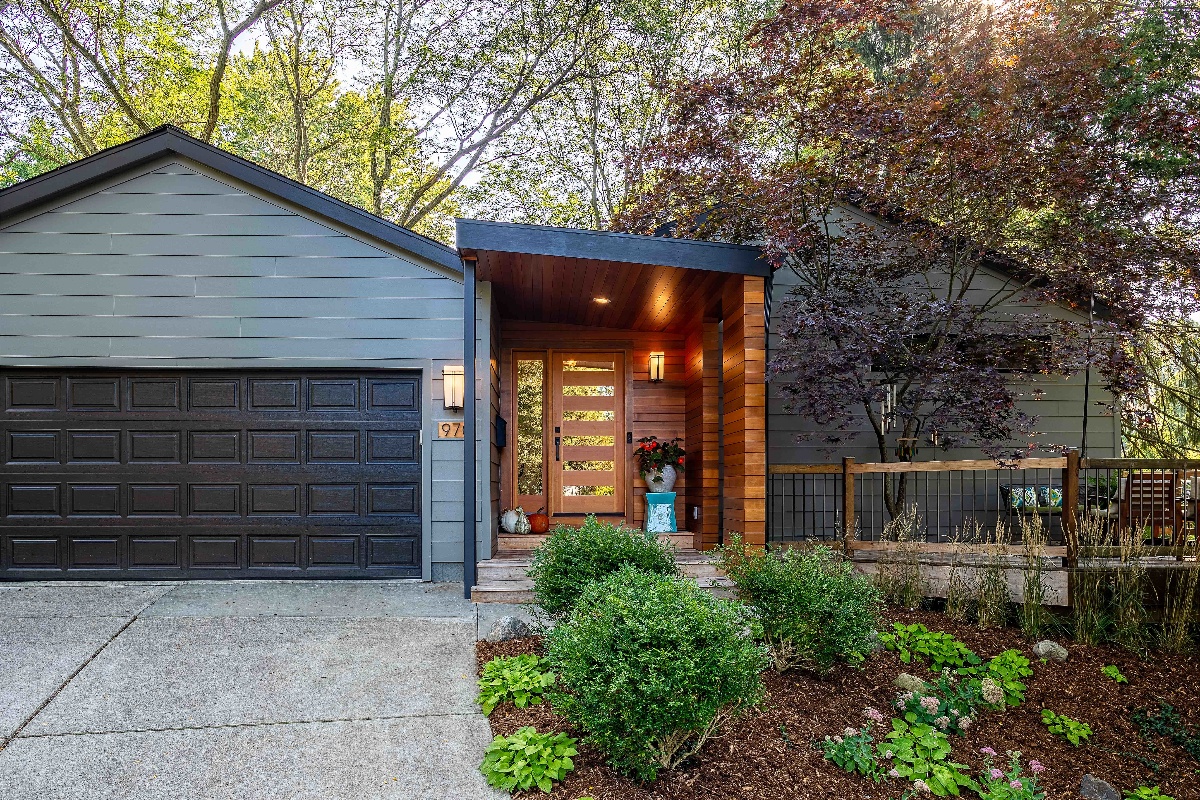 Not sure a new porch is right for your home? Check out this Client Story: A Captivating Cape Cod Transformation, to see how a little screened-in porch can make a world of difference.
Whether you're pondering a porch or contemplating contrasting siding, an exterior remodel can do wonders to breathe life and dimension into your home. The Meadowlark Design+Build team is here to help walk you through every step. Call us or contact us online to learn more.