We've all heard bathroom remodel horror stories. Flooding, unexpected and devastating water damage, bathtubs that didn't quite fit in the door — the list goes on. But, with proper research, planning, and design, you can avoid many of those costly and time-consuming bathroom remodel surprises. Here's how to plan a bathroom remodel that hits as few bumps as possible, ensuring you enjoy the project rather than dread it.
5 Steps to Planning a Successful Bathroom Remodel
Quality bathroom remodels aren't just about choosing the right finishes and appliances — they're also about how you configure the space beforehand. Following these five steps will help you plan a bathroom remodel that looks great, makes the most of your space, and captures the same aesthetic as the rest of your home.
1. Establish Your Goals for your Bathroom Remodel
Determining the scope of your project is the first step to developing a plan that works. Is this a total top-to-bottom gut job, or are you just hoping to replace the cabinets and slap on a new coat of paint? Whatever you decide, these goals can help provide a roadmap for what's to come.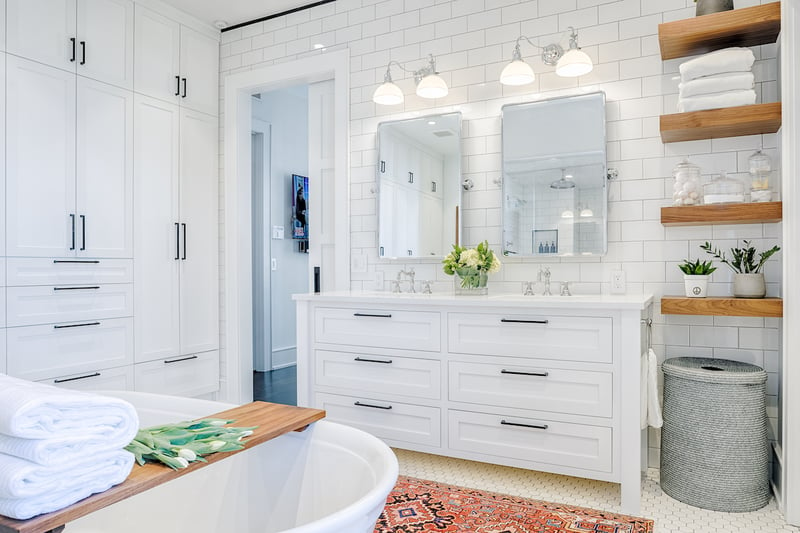 Your project scope and goals will also help you set a budget — an important, yet often overlooked part of the remodeling process. Establishing a budget ahead of time helps to minimize any financial stress and it will narrow down important decisions throughout the process, such as choosing the right contractor to work with.
First remodel? Check out our helpful articles on How to Finance a Home Remodel and Unexpected Remodel Costs so you know exactly what to budget for your bathroom remodel.
2. Find the Right Bathroom Remodeling Contractor
There are a lot of contractors to choose from out there, but finding the one that suits your project needs and your budget is key. Your best bet is to start looking around for contractors who have experience in the type of remodel you're planning, then asking a few of your favorites for their availability and project fit.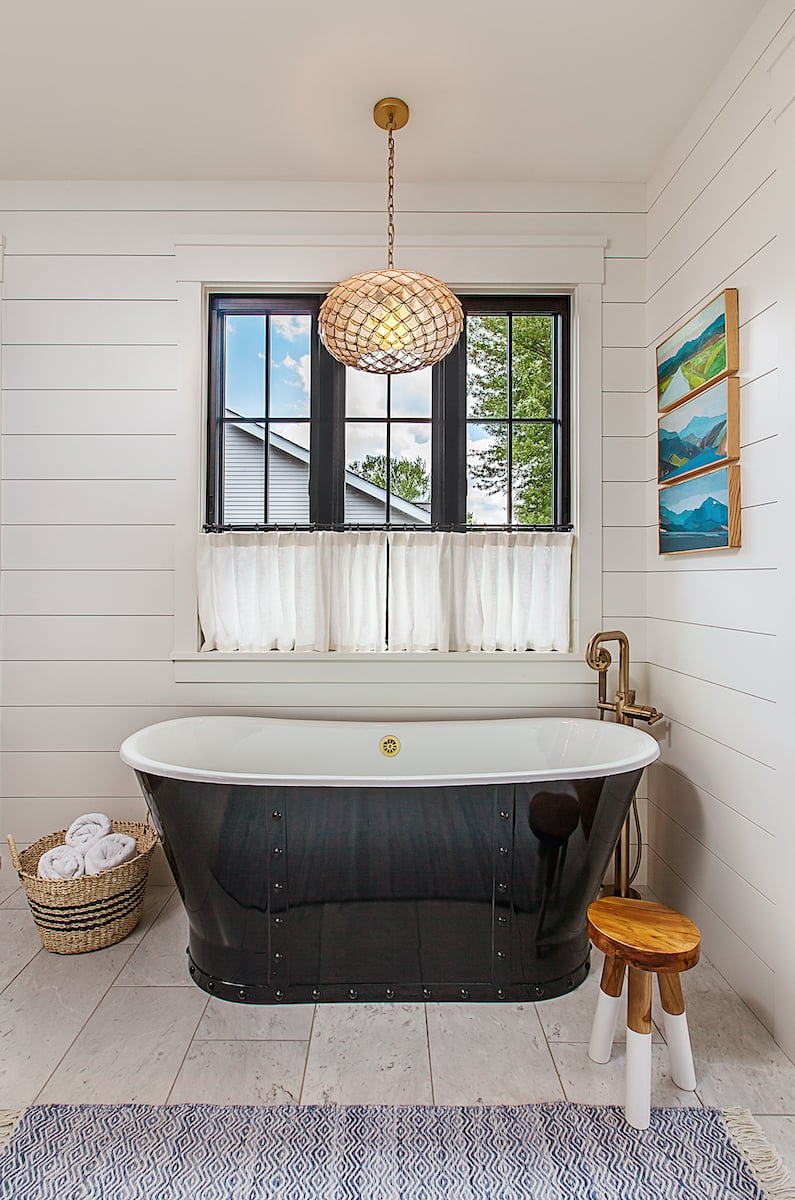 Before you make a decision on a contractor, be sure to talk in depth with a few different ones. When discussing your project goals, make sure you're taking everything that goes into the remodeling process into consideration while comparing them. Is your contractor a design build firm, or just a GC (General Contractor)? If the latter, you will need to go to a kitchen/bath designer or an architect to get the construction-ready drawings needed for the build.
Also you need to understand the process involved and how much time you have to give to it. Are you going to choose, find and purchase all of the selections and materials? If so what happens if they don't fit or are not proper for the installation? Who is going to do the repairs in the event something breaks or isn't working properly after the project is complete?
If you do get several estimates and one is particularly low, make sure it's not missing something that's important to you, like custom finishes, securing all permits and the final clean up at the end of the project. Taking time to fully reflect on what's included in each offer will help you make the most informed decision.

3.

Develop Your Design
A successful bathroom remodel doesn't just happen. It requires thorough planning and design work before any building can start. First, you'll need to choose a design style that fits your goals for the project. Then, you'll have to go about putting that style into your physical plans for this bathroom remodel.
In bathrooms especially, storage space and organization along with the desired function - are key items to focus on. You want to make sure you're maximizing the space available to you in a way that looks great in a bathroom that meets all your wants and needs. An experienced designer can help you tackle this challenge.
4. Choose Your Bathroom Finishes
For most homeowners, making selections and choosing finishes is the most fun part of the bathroom remodeling process. However, it can also be a little overwhelming and take a bit of time. There are a ton of finishing options available, and choosing the one that perfectly matches your desired aesthetic and the rest of your home can be difficult.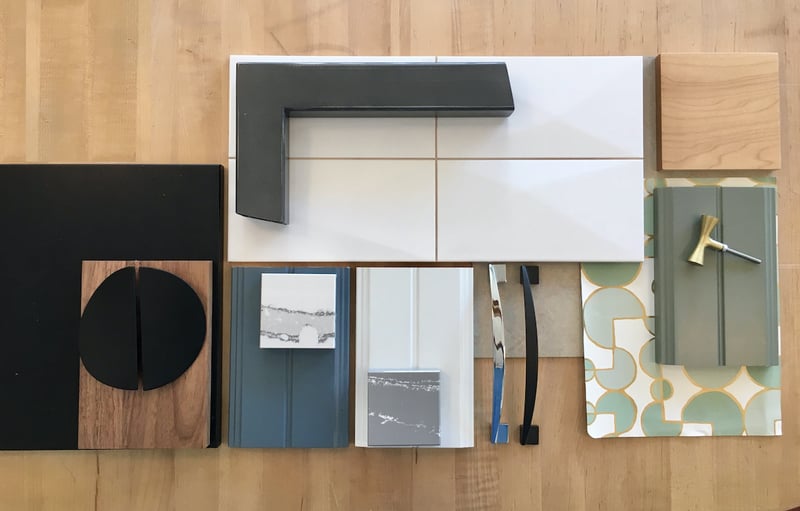 It's important to keep in mind that the faster you make those finishing selections, the more smoothly your remodel process is going to go. Starting early is a great way to give yourself plenty of time to make selections without holding up the project. Make sure you're putting that budget to work by narrowing down some finishes by price, and consult a designer if you're really struggling to make a final decision.
5. Build that New Bathroom!
This is where your new bathroom comes to life. Your planning is done, and your contractor can take over and work their magic!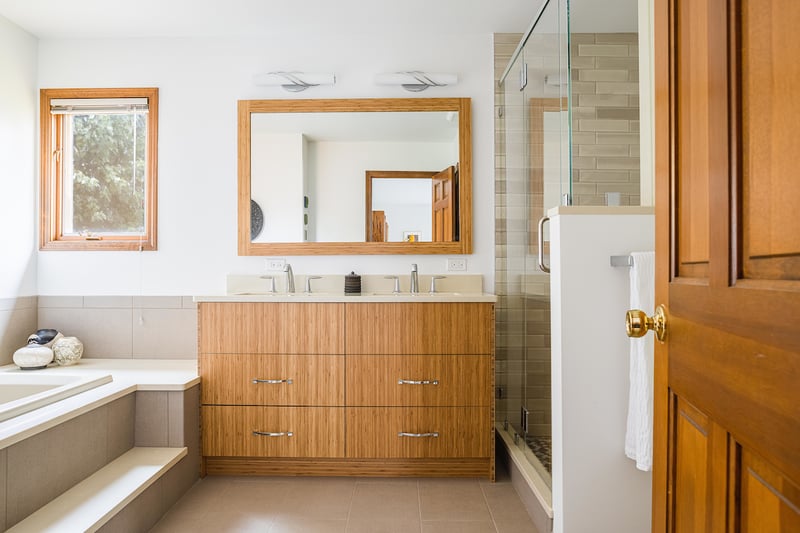 During this stage of the remodeling process, your space can get pretty loud and messy. You'll need to make a decision between staying or moving out during the renovation, and the best answer really lies in how large the scope of your project is. For major renovations, you might want to find a temporary living situation. For quick tile replacements or appliance swaps, you should be fine sitting tight in the comfort of your own home.
Trust Meadowlark for Help Planning Your Bathroom Remodel
As experts in space planning and interior design, Meadowlark Design+Build does kitchen and bathroom remodeling like nobody else. We're a proud wholesaler of Crystal cabinetry lines, but we can also work with you to come up with a customized solution for your unique application if needed. With us, the details matter.