If you're considering a large renovation or whole-home remodel, all the planning and work the project will require can become overwhelming. A phased remodel, where you split the project up into stages, could help.
Here's what to know about phased remodels and the various stages they entail.
What Is a Phased Remodel?
A phased remodel is when you renovate your home in a strategic series of small projects, rather than tackling everything all at once. While the approach isn't appropriate for every homeowner or project, it's a smart option in certain circumstances, especially large-scale or whole-home remodels.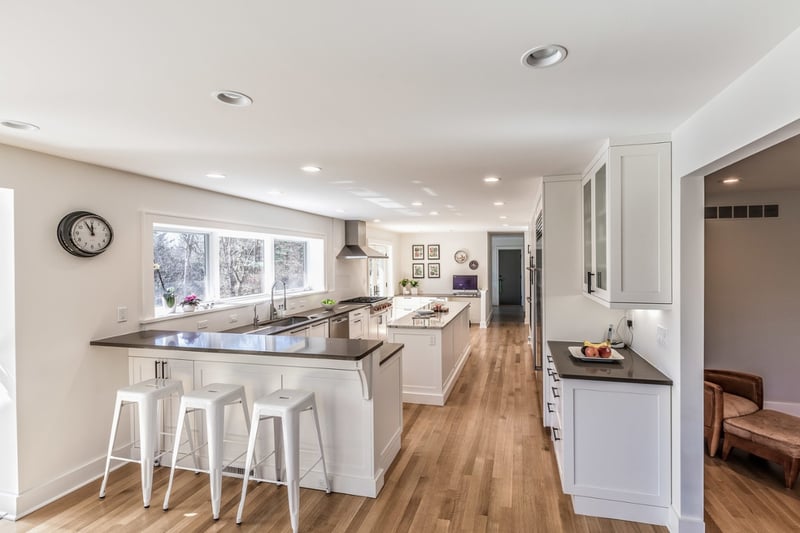 Check out this example of a beautiful, phased remodeling project completed by our team at Meadowlark!
5 Benefits of Breaking Your Home Remodel Into Stages
A phased approach can make your large remodel much less overwhelming in many different ways — from planning to financing and more. Here are the top five advantages you'll enjoy by choosing this route.
You'll have a clearer roadmap. Although the project is completed in phases, you'll work off of a larger master plan that helps ensure consistency and cohesiveness throughout your home's new design. And if there are any hiccups with design along the way, you'll be able to adapt better since you haven't started all the projects at once.

You can set (and stick to!) priorities better. At the start of your planning, you'll be able to set priorities on which projects you want to complete first and which ones can wait a little longer.

You can break up the investment. With a phased approach, you'll likely pay project by project. This helps you break up the financial investment a bit and maintain healthy cash flow, so you're not paying a huge lump sum all at once.

You'll have a better chance of staying in your home during construction. If your whole house was under construction all at once, you'd have to find an alternate living arrangement for quite some time. If only one or two rooms are under construction, there's a better chance you'll be able to stay in place while the work is going on.

You can better coordinate the timing of each project. If you're between two projects and now isn't the right time to get started on the next, you can wait until it makes sense for you and your family.
How to Do a Phased Remodel: The 7 Stages of Remodeling a Whole House
Now that you know what a phased remodel is and what projects it's most ideal for, you might wonder how to get started. Below we've broken down seven general steps of the phased remodel process, from beginning to end.
1. Set Your Goals
If you've read any of our other remodeling articles or guides, you're probably not surprised that this is the first step. Just like any other renovation project, starting with goal-setting is critical.
You should start by making a preliminary list of projects you'd like to take on. You'll also want to ask yourself a few questions, such as:
Why do you want to remodel in the first place?

What do you hope to accomplish?

What do you want your home to look like and do for you?
Make sure to document your goals and answers to these questions, as they'll help keep you aligned and focused on what's most important throughout the entirety of the project.
2. Determine Your Budget
For most homeowners, budgeting isn't fun. But it is important and can save you a lot of financial stress and worry in the long run.
Start by thinking about your overall budget for the entire remodel. What's the total estimate of what you'd like to invest in your home?
Now, if that larger number seems scary, don't panic. Your next step is to split up your budget by each project you'd like to complete. You'll pay as you go through each project. That large investment will be made over time — lessening the blow to your finances for each phase.
3. Choose Priorities
Something that may help you decide how to allocate funds for each project is identifying your main remodeling priorities. What rooms or projects would you like to get done first? Which ones can wait until last? Are there ones you'd like to invest more money in than others? Are there ones that need to be completed (like HVAC, plumbing or electrical upgrades) before the future projects can be done?
If you're unsure, it might help to get an expert's input during this stage. They'll be able to recommend a process that will go the smoothest, will make the most efficient use of your remodeling budget, and may help you stay in your home (rather than temporary housing) when it's most important or convenient for you.
4. Create Your Master Plan
In this stage, you work with your contractor and designer on the full scope of your project. A master plan helps to ensure consistency in the design, functionality, and flow of the remodel, then outlines the stepwise fashion you'll take to accomplish it.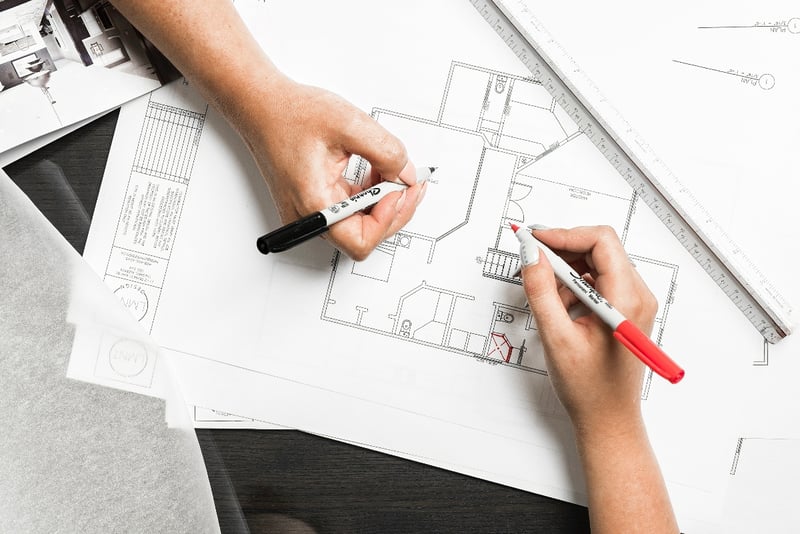 It'll also help you determine how each phase will affect your family and how you'll live while under construction. Use your list of priorities and budget guidelines to inform this process.
One huge benefit of a phased remodel is that your master plan gives you a clear roadmap of where you're headed, so you have plenty of time to prepare for what comes next. If there are structural issues, mechanical issues, or design challenges that would hinder any of your future phases, you can address them head-on and ensure all of your phases lead to a holistic solution.
Take this, for example:
Say your HVAC system is outdated and needs to be replaced in Phase 1, but you're also planning a primary suite addition in a later phase. You can plan to incorporate a new HVAC system in Phase 1 that is appropriately sized and designed to meet the extra square footage demands of the new addition.
You'll also want to consider things like upgraded windows, electrical infrastructure, insulation, roofing, and plumbing globally. This means that you're always thinking about both the smaller project phases and the larger picture at the same time. Maybe you don't need a certain thing right now, but you definitely will in a later phase, so you might as well deal with it now. A master plan helps you accomplish this with ease.
This is one stage where working with an experienced design-build firm is highly beneficial.
Design-build firms offer all design and construction services under one roof, which means they can create a solid master plan and realize your project from start to finish.
They'll see where your home is at now, where you'd like it to be, and then show you how to get there using a master plan that works for you.
5. Secure Selections & Finishes
Your next step is to gather all the materials you need to make the first phase remodel happen. Whether that be new flooring, upgraded appliances, replacement windows, etc., your job is to work with your designer and contractor to get the selections you need, in the style and quantity you need them.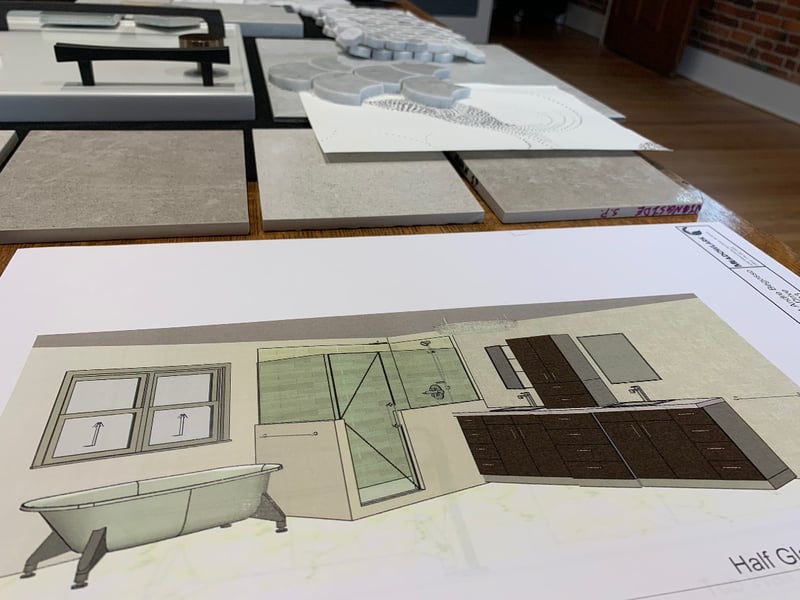 There are unfortunately still some supply chain issues to deal with when it comes to building materials. While we're starting to see some improvements, you should still expect to wait a bit longer for materials to ship than you would have a couple of years ago.
6. Obtain Necessary Permits
If you're doing a large renovation project, chances are that you'll need at least one permit, possibly more. Many design + build firms, Like Meadowlark, manage all of the permitting process throughout the life of your remodel so you don't have to worry about this part of the remodeling journey. If you are managing the subcontractors yourself, you should discuss with each sub which permits are needed and the timing of them throughout the full renovation project. In most cases, your contractor should be able to help you know which permits you need and how to obtain them.
7. Start Phase 1!
Remodeling can begin! Once you have your permits, your contractor, your design plans, and your materials, the first phase of your project can start. From there, be sure to constantly communicate with your designer and builder so you're always informed about what's going on.
Once Phase 1 is complete, and you're ready to move on to what's next, you'll start getting materials and permits for Phase 2 — and so on.
Interested in Using a Phased Remodeling Approach on Your Home? Let's Talk!
If a phased remodel sounds like the right fit for you and your home, we'd love to be a part of it. Our design-build team is passionate about breathing life into old and outdated spaces and has completed many gorgeous phased renovation projects. We want to hear what you have in mind for yours!