Interested in building a custom home but not sure when or how to get started? You're not alone. The planning and building timelines for new home construction can be tricky for many homeowners to wrap their minds around. Plus, those timelines can vary depending on many factors: your location, contractor, scope of work and design goals, and so on.
It's nearly impossible to provide an accurate timeline for custom home construction without knowing the above information. But we can attempt a rough estimate. Read below for our recommendation on the best month to start building a house and what you can expect to prepare beforehand.
What's the Best Month to Start Building a House?
Trick question! There is no singular month that's best for beginning new home construction. However, there is a range of months that you should aim to stay within if you're in Michigan or other areas in the Midwest.
The best months to start building a house are late summer or fall months — usually July, August, September, October, and November. These months offer the best ground conditions and the safest, most comfortable weather forecasts for outdoor labor.
Surprisingly, early winter isn't a bad option either. If you can get started before snowfalls become everyday occurrences, the ground will be able to hold your home's foundation and structure well.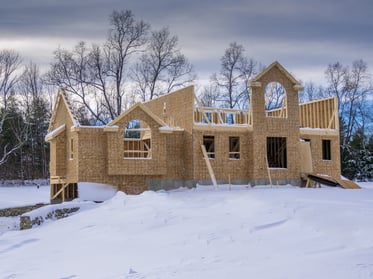 The months to avoid beginning your project are in late winter and early spring. The ground is either too frozen, frosty, or soupy. You can expect many contractors to not even offer February, March, or April as options.
Are There Changes in Building Material & Labor Costs During the Year?
You might have heard a "hack" from a friend that if you build in the off-season, you can save money on lower building material and labor costs. However, that's rarely the case. You shouldn't expect price fluctuations in building materials or labor costs throughout the year. There's just not enough merit to that statement to base your entire homebuilding project on.
While cost shouldn't be a concern, availability might be. If you don't plan ahead, your first choice of contractor might be booked on your intended start date. Still, we don't recommend pushing back to a season where ground and weather conditions don't permit. Instead, make sure you contactor your contractor or design-build firm as soon as possible to see what lead time might look like.
What Needs to Happen Beforehand: Planning Your Custom Home Build
No matter which month you plan to build your custom home, you need to think far ahead in advance. There are plenty of exciting things to prepare for your home build before construction can begin.
We recommend starting your planning process anywhere from 8-10 months before you'd like construction to begin. So if you want to build in September, you should start planning in December, January, or February.
Why so early? Well, during those 8-10 months, you need to accomplish many things that will help set the build up for success. The big ones include:
Determining your project goals

Working through your

custom home budget

and priorities

Finding a contractor or design-build firm

Creating a detailed timeline and plan of action

Narrowing down on a

design style

Drafting and finalizing design blueprints

Obtaining any

necessary permits
When you set aside ample time for planning and design, the rest of your project will likely go smoothly. You'll reduce common errors and confusion, reducing the extra time and costs associated with them. Plus, you'll have a better chance of achieving the vision you have for your custom home!
The Time to Plan Your Custom Home Build is Now! Get Started with Meadowlark
If you'd like to build a custom home, it's never too soon to start planning. The process takes time, but you can get started on the right foot by giving Meadowlark a call. Our design-build experts would love to chat about the plans you envision for your home and how we can bring them to life.