We've all been spending a bit more time at home these days. Are you noticing little quirks about your kitchen you don't exactly love? Not enough counter space to handle your daily dinner prep? No way to watch the kids in the living room while you're making lunches and snacks? The dishwasher is miles away from the sink?
For many, the kitchen is the most used room in the house. It should support your daily routine — not make it more difficult. If you keep running into problems like these, it might just be time for a remodel. Here are a few kitchen remodel ideas (complete with before and after photos!) to help you get started as you dream up your ideal kitchen:
1. Bring in More Light with Open Shelving
Light, bright kitchens are one of the most popular design trends today. If you're looking to remodel your kitchen, it's safe to assume you're going to want to bring in as much natural light as possible. One great way to bring in more natural light, without sacrificing on storage, is to incorporate open shelving.
This before and after is a great example of this trick. The "before" kitchen is small and dark, with just one window. While the Meadowlark team did end up moving the kitchen to a room with more windows, you can see from the "after" photo that they maximized storage and let the natural light shine in by installing beautiful custom "floating" walnut shelves that span the windows.
Before: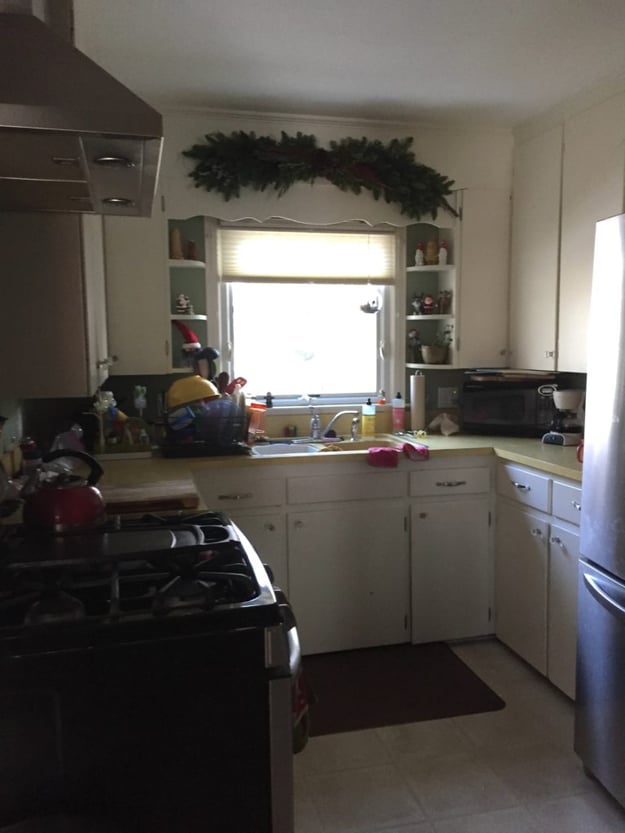 After:
It's a great way to brighten up a small or minimalist kitchen!
Love this kitchen? Read more about the whole renovation.
2. Add More Space Without Taking Out Walls
One of the biggest issues homeowners run into when remodeling a kitchen is the inability to remove walls. You want more space, but you either don't have the budget, or your home's structure won't support you knocking down walls. And in some cases it's actually not needed as there is already plenty of square footage…it's just not being used effectively. What to do?
It is possible to add space to your kitchen, without taking out major walls. Sometimes you can reconfigure the space more efficiently or often — you can steal a small bit of square footage from an adjoining room. Even grabbing a small bit of space can produce dramatic changes in how your kitchen functions. Check out this 70's style kitchen.
Before: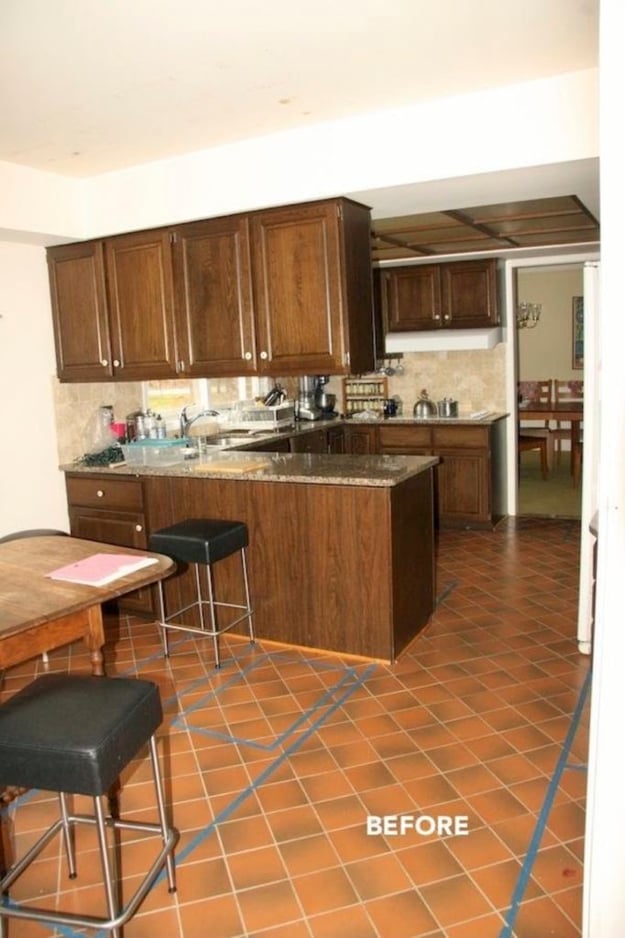 This home had the standard 1970's layout — a U-shaped kitchen working space with a peninsula that split the room into a kitchen and an eat-in kitchen area. The cabinets over the peninsula blocked the site lines from one space to the next leaving the spaces feeling closed in and unconnected. In addition, there was no access to their beautiful outdoor patio and backyard from the kitchen.
After: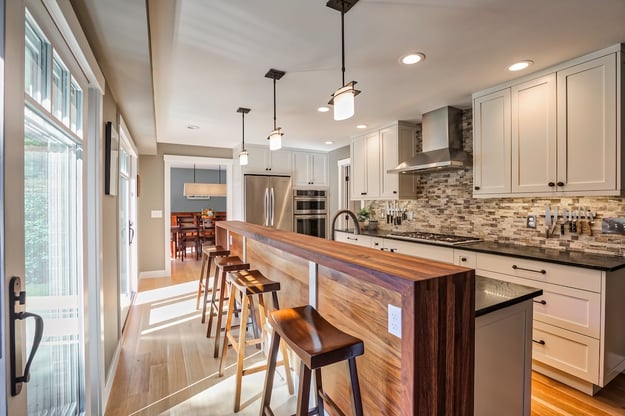 Our clients longed for a kitchen that would accommodate two cooks, two kids who liked to engage with those cooks, and that would provide an easy connection to the outdoors. By reconfiguring the existing layout to an open galley style, the Meadowlark team was able to add two double sliding doors that not only provided a seamless transition to the outdoors but also brought in a ton of natural daylight.
A large island with a custom walnut breakfast bar easily seats 4 and stealing square footage from adjoining rooms allowed for the addition of a walk-in pantry and a custom drop-zone to provide the much-needed storage the clients craved.
You can read more about this home's renovation here.
3. Use New "Retro" Appliances for A Modern Kitchen Remodel That Maintains its Historic Feel
The Meadowlark team often works with homeowners in historic homes, and they love completing renovations that keep the vintage feel of the home while adding more modern functionality for today's homeowner. If you're working with an older home, a great kitchen remodel idea that preserves the historic feel of the house is bringing in charming and vintage-feeling appliances. Here's an example:
Before: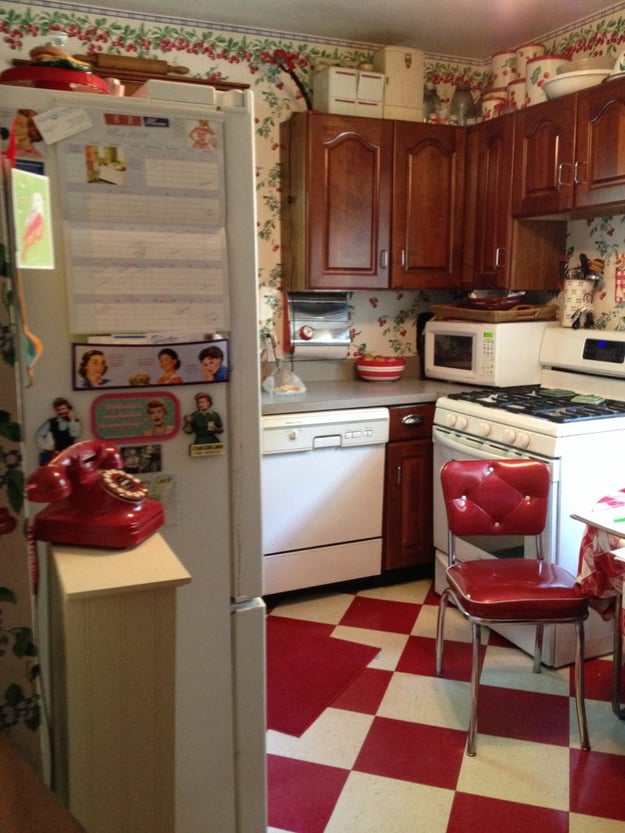 After: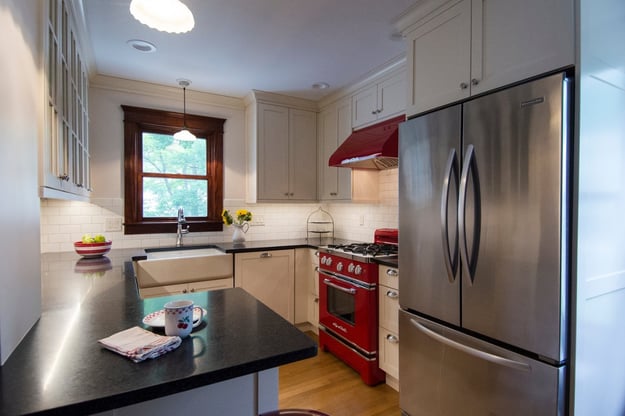 This historic home had a very small kitchen that had to accommodate 4 openings/doorways and two windows — all of which sucked up valuable wall space for cabinetry. Along with the need for long-overdue updates — our clients needed more storage and counter space. They also wanted to maintain the fun vintage charm of the home. Since the home was registered historic by the local HDC and was located on a tight city lot, adding on was not an option. Through HDC approval, The Meadowlark Design Team was able to move a window 6 feet — a small change that resulted in a big transformation.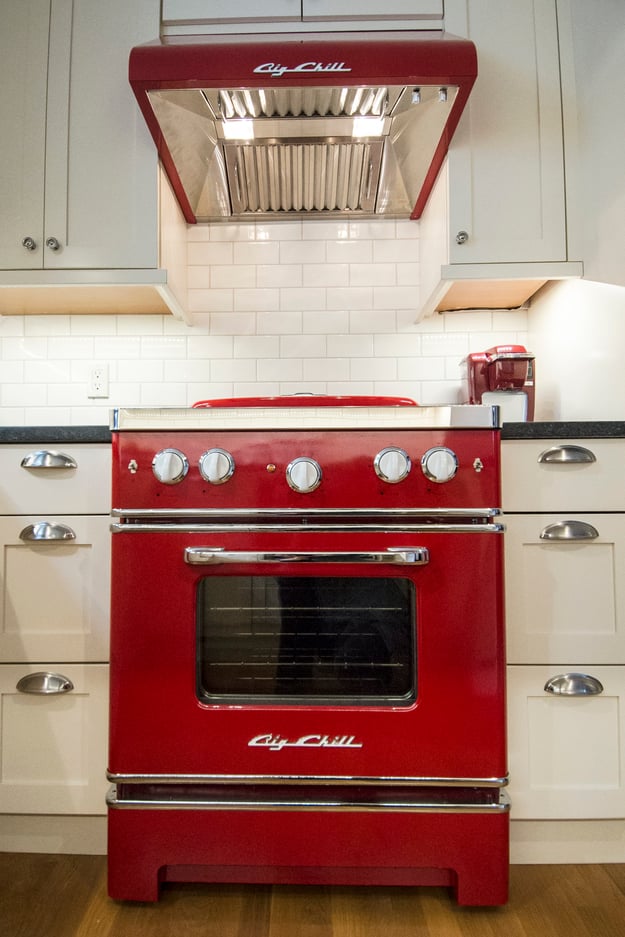 To stay true to the home's aesthetic — traditional white cabinetry with black countertops was used and set atop natural oak flooring. To add the retro fun that reflected our clients' personality — a cherry red Big Chill range and matching hood were the proverbial cherry on top of the cake.
Like this kitchen? Read about the whole remodel.
4. Add an Island for Additional Workspace
If you're in the kitchen a lot, you know that workspace is essential. The more, the better. Many modern kitchen remodels include an island, both for the added workspace and storage, and, depending upon the need and the space, it can also be a great spot to seat guests when you're cooking.
While adding an island might sound intimidating, it certainly can be done. Take a look at this before and after:
Before: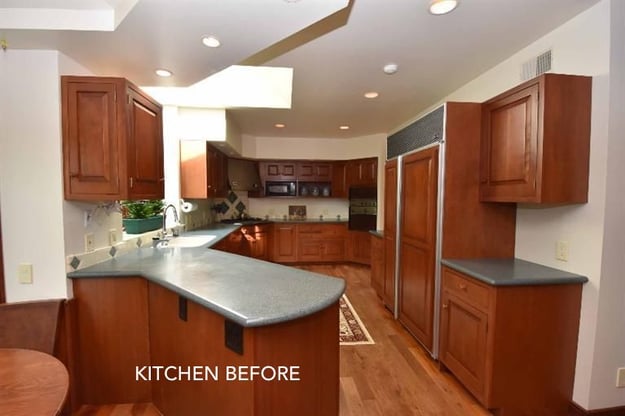 After: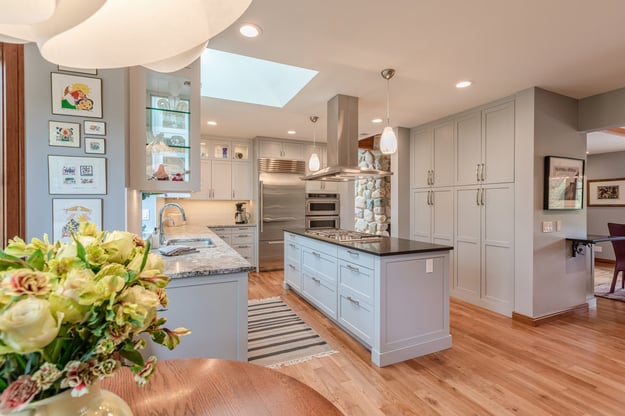 The first kitchen is small and cramped, and feels cut off by the awkwardly angled peninsula. A large kitchen pantry is taking up a lot of space and also cuts off the connection between the dining room and the kitchen.
By removing that kitchen pantry as well as the peninsula, this kitchen opened right up. Installing sleek floor-to-ceiling cabinetry helped the homeowner maintain the same amount of storage, without creeping into the space they needed for this large island with a cooktop. Drawers on one side and cabinetry on the other side provide loads of additional storage in the island. With the existing built-in seating area close by, the clients chose not to add seating to this island.
Read more about this whole-home renovation.
5. Remodel Your Kitchen for Aging-in-Place
Aging-in-place is top-of-mind for many homeowners. You've spent years here and love your neighbors and your community. You'd hate to have to move just because mobility issues are making the home you love unmanageable.
By remodeling your kitchen for aging in place, you can ensure you stay comfortable in your home even as you age. And, it's important to note, remodeling your kitchen for aging in place doesn't mean you ever have to sacrifice on design. Just take a look at this before and after.
Before: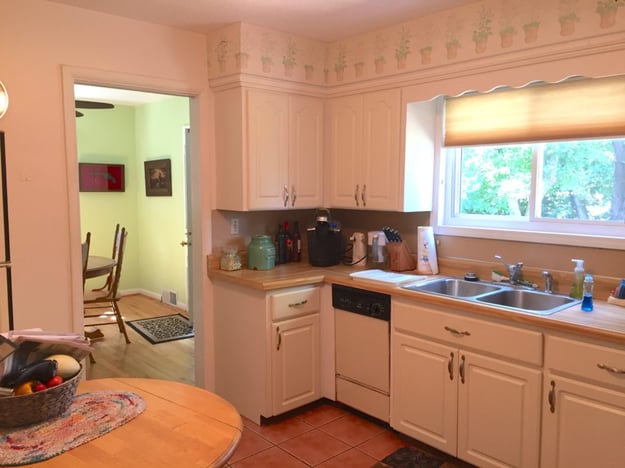 After: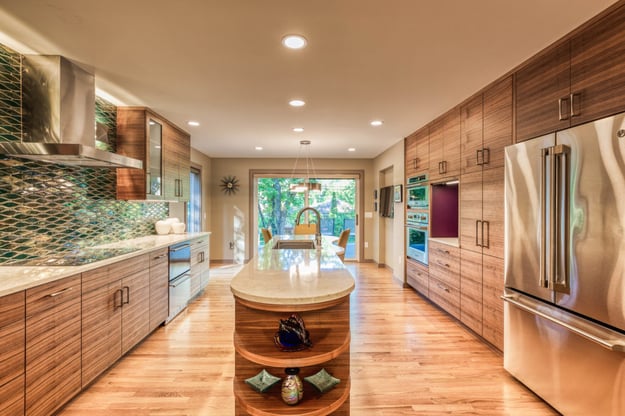 The original kitchen was sweet but cramped and outdated. It needed a facelift, and to make it accessible, it needed a little bit more space. There were other issues with mobility throughout the home including no downstairs bedrooms, so this kitchen was part of a whole-home renovation that included an addition.
With the size-appropriate addition, the Meadowlark team reconfigured the first-floor layout and created a new kitchen with an extra-long island and plenty of storage on either side. You'll notice there's plenty of space on either side of the island for a wheelchair or walker, and the smooth, tucked-in cabinetry ensures there are no knobs to get caught on.
If you're interested in remodeling for aging in place, read about this home renovation.
A kitchen remodel is an exciting home improvement project that takes careful thought and planning. If you're considering remodeling your Ann Arbor kitchen, the Meadowlark team is here to help walk you through the process. Give us a call at 734-332-1500 or contact us online today!