A Functional Kitchen That Everyone Can Enjoy
Increase Storage, Add Spaces to Entertain, and Throw in Some Personal Touches
Even though you love your home, that doesn't mean there aren't certain elements you wish you could change. That was the case for these particular homeowners. They cherished their home, but some aspects of their kitchen just weren't working for them the way they wanted. They felt the kitchen area was far too small and wasted valuable space with its unusable corners and minimal storage.

This family knows that the kitchen is one of the most important spaces in any home and where people tend to congregate the most. They wanted to implement room for guests to gather and spend time together, so they could host and cook delicious meals to share.

Not only did the homeowners want to implement ways to amp up their storage and room for entertaining, but they also wanted to add some personal touches to reflect their style. This included a way to display their fine china and glassware collection, a solution for composting and recycling, and a unique color palette that embodied a countryside feel. We couldn't wait to make this vision come to life!
Create an Open, Inviting Kitchen With Personal Touches
The homeowners spent time carefully planning what their dream kitchen would entail. Once they established their vision, it was time to get down to business.
Kitchen Structural Updates
Add more usable space to the kitchen, including smart storage areas.
Create a comfortable "hangout" spot that features an island with room for two bar stools.
Solutions for composting, recycling, and storage.
An appliance garage or British-style larder incorporated as the pantry.

Kitchen Special Requests
Create a beautiful space to showcase their fine china and glassware they collected over the years.
Incorporate a bright, welcoming color palette into the kitchen.
Opening Up the Room and Countertop Space
The homeowners wanted to make their kitchen feel more open and spacious, but they needed help accomplishing that goal. We discussed the possibility of removing a wall that separated the kitchen from the dining room to give the area a more cohesive feel – they were on board!

They also wanted to find ways to keep all their essential kitchen items handy, such as a coffee maker, kettle, blender, and dry foods, but they didn't want to clutter their countertops. Luckily for them, we know all the ins and outs of innovative storage solutions in kitchens, so we were able to brainstorm some pretty cool ideas.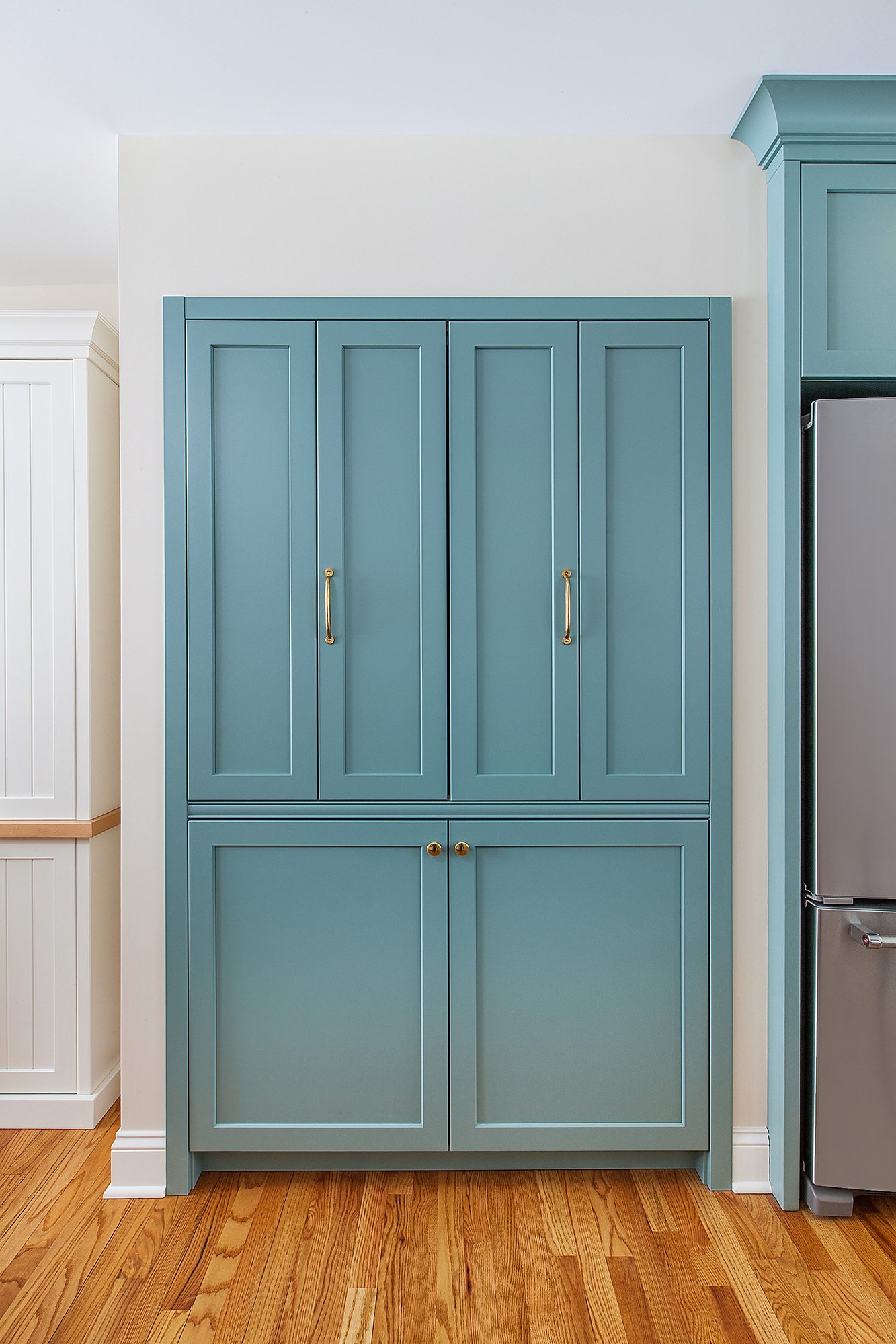 Design Selections
Here's how we took the homeowners' inspiration and made it a reality.
Removed a wall to combine the kitchen and dining room
Reconfigured the kitchen layout
A gorgeous hutch was constructed to showcase their collectible glassware
Custom larder with bi-fold doors and drawers underneath was incorporated to free up countertop space
Cabinetry in a stunning blue-green hue to bring color to the space
Cozy banquette
Quality Products That Make A Statement
When designing the new cabinets for the kitchen, we knew the only choice was Crystal's Encore Frameless Cabinetry. We created a hutch so that their collection of one-of-a-kind glassware could be openly displayed.

We also used Crystal Cabinetry to achieve a custom larder with bi-fold doors and drawers. This offers a super convenient place to conceal and keep small appliances hidden away, such as a coffee pot or kettle.
A One-of-a-Kind, Spacious Kitchen With Character
After the project was completed, our homeowners were left with a kitchen they could have only dreamed of. Not only were they able to accomplish an open, inviting space, but they also gained a new island with seating and a designated space to show off their china collection.

They used inspiration from Adele's kitchen (yes – the famous British singer!) to achieve a dazzling color palette for their cabinets. The result is a beautiful kitchen and dining space with a classic countryside feel, perfect for cooking delicious family meals, hosting friends, and making lots of fun-filled memories together.