Bringing the Love Back Home
A New & Improved Home to Fall in Love With All Over Again
This 1970s traditional colonial home was perfect for our clients when they purchased it in 2004. Fast forward to 2018, add two kids, and factor in two very busy parents with demanding careers and the general wear and tear of a home built 40+ years ago. What's the result? A house that doesn't feel like a home.

Our clients had all but given up trying to manage the chaos and the upkeep. Still, their love of the neighborhood with loads of beloved friends and families compelled them to consider changing their home rather than uprooting their family and moving.

When they envisioned their dream home, our clients pictured an updated, modern home with minimalistic yet well-crafted features designed to manage a very active family of four. They wanted a home that created a sense of openness with loads and allowed natural daylight to pour in, bringing order to the chaos in the home.

The overall vision for the new and improved home included spaces infused with life and welcoming to friends and family. After meeting with the Meadowlark team, a plan for a whole-home renovation and addition was underway. We were on a mission to remind this family why they fell in love with their home in the first place.
Expand the home and make it function better for their busy lives.
After meeting with our homeowners and establishing their goals, we assembled a brilliant lineup of a genius designer, an experienced project manager, and a rockstar team. We created an action plan and got to work.
A Full Renovation & Expansion
A minimalist open-concept design with a focus on maximizing opportunities for natural daylight.
A complete remodel of all three bathrooms.
A casual living area in the basement with an added bedroom and bathroom.
Overall better flow throughout the home with both family and private spaces.

Incorporate Elements to Fit the Family's Needs
A front entry that would manage coats, footwear, hats, and more with varying storage options and a bench that visitors could sit on to take off their shoes.
A laundry and mudroom to help manage the day-to-day activity and the associated laundry.
A desk and study area for the kids and at-home learning.
A plethora of bookcases for their vast library of books.
An expansive eat-in kitchen with a casual table for family weeknight meals.
Improve Outdoor Area's Aesthetic & Functionality
An elevated outdoor experience in both function and aesthetics.
A covering over the front porch to protect visitors from the elements.
An exterior facelift to get rid of the "UPS brown."
Due to the 1970s traditional colonial layout style, each room was separated from the next. The client longed for more open communal spaces that would allow everyone to be together when it made sense, but also have private areas for study and quiet.
Our designers looked at all the possibilities and determined that the best course of action was to reconfigure the first floor entirely and add an extension. The result would create public and private spaces with loads of accessible storage.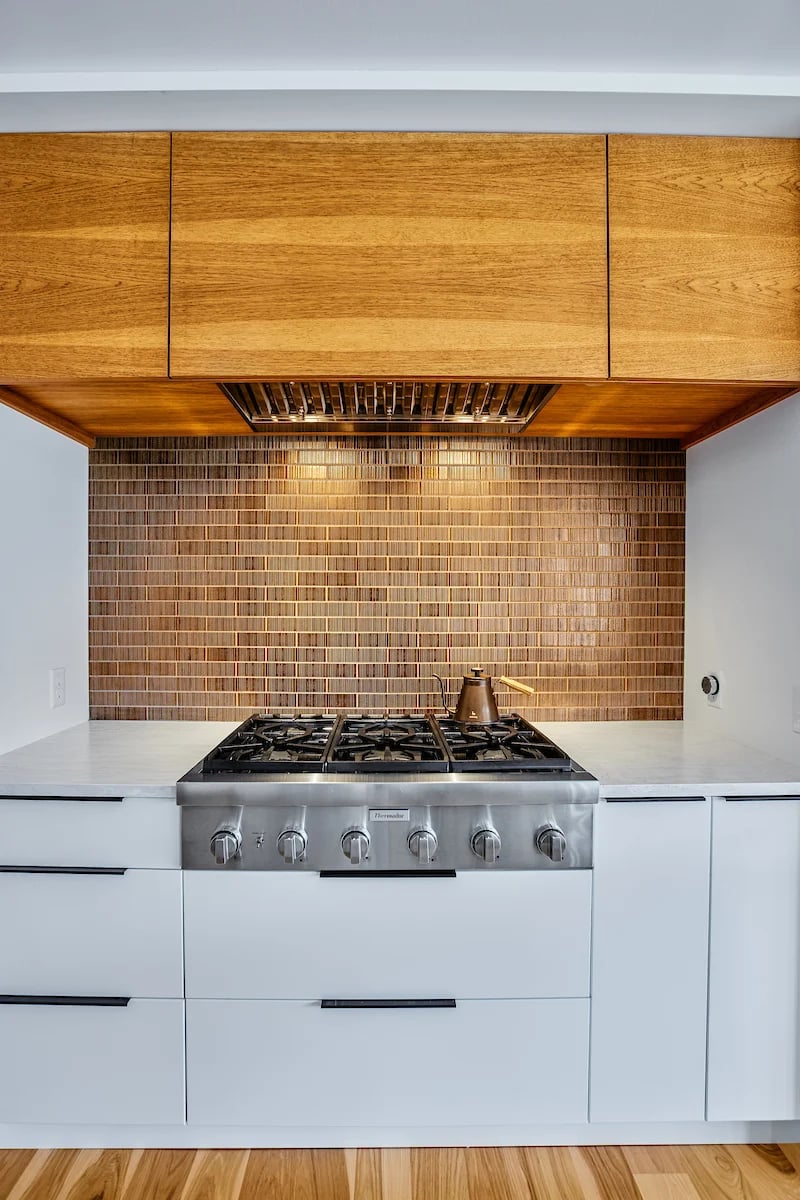 Design Selections
The final product resulted in a hole-home renovation, an addition, and a variety of thoughtful pieces that made sense for this family's unique needs and preferences.
Design Development
A private den area that could multi-task as a music, crafts, and study room.
A 238-square-foot dining room addition with a vaulted ceiling and large windows.
A spacious, open-concept kitchen with two islands.
A stairway to the existing family room loft space with customized bookcases.
Exterior updates, including new siding, a screened porch with

Phantom Screens

motorized screens, and a new patio area.
A covered front entry portico.
New windows, doors, and insulation.
Product Selection
A large open entryway with a wall of customized storage cabinetry.
A laundry room, also operating as a mudroom and dropzone area with customized storage, including a built-in Kimchi refrigerator.
A unique eat-in kitchen table built into a kitchen island.
Updates to all existing bathrooms.
A family room, 3/4 bath, and bedroom with an egress window built into the basement.
A Fabulous Home With Everything They Needed – And More
Our clients originally purchased this property in 2004, and it was perfect for them then, as they were just thinking about starting a family. The home had more than enough space to entertain friends and family, and they were thrilled to be in a vibrant neighborhood with loads of young families, beautiful parks, and an easy commute to the University.

As their family grew in size over the years, so did the amount of "stuff" needed for a busy and active family of four. The home that initially had ample space was rapidly becoming cramped and disorganized, but they knew that moving would break their heart – that's where we came in.

After Meadowlark gave this house a complete makeover, our client's love for their home was rekindled. We incorporated ways for form to meet function with customized solutions to meet their needs and allow them to fall back in love with their home all over again.