When framing a house, there are many different materials to choose from. In the past, many homeowners chose the traditional route of wood or concrete blocks. Today, more homeowners are starting to choose more modernized, energy-efficient solutions like Durisol ICF blocks or structural insulated panels.
We've already covered Durisol ICF blocks in this past blog, so we'll focus this new article on structural insulated panels. We'll talk about what structural panels are, what they're used for, and what benefits they can bring to your home.
What Are Structural Insulated Panels?
Structural insulated panels (SIPs) are high-performance, prefabricated building materials that sandwich a thick polystyrene foam layer between two rigid oriented strand boards (OSBs). They create a lightweight, yet strong and energy-efficient solution that essentially combines framing with insulation. They also eliminate the thermal gap between the exterior and interior wood frame, offering a very tight envelope with a high R-value rating.
Here's a diagram showing the main components of a structural insulated panel: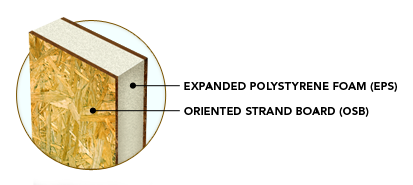 What Are Structural Insulated Panels Used For?
Although sometimes used in smaller commercial projects, structural insulated panels are most commonly used in residential construction. They can be used for most structural parts of a home's envelope, including the roof, walls, and even floors.
Structural insulation panels are also most commonly used for new builds. However, they can be beneficial for custom remodels and custom additions as well.
Here are some before and after photos of a whole home framed with structural insulated panels: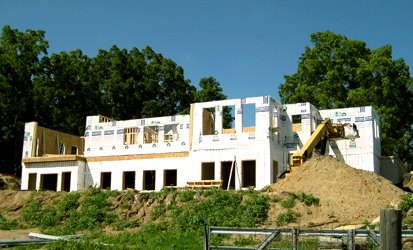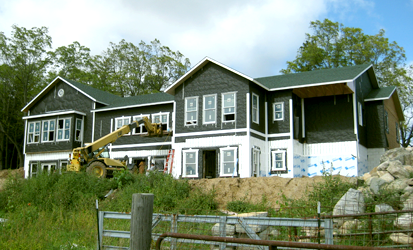 Here are some before and after photos of a custom home addition framed with structural insulated panels: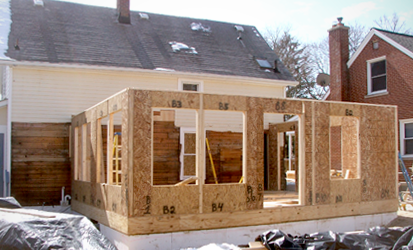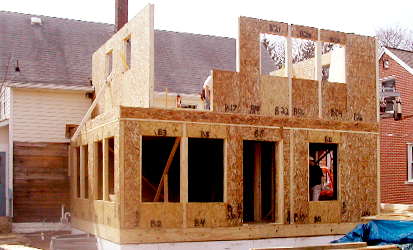 5 Advantages of Structural Insulated Panels
Structural insulated panels offer significant advantages over traditional frame construction. If you'd like to build (or remodel) a more energy-efficient, structurally sound home, they're a great green building technology to consider. Here's why.
1. They're Highly Energy Efficient.
If you're hoping to build a sustainable home with an airtight envelope, structural insulated panels are one of the best ways to do it. Their insulating materials and sandwiched design eliminate the thermal gap between exterior and interior wood frames, boosting their R-value significantly. In fact, home frames with structural insulated panels have been known to be about 50% more energy-efficient than homes framed traditionally.
Best of all, as soon as the windows and doors are installed, the house is already insulated and ready to hold heat. That can make a big difference for cold-weather construction.
2. They Last a Long Time.
Since they were introduced to the construction industry over 70 years ago, structural insulated panels have proven to be up to three times stronger than traditional framing materials. They're also less likely to shift.
This structural rigidity boosts their strength, durability, and ability to hold up for longer periods of time. It also maintains the energy efficiency and comfort of the home for all those years.
3. They're Versatile.
Structural insulated panels have many different uses — from floors to walls, roof planes, and more — and they excel in all of them. For custom builds, they make an exceptionally airtight unit. For custom remodels and additions, they make airtight wings that seamlessly combine with the rest of the house, sometimes without the additional work of installing a continuous foundation.
When used as roof structures, structural insulated panels help the roof become part of the insulated envelope. This can help make the attic a living space — making a huge impact on a home's usable square footage.
Here are a few photos of a structural-insulated-panel roof and the finished attic space as a result of it: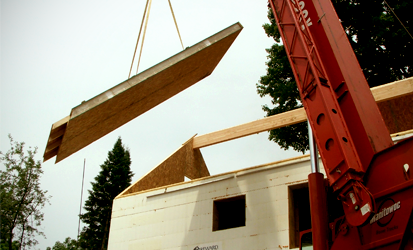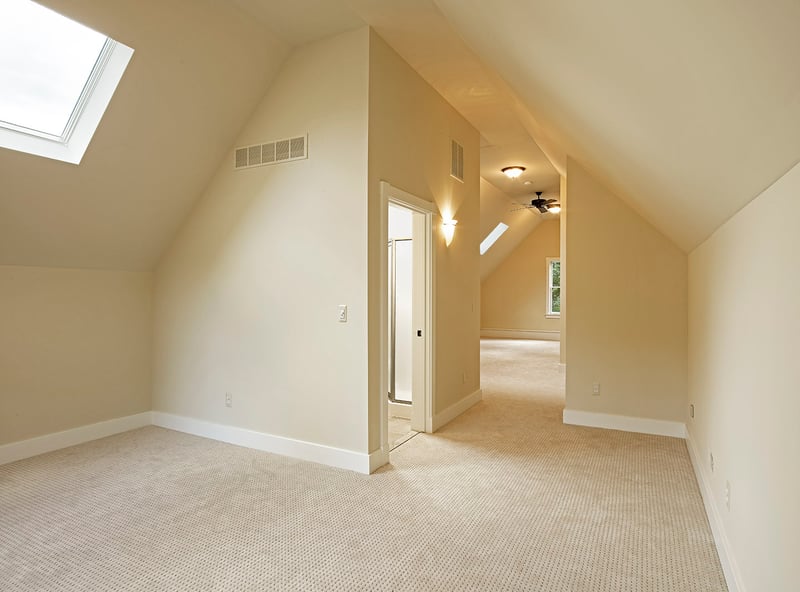 4. They Can Be Installed Quickly.
Structural insulated panels go up fast. A good crew with a good plan can frame an entire level's worth of exterior walls in just one day (for an average-sized house). If you want a streamlined construction process, this is one method that will get you there.
5. They Can Offer Lifetime Cost Savings.
While typically more expensive than traditional framing materials, structural insulated panels can offer long-term cost savings. The less energy used, the more money saved — and after just a short amount of time, that can start adding up. So if your upfront budget allows, this can be the most cost-effective building method in the long run.
Start Your Sustainable Home Building Project with Meadowlark
Structural insulated panels are just one component of a sustainable home. To learn more about other green building technologies and what it means to build sustainably, head on over to the rest of our blog. Or if you're ready to start building, talk to our team!