If you have a small kitchen, remodeling it to fit your desired layout can seem like a huge (if not impossible!) undertaking. The good news is that you're not the first homeowner to experience this issue, and you won't be the last to solve it either.
Still not convinced? Keep reading to learn more about a successful small kitchen remodel we loved completing for a client with just 125 square feet of space. We'll share the challenges we faced, the solutions we came up with, and the results of our hard work.
Background on Our Clients & This Small Kitchen Remodel
This 100+ year old Victorian was beloved by our clients. They'd lived there for 30+ years, they loved their home, and they loved its location right in the heart of the Old West Side in Ann Arbor. What they didn't love was their small kitchen that was long overdue for updates.
They had a vision for more storage, more countertop space, and a more efficient layout. But with two windows, three doorways, and a chimney, they just couldn't envision a layout that would achieve their wants and needs without a major addition.
Adding insult to injury, the home had been registered historic by the local Historic District Commission (HDC), making any exterior renovations to the home complicated. For them, "complicated" translated to "costly," and they didn't want to break the bank on a huge remodel.

7 Challenges We Faced During This Small Kitchen Remodel (& How We Solved Them!)
So how did we turn this cramped room into a small kitchen remodel we love? Below are seven of the main challenges we faced, and how we used unique design solutions to overcome them.
1. Working with Limited Kitchen Space (125 Square Feet)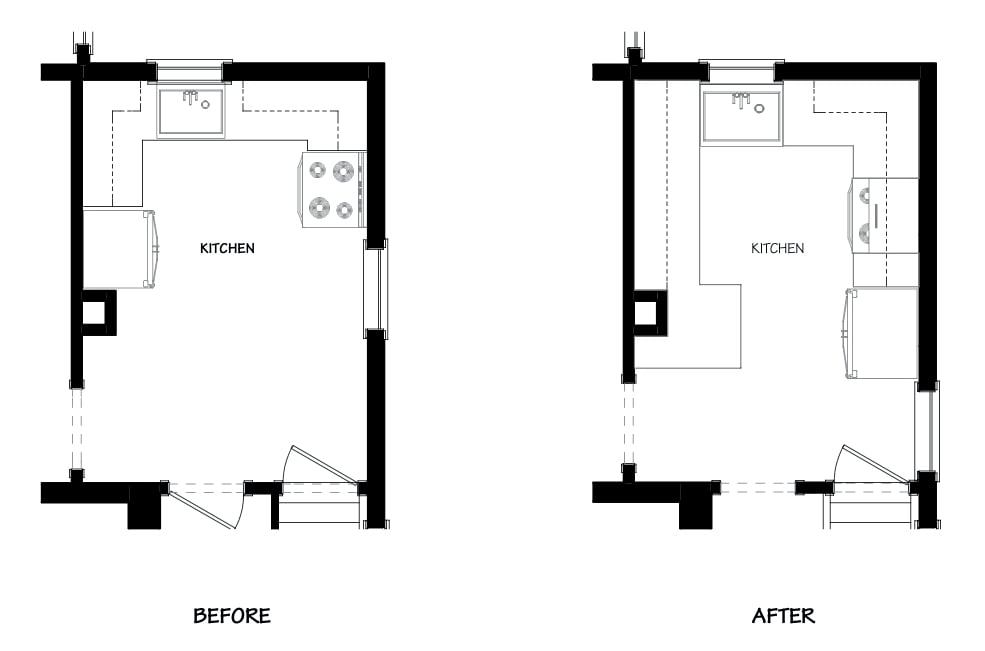 Two doors, a passageway, an awkwardly placed window and chimney created a kitchen that had limited wall space to hang cabinets. Our designers were immediately drawn to the wasted, empty wall spaces next to the chimney and from the window to the basement door. Capturing this wall space would open up loads of opportunities for reconfiguring the kitchen layout and improving functionality and storage — without adding any square footage.
2. Updating 100-Year-Old Construction
Our clients wanted to bring a traditional feel to this Victorian home. Using crown molding would not only provide a traditional look, but also helps tie in the cabinetry to the chimney structure.
The only problem? The kitchen's existing structure had walls and a ceiling that were out of plumb and uneven. If you've ever tried to put crown molding on an uneven ceiling and walls you understand how difficult this can be. This kitchen remodel provided the perfect opportunity to rebuild the existing walls and straighten everything up so that crown molding would be perfectly (and beautifully) framed.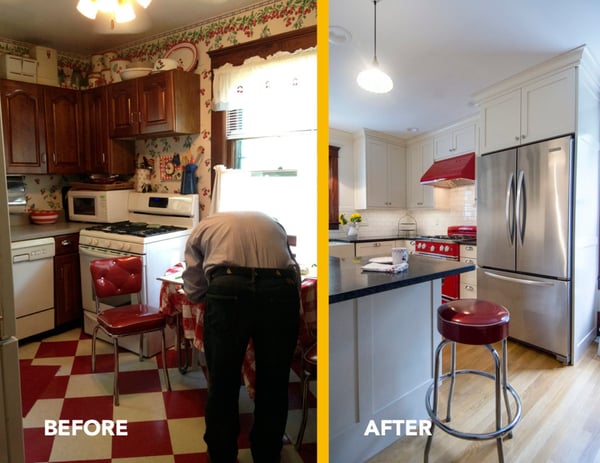 3. Navigating Historic Registry
Our designers knew that moving the awkwardly placed window on the north wall would open up additional wall space. However, to accomplish this meant getting approval from the Historic District Council (HDC).
Fortunately, the Meadowlark team has completed a number of HDC-registered home remodels and thus are well-versed in the steps needed to accomplish this goal. The window was moved about six feet, and its new location allowed for the following changes:
Space for a larger refrigerator and new appliances, including a built-in microwave

New energy-efficient windows

More storage and counter space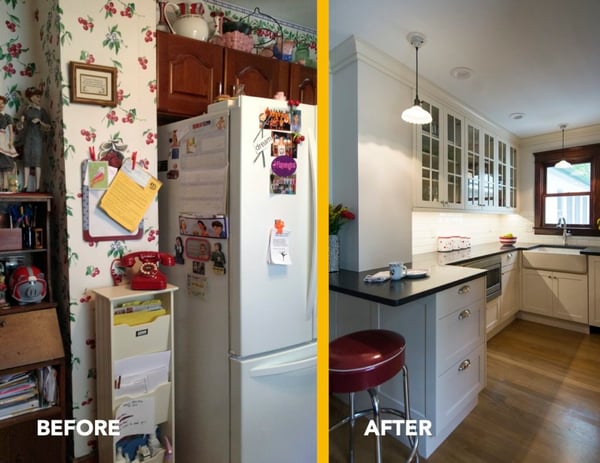 4. Tackling Obstructions
The existing chimney stuck out like a sore thumb in the small kitchen space. However, moving it wasn't an option, as it was used for venting mechanicals in the basement.
Thus, our designers used the old adage "when life gives you lemons…" and made lemonade! They created a peninsula that would "absorb" the visual weight of the chimney, then trimmed the chimney all the way up to the ceiling with cleverly-placed cabinetry. The result is a beautiful design feature that adds loads of storage space and looks like it was planned that way from the start!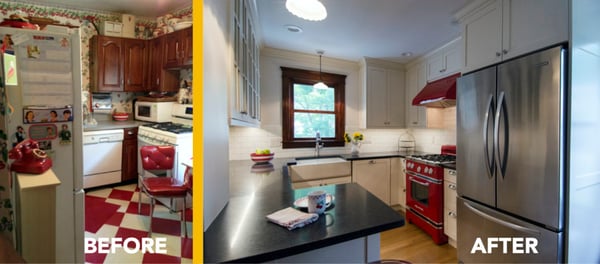 5. Reworking Inefficient Cabinetry
Our clients wanted cabinetry solutions that helped to get the "everyday stuff" off the kitchen counters. So our very clever designers put our semi-custom cabinet lines to the test.
They customized a standard drawer base cabinet to work around the chimney bump-out, which helped clear clutter. It also included a wine rack. A customized microwave cabinet was also installed to keep the microwave off the counter.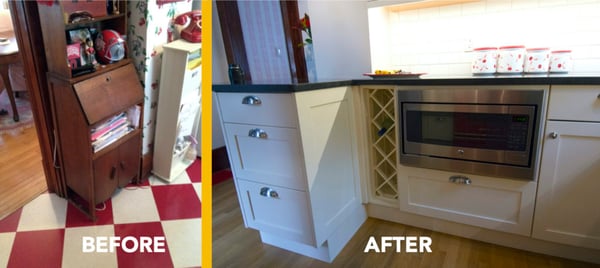 6. Sticking to a Realistic Kitchen Remodel Budget
Kitchen remodels are great for ROI (Return on Investment), but you don't want to break the bank or put more into the home than the neighborhood will justify. You never want to be the biggest or most expensive house on the block.
The good news for these clients was that this home was in a neighborhood that had shown consistent appreciation since they purchased the home in the 1980's. Even with that, it is important to determine a realistic budget that accomplishes what you need, but does not stress your financial situation. Fortunately, the Meadowlark Team presented design solutions that achieved their goals working within the existing kitchen footprint.
7. Keeping the Kitchen Fun and Personalized
Our clients wanted to add some of their fun personality to the space — who doesn't?! With a love of all things vintage, they brought our designers a photo of a cherry-red Big Chill range and vent hood that they'd been lusting after.
Our designers quickly embraced the wonderful line of Big Chill appliances and featured them in the kitchen remodel. The mix of retro-style appliances helped to meld the existing historic aesthetic of the home with the homeowners' fun style.
The Results: A Small Kitchen Remodel We All Love
Despite the challenges presented by this small kitchen, our team was able to bring this 100-year-old Victorian kitchen into the 21st century. With a nod from the local HDC, the new kitchen stayed true to the original architectural style of the home while also giving our clients the modern bells and whistles they wanted.
With creative space planning techniques and great design inspiration from our clients' fun and funky tastes, this turned out to be a small kitchen remodel we love. Don't you?
Do You Have a Kitchen Remodel Project In Mind? Let's Chat!
If you have challenges with your small kitchen and aren't sure what to do with the space, we're eager to help you. With years of creative design experience, our team is well-equipped to take on the even the most problematic kitchen. Start the kitchen remodeling conversation by contacting us online today.