Do I Need a Ventilation Hood?
Check first in your local building codes, but in most cases if you can – you should. I suggest to my clients that they consider the following:
The purpose of ventilation is to improve indoor air quality by moving air-borne grease, moisture, heat, and odors from cooking to the exterior, or filter the particles out if using a non-ducted system. It also can eliminate gasses and pollutants generated while cooking (especially when using a gas-fired range) that can be toxic. We are spending a lot more time in our homes these days and maintaining healthy indoor air quality is now more important than ever.

If you enjoy cooking/baking and spend a lot of time doing so – then a ventilation hood is a must.

If you are planning to resale your home at some point – a vent hood is a usually a good idea.

A vent hood can provide the perfect task lighting

Every great space needs a focal point, and for the kitchen, I believe a decorative ventilation hood is the ideal candidate.
With thoughtful design and an understanding of the client's needs – a kitchen ventilation hood can be the perfect example of form meeting function.
Not your average Ventilation Hood
In the past, there were very few options for ventilation available. Most units were downright ugly and extremely loud pieces of equipment. Now there are so many attractive options on the market to choose from, ranging in price from a few hundred dollars to upwards of $15,000 depending on size and material. They have become focal points and pieces of art within the home.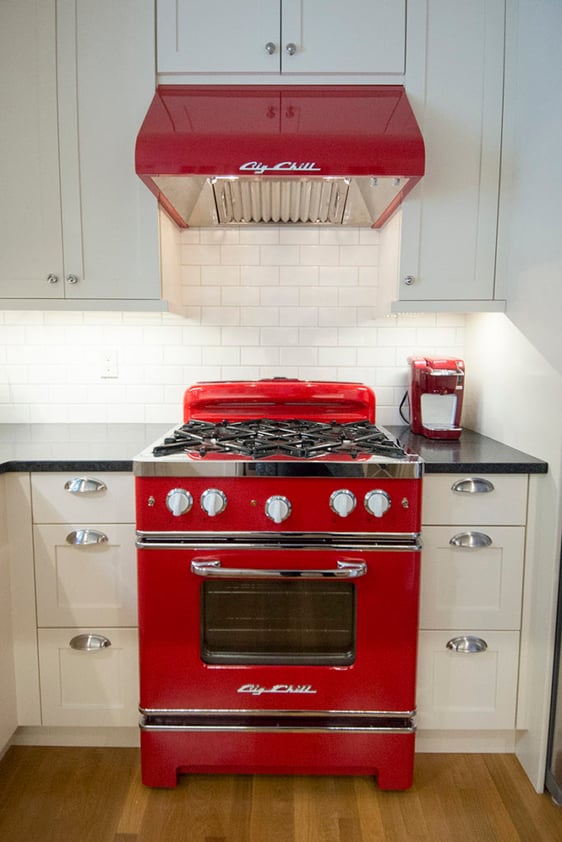 For this client, their love of this cherry red vent hood and range by Big Chill provided the perfect contrast to the white cabinets and black granite countertops in this kitchen remodel.
Types of Hoods
Hoods can be wall mounted, mounted under a cabinet, or ceiling mounted, depending on the application.
Wall Mounted Hoods
Wall-mounted hoods are generally more expensive, but are the easiest to incorporate into a kitchen plan and thus are the most popular. Wall-mounted hoods can come as all-in-one units with the blower pre-installed, or you can have your hood custom made and purchase a compatible hood insert/blower separately.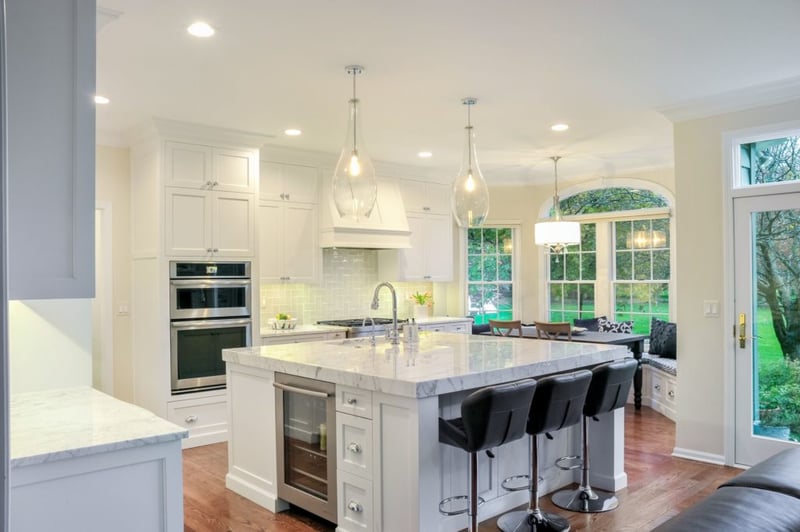 This contemporary Meadowlark-designed kitchen sports a 48″ wide, wall-mounted professional hood above its 48″ wide range top:
Under Cabinet Hoods
Under cabinet hoods are usually smaller, less expensive, and have simpler aesthetics as well as a lower CFM rating. They are great for smaller cooking surfaces and can come in a variety of finishes, including stainless steel and glass.
This Meadowlark kitchen utilizes a stainless steel under cabinet hood with matching stainless backsplash to complete a simple Craftsman look.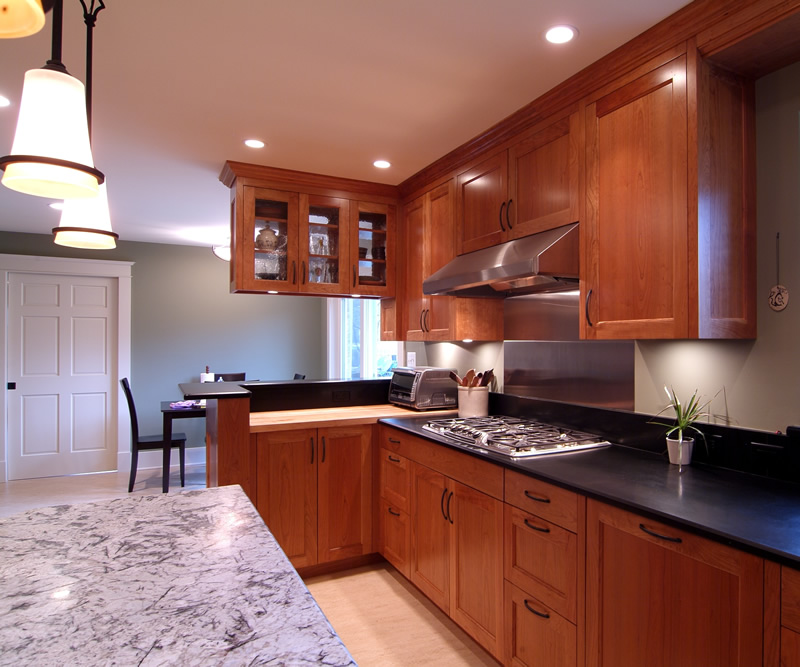 Of course there is still the standard Microwave/vent hood combination.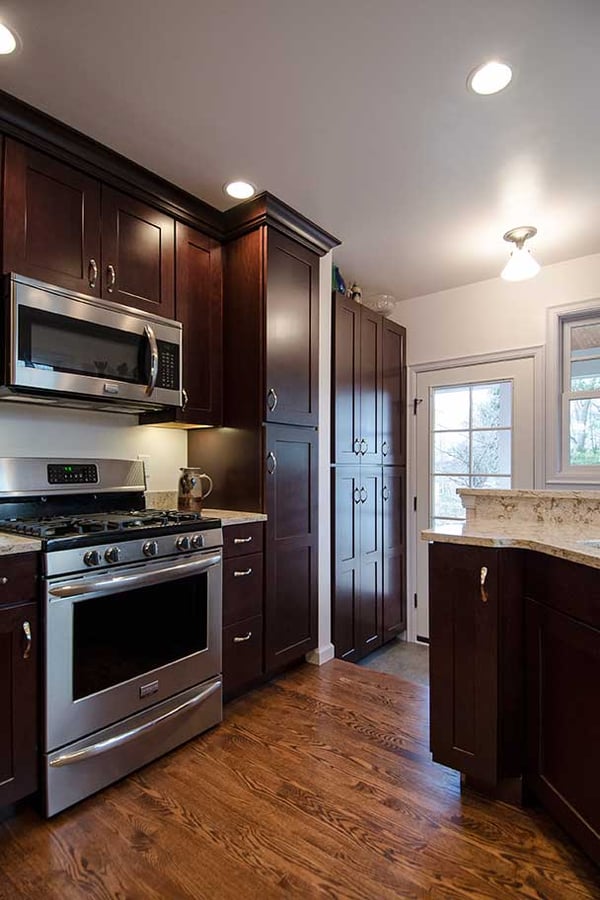 Ceiling Mounted Hoods
Ceiling mounted hoods are usually reserved for above an island cooking surface. They tend to be slightly more costly than the wall mounted hoods because they are seen from all four sides.
This island hood in a Meadowlark project uses the perfect blend of stainless steel and curved glass to create a focal point above the seating area.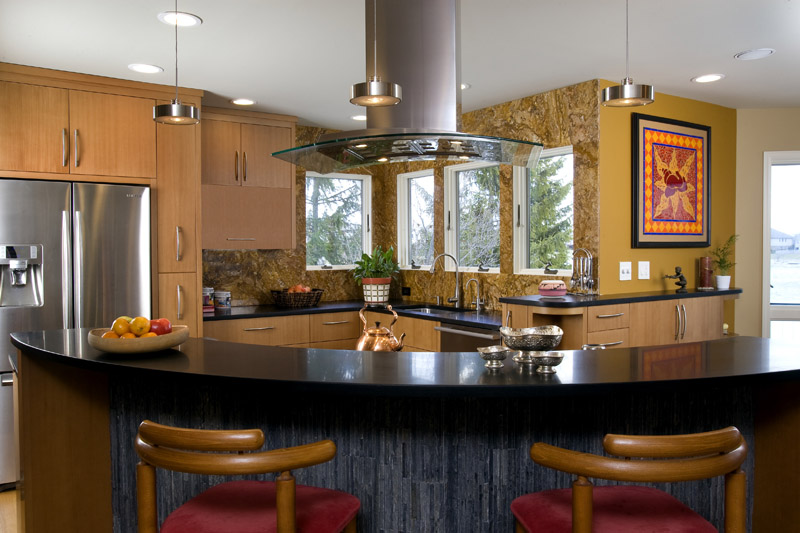 And if simple and modern lines will help to minimize the weight of a hood in your space, then we suggest a simple stainless ceiling-mounted hood.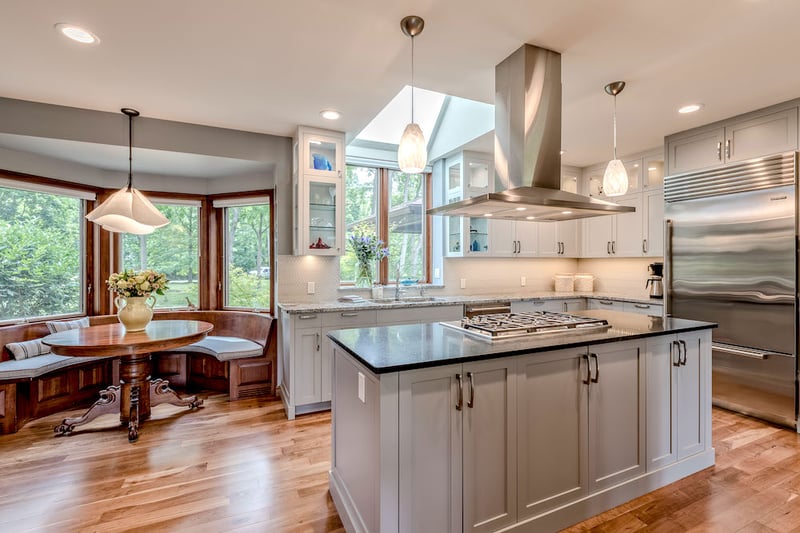 .
Ventilation Hood Aesthetics and Performance
Materials and Finishes
From timeless old world finishes of copper, stone, stucco, and wood to ultra contemporary stainless steel and glass, there is a hood that will add to the ambiance of any kitchen. This custom metal hood gives a slightly rustic appeal in this older home's kitchen.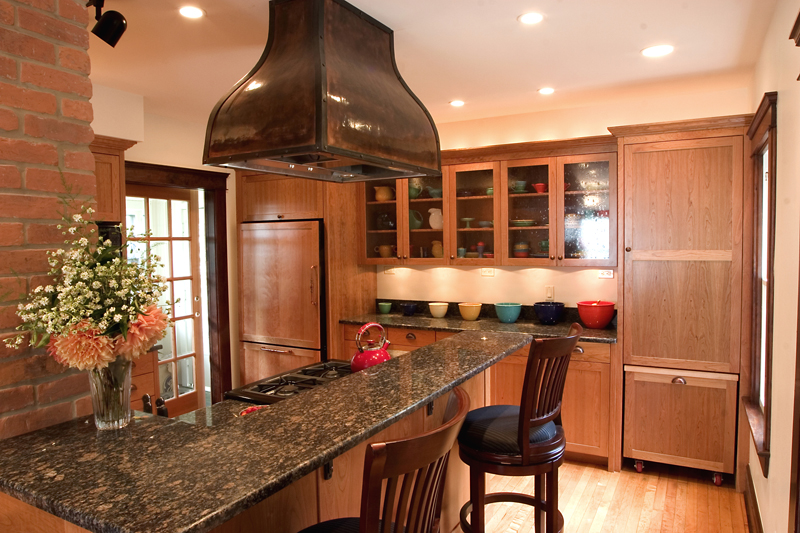 Custom wooden hoods often create a furniture-like look to help blend in with their surroundings.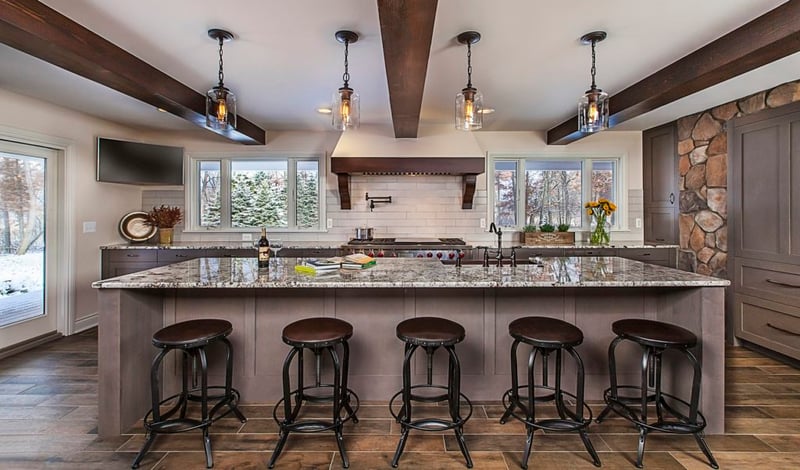 Power and Noise Ratings
Cubic feet per minute (CFM) is the measurement of the volume of air that can be moved by a ventilation system every minute. A cooking surface has a rating generated by its manufacturer, and based on that power rating, the manufacturer will recommend how many CFM a particular ventilation system should have to give you the maximum benefit of moving air to the exterior. The most important thing to remember is to check your local building codes for the requirements when it comes to CFM. Your HVAC contractor should be able to provide guidance in this area. In addition – the higher power ventilation units may require adding make-up air and this adds to the cost.
Hoods are also rated in sones for how quiet or loud they perform. A lower sone rating equates to a quieter unit.
Vented or Not?
Venting a hood to the outside can be coordinated with an HVAC professional. Venting to the outside gives you the best results, but if it is impossible, then a non-ducting option called re-circulating can be added to many hoods. These units contain charcoal filters that clean the air before it is released back into the room.
Modern day hoods provide both an aesthetic component as well as a tool to improve indoor air quality within our cooking environments.
Thinking about making some changes to your kitchen? Need a facelift or are you ready for an entire kitchen remodel?
We can help and we'd love to start the conversation.