The size of your kitchen is important. If you want to prepare meals, eat meals, and entertain guests comfortably — you need enough space to do it.
So when it's just you and your spouse, and it already starts to feel like too many cooks in the kitchen, you might be wondering what you can do to give yourself some more elbow room. Fortunately, there are plenty of smart design tricks you can utilize to make your small kitchen look and feel a lot bigger than it actually is.

5 Ways to Make a Small Kitchen Feel Bigger
From the kitchen design and remodeling experts at Meadowlark, here are some of the best tips and tricks to make your kitchen seem bigger than it actually is.
1. Remove Some Cabinets or Switch to Creative Cabinetry Solutions
Have more cabinets than you need? Take some out! If they're underutilized, they're just taking up the space your kitchen needs to look and feel bigger.
Since they're the most difficult to reach (and therefore the least used), it's usually best to remove the upper cabinets first. Although this doesn't add any floor space to your kitchen, it's a move that prioritizes functionality and makes the room feel a bit more open.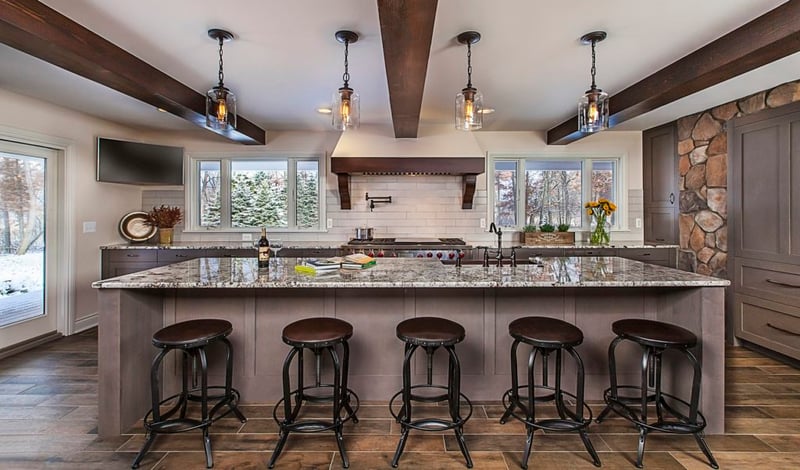 Or, if you can't bear to see some of your cabinets go, consider swapping them out for unique cabinet solutions that can store more within your existing cabinetry. You may choose to swap upper cabinets with open shelving, install a Lazy Susan in that hard-to-reach corner spot, or incorporate slide-out drawers for better organization. Sometimes, even making the simple swap from solid cabinet doors to glass-paneled doors can make all the difference in making the space feel more open.
2. Knock Down a Wall and Borrow Space from Another Living Area
If you can remove a wall that will help your kitchen flow into a larger living space, do it! Unnecessary walls are the biggest inhibitors to open-concept floor plans; by removing one, you can often steal space from an adjoining area.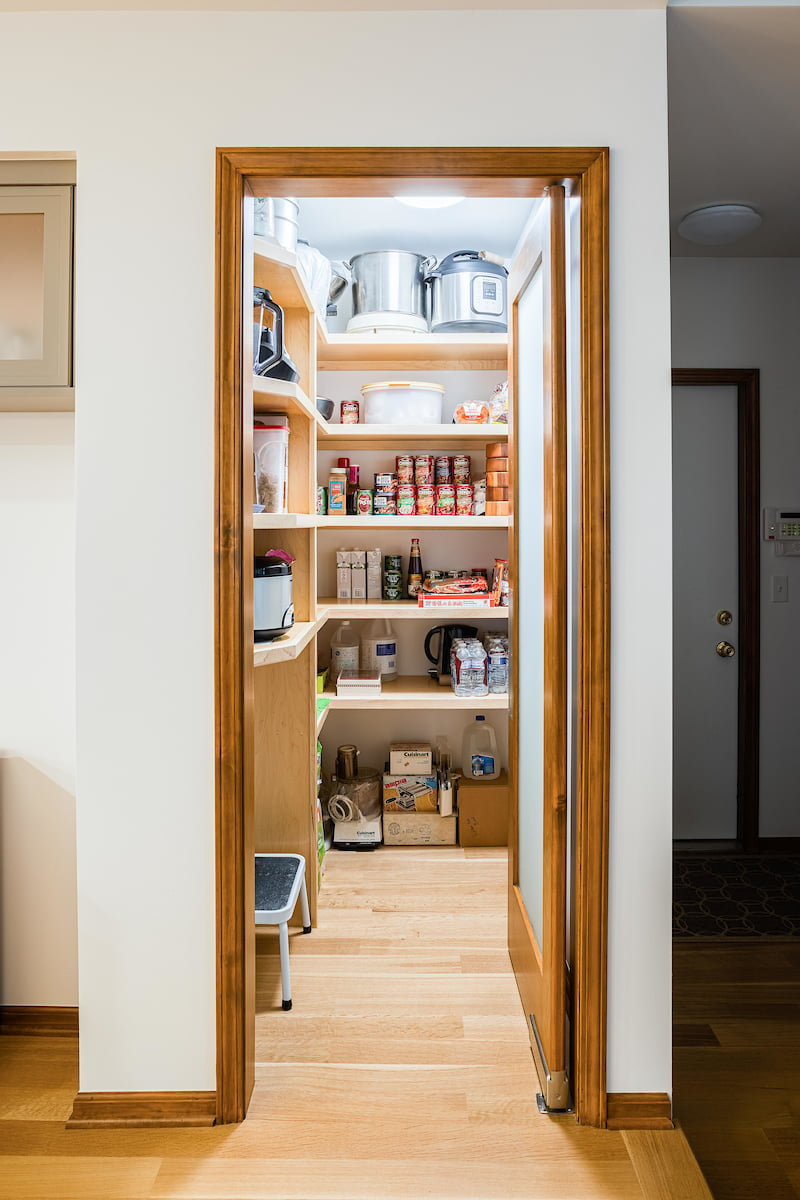 In our experience, we've seen many homeowners have great success in reconfiguring adjoining space to create a pantry, which can take some of the "storage stress" off of main kitchen cabinets. Even if you're working with a small amount of extra space, you'd be surprised by how much of a difference it can make in the way your kitchen functions. Just check out some of these examples our team has worked on:
If you can't remove any walls within your kitchen, you may consider just cutting one in half, horizontally. This creates an attached island or "breakfast bar," where the wall still provides necessary functionality (work surface, seating, lower cabinets/shelves), but the space is open up top.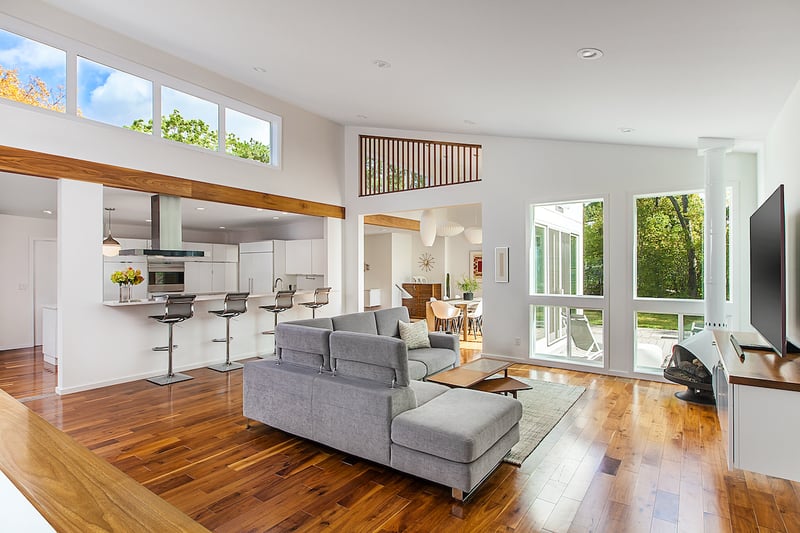 3. Choose Light Colors Instead of Dark Colors
Applying a fresh coat of paint is a relatively low-cost way to make your kitchen seem bigger and brighter. That's why many homeowners have been hopping on the white kitchen trend lately.
But your options aren't limited to just white. As long as you stick to light colors, you're sure to create a more welcoming space.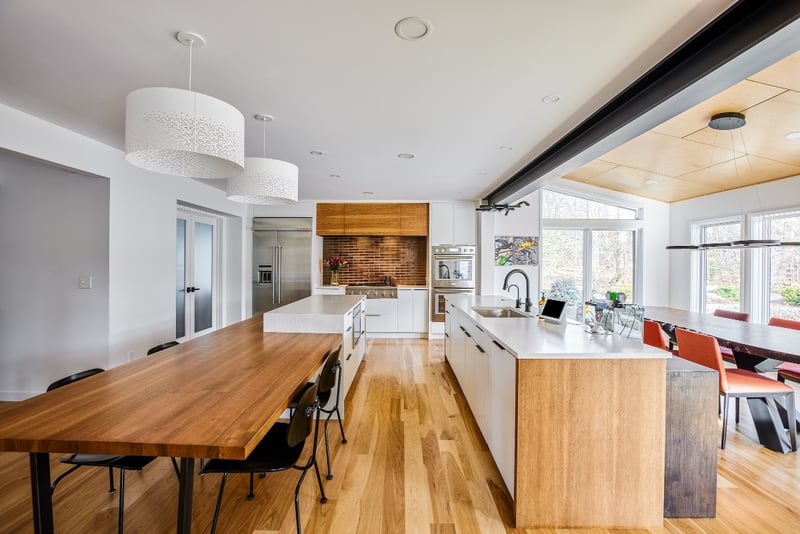 And, although you'd like to keep a bit of design contrast, the light color theory doesn't stop at paint. If you want to see significant results, look for countertops, cabinetry, appliances, and flooring in light colors as well.
4. Install Another Window or Two
Paint's one thing — but there's nothing that can brighten up your kitchen much better than some good ol' natural sunlight. Warm, vibrant rays beaming in create the illusion of a wider, more accessible space.
If you don't already have some, add a window in your kitchen, and keep it clean and simple. Blinds and curtains will have the opposite effect, making your space feel more cramped than it already was. Or perhaps you can reconfigure your kitchen and add sliding doors to the exterior to bring in more light.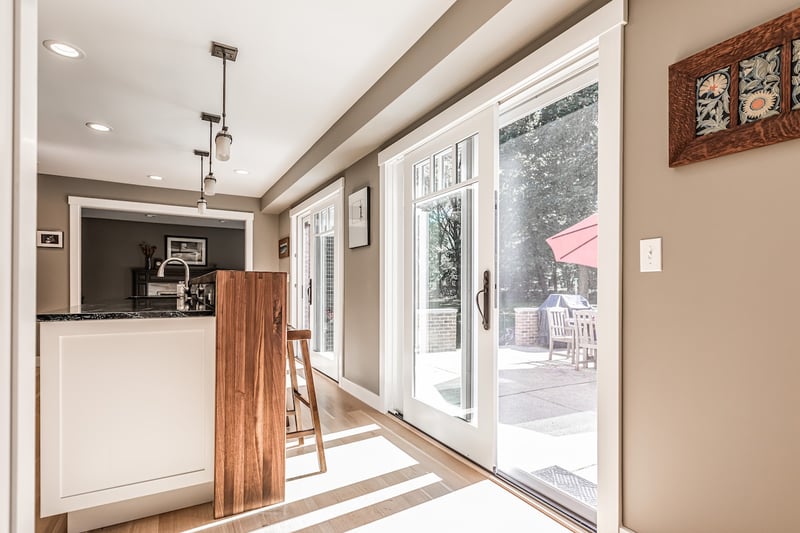 However, in some small kitchens, it's impossible to find room to accommodate another window. If you're experiencing that struggle, one feasible solution for you could be installing a skylight, which is basically a window that's installed in your ceiling. It allows the sun to shine straight down into the room, creating the same (if not better) widening effect as a traditional window.
5. Move Your Kitchen to a Different Place in Your Home
Perhaps your kitchen is currently located in an area of your home that makes no sense at all, leaving you to gripe not only about space, but many other flaws as well.
Would you like your kitchen to be more centrally located? Would you like to have a better view while washing the dishes? Would you like to have more natural daylight coming in? Whatever your wishes may be, a good kitchen designer can help you think outside the box and bring possibilities to the table that you may not have even known were options. Which is exactly what we did with this kitchen remodel.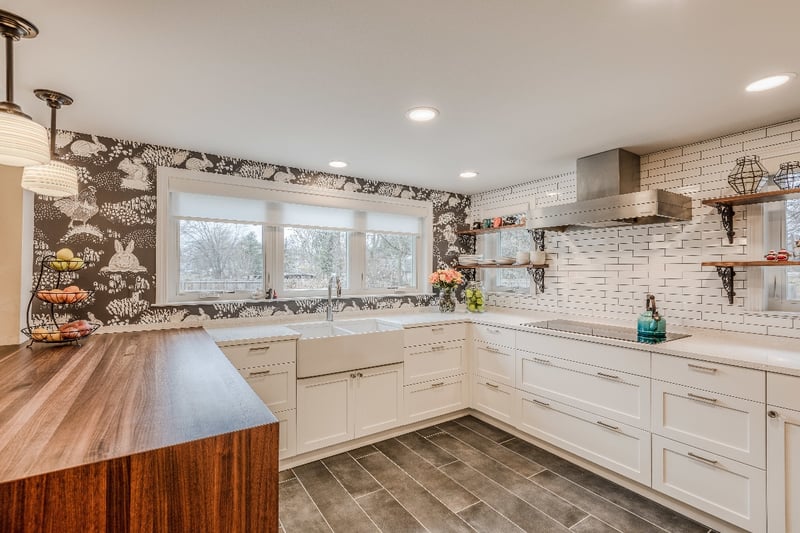 Want to make that tiny kitchen feel bigger without actually adding space? The Meadowlark Design+Build team has you covered. Our designers can make your kitchen seem clean, open, and light without tacking on a single square foot. To learn more, contact us online.