A Basement Remodel We Love Gets Some Additional Lovin' from GC Magazine
GC (General Contractors) Magazine just published their list of the 40 Best Basement Remodelers in the U.S. and we made the cut! It is always great to get accolades from media, but this one is extra special because we are particularly fond of not only the project, but also of our clients. We have had the pleasure of working with this client multiple times over the past 11 years and this basement remodeling project was another wonderful collaboration with the entire family.
How to Create Multiple-Function Zones in a Large Open Basement Space?
This basement had been previously been carpeted and drywalled, but it still was just a large open space that ended up being a drop-zone for anything that didn't have a designated home upstairs. The result was a cluttered room, that nobody had any interest in spending time in. The support columns and changes in ceiling elevation for mechanicals also stuck out like sore thumbs and added to the "basementy" look and feel.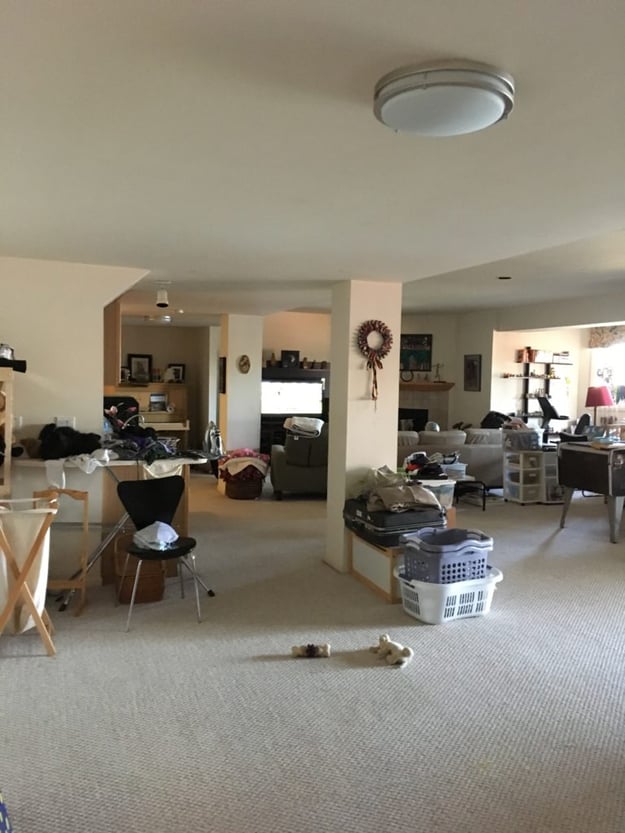 Our clients came to us looking for something that would check off all the boxes of their wants and needs and also reflect their wonderful personal style. Their list of must-haves included:
A bedroom for their son who wanted to have some more privacy when he was at home
An art studio for their daughter
A game area that would provide ample space for an energized game of ping pong without worrying about breaking anything
A media area for watching movies and playing video games
A bar area to accommodate friends and family entertaining
As much natural daylight as possible
A protected exterior patio for outdoor entertaining
A non-basement feel and aesthetic that reflected design features in other parts of the home
From Basement to Lower Level – What We Did
Our design team took their cues from the previous remodel project that we had completed for these clients and then added a few of their own design twists to completely transform this basement into a space that is unique and beautiful.
Natural Daylight and Rain-protection
Fortunately this basement was a walk-out and had existing glass French doors that led out to an existing patio space that was covered above with the existing deck off the main level. These doors, along with daylight basement windows, brought in lots of natural light. Light finishes on the walls and ceiling helped to amplify the natural light.
To ensure that rain did not put a damper on entertaining on the patio, a gutter system was installed underneath the main level deck – channeling rainwater away from the patio. This allowed the party to go on – even if the weather wasn't cooperating.
Basement Ceiling Level Changes and Support Columns
Unfortunately, many of the basements we work with have changes in the ceiling heights to accommodate duct work and mechanicals. If the basement is tall enough – we can drop the ceiling to the lowest common level to create a uniform ceiling height, but in a lot of the projects, there just isn't the height available to work with. For the support columns…unfortunately these are necessary in a large basement room. However, with thoughtful design, they can be very cleverly disguised.
Our design team came up with this unique architectural ceiling feature that made the change in ceiling elevation look like it was planned and the support columns were moved to complement this ceiling feature.
As the Kids Grow Into Adults – Create Spaces That Meet Their Needs
As your kids grow up and their needs evolve – you want them to feel comfortable at home. For this basement remodel we added an additional bedroom, (which required a new egress window to be installed), and an arts/crafts area with lots of natural daylight and storage.
Entertainment Needs – Finally the FUN!
Setting up different zones to accommodate different functions is where the rubber meets the road in good design. With this large space it was important to set up areas for each function and then tie them all together in a cohesive way that made sense. Fixtures, selections and architectural features all help to delineate the spaces without adding walls.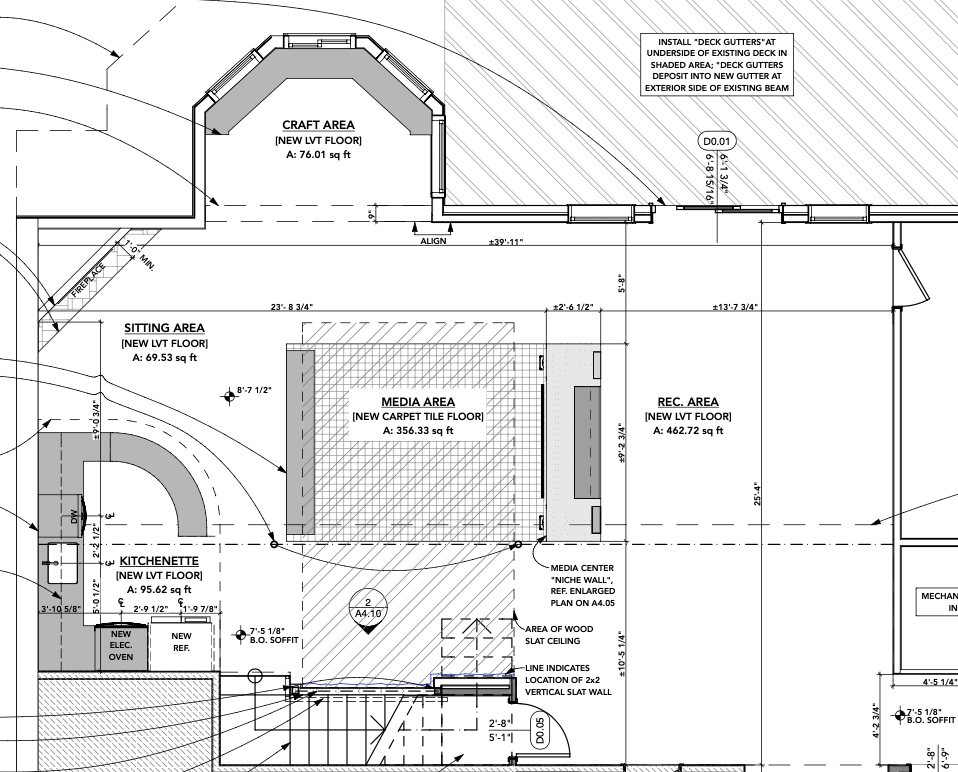 Bar Area with Cozy Seating Area
This kitchenette mimics the main level kitchen and also throws in a strong dose of our clients wonderful design aesthetic. The built-in gas fireplace creates the perfect area to relax with friends when the weather turns chilly.
The Striking Media Area
A custom built-in-place media cabinet not only helps to delineate the space, but also accommodates all of the electronics and wiring needed for that media. A live-edge custom-built sofa table provides the perfect spot to put drinks or provide additional seating for dining. The unique Flor carpet tile feature also helps to define the Media space.
The Ping Pong Area
The back side of the custom media center houses shelving and a narrow bar area that helps to delineate the space set up for those heated ping pong matches. The shelving also provides the perfect space to showcase beloved (unbreakable!) treasures from the clients' world travels.
Thinking about doing some updates to your basement? We'd love to start the conversation.