The Beauty of Master Planning: Long-Term Vision vs Short-Term Fixes
Having purchased this home in 2010, our clients took on a number of remodeling projects to make the home more livable, but realized as their family grew (despite the updates they had made), the home still was not meeting their needs. Thus they came to Meadowlark looking for remodeling solutions that would solve their current issues and also address their vision for the future.
Our clients purchased this home because it was close to the small downtown area and, even though it was on a busy main street, it had a vacant lot next to it which they also purchased. With a love of gardening and nature, they envisioned capitalizing on the extra land to make a beautiful, natural setting that would give them a somewhat private oasis, yet still be close enough to take advantage of the amenities this small town offered.
For their immediate needs – the existing kitchen, (a remnant of the original home built in 1948), wasn't working for them any more. Aside from the obvious need for an update, the space couldn't accommodate more than one person and there was not enough storage for growing family of 4+ (they were expecting!). They longed for more counter space, a better casual/formal dining situation and a better connection to the adjoining spaces. In addition they needed solutions to manage the normal day-to-day school/clothing/boots/pet stuff that the existing entry wasn't solving for them.
A Vision for the Future
With a growing family our clients knew there would be a time when they would want to have a separate master retreat. With their love of nature and gardening – they envisioned an addition with its own private garden access and outdoor space that overlooked the gardens they hoped to build on the adjoining lot.
Having already done some remodeling and still not having the home meet their needs, they knew it was time to talk to a professional designer about how to best solve their current needs and also plan for their future goals when the timing (and budget) was right. They knew thoughtful master planning would not only solve their current issues, it could ultimately save them time and expense in the future.
Kitchen Remodeling – Using Space Efficiently
Although modestly sized at 1655 FT2, this two-story cape-cod style home had quite a large living/dining room area (322 FT2) and a separate family room (147 FT2). In contrast – the kitchen was small (150 FT2) and tucked away in the center of the home with only one window and four openings/doors to adjoining areas taking up valuable wall space. Our designers quickly looked at the balance and realized that there was plenty of space…it just wasn't laid out to maximize function for how the family lived.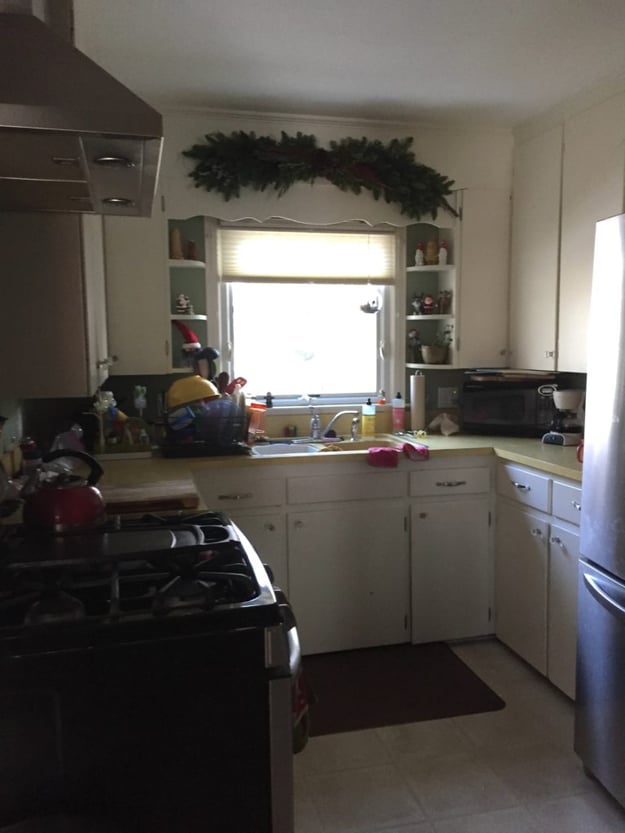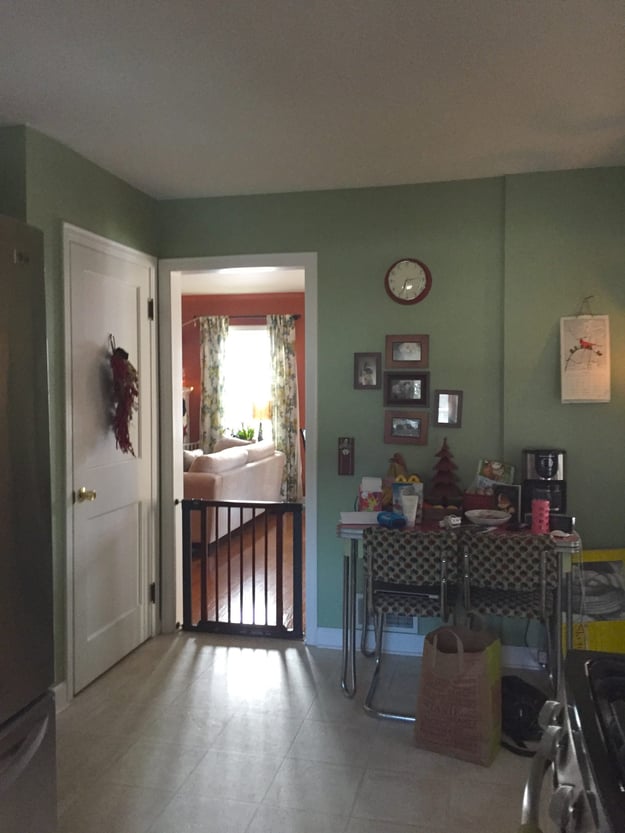 Their wish list included:
Storage, storage and oh did we say…storage!
A warm traditional design aesthetic that stayed true to the original home's style
Additional work surfaces and spaces
Sound proof downstairs nursery bedroom
More natural light and views to the beautiful adjoining lot
A more "open-concept" feel between kitchen and living areas
Better mudroom function
Open shelving for glassware and china
Wallpaper and "pops" of color including the client's love of golden yellow
Utilize resource-efficient products and techniques where possible and improve the energy-efficiency of the home
A Kitchen Remodel to Take Best Advantage of the Existing Home's Assets
With a long list of wants and needs added to the long-term vision of the home growing with the family – our designer's hit the ground running. They realized there was plenty of space to work with. There was also the beautiful outdoor vignette provided by the adjoining yard.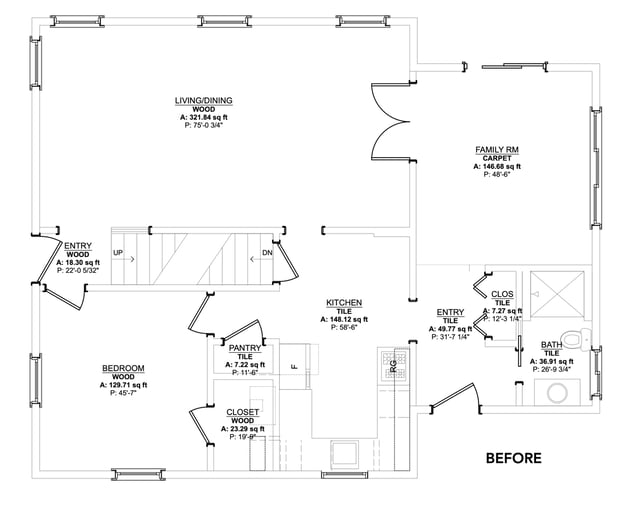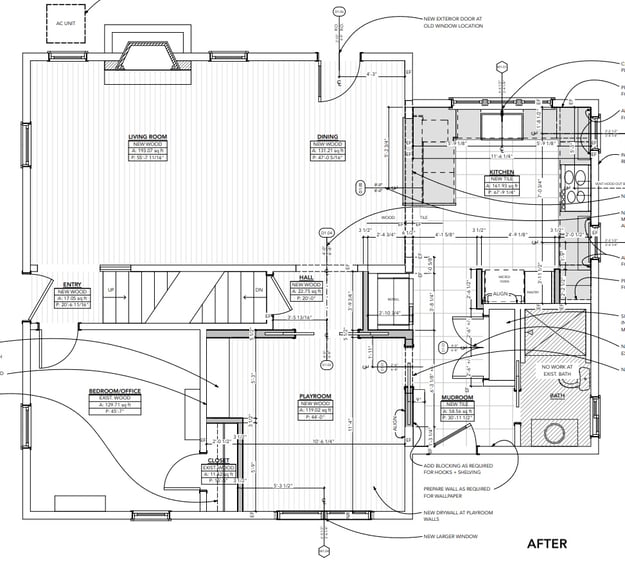 By moving the kitchen into the family room area this gave them the use of the existing south and west walls for windows to bring in loads of natural light, plus a great view of the yard. "Floating" shelving in front of the windows perform double duty as they store glassware and dishes, but still allow for light and views to the adjoining yard.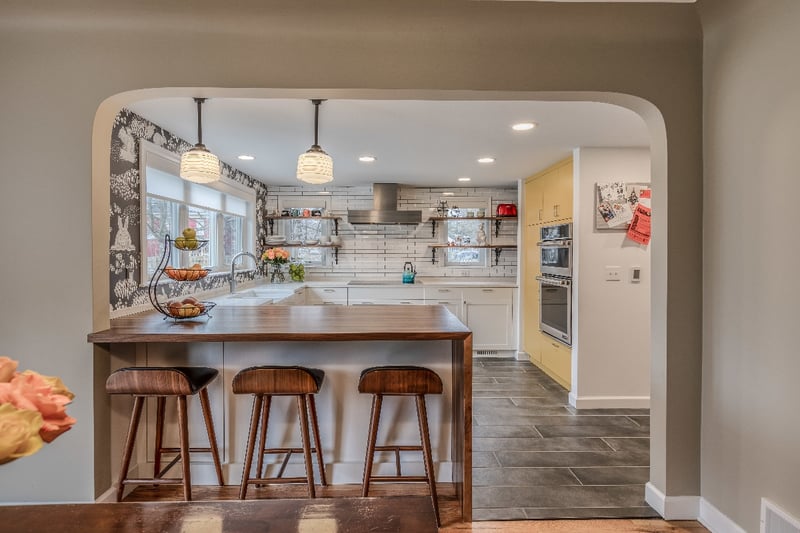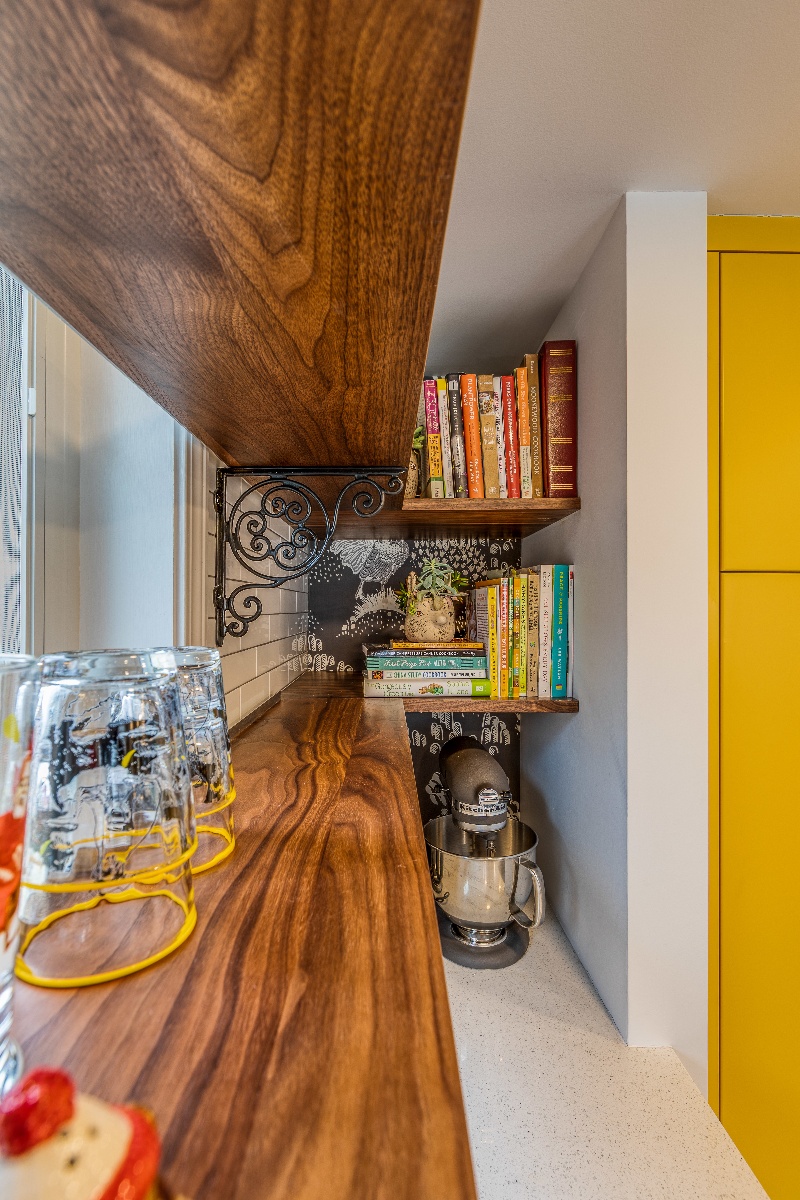 Our designers ran with the client's whimsical style and embraced their love of nature with an adorable animal-themed wallpaper and captured their love of yellow with a bank of golden yellow cabinetry on one wall of the kitchen. Walnut shelving and a walnut "waterfall" breakfast counter add additional warmth to this welcoming space.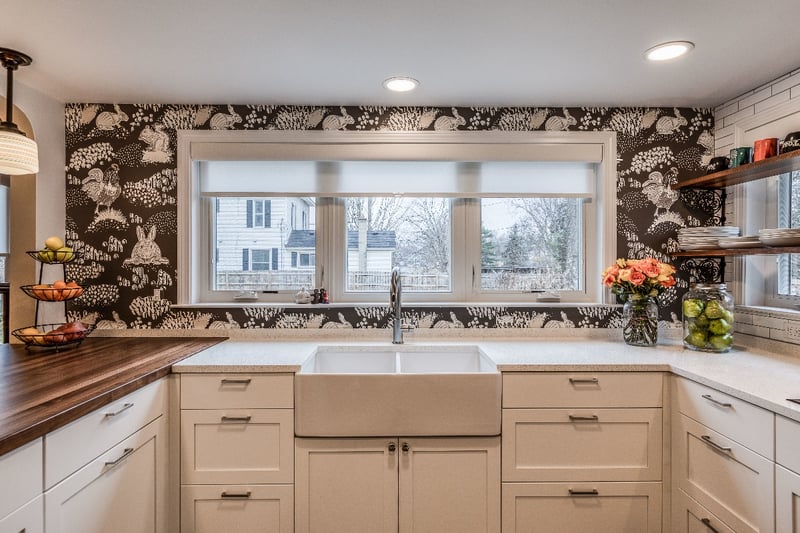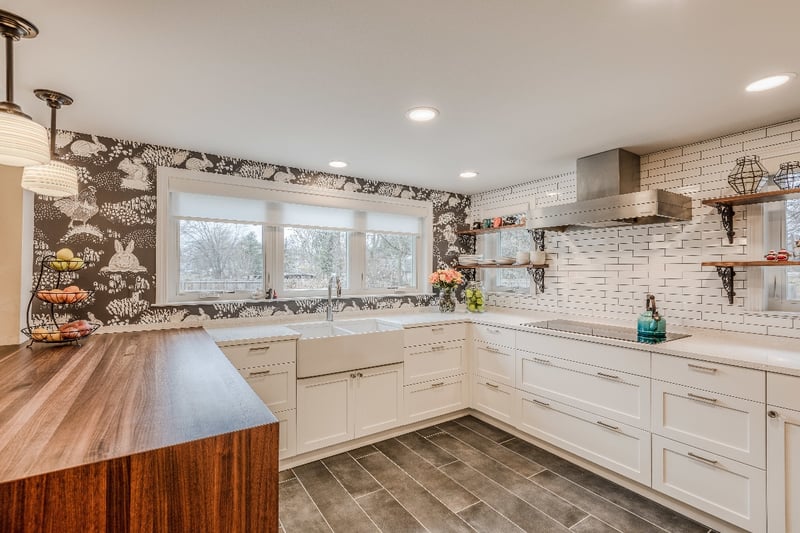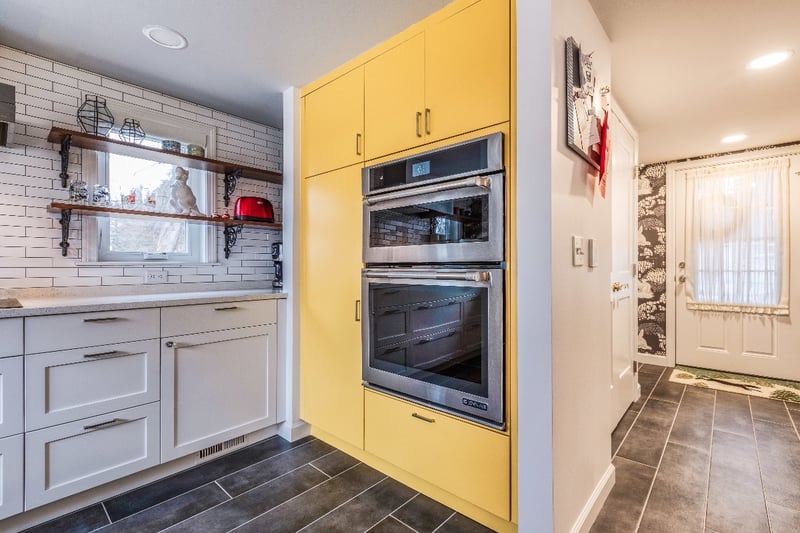 The room that previously was the kitchen is now the perfect playroom area that can be closed off and used for an extra bedroom for overnight guests. New warm oak flooring, a larger window, bright colors and a comfortable sofa create the perfect spot to relax with the kids and read stories. To help with the entry clutter, customized shelving was built into the mudroom/hall closet, and hooks and specialized racks were added to help manage whatever winter-weather gear is needed.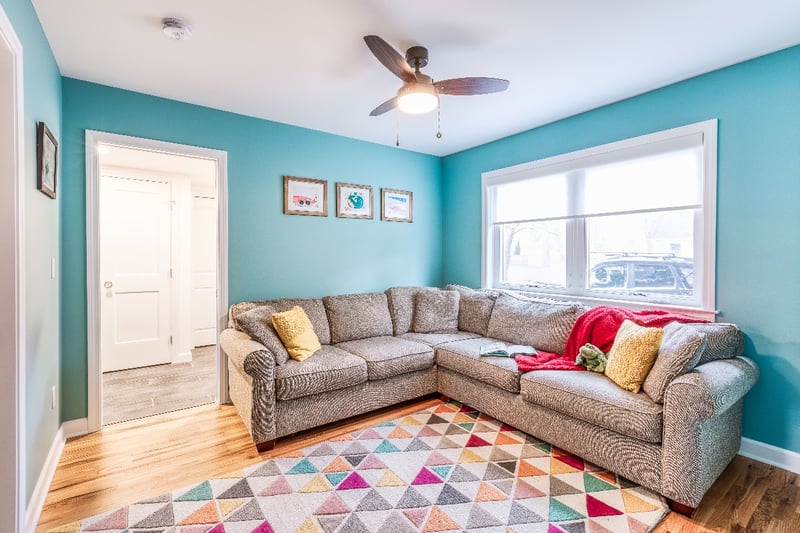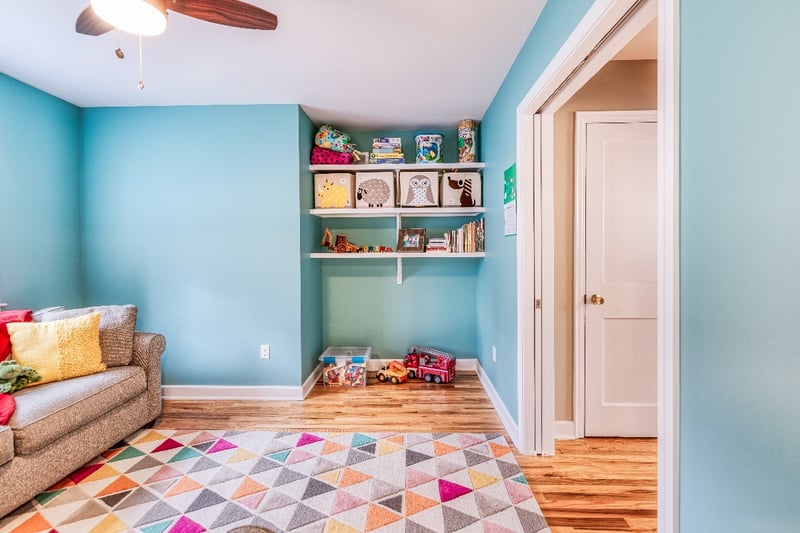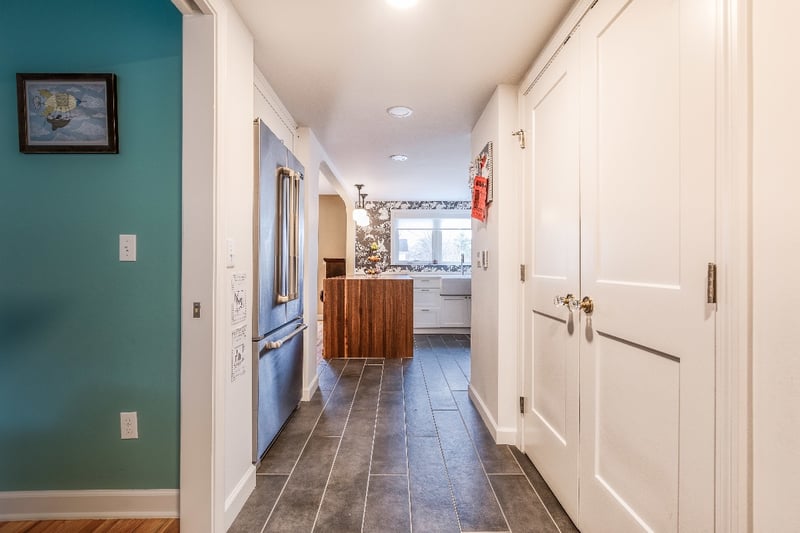 And What About that Master Retreat?
TBD. All we can say is that it's waiting in the wings for when the timing is right for our clients. We presented three options…which one do you like best?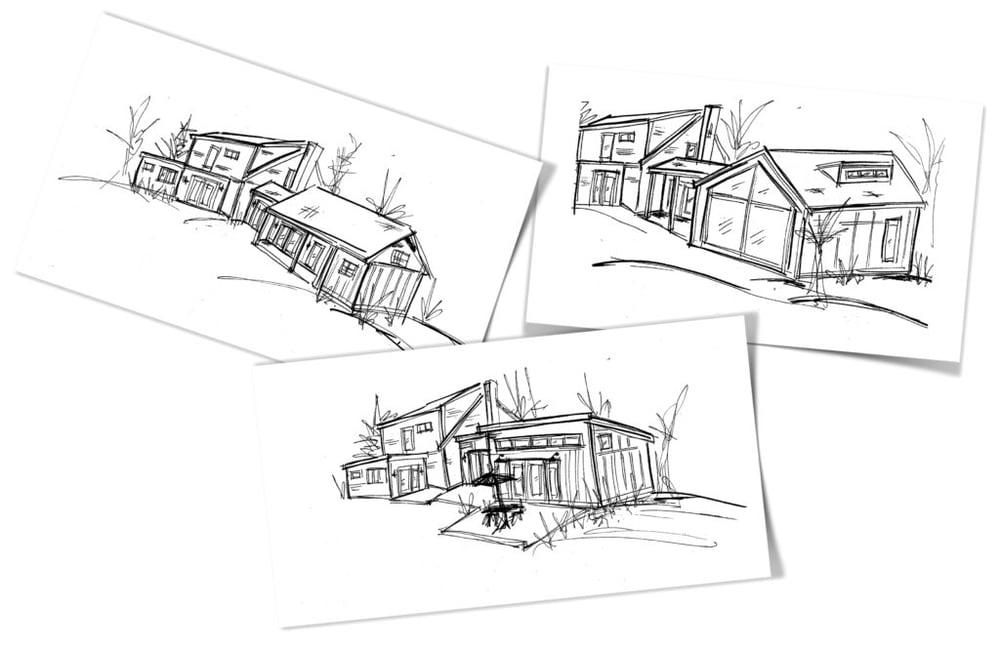 To learn more about this project and others – check out our client stories. Thinking about how to best approach your remodeling needs? We'd love to start the conversation.
By Susan Christian