Basements are full of potential when it comes to increasing living space and adding value to your home. Depending on how you go about it, a basement remodel can increase your property value significantly, should you ever decide to sell.
But what's the best way to use all the extra space you gain from a finished basement? Here are 7 basement design ideas to help you get the most value out of the project.
#1 Let Light Into Your Basement Design
No more dark and gloomy basements. Natural light makes spaces in your home feel more inviting and also curbs energy usage. Bring more light into your basement remodel by adding windows. Egress windows are particularly desirable. When installed properly, they contribute to your home's livable space, enabling you to count the space as another bedroom or just more finished square footage. If you have a walkout basement, consider adding full-length windows and glass doors to let in as much natural light as possible.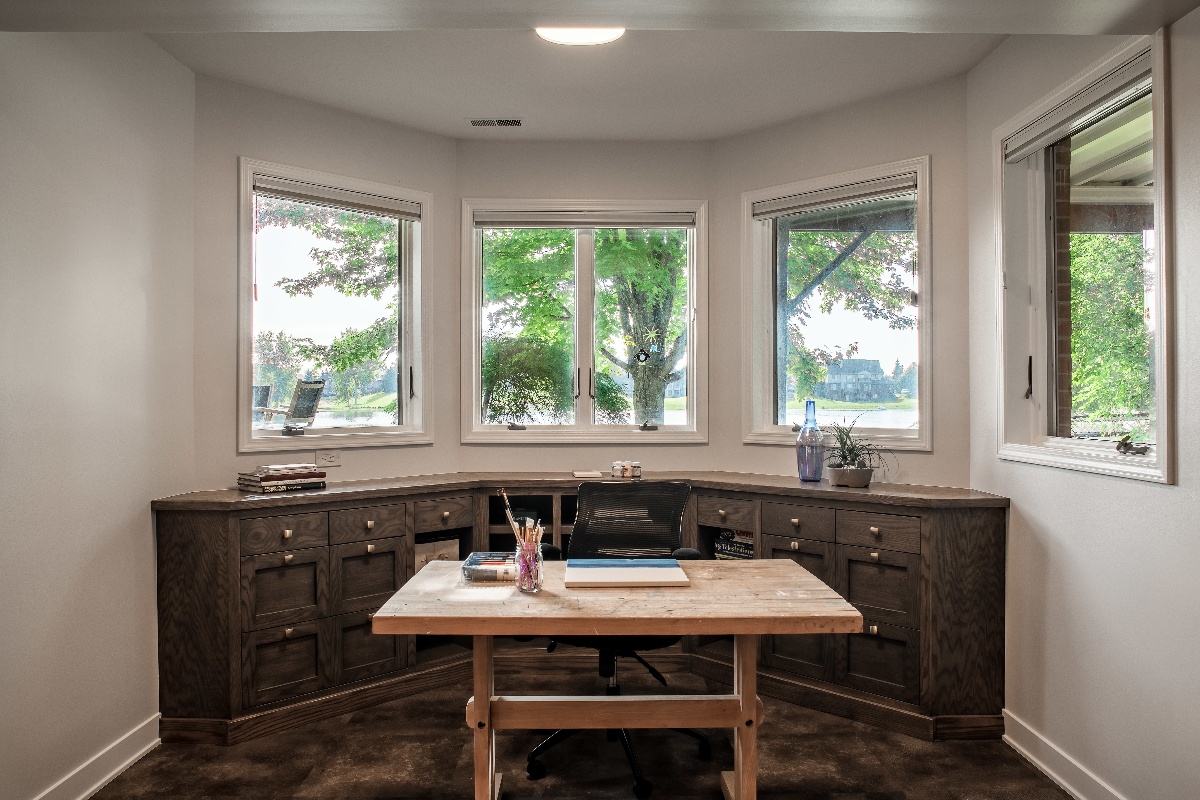 #2 Open Up Your Basement Remodel
While there may be reasons to divide up your basement design, such as to designate purpose or make one area feel more cozy and intimate, opening up your basement layout can also offer advantages. An open-concept basement can make the space feel large and airy. Opt for one flooring option and similar colors across the entire basement to create a consistent design throughout the space.
You can also use open ceilings in the basement to maximize ceiling height, provide easy access to utilities, and give your basement a unique feel. To conceal ceiling fixtures, consider painting floor joists, junction boxes, and everything else encompassed in the ceiling a uniform color, like black or off-white.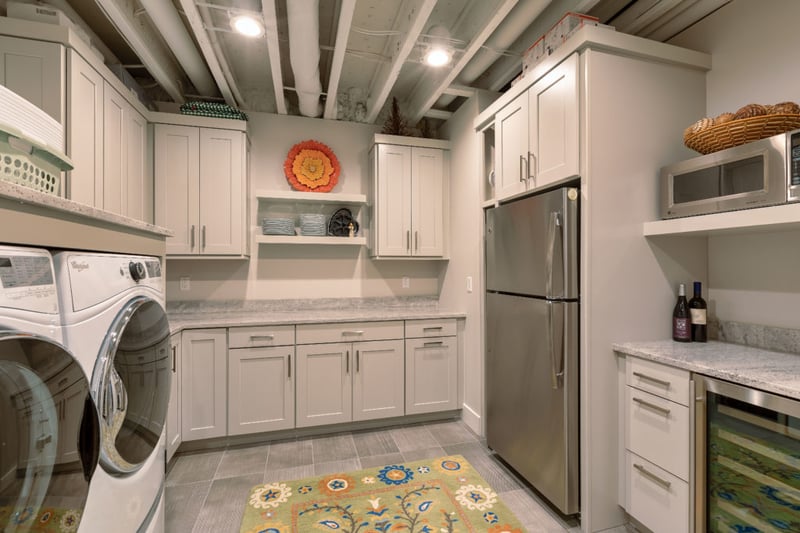 #3 Go for the Bold With Basement Colors
Especially if the rest of the home utilizes a neutral or muted palette, the basement is a great place to experiment with bright and bold colors. They will not only make the space feel more lively, but you'll also want to spend more time in a space that inspires and energizes you. Not sure if bold wall colors are right for you? You can get a similar effect by pairing neutral wall and floor colors with light, bright furniture — think light woods and fun fabric — and choose colorful accent pieces like rugs, throw pillows, and blankets, to bring in that fun, lively feel without overcommitting.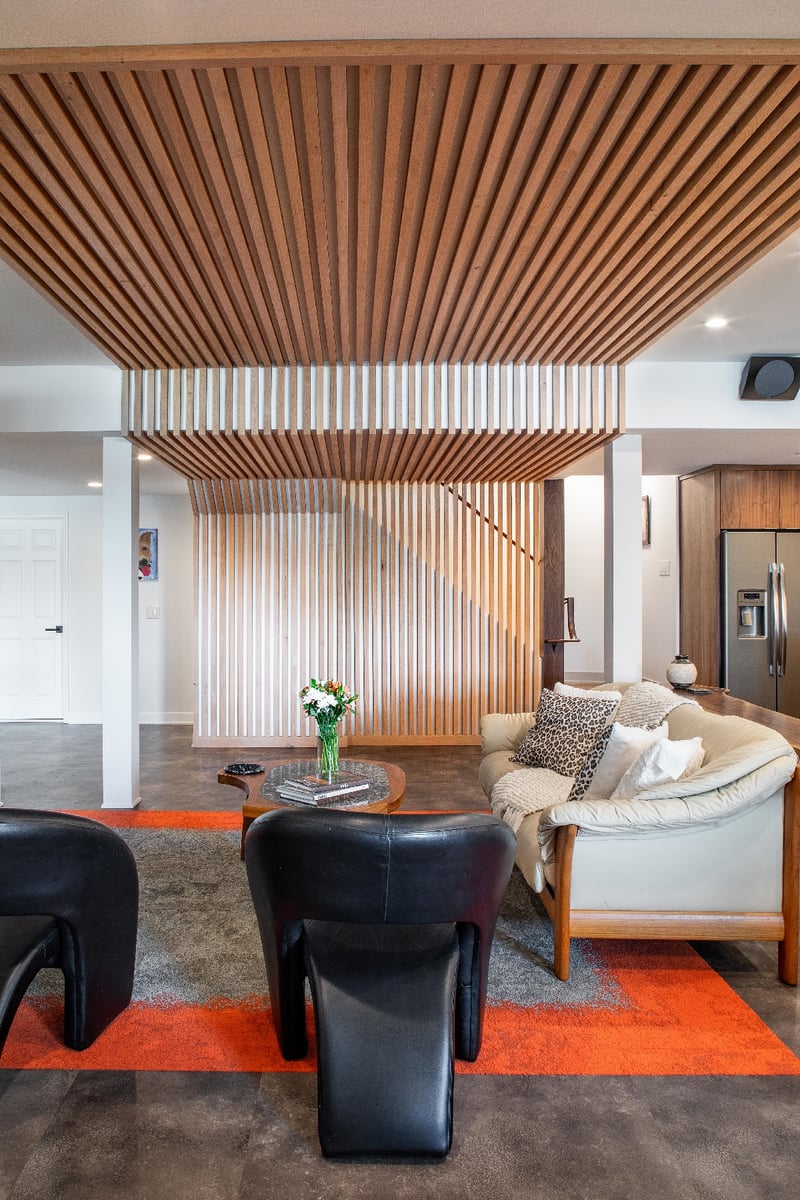 #4 Select the Low Profile Furniture for Your Basement
Choosing the right furniture can make a big difference for your basement design. Go low-profile with furniture — think Scandinavian styles — to keep open lines throughout the basement. This accentuates the space above, making the room feel bigger and airy.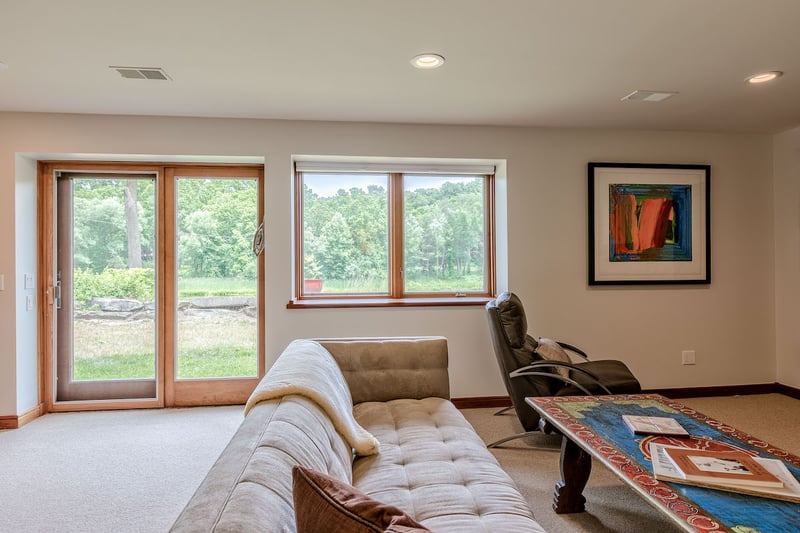 #5 Create More Space for Entertaining
With any basement remodel, deciding on the purpose for your new space will help you get the most out of the finished product. Additional entertainment space is one of the biggest reasons homeowners opt to finish a basement. Consider adding another living room, wet bar and cooking area, or even a game room to give your guests more options to spread out and enjoy themselves.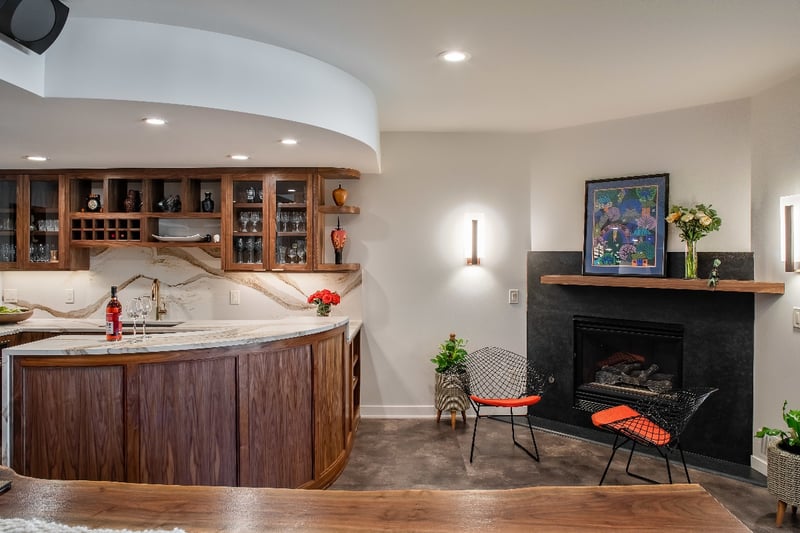 #6 Reserve Flex Space in Your Basement Remodel
Another great basement design idea is to reserve a dedicated area for flex space. This multipurpose space means your basement can adapt to your life, filling different needs over time. Is it a home office, kids playroom, workout room, space for additional or guest bedrooms — or all of the above? Space-saving furniture can help you convert this area easily, ensuring your basement design can accommodate multiple uses. For example, this basement sewing/craft room can double as an extra bedroom when needed thanks to the built-in Murphy bed.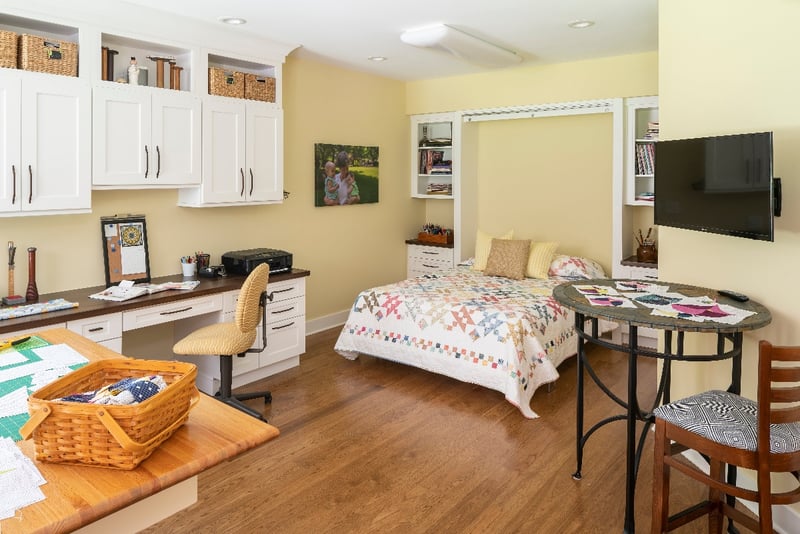 #7 Design Your Basement for You
Finally, make sure your basement remodel reflects your family's needs and style. You'll be the one living with it, after all. Choose design inspiration and additions to the space that you'll actually enjoy and appreciate.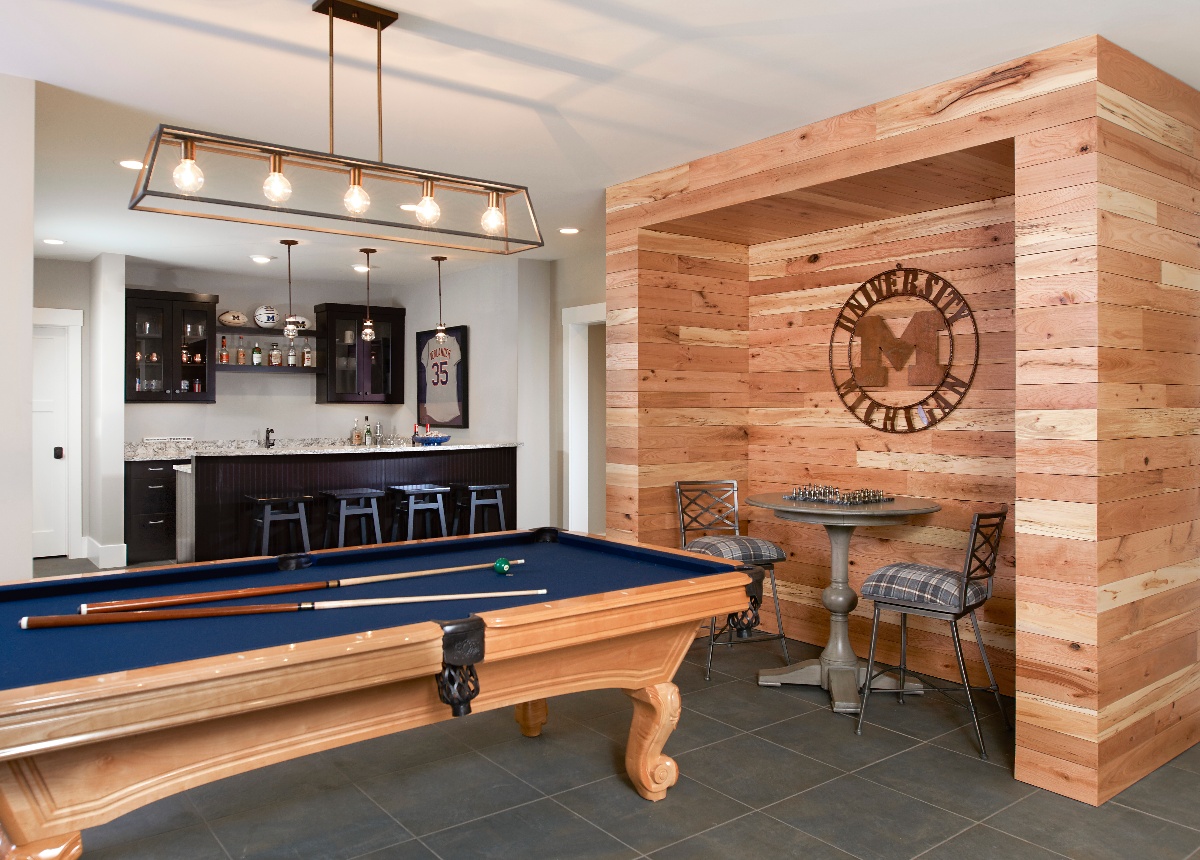 If you're running short on basement design ideas, take a look at some of our work with basement finishing and remodeling projects.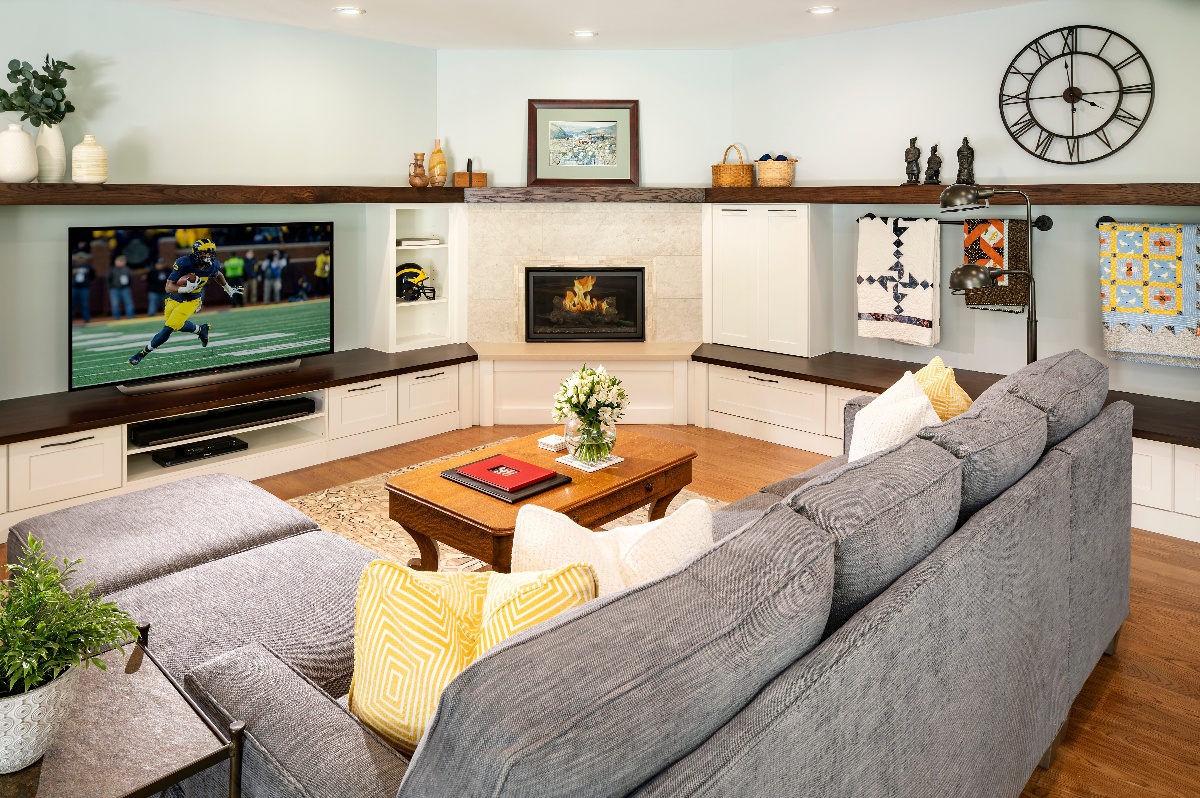 And when you're ready to get started on your basement remodel, get some help from the experts at Meadowlark Design + Build — named one of the best basement remodelers in the U.S.
If you're ready to finish that basement space and design and craftsmanship are top priorities, we can help. Give us a call or contact us online today to learn more.