Combining the kitchen and dining room is a remodeling trend that's taken over. For many, the formal dining room just doesn't serve the purpose it used to, and entertaining is much more welcoming and casual when your guests can hang out while you cook!
If you're considering combining your kitchen and dining room in an upcoming remodel, here's what you need to know.
The Benefits of Combining Your Kitchen and Dining Room
First thing's first — this trend is a trend for good reason! Combining a kitchen and dining room is becoming one of the most popular remodeling projects due to the slew of benefits it can bring to your home. Here are just a few of them:
It creates a more open floor plan. Formal, closed-off dining rooms just aren't the style anymore. Combining them with your kitchen ensures a better, more welcoming flow throughout your home.

It brightens and expands your space. Combining these two rooms into one can make your space seem brighter and bigger, even if you're working with the same amount of square footage. Goodbye, dark and cramped!

It enhances your entertaining space. Whether it's a big holiday party with friends or a regular Tuesday night dinner with your family, you'll never be trapped in the kitchen cooking alone again.

It adds value to your home. Homes with open floor plans, bright rooms, and great entertaining spaces tend to be worth a bit more than homes that are missing those features.

5 Tips for Combining Your Kitchen and Dining Room in Your Next Remodel
So we've sold you on the project — now how do you actually go about doing it? Any kitchen remodel can be a big task, especially when you're trying to combine two spaces into one. But have no fear! We've got some tips and tricks for you to help ensure a job well done.
1. Remove Walls or Add a Bump-Out
If you're trying to integrate a closed-off dining room with your kitchen, it's likely that you'll have to remove a wall or two. That's just the nature of the project. However, before doing so, it's important to check if it's a load-bearing wall and to obtain any necessary kitchen remodel building permits. Identify any structural, mechanical, electrical, or plumbing changes you need to make, as these will affect your permit requirements as well.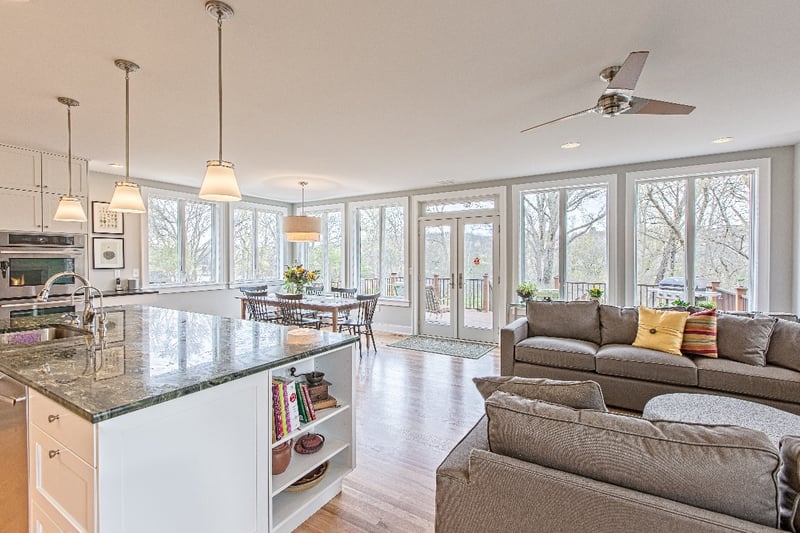 Another thing to think about here is square footage. For many homeowners, removing a wall and combining their kitchen and dining room expands the space enough. But if you're still hoping to have more space for cooking, entertaining, etc., you may consider adding a bump-out or custom home addition (which is definitely going to require some permits!).
2. Widen an Entryway or Existing Opening Wall
Another opportunity for expanding and brightening your space? If your home has an entryway or foyer between the dining room and kitchen, you could widen that space and include it in the rest. This would, of course, require some extensive wall removal work, but could provide highly rewarding results: a change in traffic flow, more room for entertaining, and a brighter space!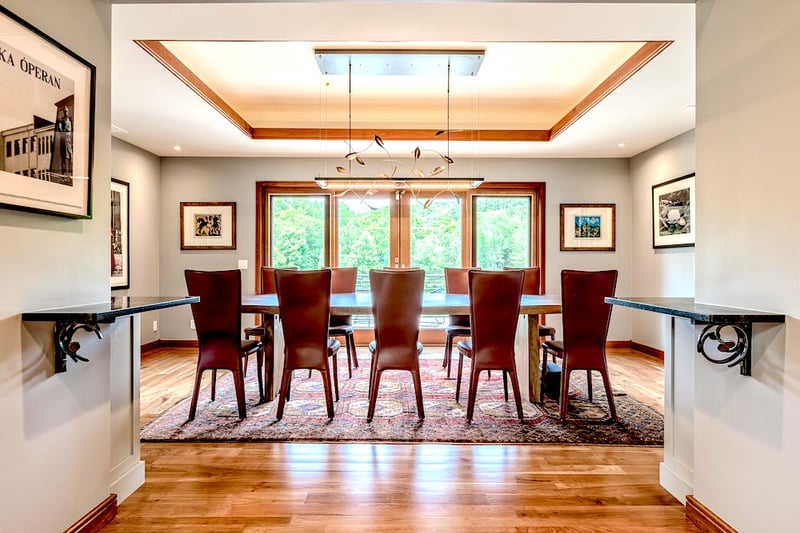 If you're not ready to fully say "sayonara" to your entryway, perhaps you could simply cut into one of the walls facing your kitchen/dining room combo. This wouldn't completely open the space up, but it would help with more flow, brightness, and cohesiveness throughout your home.
3. Invest in Strategic Storage Solutions
One downside of knocking down a wall or two? You might lose some much-needed storage space. Luckily, there are plenty of creative solutions you can use to make up for it. Things like pantries, floor-to-ceiling cabinets, Lazy Susans, and islands with cabinets can all provide the space you need to keep your food and dishware organized — you just might need to think outside the box!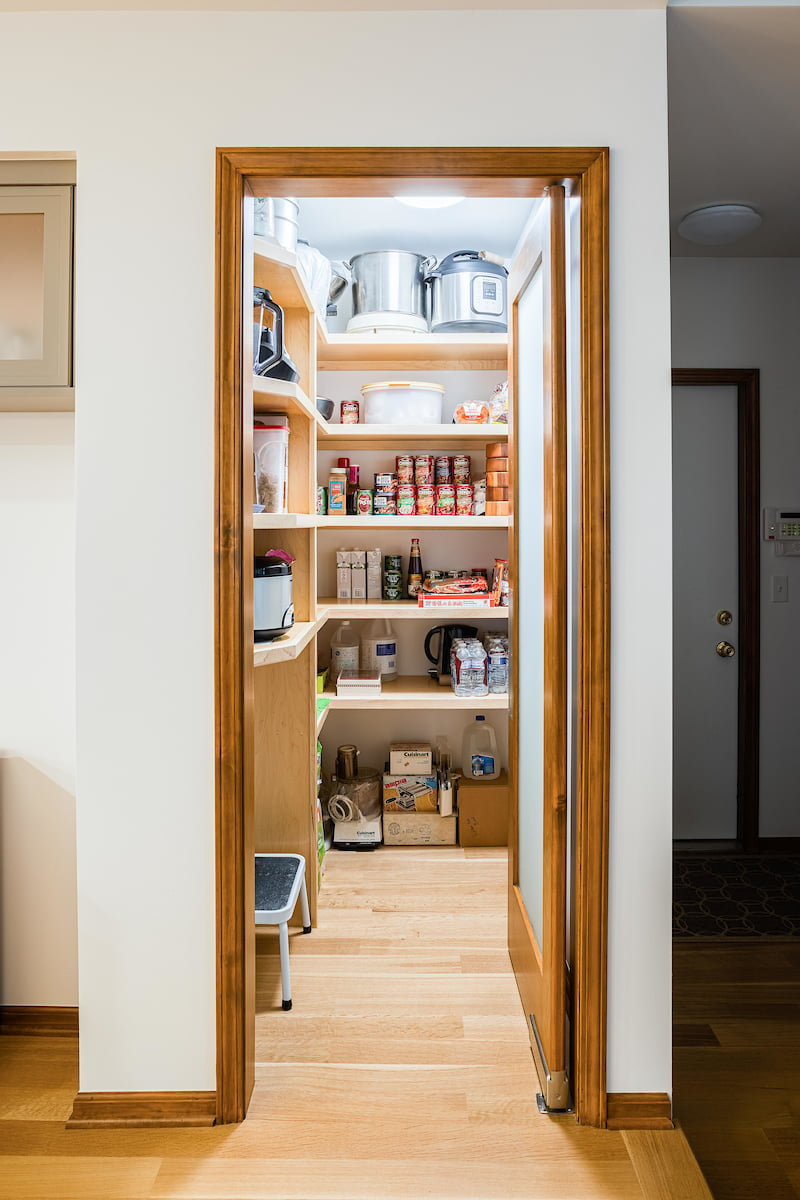 And when it's all said and done, that extra design thought is well worth it. You'll end up with a more open, less cluttered space that's both functional and beautiful.
4. Place Your Dining Table Strategically
Here's another thing that will really get you thinking: where to place, and how to situate, your dining table. Depending on the location and orientation you choose for it, it could either add a sense of separation or openness to your kitchen/dining room combination. Here are the most common two options:
If you move your dining table to a side wall or corner, it could function as a charming eating nook and open up the rest of the space.

If you move your dining table to the middle, adjacent to your kitchen, it could contribute a bit of contrast between the two spaces.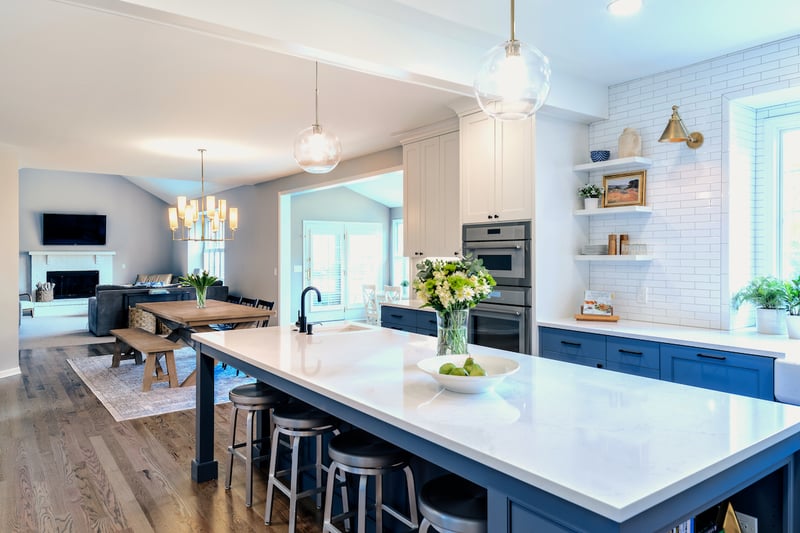 There's no wrong answer here — it just depends on what you'd like. If you'd really like a wide-open space, you may push that table to the side. If you'd like a cohesive space that still fosters some sense of distinction, you may choose the middle.
5. Be Consistent with Flooring, Furniture, Colors, and Decor
When the primary focal points of your spaces match, it creates amazing flow from one space to another, making them feel like they're truly supposed to be one area. Therefore, be consistent with the main selections in these spaces, like flooring, furniture, paint colors, and other prominent decor.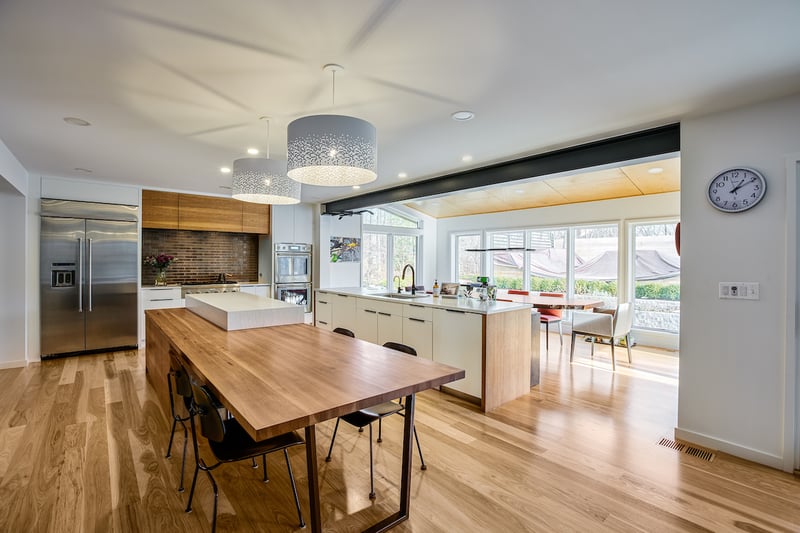 Another great idea is to add subtle pops of color (the same color) throughout your kitchen and dining room. This creates design continuity that can also make the spaces look connected. The small details do matter!
Get Help With Your Kitchen and Dining Room Remodel From Meadowlark
Combining the kitchen and dining room is a smart remodeling choice that can better align your home with your lifestyle. But, like any remodel that changes the flow of your home, it will take some careful design thought. Looking for help? Get in touch with our team at Meadowlark Design+Build.