Kitchen design: Cabinets, Countertops, Tile – Too Many Choices!
Thinking about remodeling your kitchen? Are you overwhelmed with the colors, textures and types of materials that you see everyday on the internet, TV and magazines? Is looking at photos on Houzz enough to make you throw your hands up in the air and say "I give up!" Here are some tips to help you navigate your way through all of the choices during your remodeling process.
First Things First
Before we jump into finding that perfect palette for you…we recommend you take a step back and look beyond the "shiny objects" (aka cabinets, countertops, tile) and do a little homework. Here are a few things you should consider before making your final decisions.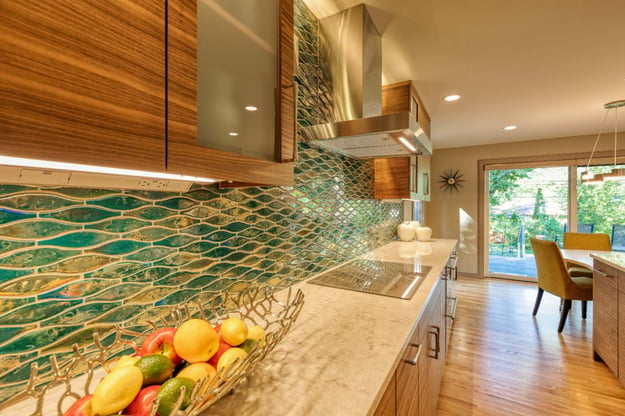 Set a Realistic Budget and Focus on Your Priorities
You may love the amazing Ann Sacks Tile or (local Ann Arbor favorite) Motawi Tile for your backsplash, or the beautiful Carrara Marble for your countertops, but if you don't have an unlimited budget then it's best to learn to compromise. Setting your priorities can help. What is important to you on a day-day-basis? Do you love to cook? Perhaps you should focus on spending more on a great cooking range and look for more budget-friendly choices in other areas. Do you love to entertain? Maybe you should think about finding room in your design to place a second dishwasher and a bigger refrigerator rather than spending money on custom cabinets. The good news is there are so many options out there right now at a wide range of price points that compromise can be less painful than you think.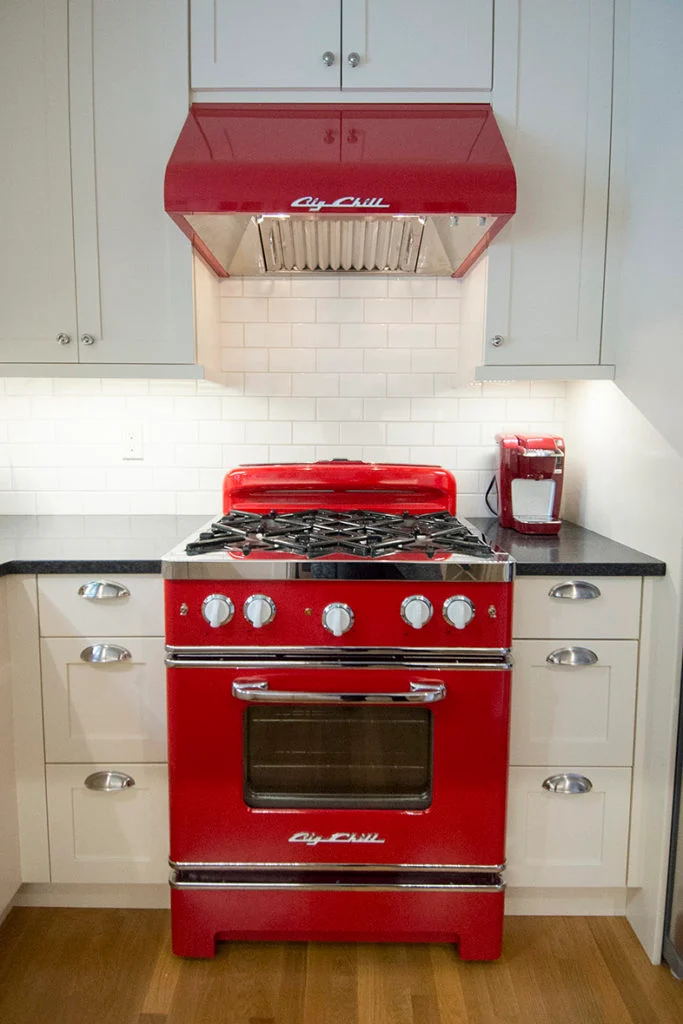 Cleaning and Maintenance
Still stuck on that Carrara Marble countertop? Another thing to consider is durability and maintenance. Marble is a naturally porous stone and while marble countertops are beautiful, they will stain and need periodic sealing. Solid surface and quartz are much more resilient to stains and water damage and they don't require sealing. Granite, soapstone, laminate and even butcher block are also options to look into. Do your research and and learn pros and cons of the various countertops. And when considering cabinet style – perhaps you love a traditional beveled cabinet style with lots of detail, but these are going to be harder to keep clean than a flat front cabinet with a minimal handle.
Resale Value
If you plan on staying in your home for at least 10 – 15 years then you can probably skip this section. If this is just a stepping stone for your "dream home" then you should make sure that you don't over renovate for your neighborhood. Kitchen remodels generally bring about the best return on investment for remodeling projects, but be wary of what your neighborhood will support. Another thing to consider – if you know a move is going to be in your future, then I would be careful on your selections. You might love purple and want to have purple cabinets in your kitchen, but as any realtor will tell you…purple cabinets are probably not a good choice for resale.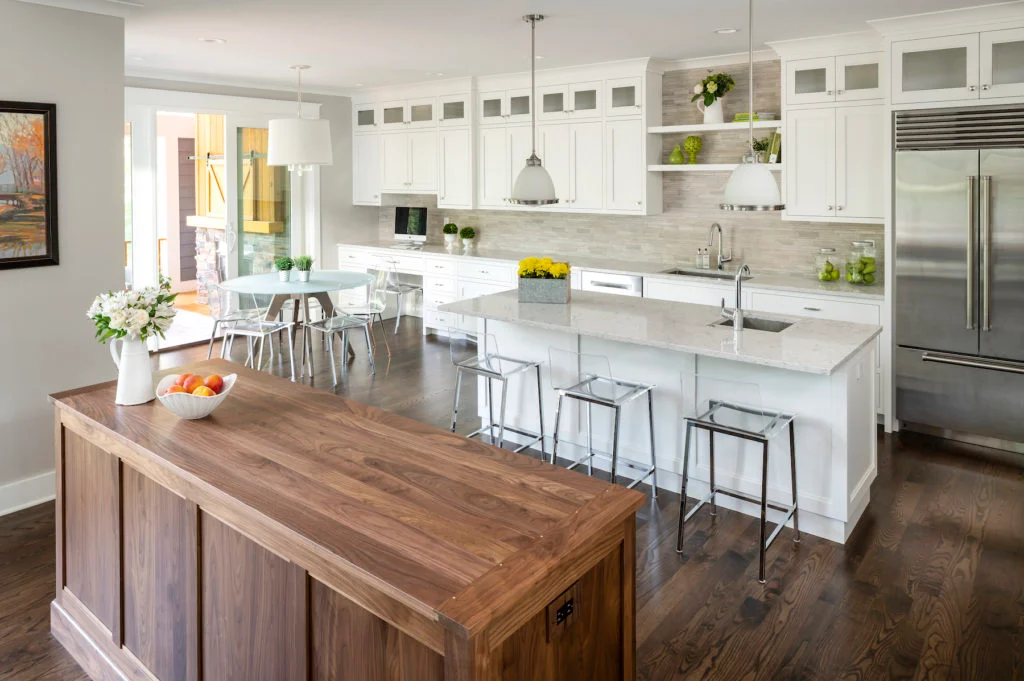 Aging in Place – Gracefully
If the plan is to live in this home forever…then perhaps you should take into account the possibility of accessibility issues. Drawers instead of standard cabinets with a door, flooring materials that can handle a wheel chair, and cabinet hardware that is easy for someone with arthritis to manipulate are just a few of the many things to consider for those who want to remodel their kitchen to age in place gracefully. If this is something you are thinking about then we recommend you talk to certified Aging in Place (AIP) Specialist. We have a designer on staff here at Meadowlark with that certification.
FINALLY – What's Your Custom Palette?
You have done our homework, you have set our priorities and now let's get back to suggestions on where to begin with selecting combinations for your kitchen remodel. Our designers have done many, many of these selections palettes over the years. Our designers walk through all of the considerations we've covered above with our clients and then can take advantage of the resources we have in our design studio to come up with a selections palette. Typically they come up with two to three options to present to you. They pull together combinations that reflect the ideas you have brought to the table and they also mix it up and offer a palette that "pushes the envelope" for you and gives you something to consider that you probably haven't thought about. The final selections inevitably lie somewhere between all the choices and truly reflect the client's unique style.
Here are a few that might inspire you and help you to hone in on your personal custom palette.
Updated Classics
Simple, classic architectural materials are re-imagined to keep things fresh and up-to-date. A harmonious blend of warm and cool, traditional and modern. If you want to mix it up a little…throw in the gold hardware. It's fun and if you get tired of it later on…hardware is an easy DIY project.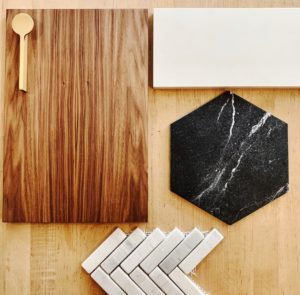 California Chic
Simple, straightforward, clean and exuding ease. A breath of fresh air. You can't go wrong with these as a starting point. The easy part also includes ease of maintenance with flat front cabinetry, light woods that are forgiving to fingerprints and scratches, and tile that is timeless and easy to clean.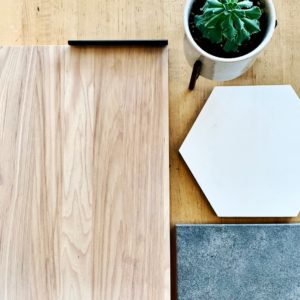 Vintage Charm
Classic. Traditional. Timeless. Perfect for historic homes or for those who love traditional design.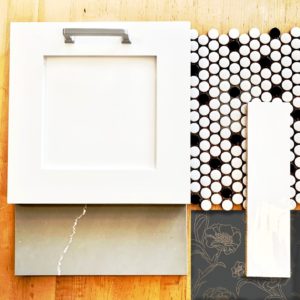 Color + Print
Fun and full of life. Not a teal fan? Personalize it with your favorite color. Or mix it up with using painted cabinets with wood cabinets. We have even done kitchens with three different colored cabinets!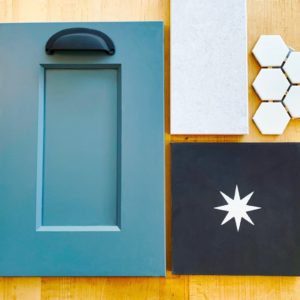 Natural Textures
Solid and grounded. Receptive to "pops of color" in dishes, art, textiles. You can't go wrong with sticking to naturals. It's the "neutral" for kitchen selections, but neutral doesn't mean boring!
Thinking about making some changes to your home? Looking at perhaps a kitchen or bath remodel? We'd love to start the conversation to see if we can help you find your custom palette.