Sustainable, environmentally-friendly homes are increasingly important for homeowners like you. But, if your kitchen is outdated and just needs some help, how can you go about making those changes in a way that treads lightly on the environment? If you're planning an update, here are 5 ideas for an eco-friendly kitchen remodel to get you started:
01. Consider a Timeless Design
Sustainability is all about creating projects that minimize our impact on the environment. The ultimate sustainable kitchen is one that features a long-lasting, timeless design.
Trendy kitchens that are torn down and rebuilt every 5 years aren't eco-friendly. When designing any kitchen remodel project, it's important to take a long, hard look at design through the lens of sustainability.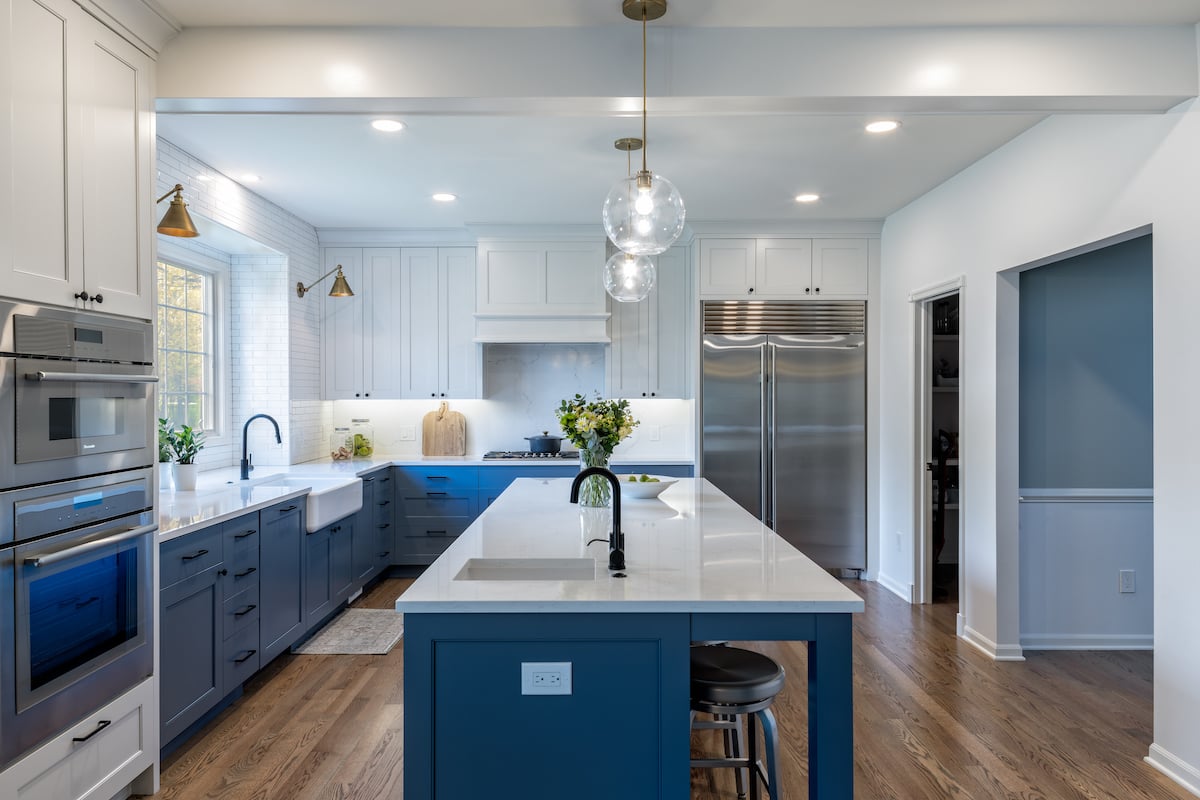 How can you lay your kitchen out in a way that is sure to stand the test of time? What materials and finishes can you choose that will still look great 20 years from now? And...will this kitchen work if your mobility changes? Will your kitchen still be accessible to you or a family member from a wheelchair or if using a walker? Planning for a kitchen you can love forever must look at sustainability—not only for the planet, but for its occupants as well.
That's why quality design is essential to an eco-friendly remodel. If you remodel your kitchen using sustainable practices, but don't consider a sustainable design to build that remodel on, your efforts won't have long-term success.

02. Invest in Energy Efficient Windows and Doors
There's no conversation more important to an eco-friendly kitchen remodel than energy efficiency. One of the best places to improve your home's energy efficiency is in your windows and doors.
A large-scale eco-friendly kitchen remodel can have a big impact on how your new kitchen will look and feel. Consider:
If you are turning on lights during the day in the kitchen — then bringing more natural daylight into the home will have a dramatic effect on how your kitchen looks and feels. Adding more or larger energy-efficient windows or skylights to your kitchen will not only save on your energy bills, but will let the sunshine into your home.

If you expand your kitchen into another unused room like a formal dining room, are there existing windows in that room? Do they fit your new design? Is consistency from room to room important to you?

If your kitchen has an exterior door — consider adding a new energy-efficient version that has windows that will allow for natural light to come in. You can always put a shade on it for privacy at night, if necessary.

03. Choose Energy-Efficient Appliances and Lighting
Appliances and lighting are in the top 5 list of energy drains on any home (right behind your HVAC and water heater). If you're planning an eco-friendly kitchen remodel, those are two places you can really make a difference.
Energy-efficient LED lights are easy to implement in nearly any fixture, and smart technology means you can even upgrade those lights to fit into the rest of your home's smart ecosystem.
Energy-efficient dishwashers, ovens, ranges, microwaves, and refrigerators are other great ways to reduce your environmental footprint as you spruce up your new kitchen.
One item to seriously consider for a truly eco-friendly kitchen remodel: going all electric. There are already areas in the U.S. (primarily in California) that have changed their zoning to require all-electric appliances. Aside from the energy ramifications of going all-electric — you can also greatly improve your indoor air quality by not burning gas in your home.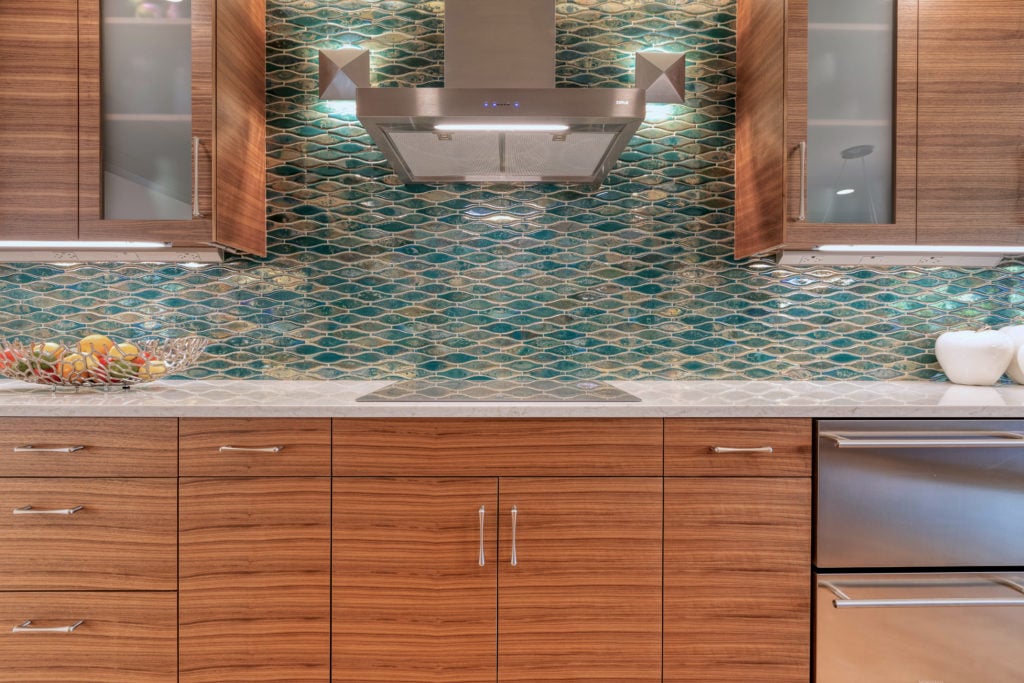 04. Opt for Eco-Friendly Materials for YOUR KITCHEN RENOVATION
An eco-friendly kitchen remodel means being very intentional about the materials and finishes you choose. From cabinets to flooring to countertops and even plumbing fixtures, there are a number of eco-friendly materials available to accommodate whatever look you are planning for your new kitchen. Sustainably sourced materials that are formaldehyde free and have low VOC's (volatile organic compounds) will also be healthier for you and your family as well.
When it comes to cabinetry - beautiful, handmade natural wood is great, but using recycled or reclaimed components are even better. There are also several cabinet companies who use recycled components in their cabinetry. Look for manufacturers who use environmentally-friendly practices and source their materials from sustainable materials. And...If you can't reuse your existing cabinetry, then consider donating them to a local Habitat Restore facility.

For flooring - cork, bamboo and linoleum (check out Marmoleum) offer a beautiful, durable, and sustainable finish. If that doesn't fit your look or budget, hardwood is always a great option. Just make sure you're looking for ethically and sustainably sourced materials.

When choosing Countertops - quartz seems to be the popular choice lately. And the good news is that it is the eco-friendly, more-sustainable option. Not only is the mining process easier and requires less energy (quartz is abundant and does not have to be mined in slabs like stone countertop materials), but it lasts longer than many other products and it can even be recycled.

Look for low flow water fixtures for your faucets - most manufacturers have extensive low-flow models in their product lines, so finding a eco-friendly faucet should be easy.
05. Find an Expert Eco-Friendly Contractor
When it comes to completing your eco-friendly kitchen remodel, it's always best to start with a contractor you trust. There are a number of design-build and green building experts who specialize in sustainable building practices, and who can help guide your eco-friendly kitchen renovation.
A company that specializes in green building is not only familiar with sustainable design techniques, but they'll have existing relationships with vetted contractors and material suppliers who will deliver high-quality, eco-friendly materials to outfit your new kitchen.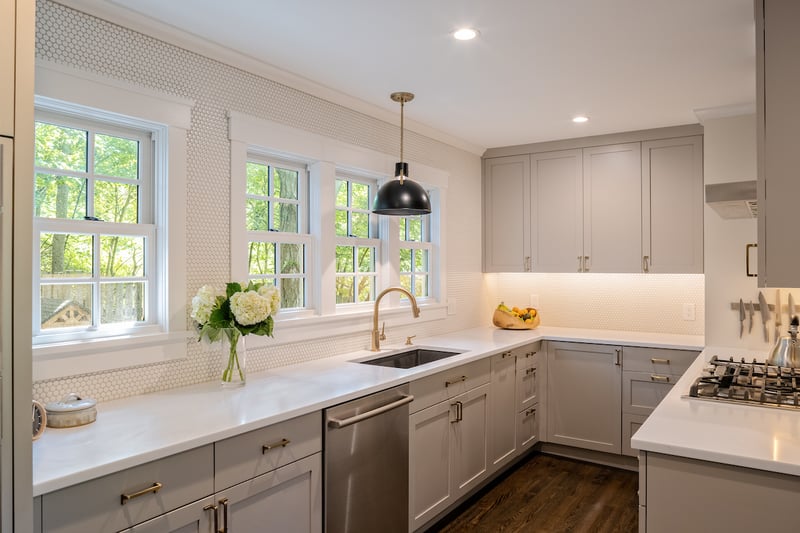 If a sustainable or eco-conscious kitchen is top on your priority list, let Meadowlark Design+Build help. We are focused on quality and sustainability, and work to deliver eco-friendly remodels from the kitchen to the primary suite. For more information on our green building practices and sustainable material sourcing, contact us.