Basement Design Ideas We love
We have completed many basement projects over the years – some were basement remodels and some were finished basements that were part of a custom home, but in all cases we take pride in the fact that our clients came to us with a list of wants and needs and, with a collaborative process with our designers, the results have been basement spaces that are perfect examples of form meeting function.
Creative Ideas for Under Your Stairs
For this basement remodel, the basement needed to accommodate a lot of needs with not a lot of space. This made utilizing every square foot crucial in the design process. Our client brought to us a memory of an under-stair "nook" that she loved in her sister's home. Our designers loved the idea and went with it! The result is a wonderful study nook with storage drawers that can double up as an extra bed for sleep overs. To add to the fun – the walls were painted with chalkboard paint creating a perfect spot to study and take notes. A custom designed site-built stair railing helps to keep the spaces open while adding interest.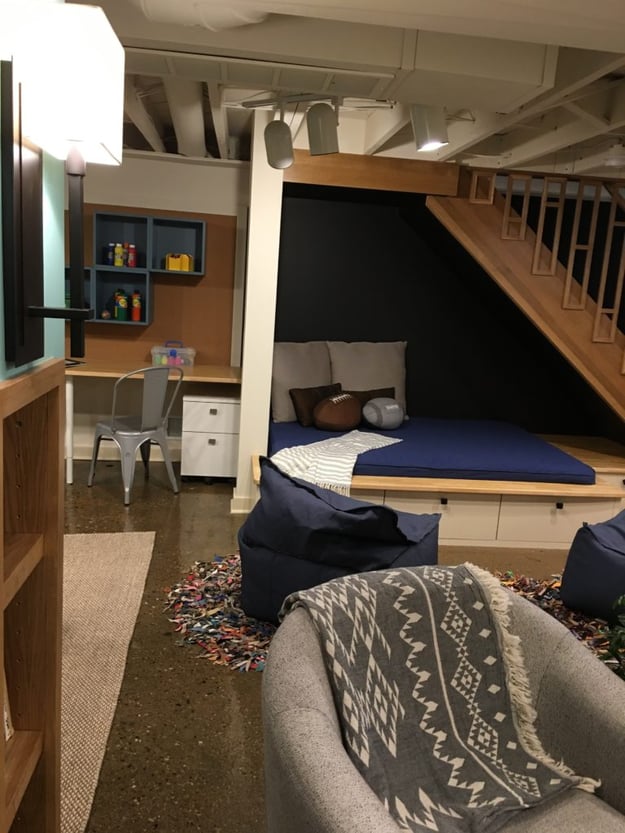 Multi-Use Spaces in Basements
This basement craft room and office can double as an extra bedroom when the family comes to visit. A custom-built Murphy bed provides a cozy spot to spend the night and then easily folds up into the wall to create a planning board for our client's next quilt project. Light cabinets and bright finishes keep this room feeling light, bright and very UN-basement like.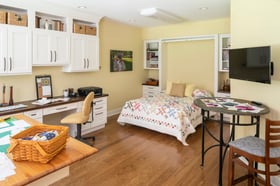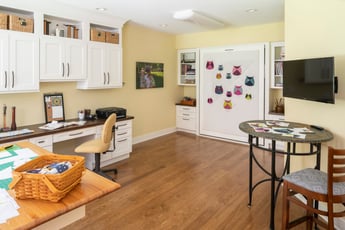 Create an "Upstairs-Like" Entry
If you are lucky enough to have a walk-out basement, consider creating a transition area or mini-mudroom near the exterior doors. This not only keeps your space clean and organized, but it also makes the space feel like more of a main-level living area. For this custom-home basement – a shelf with hooks and a small bench to take off your shoes make a big difference in the look, feel and utility of the space.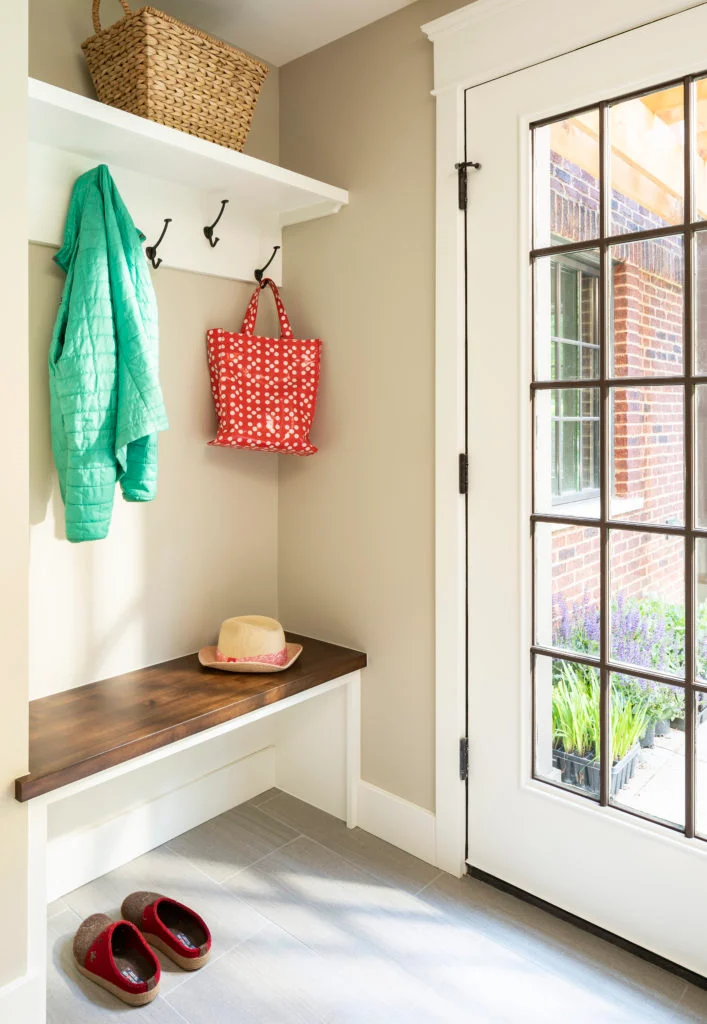 Utilize Structural Features for Architectural Interest
Most large basements have mechanicals in the ceiling and structural steel poles that support the above floors. Many of our clients come to us and complain that they have wanted to do something with their basement, but they just don't know what to do with the poles and the heating ducts. Our designers evaluated the structural load requirements and were able to re-position the poles to work them into this striking basement accent wall and ceiling. This unique solution creates a stunning focal point that makes you completely forget about the poles and the ductwork!
Creating office space and more!
For this basement build-out we had the luxury of starting with a completely blank slate. The unfinished basement space gave our designers the opportunity to create spaces that checked off all our clients wants and needs. High on their list: A basement home office with lots of storage to accommodate after-work craft projects. Our designers utilized the space closest to the egress window to maximize natural daylight. Using lighter finishes along with lots of lighting creates the perfect quiet spot to conduct video conference calls and work on your latest craft project.
Basement Exercise Rooms
Now more than ever people are looking to create spaces in their homes to get in their daily workout. For this LEED Platinum custom home project – our designers used a glass wall to keep the space open and feel less claustrophobic. This glass wall also allows the space to be connected visually so that people in each room can feel connected. Mom can now be on the treadmill and enjoy watching the kids have a game of pool. It's a win win!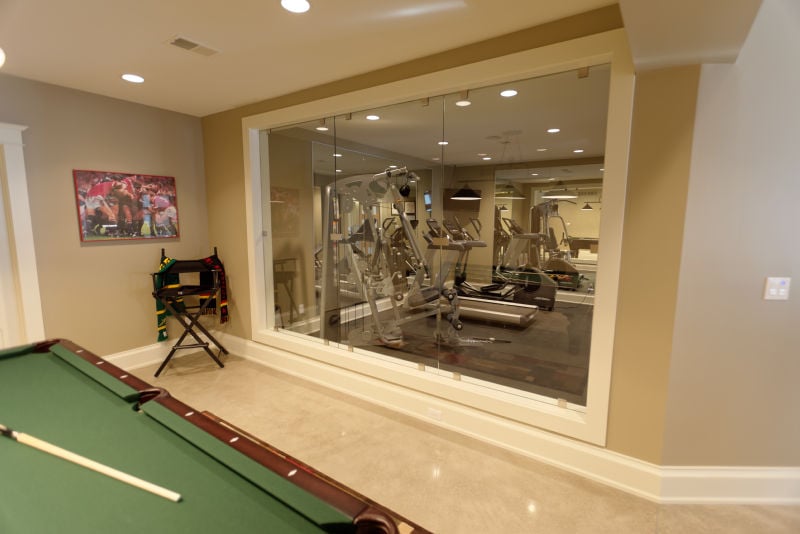 Egress Windows Are Your Friend
For basements it's important to capture as much natural daylight to make the spaces fell less "basementy." This means thoughtful design of spaces with egress windows in them. Standard code requires that all basement bedrooms have egress windows and, in this case, our designers created the perfect reading nook in this basement bedroom.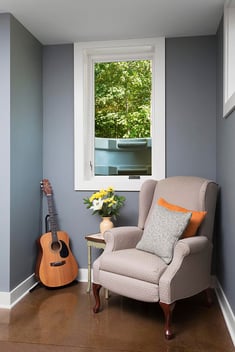 Taking Advantage of Natural Light in Daylight Basements
If you are fortunate enough to have a basement that is partially open on any of its exterior walls then it makes sense to maximize the natural light. For this sustainable custom home project – a wall of windows that are in-line with the windows on the upper levels, not only adds loads of light to the basement, but also adds a stunning visual for this asian-inspired custom home.
Add a Barn Door – or Two!
Barn doors are capturing lots of attention these days and basements are the perfect spot for them. Great hardware options make barn doors an easy add-on to any space and can be not only functional, but can also add visual interest to the space. In this rustic meets traditional custom-home project, the wood from the trees felled on the lot was utilized throughout the home. The TV accent wall and the barn doors were custom made from five different types of indigenous wood.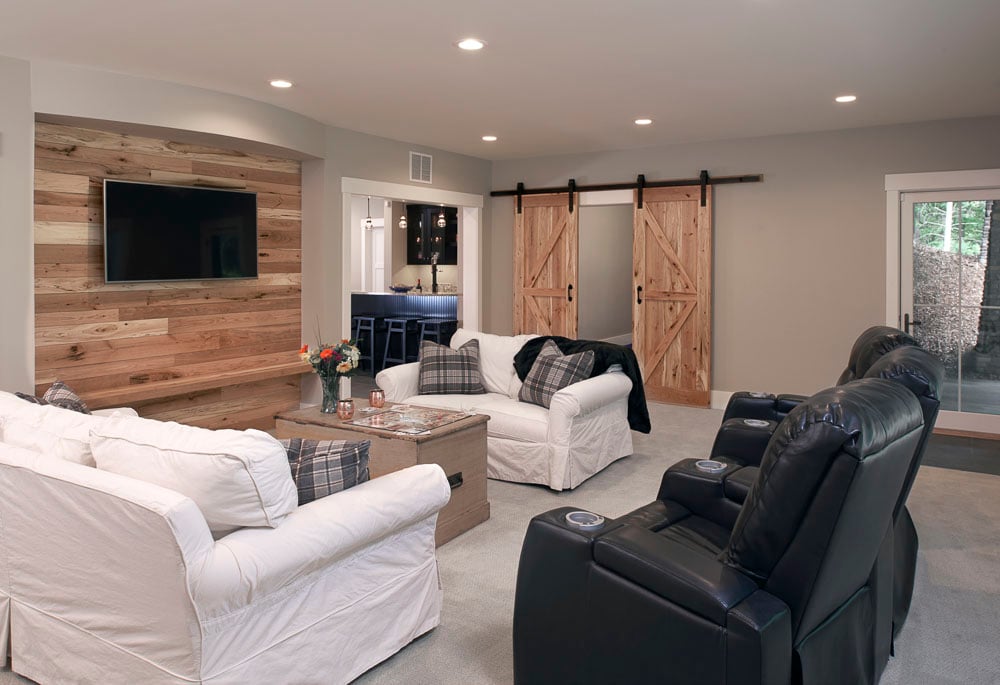 Keep Your Selections and Finishes Light
For this basement remodel the egress window (you can just see the edge of it on the right) brings in natural daylight, but to help amplify that light it's a good idea to keep your wall colors and finishes on the lighter side. We love the clean and simple lines and finishes in this basement bedroom that was part of a major whole-home renovation.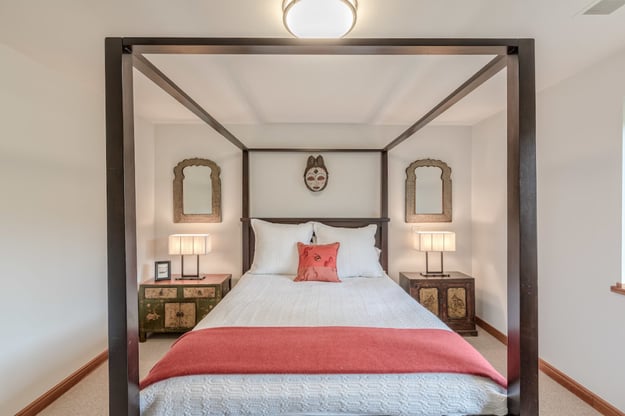 Keep Your Basement Ceiling Open
For many basements – especially in older homes, drywalling the ceiling is not an option. Things like low-ceiling heights, multiple mechanicals and the need for access to those mechanicals make it either physically not possible or just plain too expensive. There is an easy and simple solution…just leave the ceilings open and paint them! Spray painting is usually the best solution and for that we recommend a professional painter, it's definitely is worth the effort and additional cost. For smaller spaces with low ceilings we have found that keeping the paint light and matching the walls helps to blend in the ceiling and make it less of a focal point. For larger spaces with higher ceilings we have used black paint to help hide everything!
Consider Energy Upgrades to Your Basement While Renovating
Renovating a basement creates the ideal opportunity to upgrade your energy-efficiency and improve your air quality throughout the home. Adding more insulation to your basement bond and walls will not only save you energy, but will make the basement (and your home!) more comfortable. While the walls and ceilings are open you can also look to upgrade your air quality with an Energy Recovery Generator (ERV). So why not take advantage and think about energy upgrades and improved air-quality while doing your basement remodel?
Basements can be the perfect spot to look to if you're thinking about adding more space to your home. Thinking about that perfect basement remodel? Let us help.