A Home With Timeless Style and Functional Living Spaces
After living in their Ann Arbor home for a few years, these homeowners fell in love with their neighborhood and imagined themselves staying there for years to come. There was just one problem – their house! While they were happy with their location and knew they didn't want to move, they knew that they desperately needed a home renovation to have a space that worked for them.

This home had many unique features that worked for the previous homeowner but not the current family. The property was custom-designed for a professional athlete and had design features that were out of scale for the current homeowners. It was time for some changes to be made!

We met with our clients and discussed their goals and vision. They wanted to eliminate the heavy craftsman style of their home and create a simplified, modern aesthetic. The project would be a complete first-floor overhaul, including updating the kitchen, entryway, stairs, family room, office, dining room, deck, and outdoor living space, including exterior windows, exterior siding, and stain.
Update the home to accommodate our homeowners and create new, practical living spaces
Collaborating with these homeowners was truly a delightful experience. They had a keen eye for detail and a clear vision of their preferences and what they needed to make their home a joy to live in. Once the project goals were established, our team was ready to tackle the project head-on, ensuring we'd deliver a perfectly catered home to their style and needs.
Foyer and Main Stairway
Custom smooth steel railing
Custom door and hardware at office
Walnut interior trim
New front door
Sidelight windows at the sides of the new front door
Updated and refinished the existing stairs to match the new aesthetic
Living Room, Office, and Dining Room / Play Room
Restructuring of interior walls
Base molding and interior trim with square edges
Contemporary hardware for all of the windows
Custom built-in banquette seat
Semi-custom entertainment center with walnut cabinetry
Raised black concrete brushed quartz fireplace hearth
Kitchen, Coffee Bar, and Power Room
Walnut trim detailing at the top edge of the tiled kitchen backsplash
New pantry doors
Decorative lighting fixtures at the kitchen peninsula
Semi-custom kitchen cabinets
Custom walnut detailing, including a built-in cookbook niche and walnut ledge at the tile backsplash
New kitchen sink and strainer
Contemporary aluminum pulls and knobs for kitchen cabinetry
Matte, white kitchen backsplash with custom walnut ledge
Semi-custom powder room vanity cabinet and mirror
Powder room counter and backsplash
New powder room sink with a matte black faucet
Covered Porch and Deck
Cedar porch and deck
Steel rod railings in stainless finish
New windows and large sliders on the covered porch
Exterior ceiling fan and lights
Exterior
Kept existing cedar siding so as to not waste the beautiful siding that was only a few years old
New windows and new paint on existing windows – we changed the dark brown siding stain and forest green windows to a cooler palette to match the new styles
New shou shugi ban material at the front deck and stairs and the new covered porch space
New standing seam metal roof at the entry and new cable rail
Large and In Charge Design and Build Features
This home renovation presented us with some unique challenges due to the bulky craftsman style and the complexity of it initially being designed for someone with a large stature. Nonetheless, we were determined to make it work!

By utilizing our expertise and creative problem-solving skills, we overcame these obstacles and completed the project for our homeowners. We transformed the space and created awesome results that exceeded the homeowner's expectations.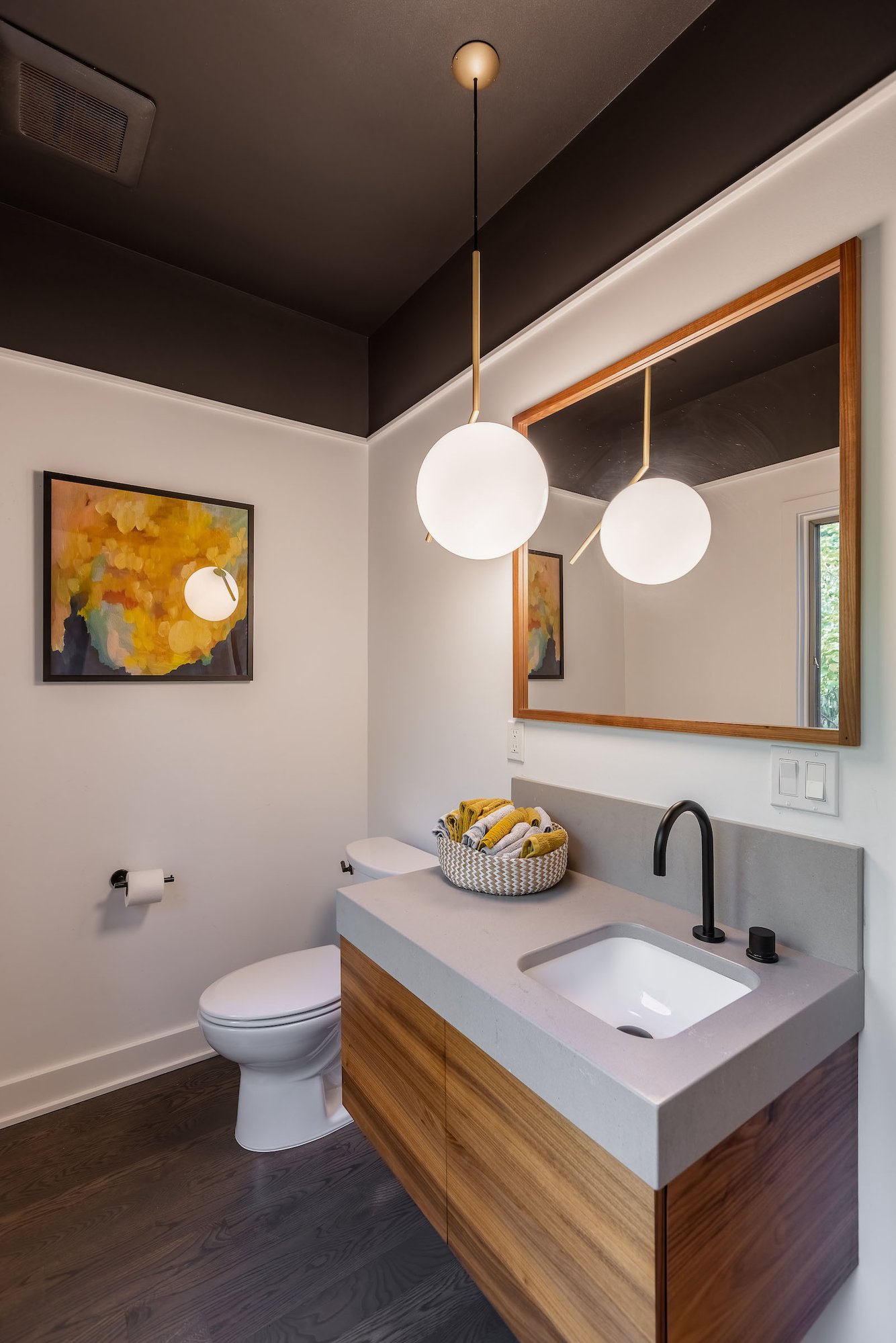 Design Selections
New Kitchen Appliances:
Bosch 24" Bar Handle Dishwasher
KitchenAid Built-In Microwave Oven
Miele Built-In 42'' Refrigerator
Miele Built-In 18" Freezer with Internal Ice Maker
Miele 36" All Gas Range with Griddle
Miele 36" Decorator Wall Hood
Semi-Custom Cabinetry by Holiday Kitchens
Natural maple veneer cabinets with walnut finish
Rev-a-Shelf utensil, spice, and double-waste pullouts
Entertainment center with built-in fireplace
Powder room vanity with push-to-open drawers
Coffee bar
New Countertop Installation
Kitchen perimeter, island, peninsula, and coffee bar - Quartz
Waterfall edges on the kitchen peninsula - Rugged Concrete Finish
Powder room - Quartz
Fireplace hearth - Granite
A New and Improved Home to Last Forever
By giving their main floor a significant makeover, we created a home with functional living spaces that made sense for this family. They have children and pets and enjoy spending time with friends, and now they feel they have ample room to make memories in their home for years to come.

At the end of the project, the homeowners were ecstatic with the results. They were left with a spacious kitchen, stunning entryway, aesthetically pleasing living room, and beautiful deck and covered porch.