A Dream Home at the
Top of the Hills
A New, All-Encompassing Home to Plant Roots In
After years in the city, our homeowners sought to escape the hustle and bustle and rediscover their roots in a more down-to-earth area. They often imagined what their dream home would look like and wanted it to be large enough to accommodate their growing family's needs.

Our homeowners searched high and low for the perfect place to call home, and they ended up going with high – one of the highest points in Ann Arbor, to be exact. They purchased a piece of land with a small home that was heavily overgrown and outdated. After realizing that remodeling would be extremely challenging, our homeowners decided to build from the ground up.

The vision for the new home would be a two-story, 4000 square foot home with a massive finished lower lever, outdoor sports court, and a raised deck and screened-in porch. They wanted 5 bedrooms, 4.5 baths, and an open concept that would emphasize a feeling of transparency and flow.

As you can imagine, this wasn't your run-of-the-mill home-building project. But it wasn't anything our team couldn't handle. We were thrilled when the homeowners reached out to Meadowlark, and we couldn't wait to transform their vision into a reality!
Build a one-of-a-kind, 4000-square-foot house to call home.
After meeting with our homeowners and establishing their goals, we assembled an all-star team consisting of an architect, interior designer, project manager, and more. We created an action plan and got to work.
Construct a New Home From the Ground Up
5 bedrooms
4.5 baths
Open-concept floor plan
Functional kitchen
Spacious living areas


Make Fun-Filled Outdoor Living Areas
Outdoor sport court
Raised deck
Screened-in porch
Patio with a firepit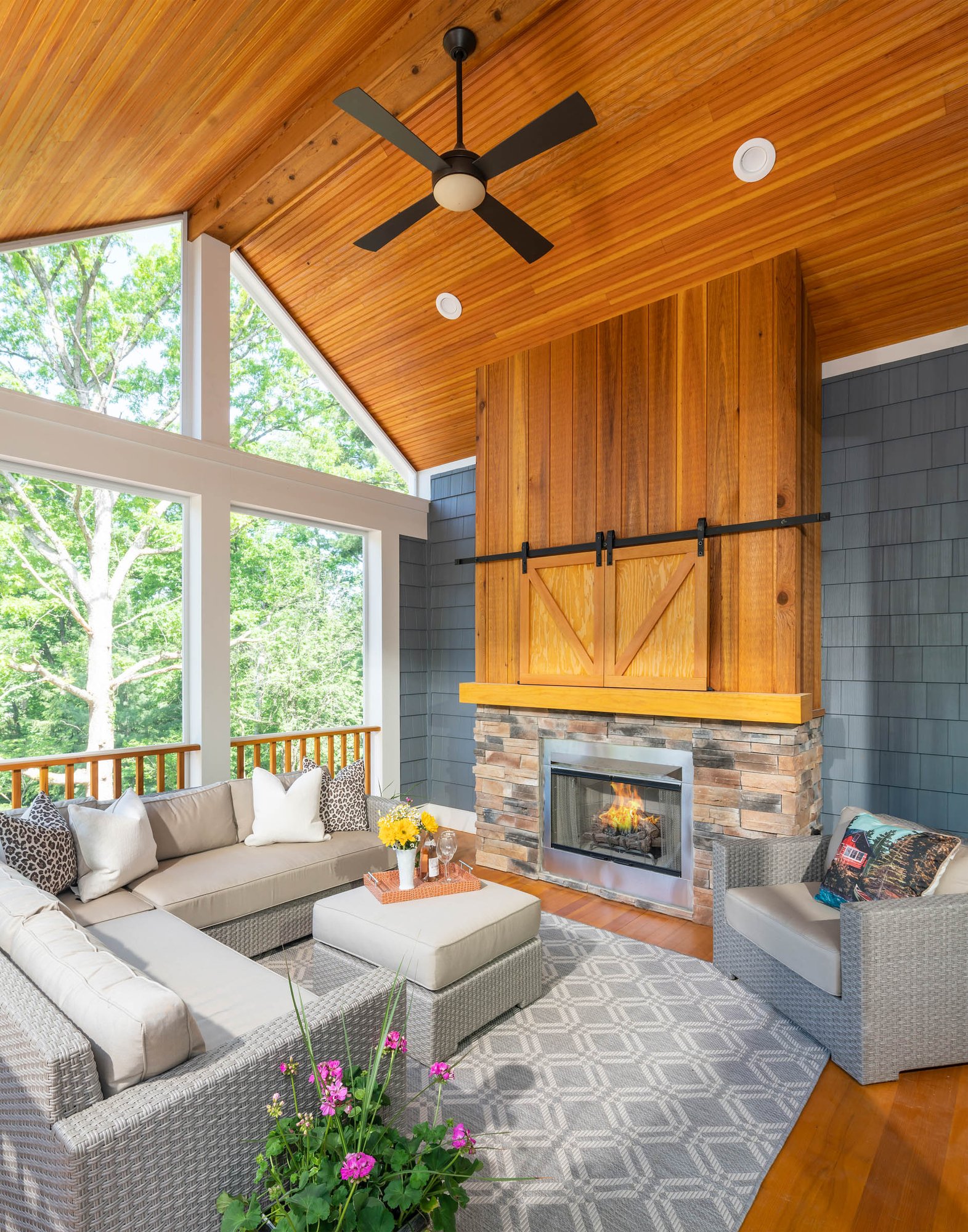 Design & Product Selections
Design Development
Sport court with an interlocking system
Underground drainage system for backyard
New furnace and energy efficiency upgrades
Egress windows throughout the lower level
Trex decking with industrial-grade railings
Three seasons porch with Meadowlark custom accents
Product Selection
Argento quartz countertops in the master bath
Miele grade cooktop kitchen appliances
Meadowlark custom cabinetry; painted maple wood
Painted, smokey glass backsplash over the stovetop
Benjamin Moore paint and finishes throughout the home
Meadowlark custom wood railings and detailed finishes
Ash Plank Hardwood flooring with a warm brown custom-mixed stain
Custom Meadowlark island divider that houses ice maker and other storage
A Stunning, Custom Home to Make Memories For Years to Come
When this project was complete, all we could say was — WOW. Our homeowners had such beautiful tastes and ideas, and our fantastic team was able to bring them to life. The kitchen is bright yet homey and displays the most Meadowlark custom cabinetry throughout the home, with signature accents in the tile work and more detailed areas.

Each room differs from the next, while they maintain a common thread to bring the home together in style. The family room features grand, high ceilings and windows, and the living room is cozy yet airy.

The result of this beautiful custom home brings endless memories for our clients. With enough space to host gatherings or allow friends and family to spend a long weekend, the house is both welcoming and intimate for any occasion. We wish them a lifetime of smiles in their new home atop the Ann Arbor hills.