A Coastal Style Lake Retreat
Extensive planning and skilled craftsmanship meet to create this inviting lakefront home. Modern design details and contemporary lifestyle elements converge with precision to support our client's goal of creating a custom home with a warm traditional aesthetic. This home was designed and built from the ground up with the goal of creating a comfortable and welcoming experience so all who enter yearn to come back for more.
Our client's were looking for refuge from their busy day-to-day lives in Ann Arbor. They dreamed of a warm and welcoming place where family and friends could relax in a comfortable, welcoming environment that would bring joy to all who crossed its threshold.
Our clients found the perfect location to bring their vision to life. The site was on a beautiful lake less than 30 minutes from downtown Ann Arbor. The existing cottage, built in 1900, was modest in size, but had not been updated and thus was not salvageable. The lot was narrow with homes on either side - making the goal of maximizing the overall lake experience, while retaining privacy from very near neighbors, somewhat tricky.

Design Challenges:
Maximize lake views while minimizing neighbor views
Create spaces that will allow both group gathering and private retreat
Bring a modern, warm and welcoming aesthetic to a traditional home style
Design with future planning in mind - create flexible spaces that will evolve as the family grows and their needs change
Design an aesthetically pleasing home on the narrow lot that would blend into the existing neighborhood character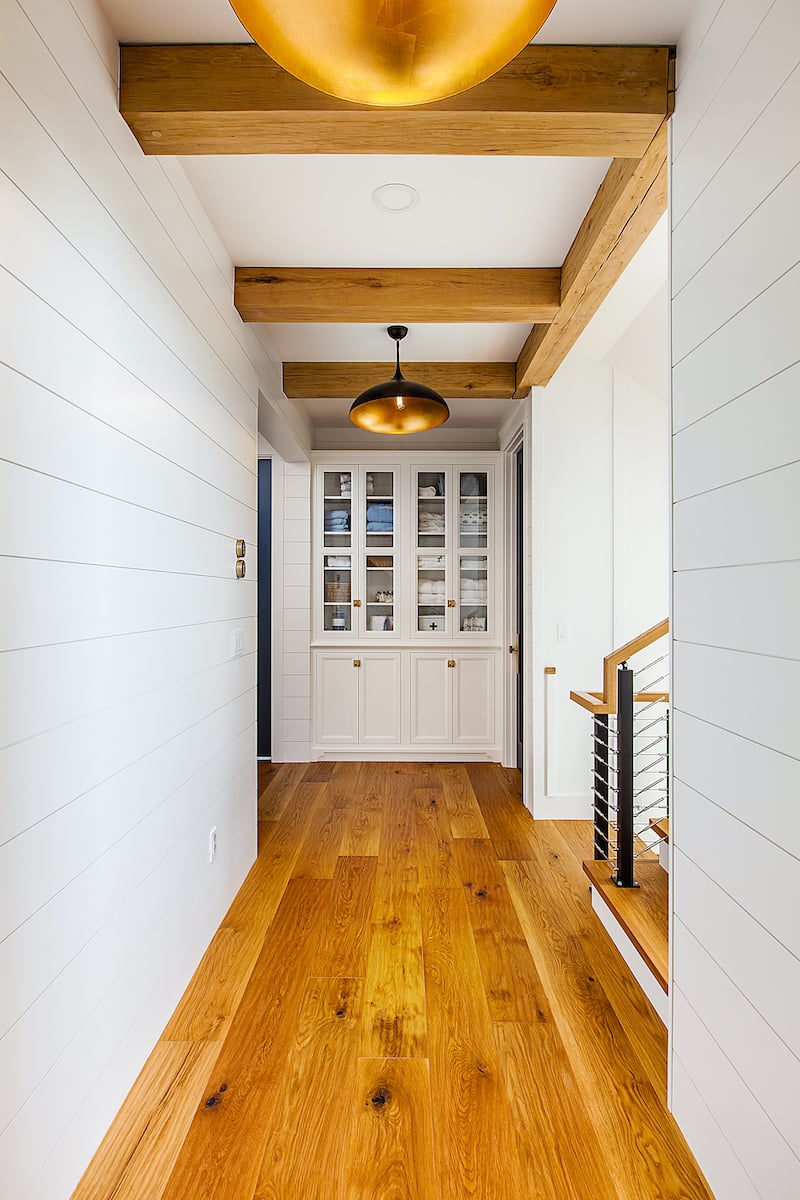 Design Development
This unique vacation home design illustrates how style and function can be seated on a narrow, waterfront lot. Every aspect of this vertically-oriented house has been designed to allow for relaxation and enjoyment of all the location has to offer. In addition to beautifully showcasing lakeside views, careful window placement on all sides of the home allow for privacy to the neighbors, but also create light bright spaces that easily welcome layers of millwork detailing, beautiful fixtures and furnishings.

Architectural elements like a retracting glass wall with screening, retractable awnings, and several patios and balconies invite every member of the family to connect with the outdoors regardless of weather, insects, or sun. Peppered through the home are quiet retreats like cozy work-from-home spaces and private reading nooks, alongside inviting gathering spaces like banquette seating and a sun-filled kitchen with a large island to gather around.

Serena and Lily Wallcoverings, furnishings and accessories used throughout
Marvin Windows
White oak flooring and ceiling details
Horizontal 8" Shiplap used throughout
15' folding door on great room wall, with retractable screen and shade
Our goal of creating a summer home that would draw the family in and invite friends to stay has been fully realized in this exceptional design. Despite all the warmth and grace of the traditional materials, finishes, and furnishings in this space, it remains contemporary and clean - ideal for the desires of a modern traditional lifestyle. The result is an environment that welcomes first time guests and regular visitors with ease and comfort, encouraging them to relax and enjoy their time in this home.