Many homeowners think the ideal lawn includes a blanket of perfectly mowed, deep green grass — but that's not your only choice. While we can't deny the satisfaction felt after a good mow, we can say that there are plenty of other landscaping options that require less maintenance, look just as beautiful, and are sustainable!
Xeriscaping is one of them. We'll dive into what that means, why it's beneficial, and how you can use it to create the most visually interesting, eco-friendly lawn in your neighborhood.
What Is Xeriscaping?
Xeriscaping uses specialized landscaping and gardening methods to reduce the need for irrigation as much as possible. This is typically achieved by growing native plants that are tolerant to fluctuating temperatures and dry conditions.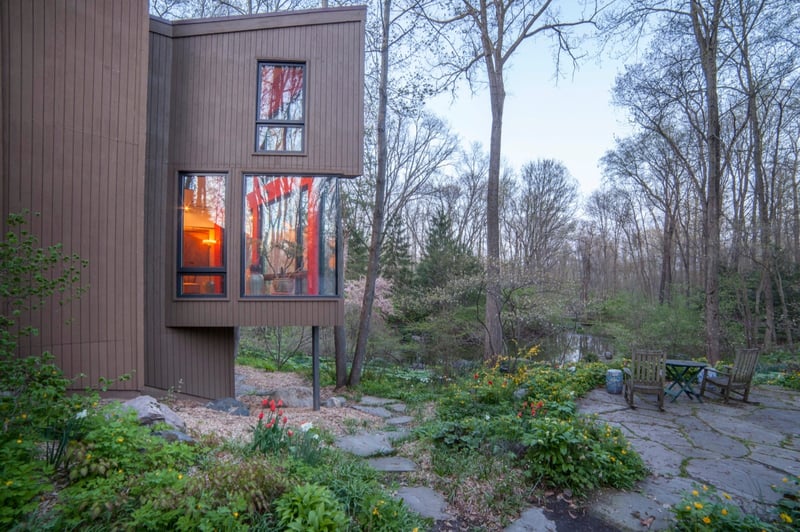 The word "xeriscaping" was invented by Denver Water in the 1980s. It's a combination of the Greek word xeros, which means dry, and the English word landscaping.
Is Xeriscaping Needed in Michigan?
It's easy to understand why xeriscaping is a popular practice in dry, drought-ridden regions of the world like the United States Southwest. But is it warranted in Michigan, where we're surrounded by freshwater lakes and plenty of precipitation?
Definitely. Xeriscaping isn't just for ultra-dry climates. Rather, it's a practice that takes advantage of your climate's unique limitations and possibilities — whatever they may be.
Take Seattle, for instance — a state that experiences frequent rainfall. A great xeriscaping feature could be ferns that thrive in a moist environment and soak the rain up.
5 Benefits of Xeriscaping
At this point, you probably have an idea about the benefits xeriscaping can offer, but we'll break them down a little further.
1. Reduce Water Usage
The most obvious benefit of xeriscaping is that it requires very little water. Although you may still need to water your xeriscaped plants on occasion, it will be much less than non-native plants. In a well-executed xeriscape, you can reduce water usage by up to 70%!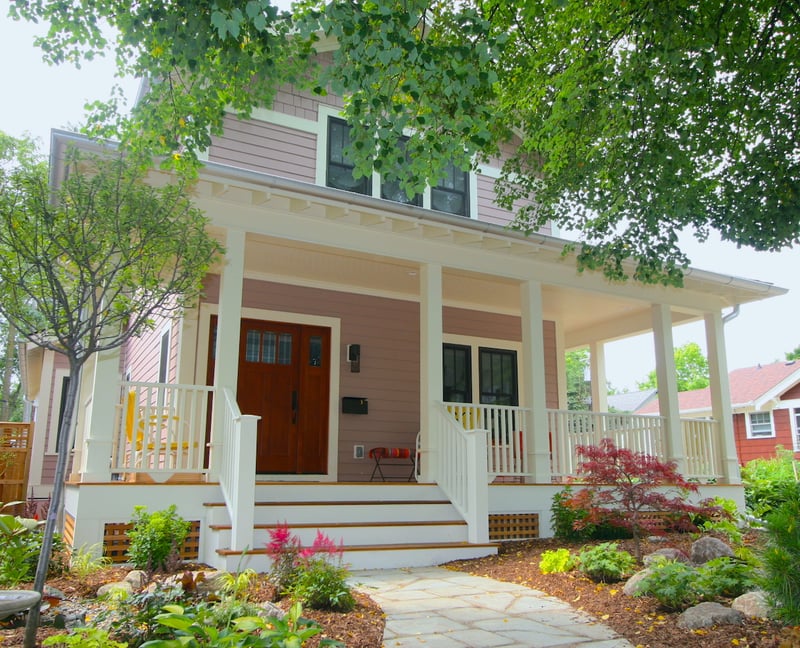 This is a great way to help your local environment thrive. And as our nation continues to move toward sustainable practices, this is just one way you can play your part.
2. Reduce Fertilizer & Pesticide Usage
Native plants don't need as many organic or synthetic fertilizers to grow and remain healthy. They also don't require pesticides to keep harmful critters away, as they're naturally adaptive to their environment. You can rid your shed of those chemicals for good!
3. Preserve Native Plants
In many cases, native plants are discarded in order to make room for non-native plants that don't mesh as well with the surrounding environment. This is usually because homeowners enjoy the aesthetic appeal of these plants.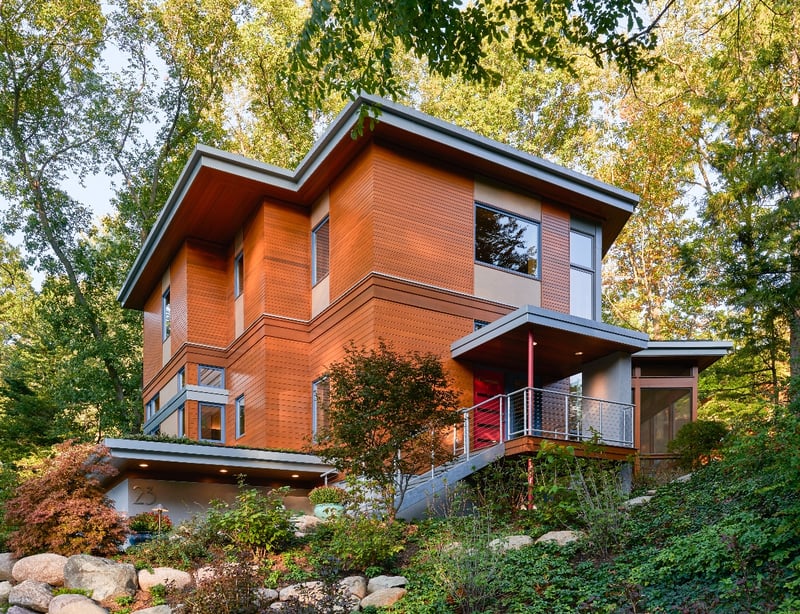 But a xeriscaped lawn need not be uninteresting or have a lack of color. There are hundreds of ornamental, non-invasive, native plants that will suit our climate and look incredible. And when combined with unique hardscaping features like footpaths, permeable pavers, and patios, you can bolster that curb appeal even more.
4. Help Local Wildlife
Local wildlife depends on native plants for food — but it's not just a one-way relationship. Native plants also rely on wildlife to assist with pollination and seed dispersal. By keeping native plants in your xeriscape, you'll help out the birds, butterflies, and other creatures that help to maintain a healthy ecosystem.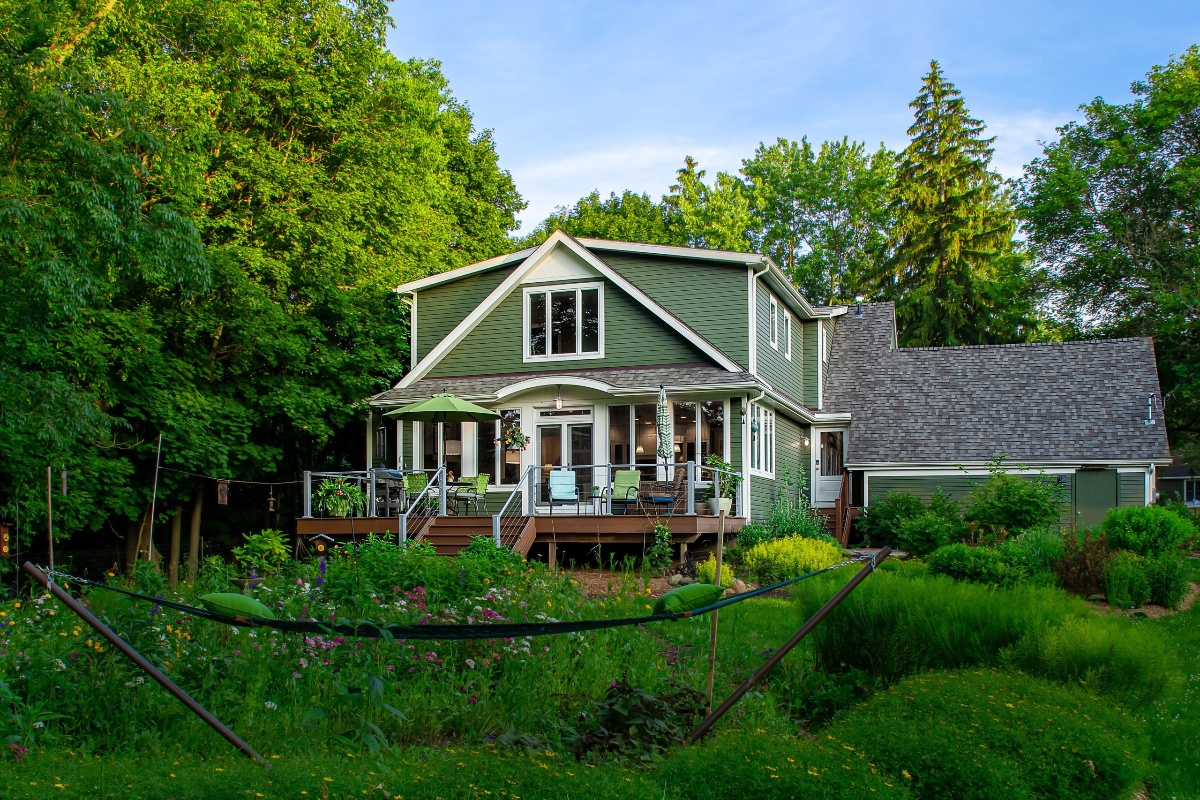 5. Save Money
Rather than spending hundreds to thousands of dollars per year on watering and maintenance costs, xeriscaping is a surefire way to keep money in your pocket. Some homeowners have been able to cut their water bills down by 80% and their lawn maintenance costs by even more.
Helpful Tips for Getting Started with Xeriscaping
Here are a few important things to keep in mind when getting started on your xeriscape.
Choose plants wisely. Find native plants that reduce water consumption. There are plenty of options out there (not just cacti!), so do your due diligence and find the ones you like that will complement your landscaping plan!

Choose soil wisely. A general rule about soil is that it benefits plants more if you incorporate organic matter, like compost, into it. However, it's important to know that different plants have different soil requirements. Some may need less organic matter or none at all.

Use mulch. A thick layer of mulch can help your soil retain moisture, keep plant roots cool, and even reduce weed growth. Plus, it looks nice! Just make sure you're choosing a natural mulch option that benefits your environment. Synthetic mulches (think those cheap rubber ones from Lowes or Home Depot) can undo all that hard work you've put into creating a sustainable, xeriscaped front yard!

Educate yourself about the features in your xeriscape. Even though xeriscaping requires less maintenance than other landscaping methods, you should still be well-informed of any routine upkeep that will keep your plants healthy and beautiful. Look into things like watering, pruning, pest control, fertilization, and aeration for each plant, just to make sure you're not missing anything.
Xeriscaping Ideas & Inspiration for Your Home
Need help finding some xeriscaping ideas for your own home? We have inspiration! Here are a few lists of plants native to Michigan and capable of tolerating our unique climate — plus, they're beautiful!
Grasses
Schizachyrium (Little Blue Stem)

Sporobolus heterolepis (Prairie Dropseed)

Panicum virgatum (Switch Grass)

Saccharum ravennae (Ravenna Grass)

Penstemon strictus (Rocky Mountain Beardtongue)

Miscanthus sinensis (Chinese Silver Grass)

Shrubs
Buddleia (Butterfly Bush)

Cotinus coggyria (Smoke Bush)

Kolkwiteia amabilis (Beauty Bush)

Potentilla fruticosa (Shrubby Cinquefoil)

Berbergiz thundergii (Japanese Barberry)

Forsythia

Spiraea

Perennials
Achillea (Yarrow)

Echinacea purpurea (Purple Coneflower)

Asclepias incarnata (Milkweeds)

Solidago (Goldenrods)

Rudbeckia (Black-Eyed Susan)

Lavandula (Lavender)

Centranthus rubber (Jupiter Beard)

Perovskia atriplicifolia (Russian Sage)

Opuntia humifusa (Prickly Pear Cactus)

Iris

Learn More About Green Building With Meadowlark
Interested in implementing xeriscaping, but not sure where to start? Meadowlark can help. Our green building experts are here with ideas on how xeriscaping can complement any home style. To get your project moving, give our team a call or contact us online.

---
Meta Title
What Is Xeriscaping? Plus Some Xeriscaping Ideas For Your Home!
Meta Description
Xeriscaping uses special landscaping methods to reduce the need for irrigation. Learn more about the practice and find xeriscaping ideas for your home here!