If you're a homeowner or an interior design enthusiast, you know that the kitchen is the heart of any home. It's where we gather, cook delicious meals, and create lasting memories with our loved ones. When it comes to kitchen design, cabinets play a pivotal role in both functionality and aesthetics.
Gone are the days of standard, cookie-cutter designs dominating every kitchen. Today, homeowners are embracing the opportunity to express their unique style and optimize their storage space through custom kitchen cabinets. We're here to tell you all about the latest and greatest trends for custom cabinetry in kitchens.
5 Trends for Custom Cabinetry in Kitchens
Custom kitchen cabinets offer an array of benefits, allowing you to tailor your kitchen to suit your specific needs and preferences. Whether you're a minimalist who craves sleek and clean lines or a maximalist who loves bold colors and intricate details, a custom cabinet design is waiting to bring your vision to life.
1. Two-Toned & Tri-Colored Cabinets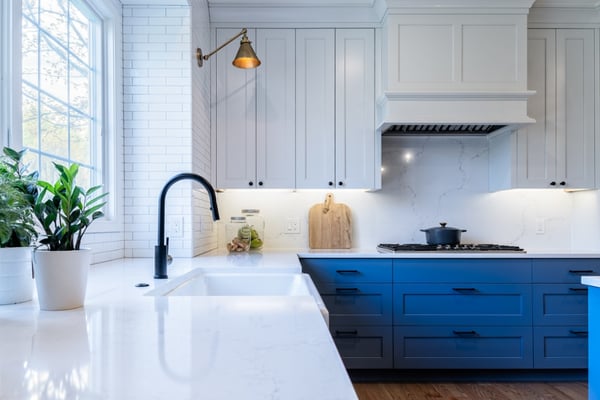 The two-toned cabinet trend involves using two different colors or finishes for upper and lower cabinets or combining contrasting colors within the same cabinet. It adds depth and dimension to the kitchen, creating a stylish and dynamic visual impact.

In addition to two-toned cabinets, we're also seeing tri-colored cabinets. Really bold homeowners are even mixing and matching cabinet door styles. We can't get enough of this eclectic trend!

One popular approach to multi-colored cabinets is contrasting upper and lower cabinets. For example, you might opt for white or light-colored upper cabinets to create an open and airy feel while choosing a darker shade or a wood finish for the lower cabinets to ground the space and add warmth. This contrast can create a balanced and harmonious look in the kitchen.
2. Open Shelving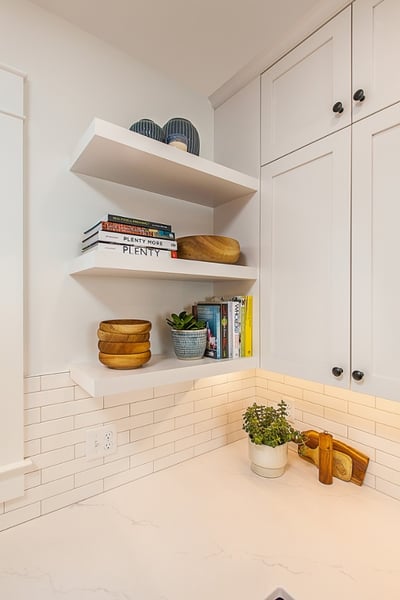 Open shelving has gained immense popularity in recent years. It involves removing upper cabinets and replacing them with open shelves, providing an airy and spacious feel to the kitchen. Open shelving allows homeowners to display their favorite dishware, adding a personalized touch and creating a visually appealing focal point.

One of the primary advantages of open shelving is the sense of openness it brings to the kitchen. Eliminating upper cabinets makes the kitchen more spacious, airy, and light-filled. This can be particularly beneficial for smaller kitchens, as it helps to avoid a closed-off and cramped feeling.
3. Hidden Storage Solutions
Custom cabinetry offers endless opportunities for maximizing storage space while maintaining a clean and clutter-free kitchen. The hidden storage solutions trend involves incorporating creative and innovative storage options that keep items organized and easily accessible while concealing them from view when not in use.

One popular hidden storage solution is the use of pull-out racks and drawers. These can be installed inside cabinets, pantry spaces, or under countertops. Pull-out racks and drawers make it easier to reach items stored at the back, maximizing the usability of the storage space. They are especially useful for storing pots, pans, small appliances, and dry goods.
4. Minimalist Design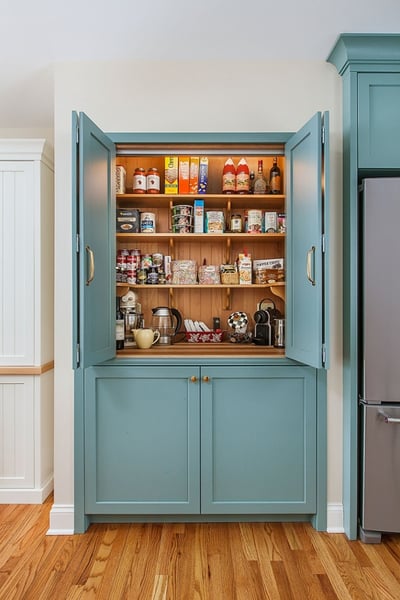 Minimalism continues to be a popular trend in kitchen design and extends to custom cabinetry. Rooted in the "less is more" principle, minimalist design emphasizes simplicity, clean lines, and a clutter-free aesthetic. It aims to create a serene and calming atmosphere while maximizing functionality.

When it comes to custom cabinetry in kitchens, the minimalist design trend is characterized by several key elements, including clean lines, neutral color palettes, streamlined hardware, and minimal decor and accessories. The result is a clean, elegant, and visually pleasing kitchen space that allows you to focus on the essentials and enjoy a sense of tranquility in your culinary haven.
5. Textured or Patterned Cabinet Doors
Another custom cabinetry style trend is using textured or patterned cabinet doors. This trend adds visual interest and a unique touch to the kitchen design, moving away from the traditional plain and smooth surfaces. Textured or patterned cabinet doors can be achieved through various techniques and materials.

For example, laminate or thermofoil materials can be manufactured with textured finishes, such as wood grain, linen, or leather textures. These textured surfaces mimic the look and feel of natural materials and add a tactile element to the cabinetry. They offer various design possibilities and can be paired with different colors and finishes to achieve a desired aesthetic.
Look To Meadowlark for All Your Custom Kitchen Cabinetry Needs
Your home should be a space in which you feel comfortable, and the preferences we have for certain materials, colors, and styles are influenced by our personalities, background, and life experiences. Therefore, design a kitchen that contributes to your sense of contentment regardless of what's trending.

If you're ready to give your kitchen cabinets a makeover but don't know where to start, we're here to help! With years of extensive remodeling and design experience, our team is more than qualified to take on any kitchen project. Get started today and give the Meadowlark team a call!