Nestled in The Trees - A Screened Porch Addition
A Call to the Outdoors
Meadowlark built this custom home for our clients over 10 years ago. As their kids grew up and they settled into their wonderful west-side neighborhood, they yearned for a sheltered space that would allow them to enjoy their serene surroundings. Thus came the screened-in porch addition.
An Artfully Designed Screened-In Porch
Our client's existing home design reflected their love of the Arts & Crafts design style. But for this addition, they asked for a modern twist — an addition that could pay homage to the original home aesthetic but make it simpler and more functional. They were now working from home and wanted a separate space to work in during at least three seasons of the year.
Overall project goals:
Create indoor and outdoor spaces for entertaining and enjoying the serene outdoors
Employ a simple, clean, and minimalist design aesthetic
Use earthy, neutral colors
Mimic existing rooflines
Make the addition "look like it had always been there"
Ensure ease of maintenance
Add a small breakfast area that could double as a workstation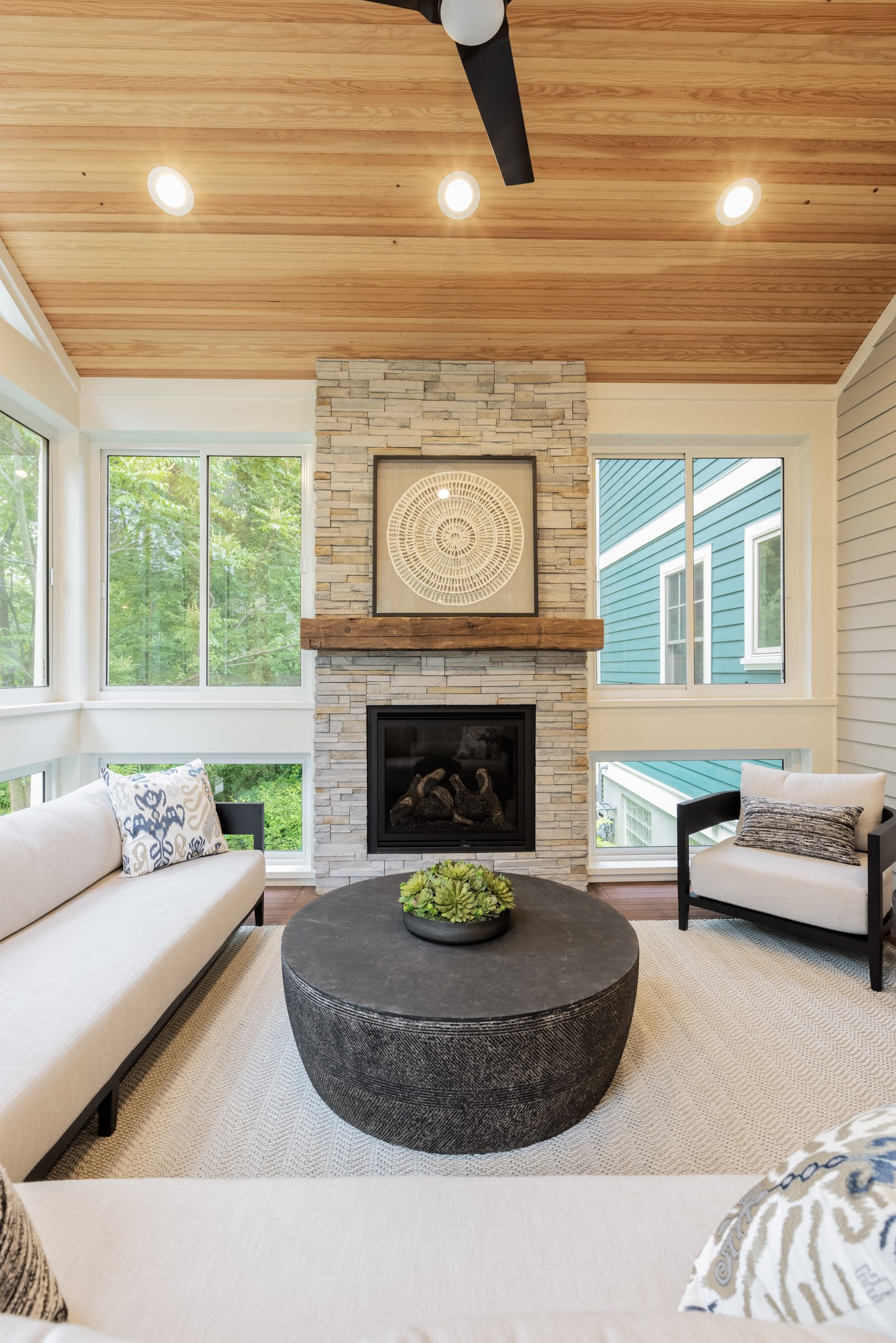 Design Selections
Top-Tier Features From Trusted Manufacturers
Working with the existing structure and lot limitations, our designers created a screened-in porch with two separate areas. The new raised addition also provided cover for an outdoor patio area below — complete with carefully considered landscaping that provided an extra layer of privacy and serenity.
Our designers and clients worked together to choose beautiful, durable selections from some of the industry's top manufacturers, including:
A Gorgeous Blend of Indoor & Outdoor Spaces
Through our collaborative design-build process, we brought our clients' vision for additional outdoor space to life. The screened-in porch addition melds seamlessly into the existing home and looks like it was original. Also, a clever mixing of angles and rooflines adds interest to create the perfect indoor and outdoor spaces their family wanted.
They can now enjoy this serene, tree-lined setting nestled in the heart of one of Ann Arbor's oldest neighborhoods.