Fiber cement Insulated Concrete Forms (ICFs) were developed in Europe after World War II, partly in response to a lot of raw material (wood) laying on the ground in war-torn areas. This type of ICF consists of ground up post-consumer wood waste that is mineralized with clay and portland cement, with a non-compressible rot-proof insulation material such as mineral wool. This is a picture of a fiber cement ICF block: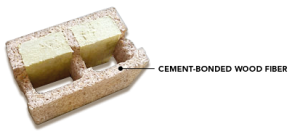 Durisol is one brand of fiber cement ICF block, and the most commonly seen in Michigan since they are manufactured in Ontario. It's a natural product that's pretty easy to work with. Durisol blocks are also hygroscopic, meaning they absorb excess moisture and release it slowly, providing a more even moisture content in the air.
Most ICFs have the concrete exactly in the middle. They make a great structure, but the polystyrene shell then releases as much stored energy to the outside of the structure as to the inside. That creates a great buffer against interior temperature swings, but it doesn't capture the inherent energy of the structure.
Durisol blocks, on the other hand, bias the concrete to the inside of the building. It allows the building to take advantage of the large thermal mass of the building. Thermal mass toward the inside not only evens out temperature swings in a home but also makes heating and cooling systems operate more efficiently.
When paired with south-facing, low-energy windows, the house is heated by the sun during the day, and the excess energy is stored in the concrete blocks, extending the solar effect by many hours. This can be an effective technique for building a passively-heated buildings.
Because Durisol blocks are made with wood and earth materials, there are some building biologists who state that it is a healthier structure to live in, with some claiming almost healing powers. Mold and other microbes do not grow on this material and the moisture migration through the wall is ideal so that humidity is well-managed in the home.
Durisol blocks are best when stucco is applied directly to the block on the outside, helping the moisture migration properties. We typically recommend a fiberglass tape on the block seams for stucco cracking resistance. It makes a beautiful finish that perfectly compliments the properties of the block itself.
Durisol ICF's are not for everyone, but it is an extremely high-quality type of structure that will last for centuries, with some great aesthetic properties that perhaps will make healthier homeowners.