Green building is a building method that works to reduce or eliminate a building's negative impact on the climate, the natural environment, and its occupants. Green building takes every aspect of construction into consideration — from planning and design to construction, operation, maintenance, renovation, and demolition — and constantly seeks to minimize the impact of each of those steps on the environment, while creating a home that is beautiful, comfortable, healthy, and sustainable.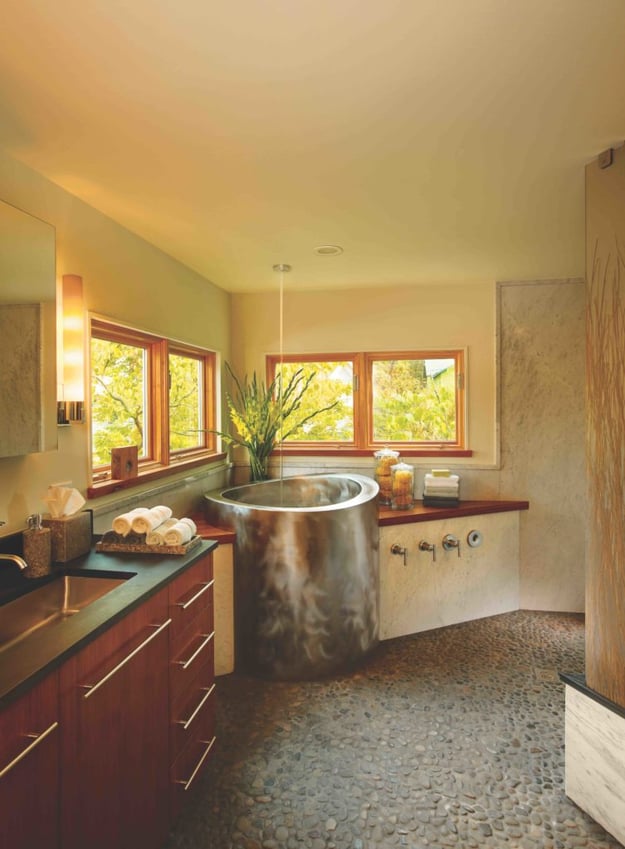 What Makes a Building Green?
Any building can be green, whether it's a home, apartment building, office building, hospital or manufacturing facility. The term "green building" encompasses a wide range of building methods, and is used to define a sustainable, resource-efficient method of building. That means that all kinds of buildings can be green, regardless of architecture, style, or size.
Lose less, use less, and then produce should be the mantra of a well-built resource-efficient green home. This includes the following key features that make a building "green":
Efficient use of resources. Energy, water, and fossil fuels are used efficiently, both during construction, and in the daily operation of the home or building.

Use of renewable energy. Renewable energy options, like solar energy, are used to power the home or building when it makes sense to do so.

A focus on waste reduction. Green building works to reduce waste by reusing and recycling building materials wherever possible.

Healthy indoor air quality. Indoor air quality is important for the health of building occupants. Green building also focuses on providing healthy indoor air.

Use of non-toxic materials. Using building materials that are ethical, sustainable, and non-toxic. For example, no or low-VOC paints and flooring.

Design accounts for the building's surrounding environment. A quality green building is designed to flow naturally with the surrounding environment, and the construction process takes measures to preserve the integrity of the natural spaces around the structure.

Home or building is constructed to lose less energy. Green buildings are designed, located, and built to ensure the building is well-insulated and air-sealed. If passive and active solar strategies are to be used, then how the home is situated on the site is also key to maximizing the sun as an energy source.

A focus on the occupant's quality of life. Those who live and work in the green building are equally as important as the surrounding environment. Green buildings are designed and built to provide a comfortable and healthy living space for residents. The occupants' daily use of energy is important as well. Can they walk or bike to shops, grocery stores, schools, etc? Will they need to use their car? Is public transportation available?

Built for sustainable adaptation. Finally, green building also means building for the future. A green building is designed to be low-maintenance and can be easily adapted and changed in the future if the owners' needs change.
Green building is a building method that focuses on planning, designing, and constructing an environmentally-friendly, sustainable building that is also beautiful, comfortable, and safe for residents.
What is an Example of Green Building?
Since green building can mean so many things, it might be helpful to look at an example of a "green" home. Meadowlark is a top green custom home builder and remodeler in the Ann Arbor area that has been using sustainable building methods for years.
This custom whole-home renovation is a great example of green building: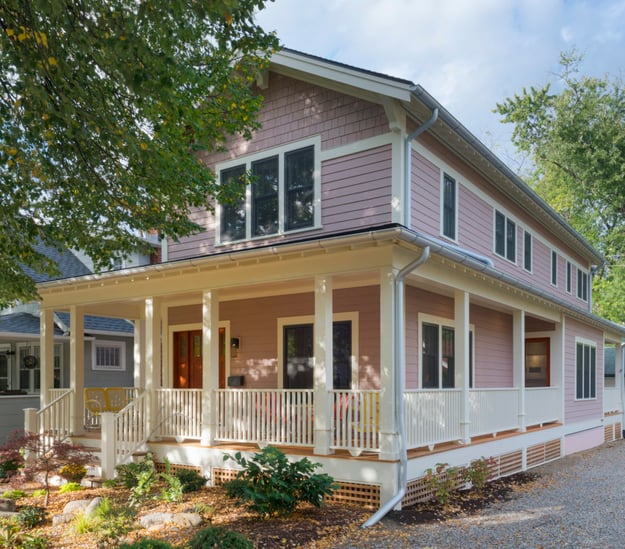 The goal for this green building project was to rebuild this home in a way that would get it as close to carbon-neutral as possible. Our clients were passionate about walking lighter on the earth and were classic "early-adopters" and thus wanted to incorporate as much cutting-edge green technology into the project as possible. To achieve their goals it was decided that the existing home would have to be taken down to the foundation and a new home built from the existing foundation up.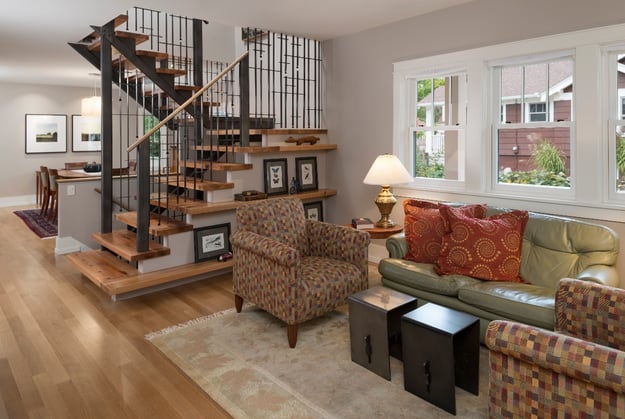 Here are just a few of the features that went into this green building:
Geothermal heating and cooling. A geothermal heat pump heats the home's radiant floors. Earth tubes use deep ground temperatures to condition incoming ventilation air year-round.

BioPCM material. This material enabled the home's wood-framed walls to store three times the energy that typical wood-framed houses store.

Ultra-efficient heat pump water heater. This energy-efficient method of water heating delivers hot water for just pennies on the dollar.

Powerhouse solar shingles. These roofing shingles convert solar energy, helping the owners get even closer to their carbon-neutral goals.

Gray water collection system installed. The home's plumbing system was designed to enable gray water collection in the future. Currently, Ann Arbor code does not allow for domestic greywater systems, but it is just a matter of time — so the home was built to accommodate future changes in local building codes.

Sustainable landscaping. Using native, drought-tolerant plants, permeable surfaces, and water-saving methods all help to minimize the need for irrigation and to help keep the water on the site and not in the storm sewers.
The whole-home renovation was an ambitious green building product, with the finished home achieving LEED Platinum Certification. You can see more images of the finished green building, and learn more about what went into this whole-home renovation at the full client story: Pushing the Envelope.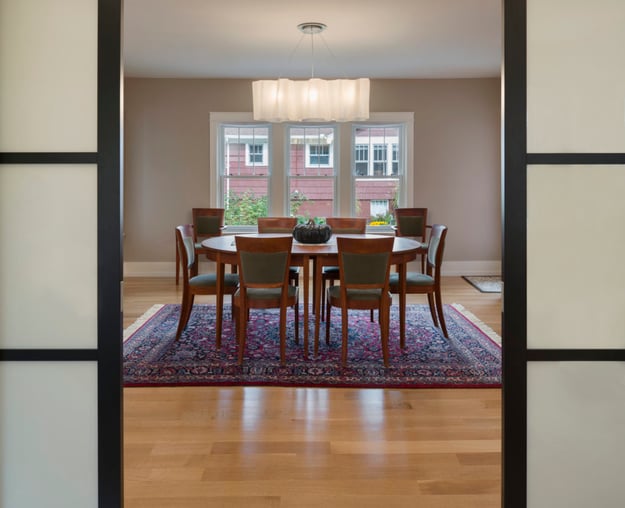 Understanding Different Types of Green Building
When it comes to green building, there are a number of terms that are associated with green or sustainable construction. In the section above, we mentioned that the green home achieved a LEED Platinum Certification. If you've heard terms like LEED, passive home, or net-zero, it's good to know that each of these terms refers to a green building method or certification that falls under the general umbrella term of "green building." Let's take a look at each of these green building terms, break them down, and offer an example of each.
What is LEED?
LEED stands for Leadership in Energy and Environmental Design. It is a green building rating system developed by the U.S. Green Building Council that is recognized around the world as the standard for green building design, construction, and operation.
LEED uses a point system to score any building type on factors like:
Building and construction

How the building will be used by its occupants

Availability to public transportation

Availability to daily resources like grocery stores, health support, libraries, and hospitals
The more points a building gets, the higher the level of certification achieved. LEED certification levels are, from lowest to highest, Certified, Silver, Gold, Platinum.
An Example of a LEED Certified Home: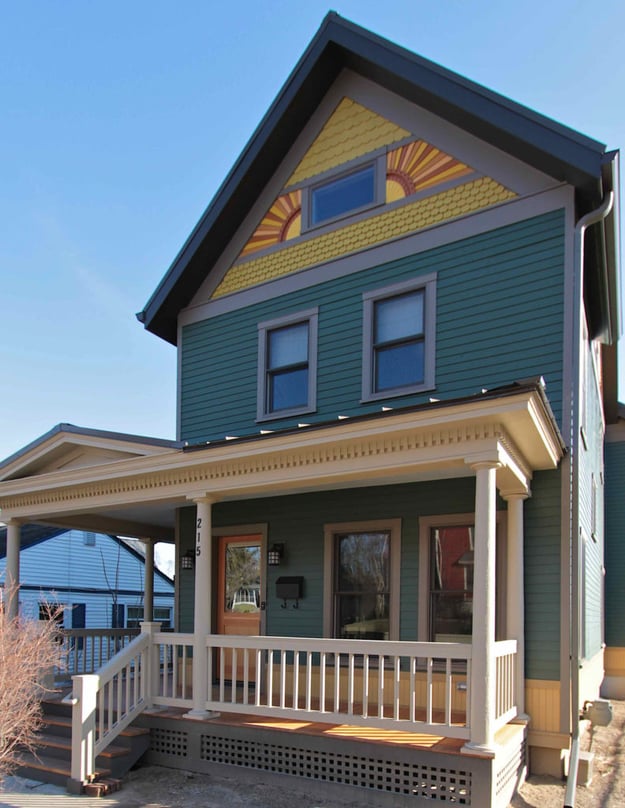 This 1910 Victorian was transformed from a state of total disrepair into a LEED Platinum Certified home. The Meadowlark team of designers and construction professionals used green building methods to bring this beautiful home back to life. Today, this home achieves net-zero many months of the year. Check out the full project.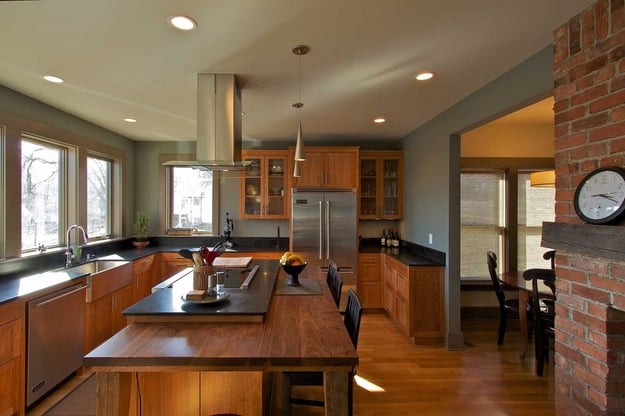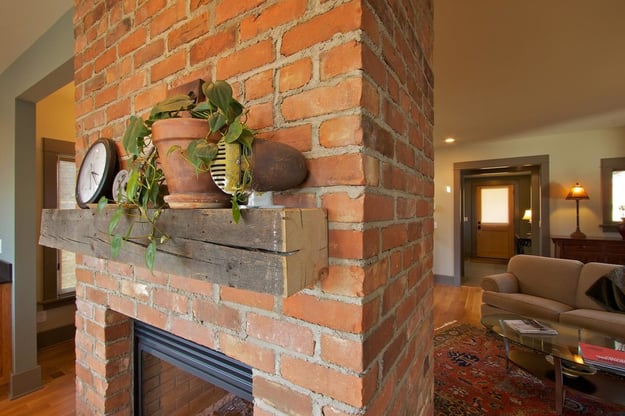 What is a Net-Zero Home?
Net-zero is a term that refers to buildings that are so green or energy-efficient that they produce as much renewable energy as they consume over the course of the year. While many of these homes do use solar panels in some way, passive house strategies are essential to ensuring that the home is designed and built for exceptional energy efficiency. Passive strategies include maximizing the solar orientation of the home so both passive and active solar strategies can be used to heat and cool the home.
Understanding Passive Building
Passive building or a passive house is another term you'll hear often when you research green building. Passive building is more focused on the insulation, heating, and cooling of the home than the other terms. In general, passive building is most concerned with delivering the highest level of interior comfort for residents, with minimal energy use.
An Example of a Passive, Near Net-Zero Home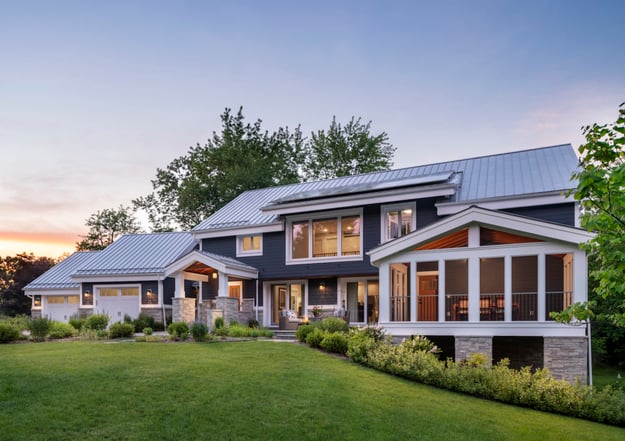 Reaching net-zero is no small feat in a climate as cold as Ann Arbor, MI. This beautiful home in one of Ann Arbor's oldest neighborhoods was rebuilt using recycled and salvaged materials from the original home, along with new green technologies and building methods. A new solar array helps nudge this home right up to near net-zero. Check out the full project.
Whether you're interested in a net-zero, passive, or LEED-certified home, green building methods will get you there. A building method that takes every aspect of the home into account, from using energy-efficient technology to sourcing sustainable and recycled materials, green building delivers a home that's clean for you and for the environment.
If green building and sustainable living are at the top of your priority list for your upcoming new home build or remodel, Meadowlark Design + Build is your go-to firm in the Ann Arbor area. We'd be happy to answer any questions you have about green building or remodeling. Give us a call at 734-332-1500 or contact us online today.