A Custom Home We Love and so Does Houzz!
Once again, Houzz just posted their article 8 Open-Plan Mistakes – and How to Avoid Them which includes a photo of one of our more recent custom home projects in Ann Arbor. This article marks the third time that Houzz has highlighted something about this beautiful home. Like many of our one-of-a kind homes we design, this one has been a continuous collaboration between the Meadowlark team and our clients. We are both proud and thrilled that the results not only bring joy to our clients, but also to others who enjoy the finished project photos.
One Custom Home Project – Multiple Houzz Features
There are so many thoughtful components to this home to talk about, but since we are talking about Houzz – let's look at what they think is special via their previous articles featuring this custom home.
Decorating With an Open Floor Plan
This most recent article talks about the do's and don'ts of decorating in open-concept spaces. Knowing this was going to be their "forever" home, our clients wanted to create spaces on the main floor that were easily accessible for them, regardless of mobility issues. One-story living was primary in their design focus, but they utilized other levels of the home for accommodating visits from kids and grandkids, entertaining friends and for managing their hobbies.
They also wanted to be able to connect with each other while doing everyday tasks. The furniture placement in this great room clearly delineates spaces by function, but is cohesive and harmonious. He could be cooking dinner, while she is knitting and catching up on her favorite Netflix series.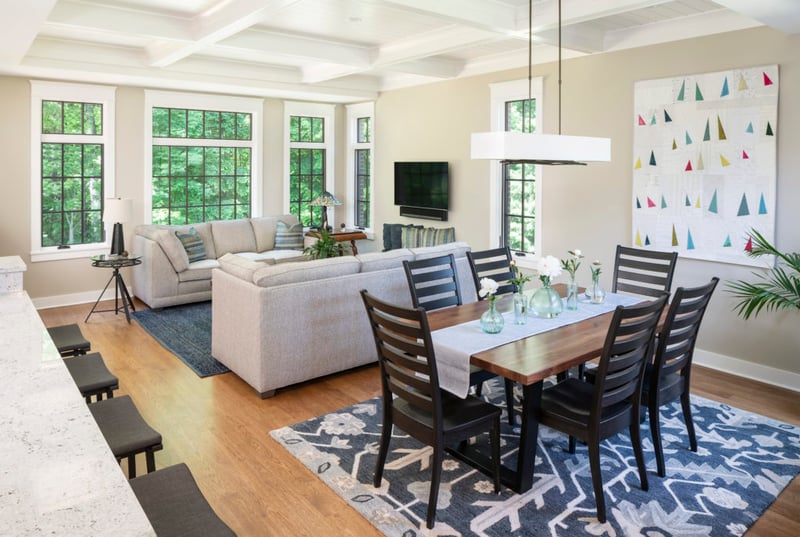 In addition, as you can see from the photos – it's not only about furniture selection and layout, but also about structural details. For example, changes in ceiling design and window placement help to create unique vignettes to delineate areas in this open floor plan.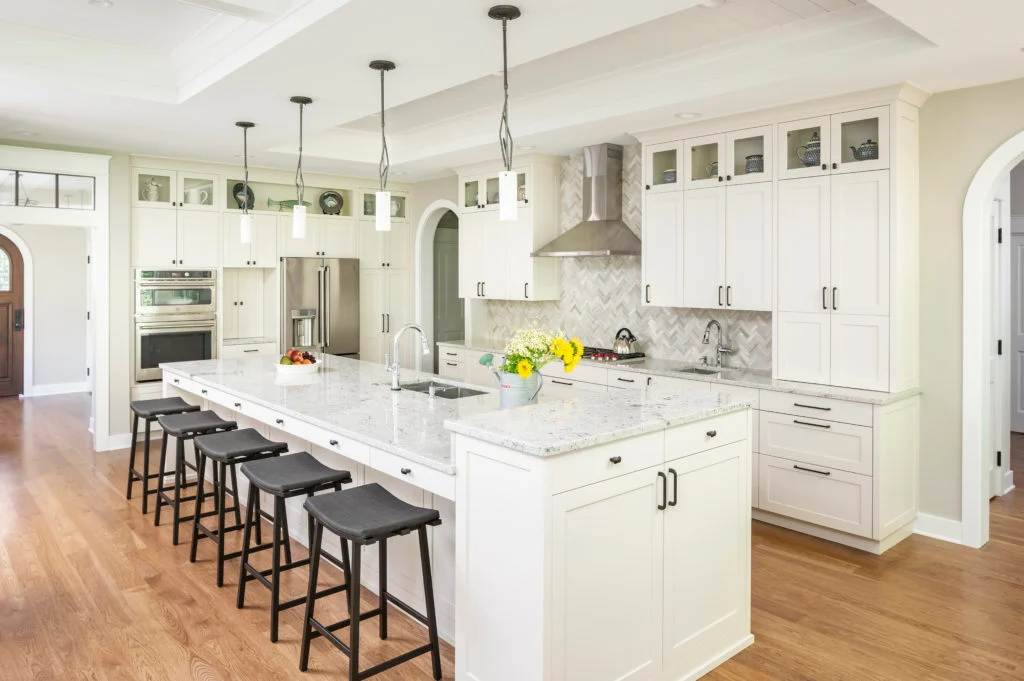 Master Bath Design Details
HOUZZ featured this home's master bath in their article 7 Design Details to Consider When Planning Your Master Bathroom. You can read more about the specifics of this custom home master bath, but overall this master bath stands out because it has all the "bells and whistles" that most custom home clients are looking for, all packaged in a very modest-sized space. And… did we say how much we love the storage this bathroom vanity has! Medicine cabinets, upper and lower drawers, cabinets with doors, niches, shelves, a towel cubby…and the two tiny drawers on either side of the sink…brilliant! So many places to organize and store ALL of your bathroom needs.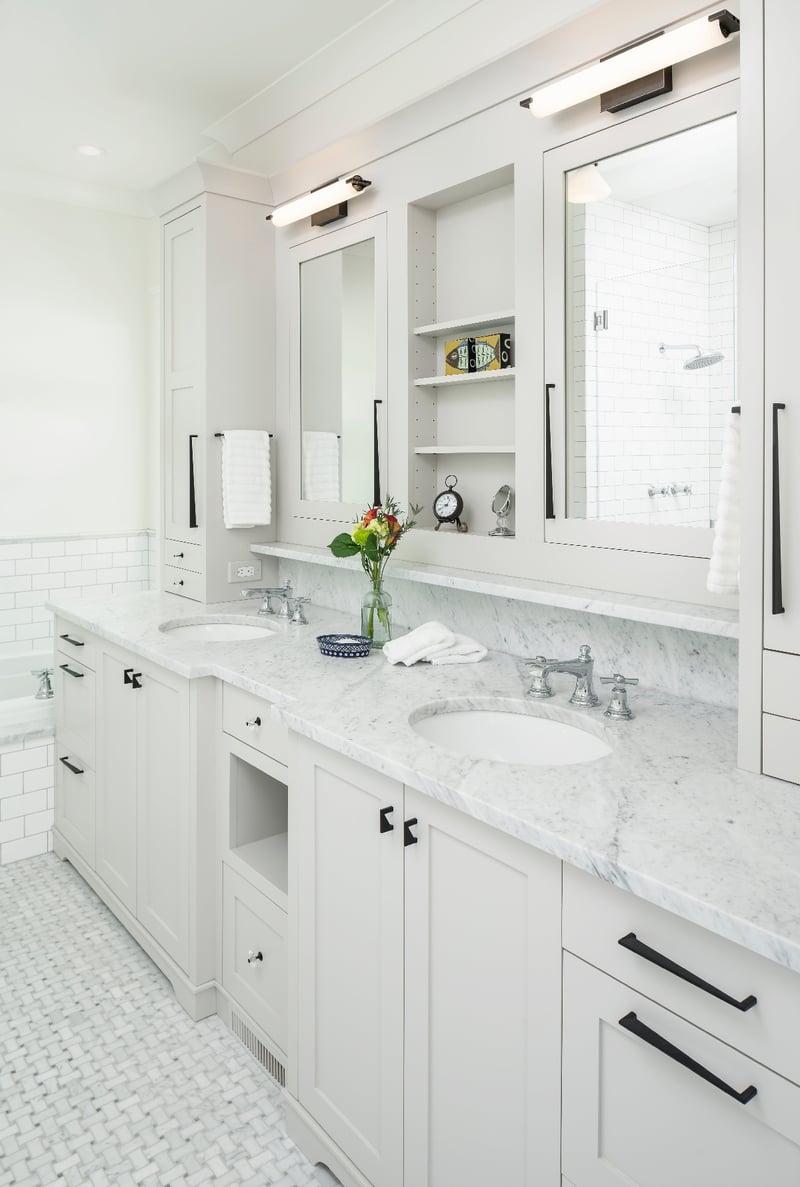 And speaking of brilliant…there is also a linen closet in this bathroom with a pass-thru door on the other side that allows easy access to the laundry room. It's tucked away in an alcove to the left of the bathtub and behind the shower.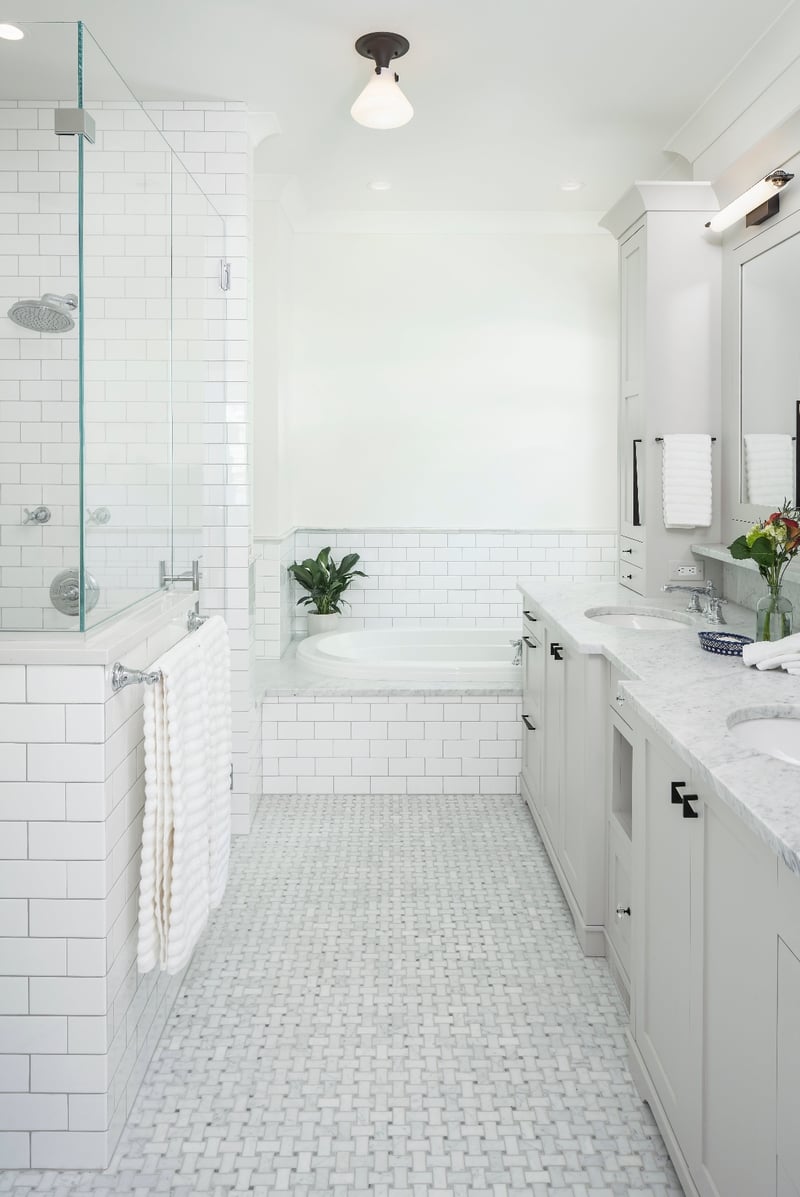 Laundry Rooms That Make Sense
Houzz editor Mitchell Parker talks about marrying form and function to offer up design ideas to help make doing laundry less of a chore in his article: Nine Nifty Laundry Rooms. Our designer Melanie Grabarkiewicz talks about the collaborative design process with our clients and how it resulted in spaces in their custom home that truly met their list of wants and needs. Once again this is a very modest sized room (74 FT2), but it has all the function our clients asked for in a light and airy space that is just off the great room. Light finishes, smart storage and a large window all help to make doing the laundry convenient and more enjoyable.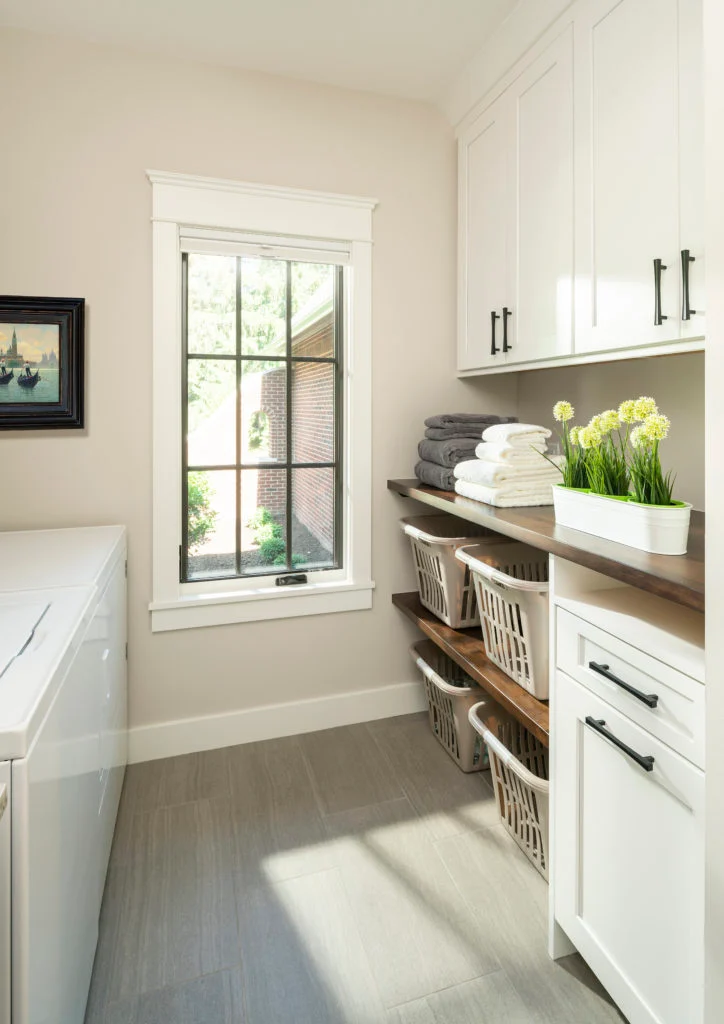 One clever design solution – the client wanted shelves so that she could have four standard-sized laundry baskets easily accessible and open. So Melanie raised the height of the counter above standard countertop level to accommodate the baskets, but still utilized a standard-height lower cabinet. The modifications not only created the appropriate sized shelving, but also the perfect niche to store grocery bags. In addition…our clients are tall – thus the higher countertop was the perfect height for folding laundry.
We are thrilled that our designs have caught the eye of the editorial staff and viewers of Houzz, but more importantly we are proud to have designed and built a custom home that brought our clients dreams to life. We'd love to bring your dreams to life. It's so easy to start the conversation with our designers.