A Timeless + Classic Bathroom Addition
A Cost-Effective, Value-Adding Bathroom Addition
Having lived in this 1930s Burns Park home for a long time, this Ann Arbor homeowner was ready for a significant upgrade to the upstairs bathroom. It was the only bathroom upstairs and it seemed small and out-of-date, but it had lots of original 1930s charm.
The homeowner wanted a standalone shower rather than the shower in the bathtub, so the thought was to bump out the existing bathroom and create room for one while remodeling the rest of the space. However, the cost vs. yield for this was high and the return for the value-add was not justifiable.
The homeowner could very much relate to the design process and understood that sometimes you need to take a step back before you can take a step forward. With the help of local Ann Arbor architect Connie Rizzolo Brown, it was determined the way forward for a better yield on cost was to build a new bathroom. The homeowner was unhappy with the look and design of the screened porch on the first floor at the back of the home, and there was an economy of scale to fix it up and create a bathroom above it. By adding on over this screened porch, with slight structural changes to allow for the new bathroom above, there was plenty of room for the bathroom addition and for more closet space in one of the bedrooms. All of this provided justifiable yield to the investment as well as functional and desirable space.
Having two bathrooms upstairs would be practical for when family or visitors come to stay but also a functional credit for when the time comes to sell the home. They came to Meadowlark looking for a builder to construct the space and help with the interior finishes and design.
Design + COVID-19 Challenges
Many of us feel a little envious when we see the large, luxurious bathrooms in newer homes. Are we right?! Bathrooms just weren't a priority during the 1920s and 30s when many of these historic homes in Ann Arbor were built. In fact, a home with more than one full bathroom seemed like an unnecessary luxury back then. Finding space, especially on the second floor of these homes, can be a challenge.
Adding to the challenge, this project kicked off at the beginning of the COVID-19 pandemic and construction started in early 2021 before vaccinations were available to most people. Wanting to keep job-sites safe for our clients, employees, and trades, Meadowlark built exterior steps to the rear at the project site so that entering and walking throughout the home was unnecessary during construction keeping the homeowner safe.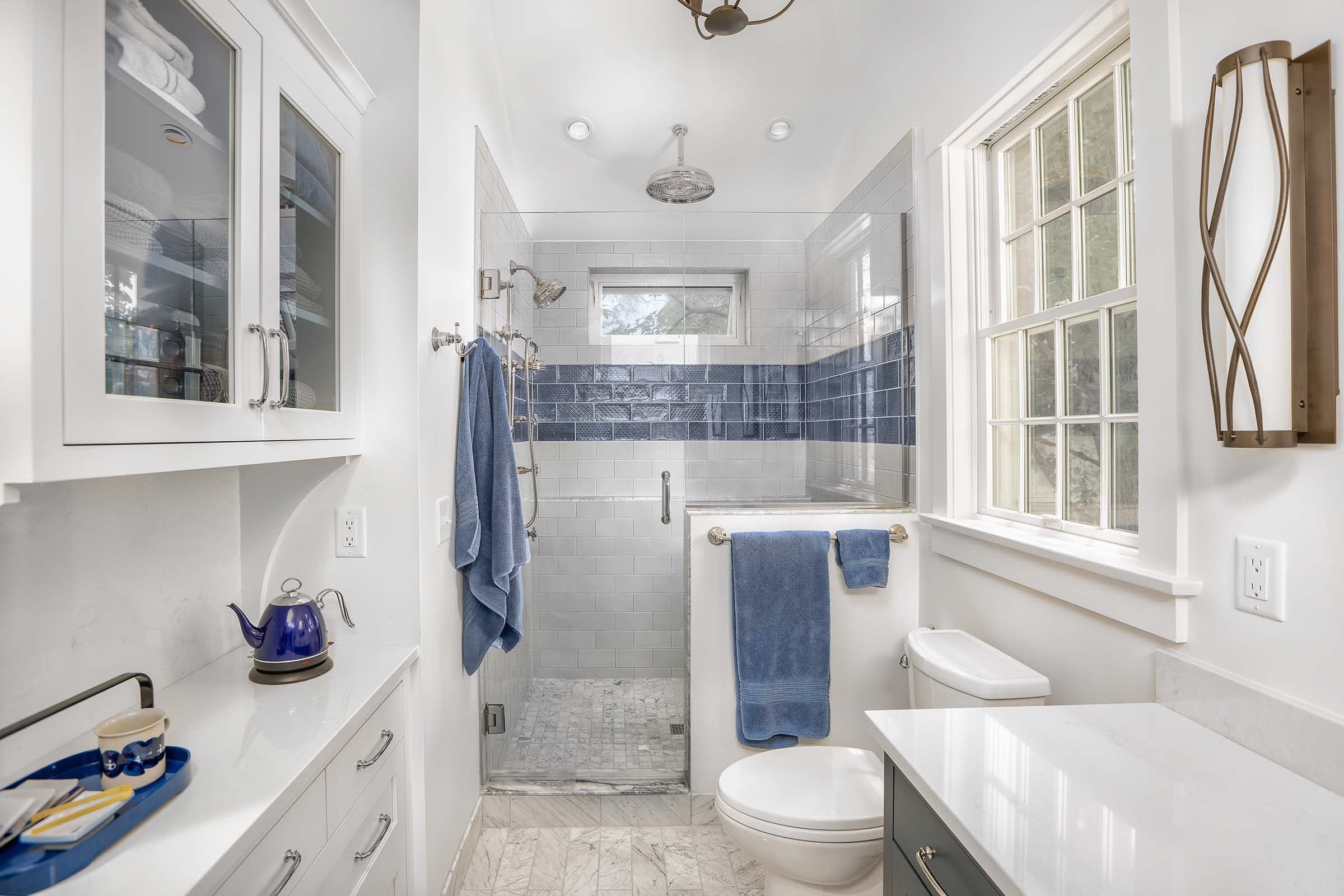 Design Selections
Custom Features From Top Manufacturers
Custom inset cabinetry from Crystal Cabinetry is painted in Benjamin Moore's "Decorator's White" and topped with gorgeous quartz.

The countertop is quartz and is a

"Puro" finish which is gently marbled with ever-so-subtle gray shades and lines that give it an intriguing design depth and character.

The custom vanity is painted Benjamin Moore's Lead Gray.

In the hallway, a custom Crystal Cabinetry linen closet was built with roll-out shelving in both the upper and bottom sections, and color-matched to the hallway paint, Benjamin Moore Creme Caramel.

Atlas Homewares's Polished Nickel "Shelly" pulls were used on the cabinetry and vanity.
House of Rohl plumbing fixtures and accessories, such as robe / towel hooks and bars, in polished nickel were used throughout providing a cohesive look.
In the shower, an accent band of Somer Tile Camden Decor Azurro 4" x 8" Ceramic Wall Tile was used. This enlarged subway tile features four varying old-world designs in denim blue tones with a smooth surface. With a glossy undulated surface, this geometric patterned tile adds timeless appeal and sophisticated depth to any space.
A Large, Functional & Beautiful Bathroom Addition
This bathroom addition on the second floor has a lot of texture without being too busy, and it feels traditional – but with a slightly modern edge. It feels big, it's super functional with amazing storage, and there is beautiful light.
Meadowlark designed a custom vanity with a ton of storage, and the cabinetry across provides additional storage plus a place for a kettle to prepare some tea or coffee. Everything is light, tonal, and clean, which allows for the space to feel as open and wide as possible.
The polished nickel hardware, plumbing fixtures, and accessories are completely classic and fit the style of the house.
The custom cabinetry and vanity are topped with gorgeous quartz (which is engineered stone countertops formed by combining ground quartz with small amounts of resins, polymers, and pigments, resulting in a non-porous, scratch and stain-resistant surface).
Looking from the exterior, this new bathroom addition is above the remodeled screen porch, and it looks like it was always a part of this home.
Dreaming about a gorgeous bathroom addition or another remodeling project for your home? Not sure where to start? Contact Meadowlark and let us guide you on your remodeling or home addition journey.