Mid-Century Modern Defined by the Experts
Google it and you will get a multitude of characteristics and definitions, but the general consensus is that it was brought to the US by architects who had a pretty strong footing in the Bauhaus movement in Europe. Folks like Ludwig Mies van der Rohe, Marcel Breuer and Walter Gropius fled Nazi Germany in the 1930s and brought their design aesthetic to the U.S. Their design mantra eventually was repackaged for the American ethos and after World War II, for both practical and aesthetic reasons, Mid-Century Modern (MCM) design was widely embraced here for residential construction. American architects amplified this aesthetic – with the most well-known being Frank Lloyd Wright who further developed Mid-Century Modern's basic core design values with his Prairie School design.
Although it's generally thought that Mid-Century Modern's heyday was from the 1930's into the early 1970's, we have found that our clients still love this aesthetic and want to incorporate the design mantra into their new home or remodel. It's easy to see why – at it's core – MCM design has an overarching theme that resonates with all of us.
Here's Why We Love It
Driving the Design: Form Meeting Function
The underlying theme in Mid-Century Modern design is form meeting function. This was driven by the need for housing after World War II to accommodate returning soldiers and their families. Mass-produced housing required simplicity and not a lot of fuss to make the process go quickly and smoothly. In addition – the attraction to move outside the tight confines of vertical city living and have more space resulted in relatively sprawling, open-concept homes on a single level. Having your own lot with a yard provided even more opportunities to spread out and enjoy both indoors and out.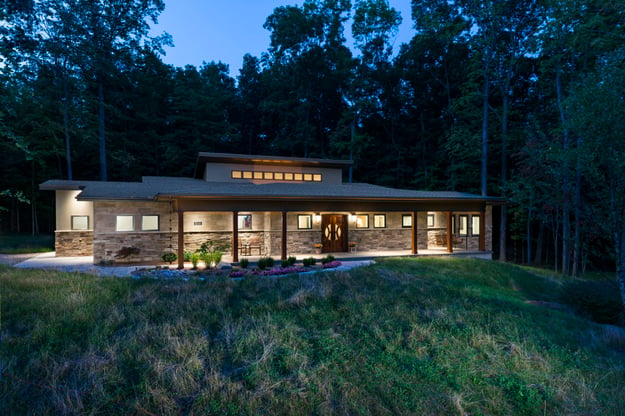 Keeping it Simple: The Minimalist Aesthetic
Flat planes, clean lines and lack of ornamentation are the mainstays of Mid-Century Modern architecture. Having these features certainly helped to streamline the production process when the need for affordable housing was immediate and pressing, but also homeowners embraced this "look and feel" and carried it over into their selections of finishes and furnishings. Gone were the days of fussy Victorian or Art Deco adornments from the late 19th and early 20th centuries. Instead of looking to the past for design cues, the open and airy MCM design vibe threw out the old and brought a brand new clean slate that homeowners were longing to bring into their own lives. New methods of construction (modular building) and new materials (plastics and fiberglass), were now available to help the process along. Thanks to new materials technology – there were new options to the old mainstays of wood for furniture and china/ceramics for household goods.
Scavolini cabinetry with a glossy lacquered finish was used to keep the lines clean in this custom home master bathroom.
Reconnecting With Nature: Bringing the Outdoors In
The new suburban lifestyle provided more exterior space and thus created a desire to utilize that space to the maximum and to minimize the boundaries between the two. This resulted in larger windows and doorways that opened up to the surrounding yard and rooflines that extended beyond the exterior walls helped to visually connect the two spaces. Natural materials like wood beams and paneled walls, stone and concrete became part of the interior design features. Both interior and exterior courtyards were becoming popular as a way to enjoy nature in a more private setting.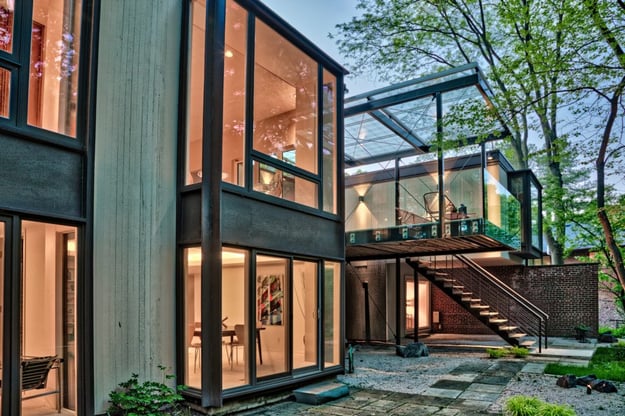 An outdoor "room" and floor to ceiling glass on the rear elevation of this David Osler designed home make the transition from indoors to out virtually seamless in this exterior remodel project.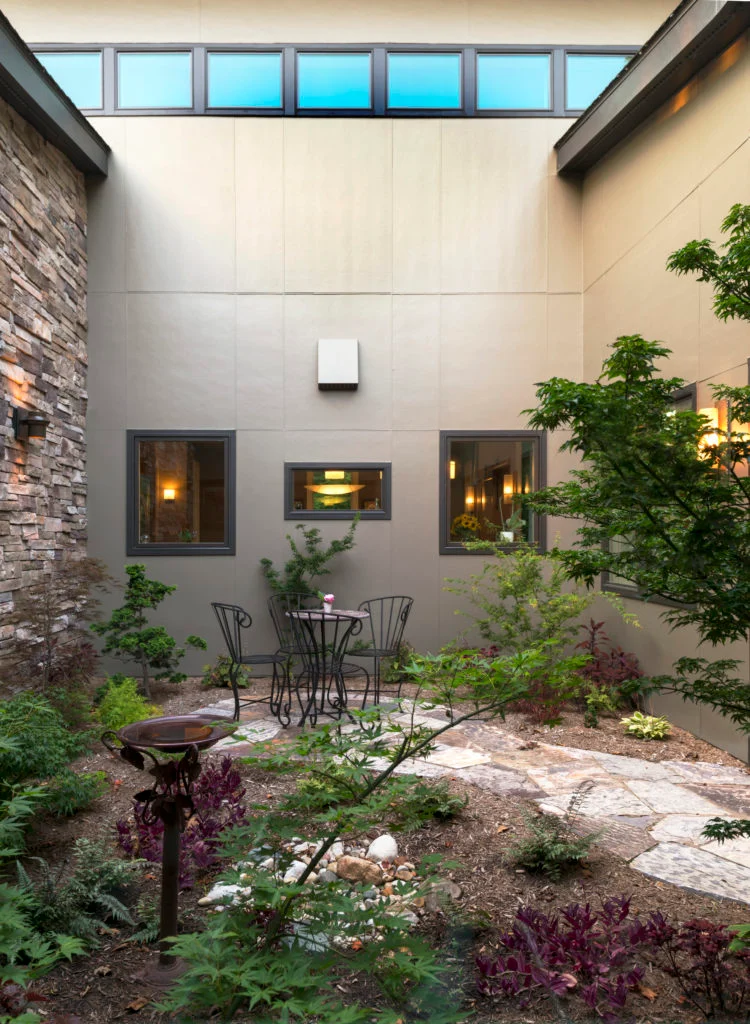 For this Mid-Century Modern Custom Home project, our clients maximized the outdoor opportunities on both front, rear and interior elevations. This interior courtyard is the perfect spot for a morning cup of coffee even when the temperature drops.
Making Homes More Approachable
After World War II, the GI Bill and the need to retool and rebuild the world created a burgeoning middle class in America. As we have said – Mid-Century Modern brought a new innovative design trend that was quick to take hold, but it also created a statement that the imposing façade and formality of ostentatious wealth was no longer important. As John Klopf, (A San Francisco-based architect who specializes in MCM-style homes), best explains it: "the use of wood and other simple, natural materials, combined with the understated street façades and humane scale of the homes works to set them up as places for people to inhabit and enjoy nature instead of as iconic 'things' to be looked at from the street."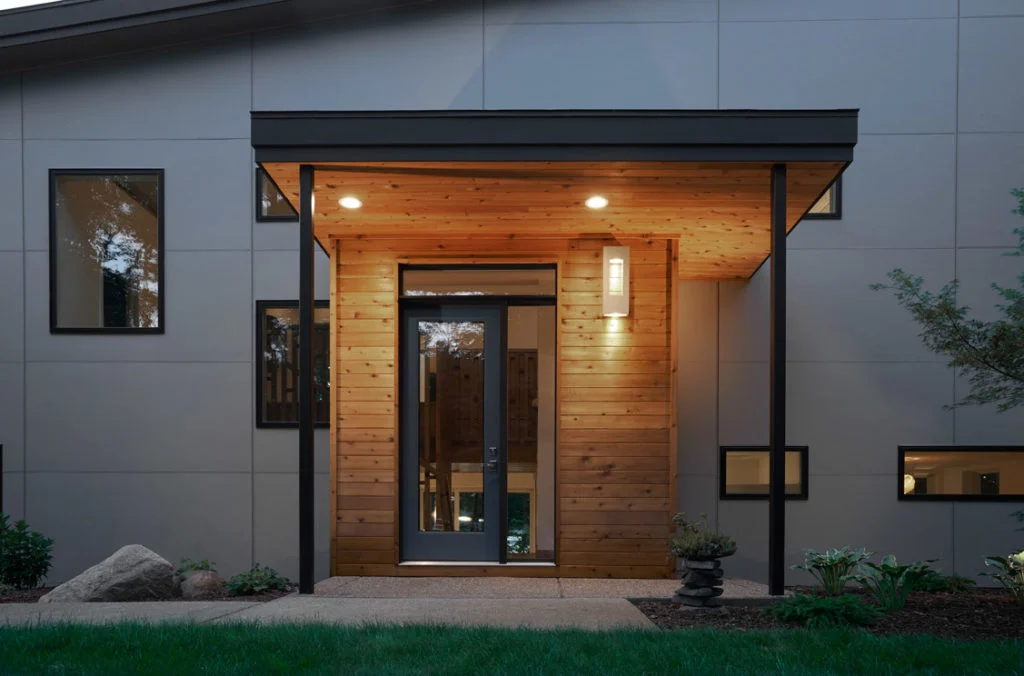 The clean lines and mixed materials used on the front entry of this custom Mid-Century Modern home create an open and inviting entry – beckoning all who pass by.
Thinking about adding a little or a lot of MCM to your home? We'd love to start the conversation.