Ever since the pandemic and shift in the housing market with rising interest rates, homeowners have been more interested in staying in their homes and harnessing the extra square footage they already have in their lower levels. By making the most out of basements, homeowners can stay in their beloved neighborhood and avoid the headache of moving, while gaining a new living space.
If you're tired of your basement being an underutilized, uninspiring space in your home, it's time to turn that neglected area into an aesthetically pleasing, functional part of your living space.
In this blog, we're excited to share eight basement remodeling ideas that will elevate your home's style and make this often-overlooked room functional. Whether you're looking to create a cozy entertainment zone, a stylish home office, or an inviting guest suite, these innovative ideas will inspire you to transform your basement from dull to dreamy.
The Top 8 Basement Remodeling Ideas for Your Home
Say goodbye to the cobwebs and storage clutter, and say hello to a basement you'll absolutely love spending time in with our best basement remodel ideas.
1. Home Office
Today, more than ever, workers are ditching the office and opting to work from home. To be productive and successfully work from home, you need a designated, private workspace. With a basement home office, you can end the disruptions caused by active kids and energetic pets and create a serene sanctuary within your home tailored to the demands of your job.
Basements are a superb location for a home office. Upstairs, if you have an open floor plan, you won't have privacy or anywhere to take a call. Downstairs in the basement, you'll have complete privacy.
We recommend considering soundproofing and lighting options that enable you to concentrate without distractions. You should also decorate this area in a way that inspires you. After all, that's the beauty of designing your own dream office!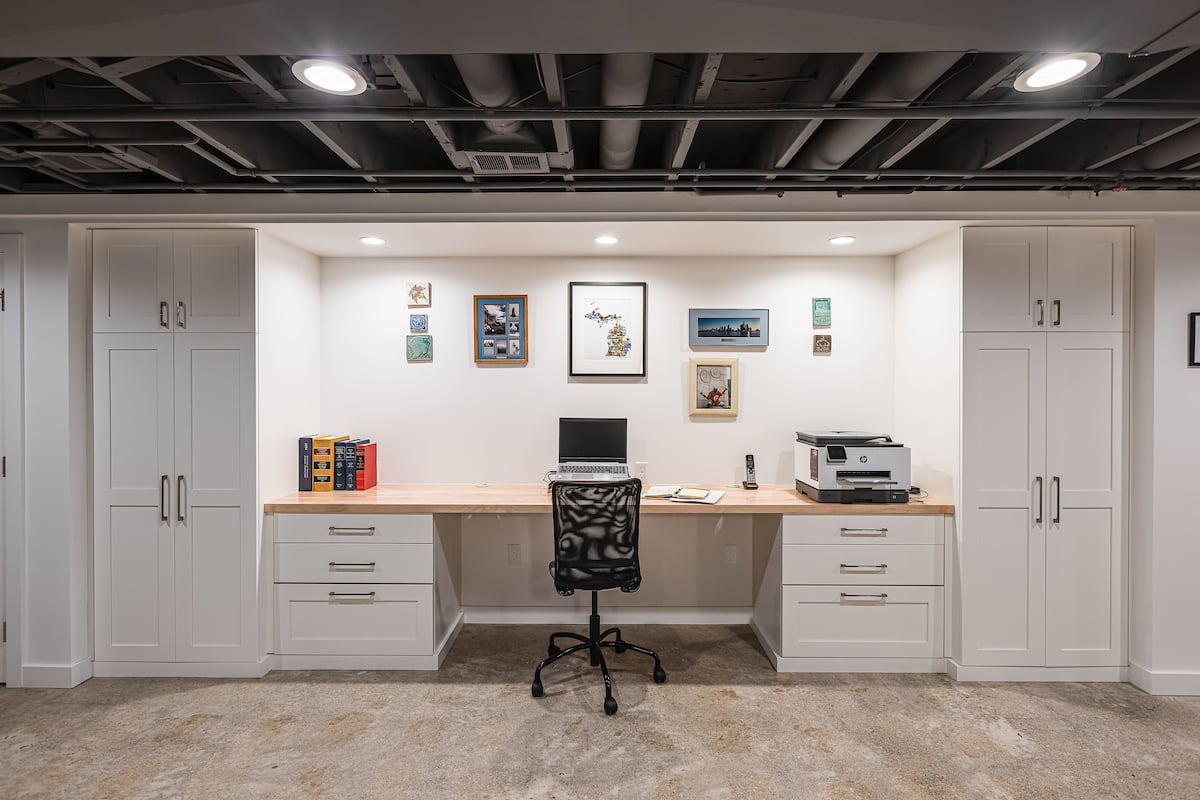 2. Home Theater
Many home's basements are oddly shaped, making them challenging to repurpose. If your basement is long and narrow, one of the best ways to remodel it is by transforming it into a home theater since you won't be moving around much in this area (you'll be reclined and in full relaxation mode).
Basements are fantastic for home theaters due to their limited exposure to outdoor light, but this doesn't mean the room has to be dull or gloomy. We recommend considering various lighting options to enhance overall comfort during your movie-viewing sessions. Dimmable sconces or recessed lights allow you to change the vibe as you see fit.
Home theaters can also double as an awesome spot for gaming for teens. They will have their own secluded area away from the rest of the house and family, and they can enjoy playing on the big screen.
We also recommend insulating your basement to keep unwanted noises at bay. As you watch your favorite flick, you won't be distracted by outside distractions, and the napping baby in the other room won't hear loud special effects – it works both ways!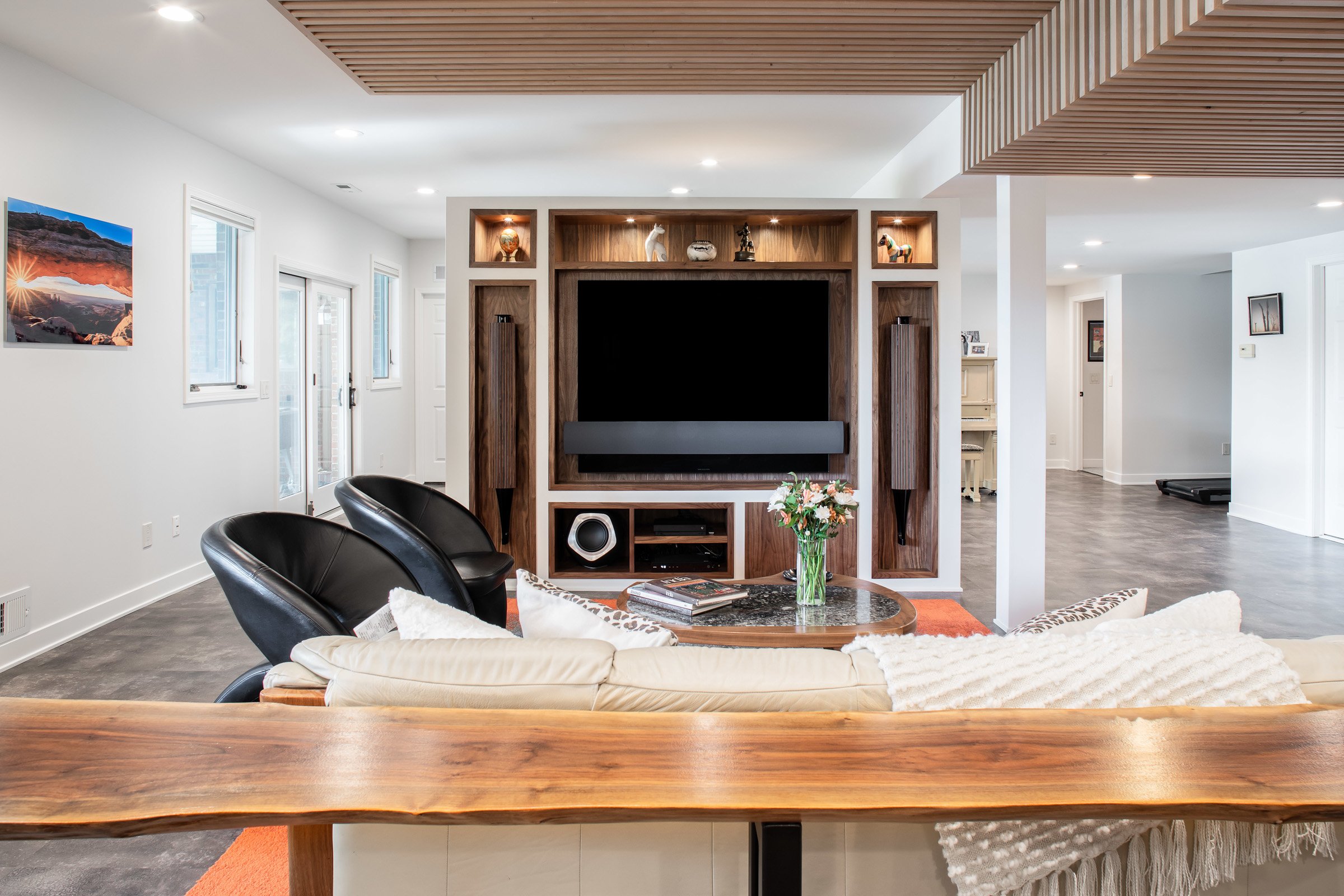 3. Kids Play Room
Having a well-designed playroom can be a tremendous asset if you have little ones in your life, whether as a parent or a grandparent. It keeps the inevitable child-related clutter contained, ensuring your main living spaces remain tidy and guest-ready.
A basement, in particular, offers an ideal canvas for crafting a designated "Kid Zone" that is enjoyable and provides peace of mind for unexpected visits from guests. Consider incorporating smart storage solutions, imaginative play areas, a climbing wall, or a spacious open area where your children can engage in creative and active play.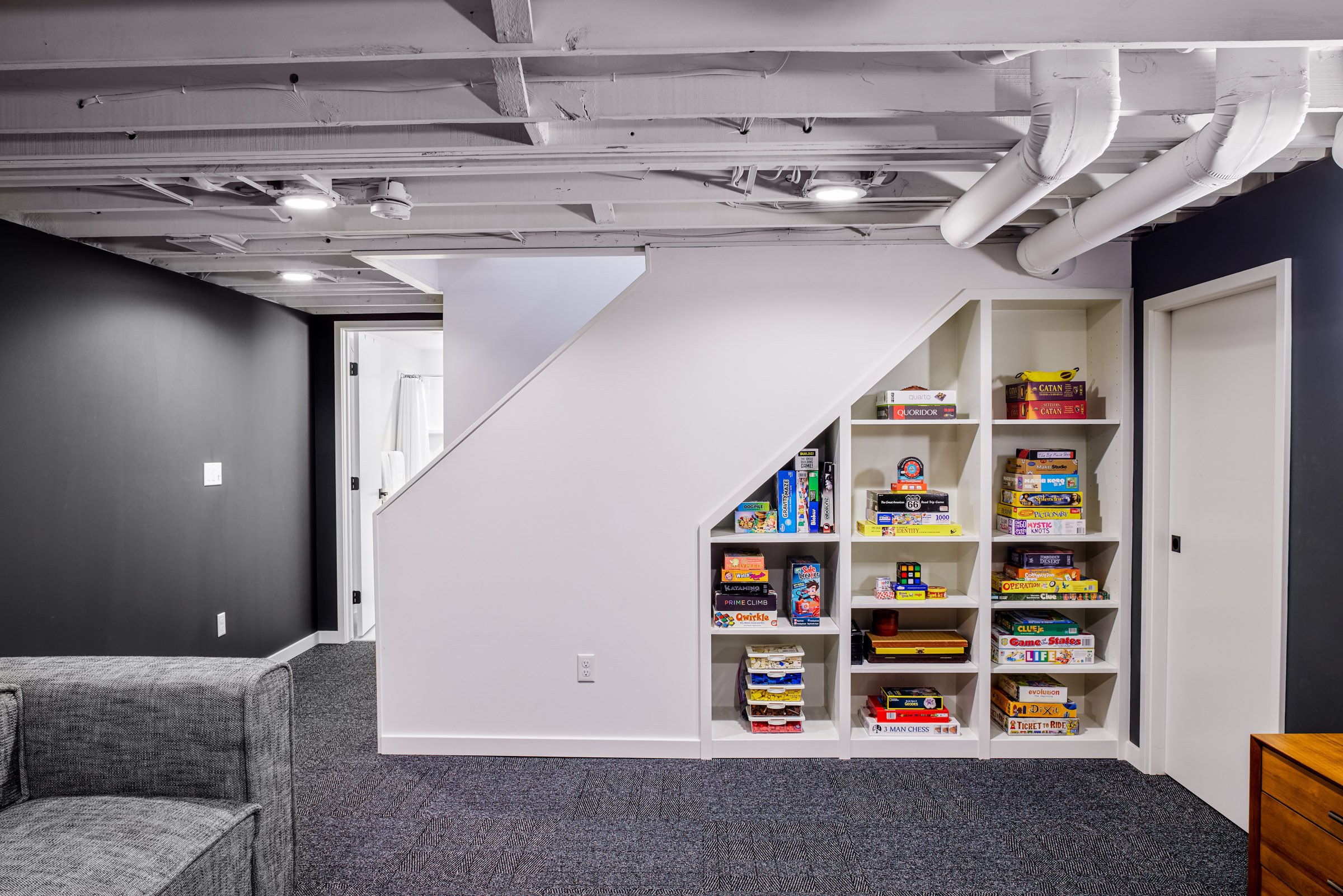 4. Home Gym
When you're trying to motivate yourself to workout, it can be extremely difficult to get dressed in an attractive outfit, leave your house, and drive all the way to the gym. What if you had access to your own personal fitness studio right in your basement? That would be a game-changer! Just think about how much more productive you'll be.
We recommend installing high-quality rubber flooring or interlocking foam tiles. These materials provide shock absorption, which is essential for reducing the impact on your joints during workouts and damage to the ground when you're lifting weights.
Proper ventilation is also essential to ensure the basement gym remains comfortable during workouts. It's best to install an exhaust fan or make sure that existing HVAC systems adequately circulate air. If your basement tends to be cold, a supplemental heating solution to maintain a comfortable workout temperature would be beneficial.
5. In-Law Suite
If you have aging family members living with you or have frequent overnight guests, an in-law apartment in the basement would be a valuable addition to your home, offering both convenience and privacy. It could even be a way to earn additional income through rental opportunities.
Creating a basement "suite" doesn't mean sacrificing comfort or natural light. With thoughtful design and materials, your basement space can be transformed into a bright, stylish, and welcoming living area. When planning your in-law suite, consider including essential amenities such as a compact kitchen, a bathroom, a bedroom, and a living room. Even if the space isn't continuously occupied, having an extra bathroom and cooking facilities can be incredibly convenient for residents and guests.
For family members living there permanently, consider adding a separate entrance to the outside. This independent access enhances privacy and independence for your loved ones. When an exterior door is added to the basement, it's commonly called a "walkout." Remember that basements with bedrooms typically require a walkout or an egress window for safety, which serves as an emergency exit.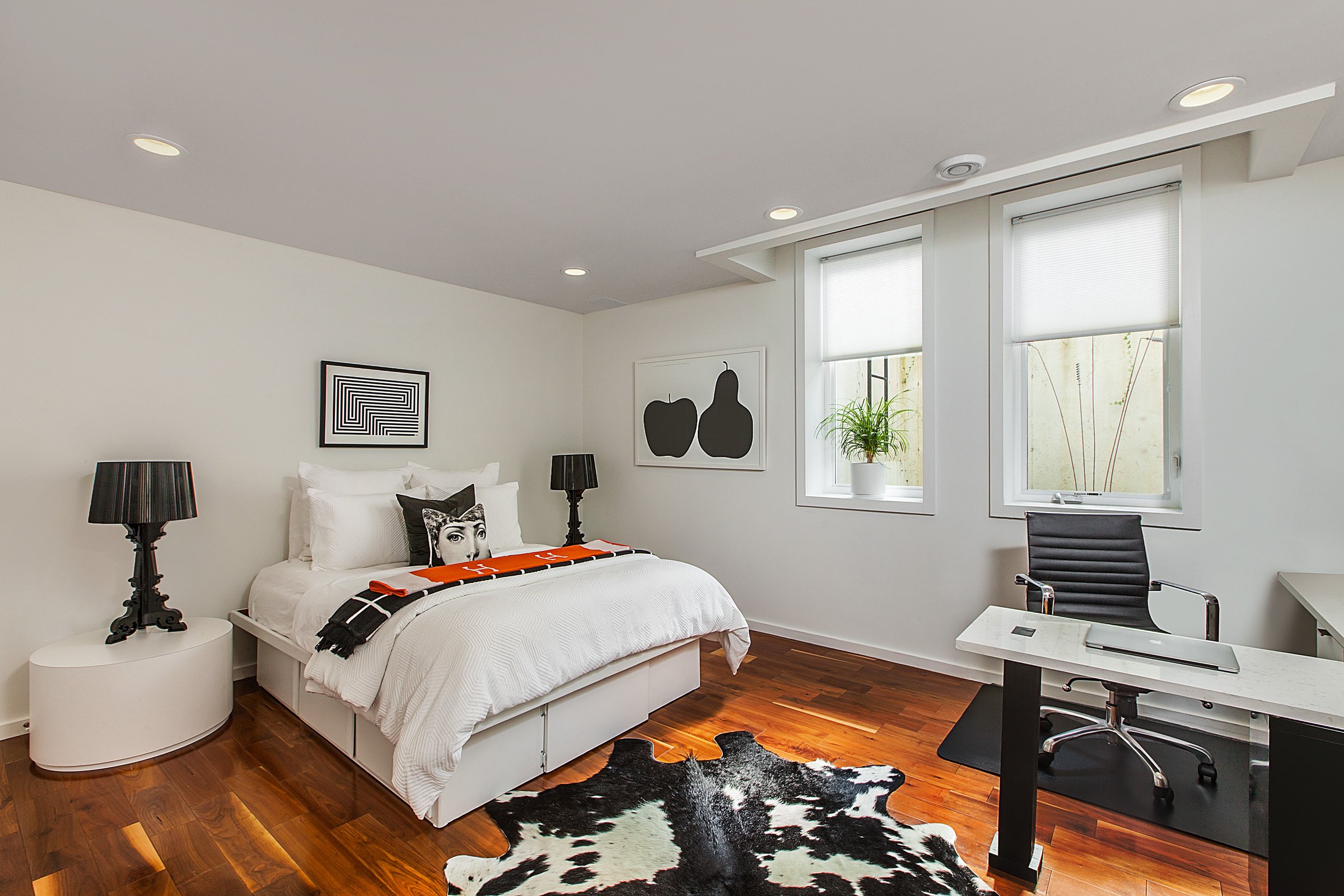 6. Craft or Hobby Room
Since the pandemic, craft and hobby rooms have become increasingly popular among homeowners. Whether you have a passion for making clothing and it's becoming your side hustle or just enjoy passing the time by painting, a specified room for all your equipment would be amazing.
Efficient storage is key to keeping your craft supplies organized and accessible. We suggest installing open shelving, cabinets, or wall-mounted storage units to hold materials, tools, and finished projects. You can also invest in custom-built worktables with storage drawers or shelves to help keep your crafting supplies organized and within reach.
Adequate lighting is crucial for detailed crafting work. A combination of task lighting and ambient lighting could be ideal. Task lighting can be in the form of adjustable desk lamps or overhead lighting focused on specific work areas. Natural lighting through windows or skylights can enhance your craft room's appeal.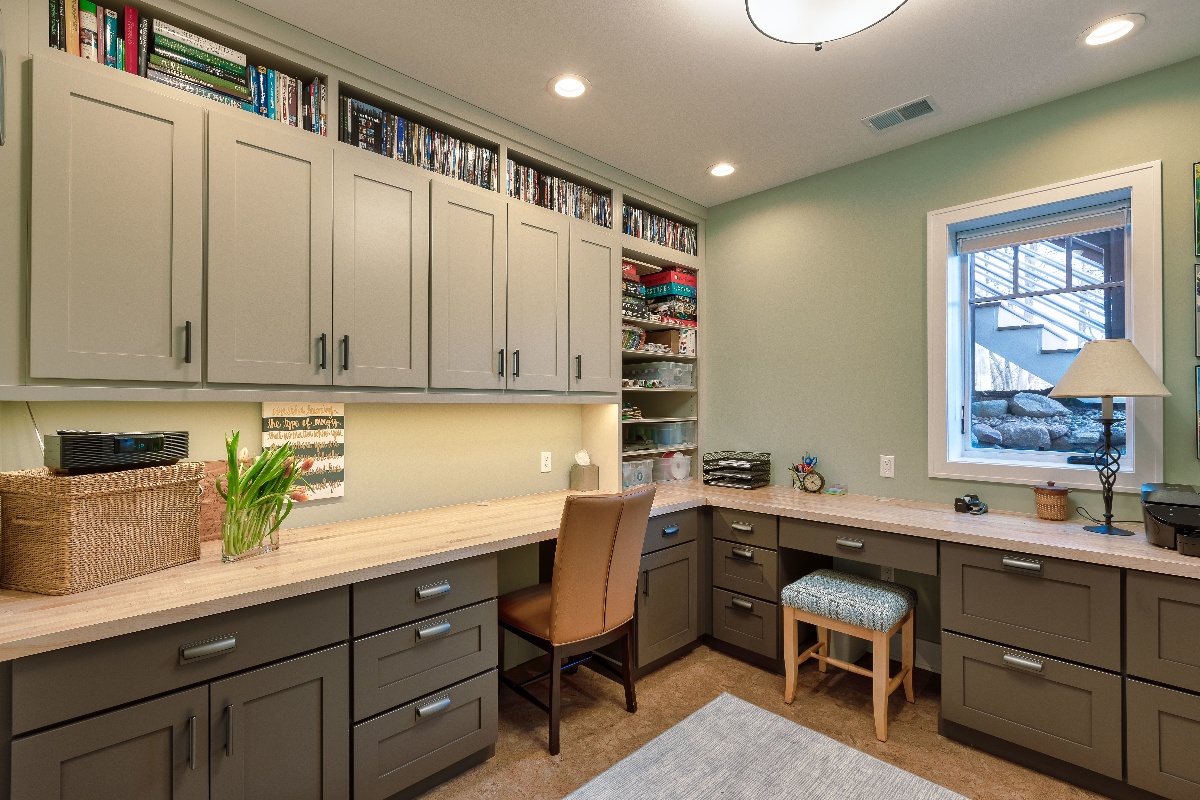 7. Wine Cellar
If you have a love for collecting fine wines, the idea of creating a wine cellar in your basement can be genuinely enticing. A basement wine cellar offers endless possibilities, from tailor-made storage solutions for your prized wine collection to elegant shelving that allows you to proudly display your bottles.
To maintain the integrity of your wine collection, it's imperative to have precise control over the light exposure and temperature in the wine cellar. Fortunately, achieving these optimal conditions is well within reach, especially when collaborating with a seasoned design-build contractor. With the expertise of a professional, you can transform your basement into a wine connoisseur's haven, ensuring that your wines are not only stored impeccably but also showcased in an inviting and tasteful environment for unforgettable wine experiences with your loved ones.
8. Game or Entertainment Room
Adding a game room in your basement would be an amazing idea if you love hosting or spending quality time with family and friends. With fun-filled games, comfortable seating, and exciting decorations, you'll no longer have to leave home for a good time!
When designing your new basement, you should create a layout that efficiently utilizes the available space. This may involve creating different zones within the room, such as designated areas for gaming, seating, and a bar or snack area. If you do plan to include a bar, builders can recommend suitable bar designs and features, like a countertop, shelving for glassware and drinks, and barstools.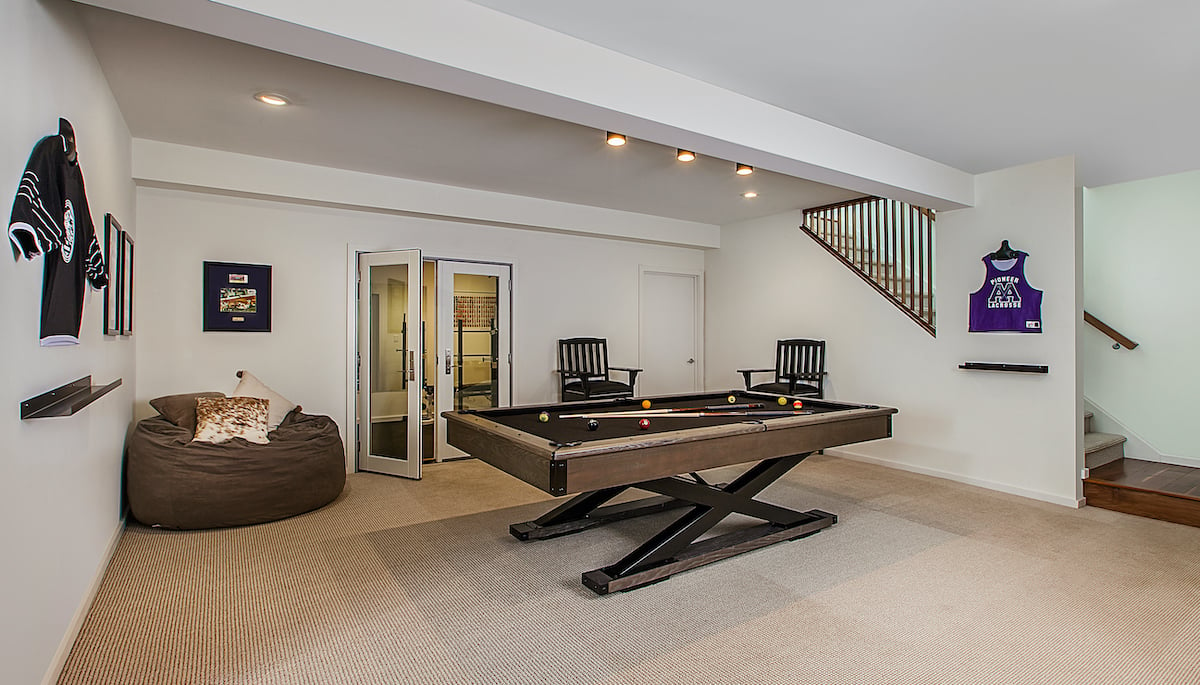 Custom Basement Solutions with Meadowlark Design+Build
As you weigh the endless possibilities for transforming your basement into the perfect living space, remember that achieving your dream requires the right team by your side. At Meadowlark Design+Build, we specialize in custom home building and remodeling, turning your visions into stunning realities. Our expertise and commitment to excellence ensure that every detail of your basement project is thoughtfully considered, from design and functionality to aesthetics and comfort.
Don't hesitate to take the next step toward creating the basement of your dreams. Contact us today!