2021 Design Trends From the Experts
By Susan Christian
Most of us have said "Goodbye and Good-riddance" to 2020 and now that we are well-into the new year - many of us are looking at our homes and are thinking about making some changes. Not being a designer, my knee-jerk is always to open my computer and rely on my very good friend Google to look for inspiration on interior design or ideas on how to make my spaces work better. As always, I am overwhelmed with the search results and I find ideas I love as well as those that evoke a "really?" response in me.
I thought I would share a list of my findings and note my favorite takeaways from each in hopes that you might find some inspiration for your home:
1. FocUS on ComFort
This Vogue.com article: Interior Design Trends to Know in 2021 - and What's on Its Way Out, I loved... not necessarily because of the actual design options it was highlighting, but because the overall mantra was one of how the pandemic has changed how we feel about our homes and our need to focus on them as a sanctuary - a place for us to draw comfort from. And since we are all doing more in our homes now - the concept of form meeting function has never been more important. Big comfortable sofas and relaxing lounge chairs along with desk lighting that will make you look better during a Zoom call are noted as trends for the new year.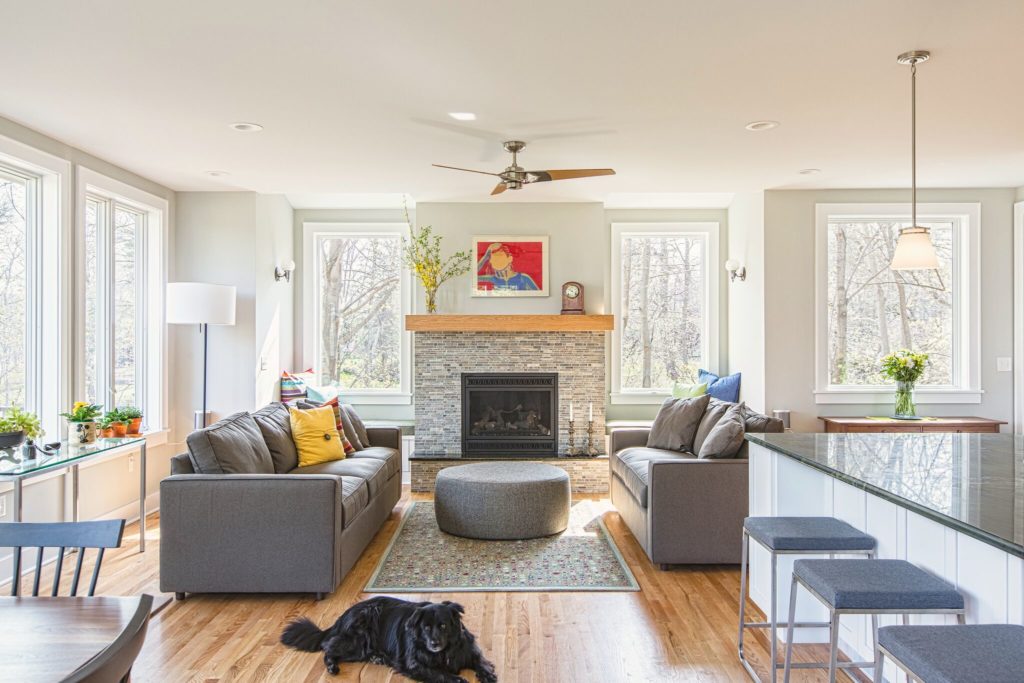 2. CLOSED FLOOR PLANS
We are seeing that the pandemic has changed how we live/work/learn in our homes. After years of hearing the term "open-concept" from our clients as a main driver in home renovations, this has flipped. The need for private spaces for conference calls, virtual learning and or just to have a quiet space for a "time-out" from the family is what clients are looking for. In a Better Homes and Gardens article: 7 Interior Design Trends Everyone Will Be Trying in 2021, According to Experts, "Closed Floor Plans" is #6 on the list.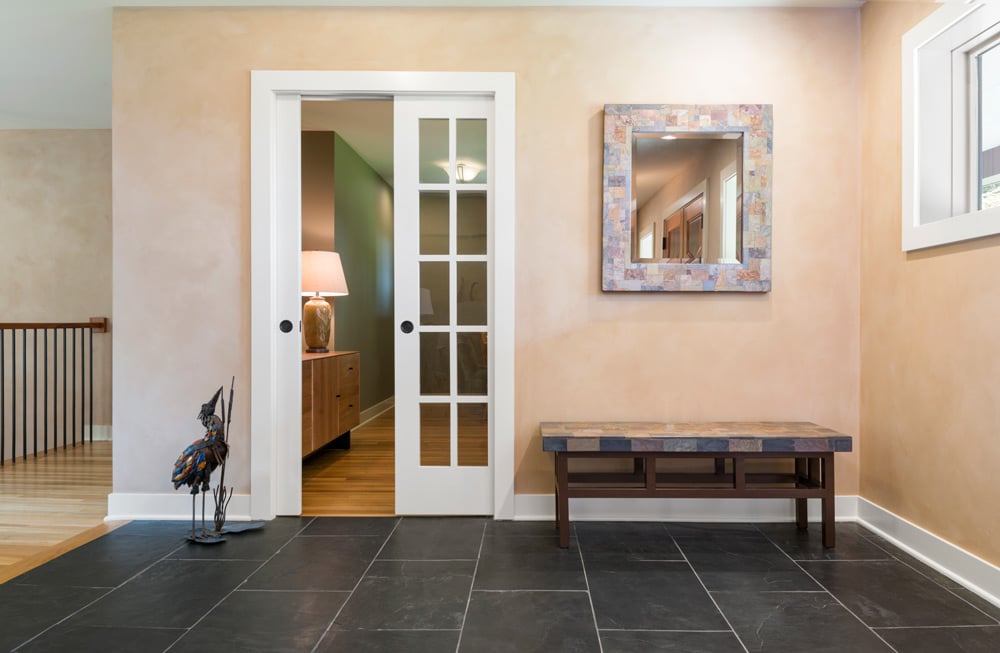 3. GO BLUE OR GO HOME
This Spruce.com article: 2021's Hottest Design Trends According to Experts listed 14 different trends from 5 experts and at the top of the list was using navy and velvet blues in your color selections. Obviously as a University of Michigan Alumni, this struck a chord, but we recently did a kitchen remodel and used navy cabinets mixed with both white and natural wood in this kitchen remodel and addition.
4. CREATING STORAGE WHERE THERE WAS NONE
We have always been a big fan of making existing spaces function better for our clients, which often means finding storage opportunities in unexpected places. In this Livingetc.com article: Interior Design Trends: The 27 Biggest Trends for 2021 Revealed, #18 is Creative Storage. Easy access storage can reduce clutter and transform how you feel about your space. For this kitchen remodel we reconfigured the space to create this "drop zone" for the family to manage their day-to-day kitchen clutter.
5. UNEXPECTED COLOR
Sherwin Williams 2021 Color of the Year is Urbane Bronze. This very earthy color is probably not something that you gravitate to naturally, but I think with the right balance it can be quite unique and wonderful. In a Home and Gardens article: Interior Design Trends 2021 - the 20 Top Looks for the New Year, they call out "Earthy, Grounded Shades" as one of 2021's design trends. The use of a dark color to contrast with light, earthy neutrals creates a comforting and welcoming feel.
6. LAUNDRY ROOM ORGANIZATION
We have to toot our own horn a bit here as one of our custom home projects was featured in Houzz's article: 36 Design Trends Ready for Takeoff in 2021. Check out Trend #29. A simple shelf system was designed around standard department store laundry baskets. What a convenient way to organize your laundry room and simplify your laundry chores.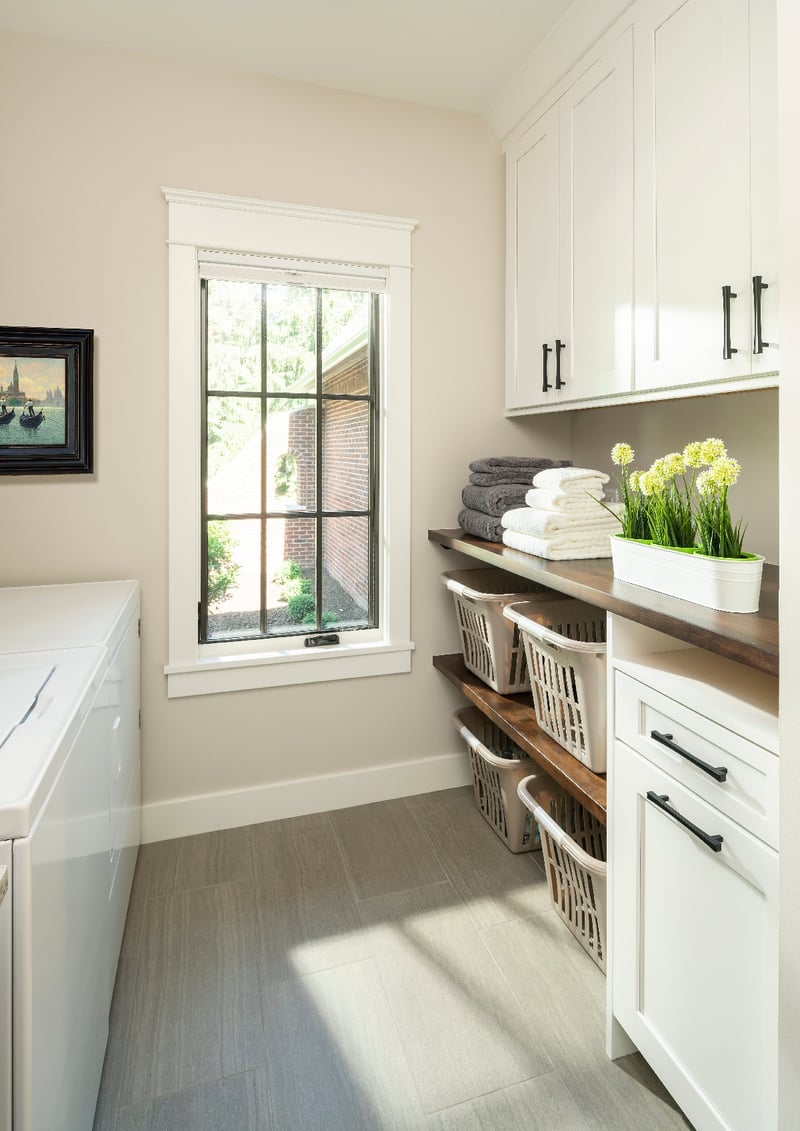 7. SUSTAINABILITY
Sustainability and a focus on natural material was repeated in many of these articles, but I loved the simple explanation presented in this article from Decorist.com: 8 Home Design Trends to Expect in 2021. I could paraphrase, but I thought the author put it so perfectly so I will just quote it:
"We have learned a lot from 2020 and have embraced the idea of living with less, holding tight to the things we cherish and editing out what no longer serves us. Thoughtful simplification using natural and organic materials to create spaces that feel like an extension of self will be on designer's radars. Reconsider the essentials by repurposing and refurbishing existing pieces, breathing new life into them. When buying new, consumers are focusing on sourcing and labor sustainability, interested in small-batch ceramics and ethically made fabrics."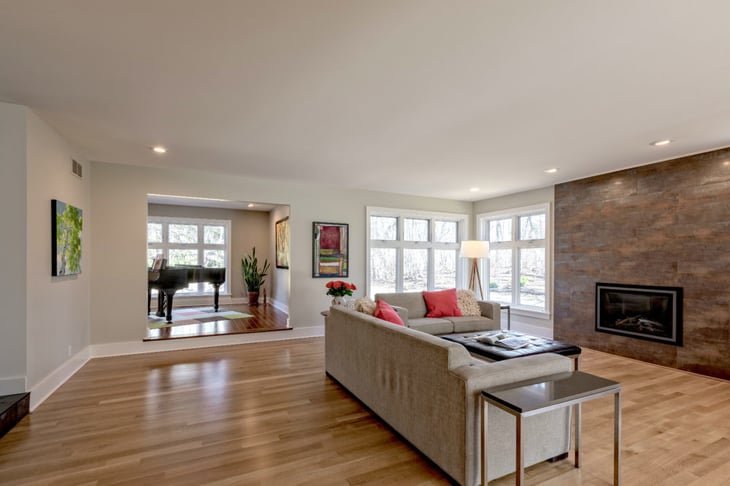 8. AND FINALLY...REMEMBER - SOMETIMES THE EXPERTS CAN'T MAKE UP THEIR MINDS
I always enjoy reading these articles because in reading them you realize how personal design is. The perfect example of this are the contradictions you find from expert to expert. In this TrendBook article: Discover - Interior Design Trends 2021, trend #6 is "Grey-The Color of the Year." However, if you read the Insider.com article: 7 Interior Design Trends That Will Start To Disappear This Year, and 8 You'll See Everywhere, they note that grey kitchen interiors are on their way out.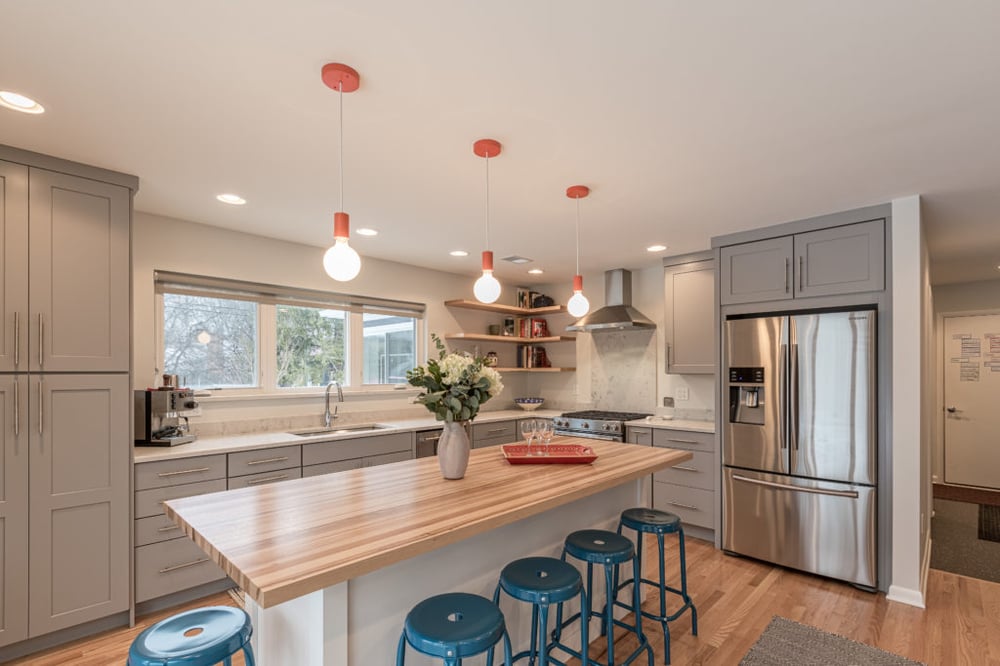 All this tells me is what we already know...design is truly a personal preference. It's your home, you're living in it, so despite what the experts predict, it REALLY is about you!.
I am looking forward to new beginnings, new projects and new clients who let us make them into "experts" on their home. So if you are thinking about making some changes in your home - we'd love to start the conversation.