If you're planning to build a custom home, you have a lot to think about. Are the details keeping you up at night? Worried that you might forget something important? The Meadowlark team has you covered. We believe the home building process should be fun and exciting, which is why we always recommend you partner with a builder who is on top of those little details for you. That said, it's still handy to have a list of key items not to forget, so you can rest easy. This list of 10 small things that get forgotten when building a house will help you check even the smallest boxes off your list:
1. Light Switches and Power Outlets
One of the easiest things to miss when building a house is the placement of light switches and power outlets. It's a tiny detail that can make a huge impact on your daily life. When you're planning your custom home project, take some time to think about where light switches should logically go. Can you turn on the light before you enter a room? For small spaces, like the kitchen pantry, do you have the light you need?
Power outlets follow the same logic. If you charge your phone on a nightstand next to the bed, make sure your bedroom is set up for that. A few other places where outlets are necessary, but often forgotten include:
Kitchen countertops

for appliances like coffee makers, toasters, and stand mixers

Bathrooms

for hairdryers, electric toothbrushes, curling irons, and straighteners.

Outdoors

for holiday and landscaping lighting

Living rooms

for televisions, lamps, and for charging devices

Garages

for powering outdoor tools

Basement

if you'd like to have a workshop downstairs

Home offices

for internet connections, routers, charging stations, and multiple electronics

2. Kitchen Cabinet Lighting
Your kitchen workspace is much more functional when you can see what you're doing! Adding lights below cabinetry can help get you the lighting you need for kitchen prep and cleanup. Lights above kitchen cabinets can add a bit of dimension, helping bring your kitchen to life even on the gloomiest day.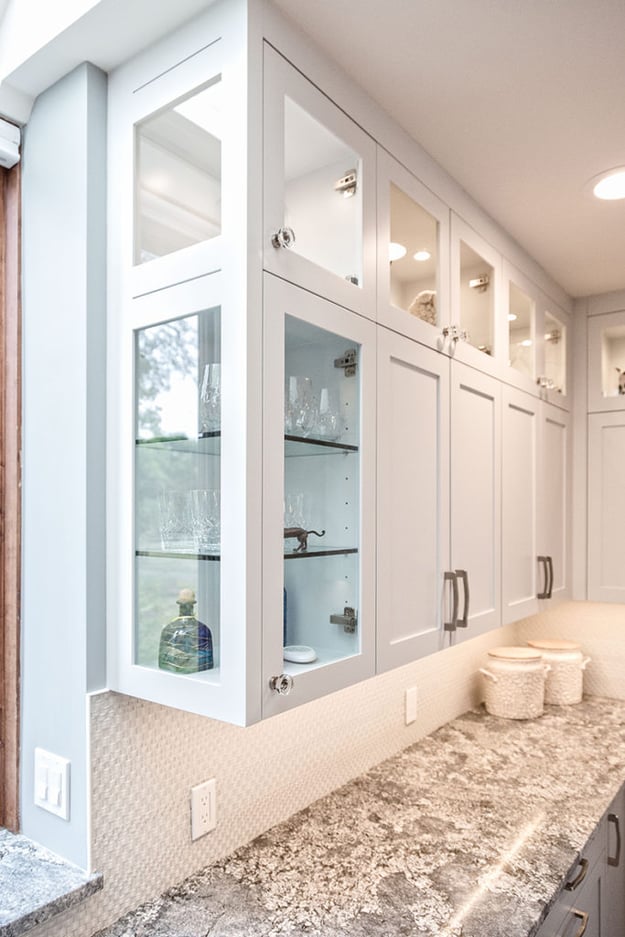 3. Television Location
When you're designing the ideal living room, it's surprising how easy it is to forget to dedicate a spot for the TV. While most families choose to have a television in the living room or den, you might not want it to be the central feature of the room. Instead of just sticking it on top of the mantle or in a corner somewhere, take some time to think about where you'd like your TV to live. Then, make sure you've got the proper outlets and power connections to make that possible.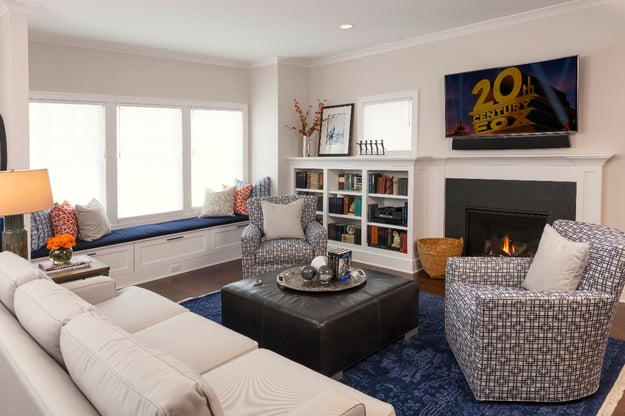 4. Shower Head Height
If anyone living in the house is taller than 6ft, you might want to consider installing the showerhead fitting a little higher than what is standard. Remember that the showerhead you choose will hang somewhere around 3 inches below the fitting, so take that math into account when you design and build out the shower. And remember…sometimes two shower heads is better than one!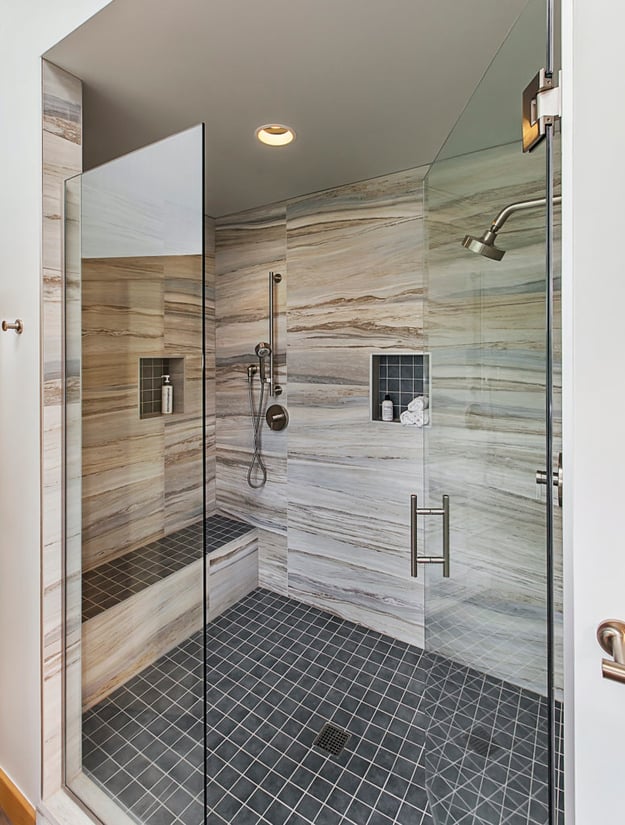 5. Recessed Bathroom Storage
When you're building your own home, you have a unique opportunity to make the home work perfectly for you, instead of retrofitting an existing design to suit your lifestyle. Take advantage of it! It's easy to put in a recessed toiletry compartment in the shower, or a recessed medicine cabinet behind the bathroom mirror when you're building. These little compartments fit right into the space between studs in your walls, so it's a simple little addition that can make a huge difference in how much bathroom storage you have.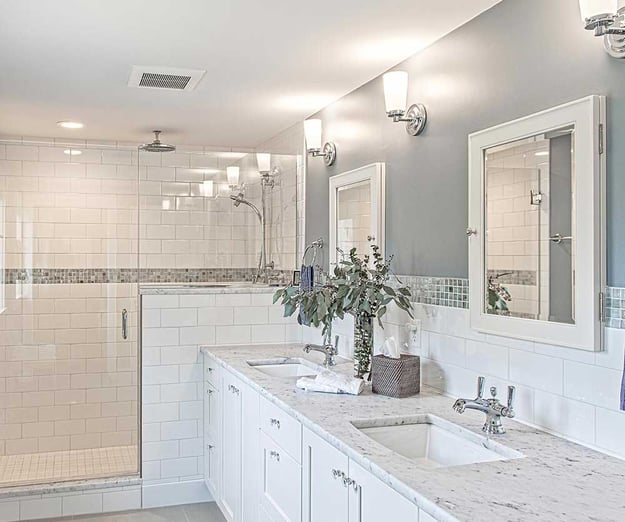 6. Internet & Electronics
One thing that many people forget when they're building is the placement and internal installation of key electronic systems like your internet, sound systems, and more. If you're a music buff or a heavy internet user, you'll want a hardline system installed, and that's easiest to put in while you're building. You'll have complete control of router placement, signal boost location, where you put recessed speakers, and more. While you can certainly get by with wireless internet and sound systems, many people prefer the quality a hardline system can deliver. Make sure you've considered both while you're still building.
7. Kitchen Cabinet Features
When you're dealing with a million home selections, it's easy to forget about all of the little details that can make a huge difference in your daily life. Have you ever struggled to stack pots and pans carefully, only to have them all come crashing out of a cabinet?
Now is your chance to perfect your kitchen organization by selecting cabinet features that support simple, convenient storage. Make sure you're considering elements like deep cabinet drawers that can hold cooking pots, soft-close drawers to avoid wear and tear, and even custom cabinetry options like a pull-out spice rack or a specialty lift shelf for your heavy stand mixer. Taking a little extra time to think about these features now will go a long way to set your kitchen up for success when you move in.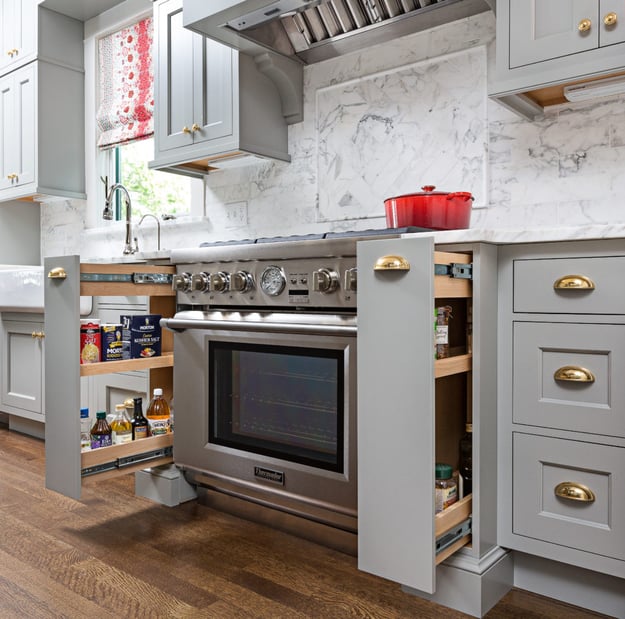 8. Outdoor Conveniences
Building a home takes a lot of your attention. It's easy to get carried away with all of the details inside and forget about what's going on outside. Simple outdoor conveniences, like a ceiling fan on the porch, an outlet for a speaker on the deck, or outlets for landscaping lighting, are all small items that are often forgotten when building a house. Imagine how you plan to use your porch or deck, and then make sure you're set up for success, with all the power and features you might need.
9. Laundry Room Utility
While the laundry room isn't necessarily the most exciting part of your new home, it should work for you. Many people forget how much you use this room in your home, which can result in some issues in the setup. For example, it's helpful to have a deeper-than-usual counter in the laundry room to fold clothes and store things like extra towels. Some people prefer to have an additional sink in the laundry room, deep shelving, or even a hanging rack for those clothes you prefer to air dry.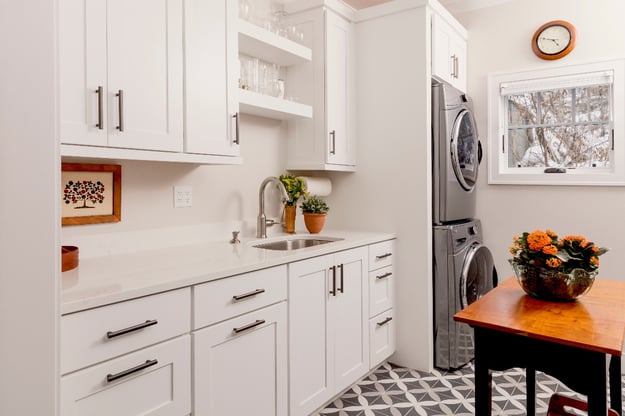 10. Extra Materials
Finally, make sure you ask your builder for a little extra of the most important materials in your home. Keeping the leftovers of tile, carpet, grout, wallpaper, paint, and trim can go a long way in helping you make repairs in the future. Even if you don't have enough material to make a repair, you'll at least have a label with the manufacturer's name, or a small sample you can bring into a hardware store to match. Upon completion of the project, most reputable builders should provide you with a list of all the selections, finishes, appliances and paint colors that were used in the home.
New to the home building process? There can be a lot to remember. From small considerations like these to bigger design choices, there is so much planning that goes into your new home. Working with an expert design + build firm can make the process a little easier. Here at Meadowlark, we've built custom homes in Ann Arbor for years, which means we have the experience to guide you through even those small, easy-to-forget items. If you're planning to build a custom home, get in touch with our team.