An Exterior Renovation to Stand Out Among the Rest
This project's homeowners loved many things about their 1950s home: the updated interior, the great natural lighting, the fact that they were within walking distance from Kerrytown and Downtown Ann Arbor, etc.
What did they not love about their home? The exterior. All of it. They thought their home looked dumpy, cheap, and unkempt — their words, not ours!
Their wish was to do a full overhaul, transforming their home's exterior to align with its updated interior and their design preferences. They also wanted to add some energy-efficient features that would make their home more comfortable year-round. They were finding it difficult to get above 64°F in the winter, and they were dealing with siding mildew in the summer.
Finally, the homeowners didn't want to have the run-of-the-mill home that everyone else on their street had. They were asking for different, and they weren't afraid to stand out. So that's what we helped them do.
Overhauled Design & Enhanced Comfort
These homeowners weren't new to renovation projects. Since buying their home in 2012, they'd completed a DIY kitchen remodel and put a pent roof over their front steps. They'd also had a professional remodel their bathroom. From all of these experiences, they had a great handle on what their limitations were and understood the value of working with professionals on complex projects like this one.
Our design-build team brought our best work to the table, helping the homeowners achieve the following exterior remodeling goals.
Exterior renovation

: Complete overhaul of all things exterior — from roof to windows, siding, trim, and more.

Standout design

: A modern, interesting facade that's better aligned with their style preferences and interior design.

Enhanced energy efficiency and comfort

: Temperature control solutions for all-season comfort.
Plan for the future: Set up for success in more future renovation projects.
Fragile Soil & Tight Construction Timelines
One design challenge we faced was in relation to timeline and the homeowners' love for gardening. Their front yard was used as a growing location for seeds, which would be harvested in the fall. If construction began after that, there wouldn't be disturbance to the soil. However, they wanted their entire project to be done by the end of 2022, so they could apply for solar and geothermal tax credits.
Needless to say, it was a bit of a pinch. We had to be very careful while planning construction timing and access paths.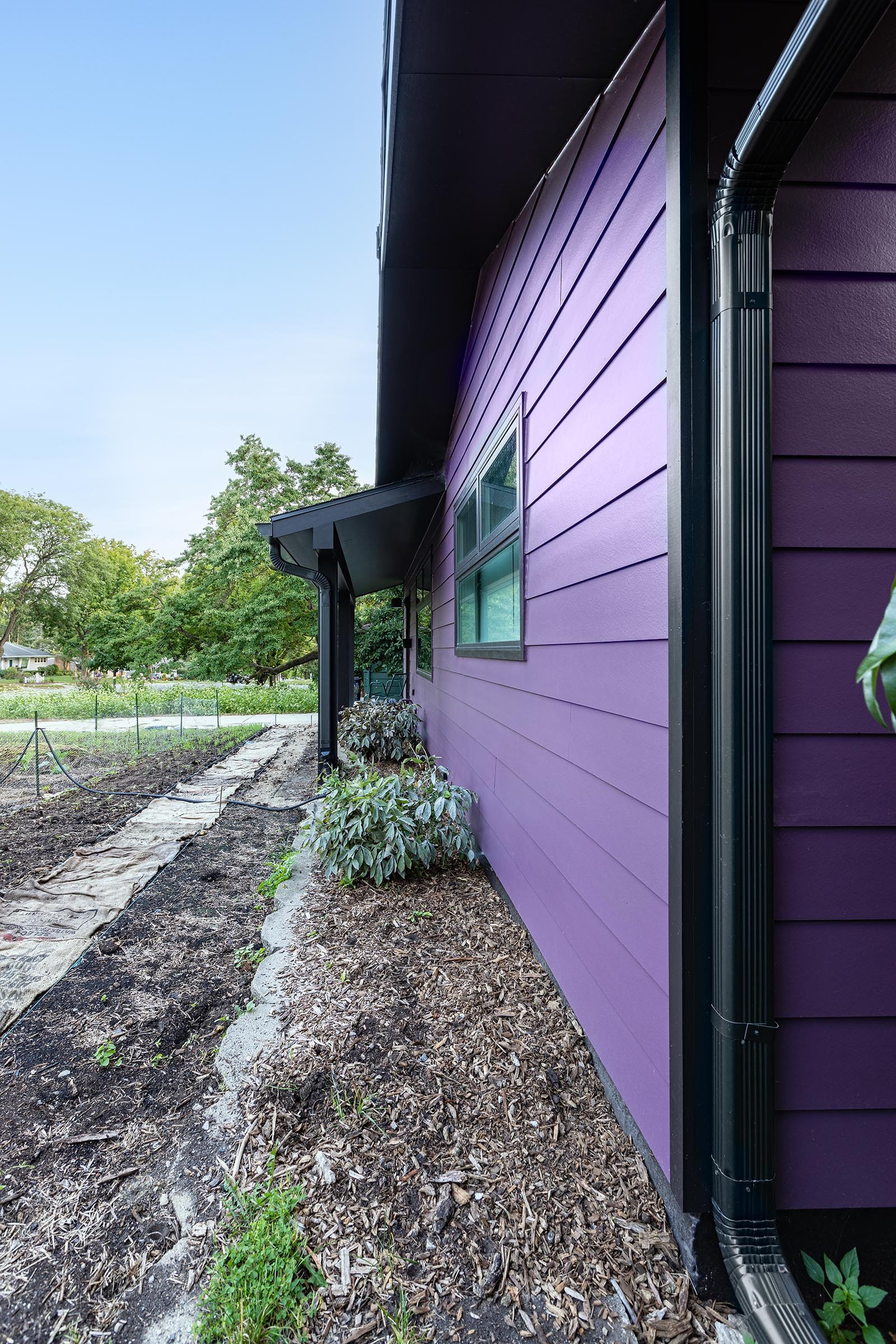 Design Selections
Modern, Minimalist, Energy-Efficient Finishes
Overall Japanese/Scandinavian modern and minimalist style with dramatic rooflines, vernacular massing, and large eaves

Simple

color palette

,

but variation in textures

Standing seam metal roof

Insulation

Modern, energy-efficient windows

Front roofline changes to accommodate a future attic space renovation
A Quaint, Comfy Home With Newfound Curb Appeal
At the end of our project, the homeowners were left with exactly what they were looking for a home that stood out among its neighbors and reflected their unique style. The exterior renovation came with tons of personality, but also with energy-efficient features, added comforts, and a front roofline that could accommodate a custom attic addition project in the future.
Extensive planning, creativity, and coordination were required to make this project a success — both from ourselves and our new homeowner friends! We sincerely enjoyed working with them to deliver a one-of-a-kind project.